Phil Hellmuth Brings the Bracelet Hunt To Berlin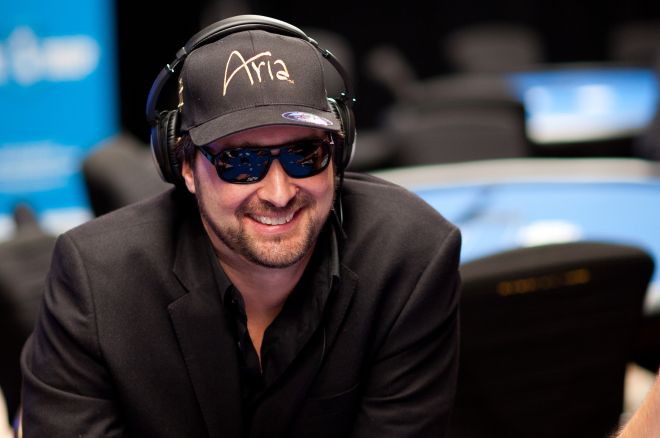 In typical "Poker Brat" fashion, Phil Hellmuth turned up rather late for the first event on the 2015 World Series of Poker Europe in Berlin, Germany, on Thursday.
The record 14-time WSOP gold bracelet winner late registered Event #1: €2,200 Six-Handed No-Limit Hold'em part way through the tournament's eighth level and appeared to be in a great mood as he quickly found a way to work up to close to three times the 10,000-chip starting stack with less than 100 of the 196 entries remaining.
Then, midway through the 11th level, the roof caved in.
"I'm a little bit salty right now," Hellmuth told PokerNews. "The blinds were 500/1,000 and everybody was playing really tight. This guy opened for 3,500 — this old guy, so I think he must be pretty strong. I look at ace-king in the big blind and I'm like, 'Alright, let's play for all of it.' I moved him all in and he called 15,500 with king-jack suited. I'm just looking at the hand and I'm like 'What? He just called?
"And then the window was an ace, so I think I've won it and somehow, there's a queen and a ten behind it. I don't even understand what happened. The guy was like 'OK, I apologize.' OK, that's alright, I don't want to mention names or talk about who he is, but I mean, what the f*** man? I flew all the way here for this? If I win that pot for sure I'm coming back for Day 2, then I'm close to the money and who knows? Some great stuff can happen."
Instead, Hellmuth dusted off the rest of his chips soon after and will have to wait for another day to chase bracelet number 15. However, with smaller field sizes expected here at the WSOP Europe, he sees this is a great opportunity to do so.
"It really is," he said about it being a great opportunity to win another bracelet. "I don't know in my career if I've ever won a bracelet in an event with less than 100 players. Everybody is like 'Oh, Phil won his bracelets against 12 people.' No. I don't think I've ever won one with less than 100 people. It just so happens I was winning hold'em tournaments and they always had the biggest fields."
Combing back through the WSOP record books, Hellmuth has in fact won gold bracelets in fields with less than 100 players, but it's only happened twice — in the 1992 $5,000 Limit Hold'em event with 84 players and the 1993 $5,000 Limit Hold'em event with 69 players. Of course, it must be hard to remember exactly how many players you've beaten each time you've won a gold bracelet when you have 14 of them in your trophy case, so we'll give Hellmuth a pass on this one. Even so, the average field size Hellmuth has defeated in his 14 gold bracelet victories is a quite impressive 564 entries.
"Ten minutes ago I was in a great mood here and then this," he continued. "But let's just say yes, it's a great tournament [schedule], and I couldn't miss it. I was going to shoot a commercial for a big mainstream brand with Daniel [Negreanu] and it got pushed back, so I might have missed it. Now I'm looking forward to the opportunity."
In 2012, Hellmuth won the WSOP Europe Main Event to jump into the lead in the WSOP Player of the Year Race, only to be passed by Greg Merson, when he won the WSOP Main Event a month later.
It actually marked the third time Hellmuth had finished second in that race.
"That one hurt," he remembered. "I was thinking that I finally had it."
After winning a bracelet in Las Vegas this summer, Hellmuth now sits ninth behind WSOP POY leader Mike Gorodinsky, but relishes the opportunity to fight for the title again on this side of the Atlantic.
"It would be tough," he said. "I might need to win two, but it can be done."
As the 2015 WSOP Europe rolls on, be sure to stay tuned to PokerNews for continued coverage.
Want to stay atop all the latest in the poker world? If so, make sure to get PokerNews updates on your social media outlets. Follow us on Twitter and find us on both Facebook and Google+!