2015 PokerNews Cup Main Event Day 1c/1d: Benoit Kuhn in the Lead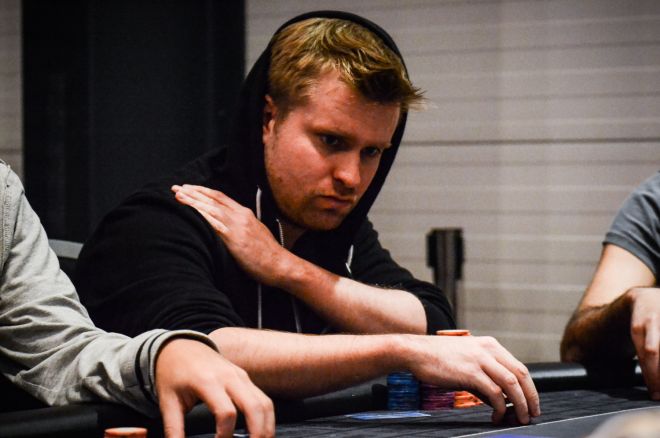 Those who walked into King's Casino on Saturday, Nov. 21, found Europe's largest poker room reaching close to full capacity, as the ninth edition of the PokerNews Cup went through one of the most intense days on its schedule.
With the last two starting flights of the €200,000 Guaranteed Main Event running alongside the €12,000 Guaranteed Hold'em Championship event, hundreds of players showed up to enjoy a day of great poker action.
The day's opening event was the last Turbo Satellite to the Main Event, a €40 buy-in tournament that attracted a field of 79 entries and awarded 10 seats — twice more than the five guaranteed.
Benoit Kuhn Leads After Day 1c of Main Event
The action continued in the Main Event with the first of the last two Day 1s on the schedule. The Day 1c flight drew a field of 407 participants to boost the number of entries up to a total of 679.
By the end of the day, just 94 remained with France's Benoit Kuhn — who is in the tournament under the nickname BKRF Investments — and his stack of 325,500 leading the way.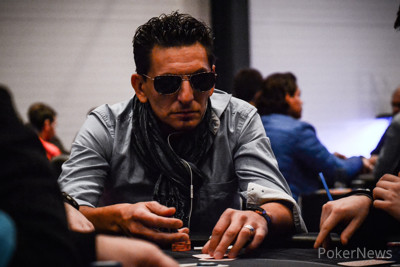 Asked about his nickname, Kuhn explained that while the first word is a combination of his name and the one of a friend who is also in the tournament, the term "Investments" symbolize the duo's love for burning their money.
"You know what?" Kuhn said after his Day 1 ended. "I am going to late register in the Hold'em Championship now to burn even more money."
Kuhn, who said he is a regular reader of PokerNews, also mentioned he'd be ready to accept any kind of side bets from anyone in the tournament because, you guessed right, he wants to burn money.
"If anyone wants to make any bets of any kind, just come to me, we'll accept it," he said, speaking on behalf of the whole BKRF Investments team.
Although many may not have noticed it, Kuhn is a regularface to the PokerNews Cup, as last February he cashed for $1,017 with a 62nd-place finish. Curiously enough, Kuhn did very well during that Main Event, when he ended Day 1b in sixth position with 311,500 in chips — nearly the same stack he bagged on Saturday.
Other big stacks include those of Justin Herboldt, Volkan Alkan, and Maurizio Adamo, who ended the Day 1c bagging up 275,000, 270,000, and 265,000, respectively.
Top 5 Day 1c Chip Counts
| Rank | Player | Country | Chips |
| --- | --- | --- | --- |
| 1 | Benoit Kuhn | France | 325,500 |
| 2 | Justin Herboldt | The Netherlands | 275,000 |
| 3 | Volkan Alkan | Germany | 270,000 |
| 4 | Maurizio Adamo | Italy | 265,000 |
| 5 | Darabi Spanos | Germany | 260,000 |
However, not everyone made it to Day 2.
Despite getting off to a good start, Sinisa Teodorovic was sent to the rails shortly after the dinner break. Although luck didn't go his way, he said enjoyed the event and praised the combination of a buy-in, guarantee, and location.
"I enjoyed this tournament," Teodorovic told PokerNews. "It's always good to be here at King's. I like when tournaments combine a big guarantee and a low buy-in, and King's Casino is probably the best poker room in Europe right now."
Similarly, reigning champion of the Italian Masters of Poker, Germany's Christoph Merten, is no longer in the Main Event. But to close on a more positive note, Estonia's Janek Hin and partypoker online qualifier Attila Toth-Madi will be back at 14:00 on Sunday to play in Day 2.
Germans Dominate Day 1d
The last of the four starting flights of the Main Event began at 21:00 CET. While players started with the same 30,000-chip stack, the play was much faster with just 15-minute blind levels.
A total of 143 players ponied up the €250 buy-in to bring the number of entries to the Main Event to a total of 817, to which we should add also the three online qualifiers that did not show up here in Rozvadov. Only 41 passed to Day 2.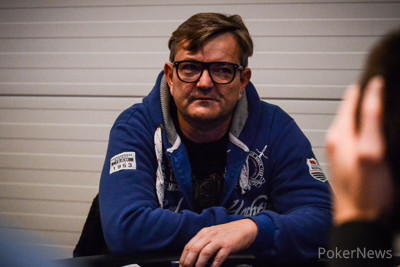 Some great players showed up to play in the event, such as poker veteran Erich Kollmann and high roller Martin Kabrhel.
By the end of the day, however, that formidable duo was no longer in play.
As reported on our live blog, Kollmann busted after midnight. With blinds at 1,000/2,000, he jammed his last four big blinds with
. An opponent called with
and neither player improved their hands to send Kollman to the rail. Kollmann kindly wished the table "goodnight" and made his leave.
After the traditional 14 levels of play, Germany's Ahmad Qais Achegsei was the one to bag the biggest stack with 250,500 in chips, closely followed by Roman Cieslik with 223,500.
Local hero and club owner Huseyin Arkun finally managed to pass to Day 2 after a long roller coaster closed by an important double up at the beginning of the last level of play that allowed him to bag 185,500 in chips. Similarly, PokerNews and King's Casino's friend Janja managed to put her very last bullet to good use and will bring 55,000 in chips into Day 2.
Amongst the survivors was also German poker pro Daniel Can, who advanced to Day 2 with a stack of 87,000.
Top 5 Day 1d Chip Counts
| Rank | Player | Country | Chips |
| --- | --- | --- | --- |
| 1 | Ahmad Qais Achegsei | Germany | 250,500 |
| 2 | Roman Cieslik | Germany | 223,500 |
| 3 | Samuel Rösner | Germany | 219,000 |
| 4 | Christian Amin Nofal | Germany | 207,000 |
| 5 | Mathis Bernd Wolf Wosegien | Germany | 193,500 |
Day 2 will resume Sunday at 14:00 local time. Tune to PokerNews for updates as they happen.
Get all the latest PokerNews updates on your social media outlets. Follow us on Twitter and find us on both Facebook and Google+!