Daily Fantasy Sports – Understanding a Patchwork of Misunderstood Laws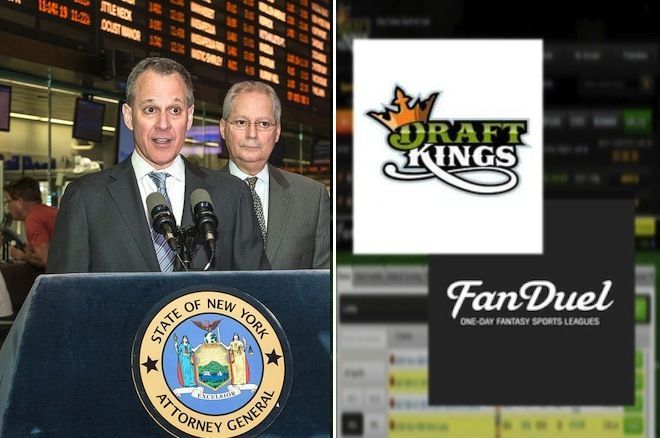 One interested in tracing the origins of the current spat between daily fantasy sports (DFS) operators and various state attorneys general needs to dust off history books scribed long before DraftKings sponsored a scantly-patronized lounge at the 2015 World Series of Poker, ESPN personalities inked side deals to tweet weekly NFL lineups, and some variety of insider knowledge allegedly aided a player in parlaying $25 into $350,000.
Indeed, one looking to discover the true origins of this now seemingly omnipresent controversy needs to peer before the future ombudsman of the New York Times huddled with friends at La Rotisserie Française in New York City, a Hollywood writer deemed himself the "Talented Mr. Roto," and casual watercooler sports wagering expanded from late spring madness to also encompass baseball and football seasons virtually blanketing the calendar.
The true origins, rather, can be found alternatively between a small convention held in Philadelphia in 1787 and a trip to Congress embarked upon by Robert F. Kennedy in 1961. Yes, the Unlawful Internet Gambling Enforcement Act – a statute once known solely as the boogeyman that killed PokerStars and Full Tilt Poker domestically after inducing PartyPoker's untimely stateside suicide – does play an important role in legitimizing the existence of daily fantasy operators, but it does not offer nearly as sound a legal foundation for their business as tightly edited media snippets have otherwise implied. Rather, the Commerce Clause of the US Constitution and the Wire Act – a statute largely aimed at downing mafia dons – provide the most expansive context for the patchwork legal ambiguity underlying the current exchange of rulings, decrees, subpoenas and ultimatums.
The Commerce Clause
When James Madison, Alexander Hamilton, and their merry band of delegates scribed the US Constitution, nearly all powers not expressly ceded to the newly-formed federal government were reserved to the various states. The power to regulate internet gaming, predictably, is not directly addressed in the quill-inked document, but the so-called Commerce Clause does make an important cameo, and it lends Uncle Sam the perpetual right to "regulate commerce … among the several states."
In the 18th century, interstate commerce was a fairly rare undertaking, as the horses of New Jersey tended to carry their buggies within New Jersey, feed on grain grown in New Jersey and purchased from New Jersey merchants, and aid their owners and passengers in carrying out existences that scarcely involved any mention of the other twelve states of the fledgling union. But by the time John F. Kennedy saw fit to name his own brother attorney general of the United States, technology had fundamentally altered the contours of the national and global climate.
At core, the United States government still generally cannot regulate commerce that does not reach beyond state lines. But courtesy of telegraphs, telephones, and the ultimate emergence of a world wide web, intrastate commerce beyond the purview of federal regulation is now the exception to the rule. The horse and buggy of yore are now a Ford Taurus manufactured in Illinois, by a Michigan-based company, using parts made in Ohio, which is ultimately shipped to Pennsylvania where it is bought by a citizen who drives it to his home in New Jersey and then promptly uses it to undertake his daily commute to New York.
More topically, this means that brick and mortar casinos are subject to a different legislative scheme than online gaming hubs. Nevada can freely dictate the terms upon which people inside its borders gather at poker tables, the rakes taken by casinos spreading no-limit games in Las Vegas, and the manner in which one of Reno's chic new establishments can advertise on billboards adorning the drive to Tahoe. These are all inherently intrastate endeavors, and while the Supreme Court has seen fit to vastly dilute the thresholds requisite to congressional regulation of interstate commerce over the past century, elected officials in Washington, DC have yet to dare suggest gaming activities confined within the borders of a single state ought to be within the authoritative province of the federal government. But the moment a football enthusiast in Carson City signs online to play poker against eight other people littered throughout Minnesota, Kansas, Maryland, Florida, Alaska, North Dakota, and Guam, the state of Nevada quickly cedes its sovereign control over the game and the commerce clause affords Uncle Sam the unmitigated right to step in.
The Wire Act
To be sure, the federal government very often does not step in – there are numerous instances of interstate commerce that are still regulated on a state-by-state basis because congress, for one reason or another, has never seen fit to codify a governing scheme. And the case could even be made that so much casino tourism involves interstates travel – alongside wires being used to place funds in ATMs and cages – that Congress could euthanize Nevada's darling industry if it so chose. But in 1961, when the mafia was a particularly heinous thorn in the side of a brash young attorney general with a Boston accent, Bobby Kennedy corralled a majority of representatives and senators into sending his brother a bill governing sports betting and numbers running – the then-predominant income source of made men. And John F. Kennedy, being ever the faithful sibling, made the Wire Act the law of the land when he inked his name to it in September 1961.
The Wire Act criminalizes, among other things, the use of any wire "for the transmission in interstate or foreign commerce of bets or wagers or information assisting in the placing of bets or wagers on any sporting event or contest." "Wire" can be safely understood, at the time, as a synonym for telephone and telegraph lines; today it can be understood, with equal modesty, to encompass all manner of online communications.
In the days before PayPal rendered Western Union a fringe anachronism, the Wire Act offered clear guidance – people could legally walk up to a Nevada sportsbook and wager a day's earnings on the Patriots covering the spread, since no wires would be involved, but the moment a man in Brooklyn called his bookie down the street to take the Giants at +180, he and his neighborhood odds maker would be running afoul of federal law courtesy of the phone line being utilized.
State Law
Of course, the hapless Giants fan in Brooklyn cannot escape the criminality of his wager by simply meeting his bookie on a street corner, even though a hand-to-hand sports bet does not implicate the Wire Act. And that is because New York – like every state except Nevada and Delaware – uses its right to regulate intrastate commerce as a means of outlawing sports betting.
Each member of the union, using the powers reserved to it under the US Constitution, regulates all manner of gambling in one form or another. In Utah, all monetary gaming is prohibited – casinos are non-existent, pari-mutuel horse betting is illegal, and there is not even a state lottery. Georgia takes mostly the same tact, but allows for certain charity events and does have a lottery. Connecticut takes the same approach as Georgia, save for its allowance of tribal gaming which, ironically for a state with such puritanical laws, has invited two of the nation's largest casinos. And even in Nevada, where just about every form of gambling shy of three-card monte finds a home, the reality is that wagering is still regulated – citizens running blackjack parlors in their two car garages are subject to arrest even though the same exact game is being spread in a casino down the street.
Since state laws concerning wagering are far from uniform, a multitude of oddities necessarily arise, and one of those oddities – which feeds the current daily fantasy fracas – is that the term "gambling" is defined in just about 50 different ways. Many state courts insist any occurrence where riches are won or lost on the turn of a card constitutes gambling; other more libertarian states are content to craft their gaming regulatory statutes in a manner that only forbids those endeavors where the correlation between a player's elective actions and an ultimate outcome proves minimal.
Thus has been born the now-familiar fighting chant of "game of skill," a term once bandied about by those wishing to avoid criminal treatment for spreading poker games, and now fully adopted by the daily fantasy community. It is, at core, an inherently awkward definitional construct, as reality holds that legal protections afforded games of skill rarely prove meaningful outside the already-scandalous realm of carnival barkers inviting patrons to "step right up" and pay five hard-earned dollars for the privilege of tossing ping pong balls into a series of bowls containing soon-to-be-neglected goldfish. But this boastful phrase – inherently dripping with the pride of its utterers professing their own skill – has nonetheless proven the chorus of a modern day anthem underlying online poker and fantasy sporting movements.
Unlawful Internet Gambling Enforcement Act
Thus we come to the Unlawful Internet Gambling Enforcement Act (known by its acronym, "UIGEA"), one of the most misunderstood legislative endeavors since Nebraska's unicameral government accidentally invited disgruntled parents to cross state lines and ditch their unwanted teenage brats.
The UIGEA does not outlaw online gambling. Nor does it outlaw online poker. Nor does it legalize wagering on fantasy sports. In fact, the UIGEA does just about none of the seismic things for which it is most often credited. Rather, the UIGEA, in what must strike as a historically indifferent mandate in light of the virtues and evils most often ascribed the law, simply forbids financial institutions from partaking in activities that are already illegal. Really – that is it.
In fact, the UIGEA actually declares, in its own text, "No provision of this subchapter shall be construed as altering, limiting, or extending any Federal or State law or Tribal-State compact prohibiting, permitting, or regulating gambling within the United States." And when it comes to defining just what constitutes "unlawful internet gambling," the UIGEA plainly dictates the phrase means "to place, receive, or otherwise knowingly transmit a bet or wager by any means which involves the use, at least in part, of the Internet where such bet or wager is unlawful under any applicable Federal or State law in the State or Tribal lands in which the bet or wager is initiated, received, or otherwise made."
Yes – the UIGEA does subsequently go out of its way to instruct "The term 'bet or wager' … does not include … participation in any fantasy or simulation sports game or educational game or contest" provided a whole slew of criteria are satisfied. And the "skill" element does make a brief appearance in the legislative text. But that definition only matters within the UIGEA – a law aimed at controlling bank involvement in illegal gaming rackets. Since the law – by its own express insistence – does not "alter, limit or extend" any other gaming law anywhere in the United States, the UIGEA's view of fantasy sports has absolutely no impact whatsoever on whether or not their participants are violating the Wire Act, state law, or any other dictate.
50 States, 50 Laws
Thus we return to the patchwork of state laws – an asymmetrical quilt brought about by the limitations of the Commerce Clause. These are the laws that originally made Nevada – and, later, the Jersey Shore – a haven for bettors, and these are the same laws that now begin to reveal a scattered national scheme for addressing daily fantasy sports. Just as roulette has long been legal in Nevada and illegal in Utah, daily fantasy sports are currently legal in many states and illegal in several others.
Congress could fix this. Just as the Wire Act created a tidy federal scheme to govern sports betting, a daily fantasy sports law could do similarly – whether by way of allowance, prohibition, regulation, or anything else along the seemingly infinite spactrum. And, yes, an overzealous federal prosecutor somewhere could decide that daily fantasy sports are somehow within the purview of the Wire Act itself and attempt to jail an operator, player or facilitator – but an archaic doctrine known as the "rule of lenity," and one assuredly too dry for exploration herein, makes that possibility subject to Lloyd Christmas-sized odds.
Until a congressional fix is undertaken, though, one absolute certainty will prevail: those invoking the UIGEA or the "game of skill" mantra as blanket allowances of their daily fantasy lineup will be just as wrong as those believing the New Orleans Saints defense is a bargain at $2,300.
Maurice "Mac" VerStandig, Esq. is the managing partner of The VerStandig Law Firm, LLC, where he focusses his practice on counseling professional poker players, sports bettors and advantage players across the United States. He is licensed to practice law in Maryland, Virginia and Florida, as well as in nearly a dozen federal courts, and regularly affiliates with attorneys licensed in numerous other states and jurisdictions. He can be reached at [email protected]
*Photo: "MTA PD Join AG's COP Program," MTA. Creative Commons Attribution 2.0 Generic.
Want to stay atop all the latest in the poker world? If so, make sure to get PokerNews updates on your social media outlets. Follow us on Twitter and find us on both Facebook and Google+!