Martin "Franke" von Zweigbergk Speaks About the UK's First Cash-Game Festival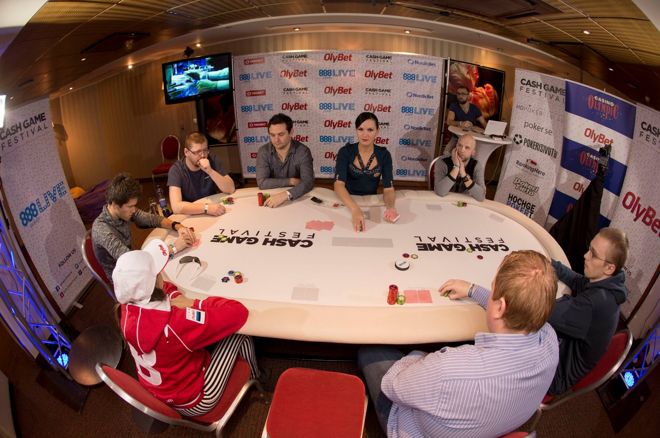 Aspers Casino Westfield Stratford City is to host the United Kingdom's first-ever cash-game festival from March 30 to April 3, 2016.
The five-day extravaganza, knowns as the Cash Game Festival, is set to run nonstop for 120 hours with 3,000 players from 50 countries expected to take a seat in a wide variety of games. The stakes will run from as affordable as £1/£1 up to as high as there is demand for. Games are raked at the standard rate with no additional charges levied on those playing in them.
Martin "Franke" von Zweigbergk, owner of Poker Icons, is the man behind the Cash Game Festival. He has successfully run three similar festivals during the past two years at the Olympic Casino in Tallinn, Estonia, and he was kind enough to sit down with PokerNews about the upcoming event.
"I've been involved in poker tournaments since 2006, and all the time I heard from cash-game players that it was a long way to travel to these tournaments only to bust, or asking why we couldn't open the cash games earlier," said Franke. "A friend of mine, Enri Orav, a professional poker player, suggested we do a cash-game festival. So basically, Enri and I created the Cash Game Festival. The concept is cash-game-only poker over several days and nights. It is our baby!"
During the three Tallinn stops, Franke and his team gathered feedback and used it to tweak how the festival is run, making it more relevant for the players and creating a way that enables them to crown a festival winner.
"There will be a festival winner, per se, based on play on certain tables, such as our live-streamed feature tables where we can track buy-ins, money won, etc. more carefully allowing us to identify an overall winner," Franke said. "It has to be a competition that is open across the board. It shouldn't matter if you're playing for £200 or £2,000."
Most casinos around the United Kingdom spread cash games in their card rooms, with hold'em being the most popular, although it is quite easy to find Omaha cash games and sometimes dealer's choice. But, anyone who heads to the 120-hour Cash Game Festival at Aspers is going to be spoiled for choice when it comes to choosing a game to play. Thanks to the Cash Game Festival, exciting new variants will be readily available, especially ones from Northern Europe when players opt to play "super dealer's choice."
"When we last ran the Cash Game Festival in Tallinn, there were more alternative tables than hold'em," said Franke. "Most were 'super dealer's choice,' which means basically any game goes so long as the rules are understood by everyone at the table. 'Sviten Special' was extremely popular. It's one of the most popular games in Northern Europe right now, and is a split game that is a hybrid of draw and Omaha. It is a super action game.
"Also popular was triple-board Omaha, where you play four-, five-, or six-card Omaha with three boards and you have to win two of them. It's safe to say, we left Texas 10 years ago!"
Along with a wide variety of games to choose from, players of all levels are catered for. Franke explained that the most common game played last time in Tallinn was €5/€5, but he expects £2/£5, £5/£5, and £5/£10 to be the most popular stakes in London, although lower and higher stakes are planned as well.
"It is a great opportunity for the whole UK-based cash-game poker scene to come to London and meet each other over the course of five days," Franke said. "Everyone will be catered for, from £1/£1 to very high."
The Aspers leg of the Cash Game Festival is followed by trips to Malta and Southern Europe (possibly Prague or Croatia), before heading back to Tallinn. Careful planning resulted in Aspers being chosen for the London leg, with its staff being rated highly by Franke and his team.
"Aspers is huge and it has an amazing poker room and amazing staff," he said. "John Scanlon, the poker room manager, is a very well connected, professional worker, and that's why we have chosen to work with him and his team. The Cash Game Festival is still in the beginning of its journey and you have to start building trust with the best of the best in the industry. If you do this, the results should be good.
"Also, the location of Aspers is fantastic. Its transport links are superb being only a few stops from both Shoreditch and Leicester Square. Visitors have a wide selection of accommodation and have easy access to entertainment like maybe going to a football match before returning to the casino for some more poker."
If you love to play cash games, then you simply have to stop by at Aspers Casino between March 30 and April 3 for the London leg of the 120-hour Cash Game Festival. For more information about the Cash Game Festival, be sure to check out its official Facebook page and Twitter feed and scope out the video below.
Want to stay atop all the latest in the poker world? If so, make sure to get PokerNews updates on your social media outlets. Follow us on Twitter and find us on both Facebook and Google+!