TV Talk Show Host Steve Wilkos: "I Bet On Everything"

Marty Derbyshire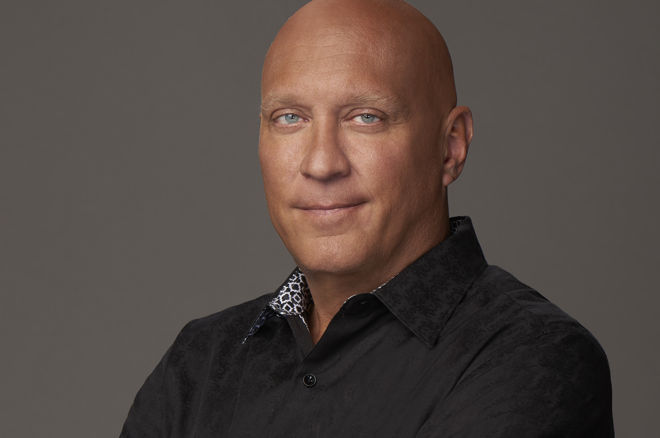 When you grow up on Chicago's North Side, just three blocks from the legendary Wrigley Field, you grow up a Chicago Cubs fan.
When you join the U.S. Marines right out of high school, return home to become a member of the Chicago Police Department, start working security for the former mayor of Cincinnati hosting a popular TV talk show — and move on to host your own — you become a poker player.
The former director of security for The Jerry Springer Show, and now host of his own program, The Steve Wilkos Show, since it's debut in 2007, is such a man.
"I just love playing poker," Steve Wilkos told PokerNews. "Not for the money, but for the competition. I really love it.
"I grew up in Chicago, and coming up we played $5 'poor mans.' For $5 you'd get some chips, but if you lost them all and you had no money, you still kept playing. We played dealer's choice and it wasn't really about the money, because nobody had any. It was more about being able to talk shit to your buddies, and we did a lot of that."
In his time in the Marines, Wilkos said his love for the game continued, but the level of competition went up, along with the stakes.
"We played games like acey-deucey, and in the Marines there were some serious players," he said. "If you were out, you were out. It was a lot more competitive."
As a police officer back home in Chicago, Wilkos continued to play poker recreationally, sticking with the game even as his career transitioned from off-duty security work on the set to full-time director of security on Springer, and now host of his own popular TV talk show.
In 2009, the chants of "Steve! Steve! Steve!" made famous first as he broke up fight after fight on the Springer set, went quiet in Chicago, as the The Steve Wilkos Show made the move to Stamford, Connecticut, and Wilkos uprooted his wife and two young children to continue his television career. Looking for a social outlet and way to make inroads into the community in his new home, Wilkos once again turned to poker, joining a local card club where they played Texas hold'em.
"Now I play with the same guys every week, and it's nice because you can tell what guys are betting on when you play with them a lot," he said. "We're in a relatively wealthy area just outside of New York We're not playing super high stakes and they're all great guys, but when the guy you know only goes in with a good hand makes a bet, he's easy to read. Same with the guy who raises every flop, even when he's got seven-deuce.
"Look, I know you need a lot of luck and you gotta get the cards, but I do OK. With this club I belong to, we can sit around, play a little poker, and smoke a few cigars. I love that, and I think the two go hand-in-hand."
Wilkos has been spotted in a few charity tournaments over the years, and says he'd definitely like to tangle with a few of the game's top rounders one day.
"I just love playing poker," he said. "Not for the money, but to raise money for a good cause is something I'm always interested in. Of course, I've watched the World Series of Poker on TV and I would love to do something like that someday as well. I think it would be a lot of fun. I just haven't had the opportunity yet.
"I think I'm a pretty good poker player; pretty good for out here. I think if you pay attention to people's behavior you can pick up on a lot of things. Yes, hosting a talk show, and especially being a cop, even if you spend just a few minutes with someone, you learn how to pick up on some of that behavior."
Since moving to Stamford, Wilkos has shared a TV studio with The Maury Povich Show and The Jerry Springer Show, calling their hosts good friends. However, Wilkos was born and raised a bit more of a gambler than his fellow TV talk show comrades, and doubts they share any of his poker dreams and aspirations.
"I know Maury is a huge golfer and he may gamble a little bit, but Jerry wouldn't gamble on pitching pennies," he laughed. "We're good friends, and I've know Jerry for over 20 years, but I've never known him to make a bet on anything.
"We did go to the Kentucky Derby last year and I think he made his first-ever bet on the horses there, but Jerry is just not a betting man. Me, I bet on the Super Bowl, I play cards, I bet on everything."
Want to stay atop all the latest in the poker world? If so, make sure to get PokerNews updates on your social media outlets. Follow us on Twitter and find us on both Facebook and Google+!