Paul Phua Tells All: "I Am Not What the Media Alleges Me To Be"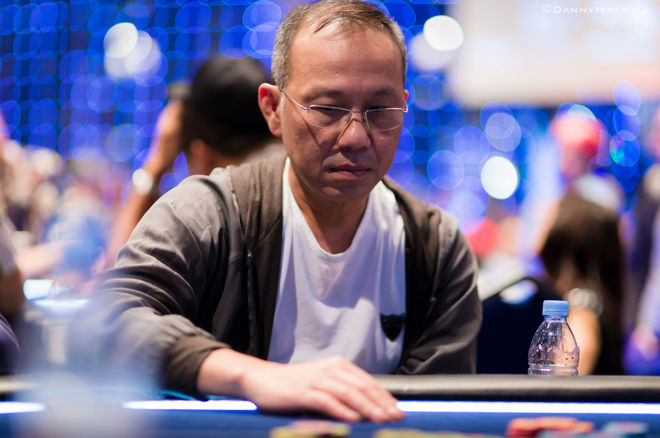 ESPN called him the "World's biggest bookie."
The FBI labeled him a high-ranking member of the infamous 14k Triad Chinese organized crime syndicate, and when they charged him with running a boiler room-style sports betting operation inside the Caesars Palace villas during the 2014 World Series of Poker, numerous media outlets reported he was the operator of a billion dollar online sports book and the ring leader behind a match-fixing scandal in the English Premier League.
I am not what the media alleges me to be: A Triad and all that bullshit.
Others have claimed his gambling junkets practically built the Macau casino business, pumping untold millions into the industry, and say that after he and his colleagues picked up poker a few years ago, they began hosting the biggest cash games on the planet.
The real truth about Paul Phua is rather different than the myths and allegations printed about the man, and in an an effort to find out, PokerNews held a detailed interview with Phua in Manila, Philippines, in between high-stakes poker sessions at the Solaire Resort & Casino, finding him eager to clarify just who he is and finally put all the rumors to rest.
This unique opportunity stands as Phua's only interview about the allegations.
"The truth is that I have not been involved in the sports betting industry for a long time," he said. "I'm just an investor, I'm a gambler, and I'm a risk taker, but I'm not an operator. I have invested in a lot of businesses, including online gambling businesses, in the past. But for the past seven or eight years, for me, it has been all about poker, family, and lot of real estate property investments."
Phua does not deny that sports betting is what initially made him. Growing up inside a community of Chinese immigrants in Malaysia, it was simply a part of the culture and something he took to even as a boy.
"From a young age I was very interested in soccer," he explained. "During our days we only had black and white TV, but we watched the FA Cup Final, and the English First Division, now the Premier League.
"When I was really young we didn't even have a TV so I had to go to my neighbor's house and watch from the window. I would bet with some of my friends, 20 cents or 30 cents, during our school days. From there on I would read a lot of the newspaper reports and I became very interested in how they create the lines, so I became good at that. And coming from a community of Chinese immigrants in Malaysia, the mentality and the culture, family and gambling is interconnected. We would all get together for card games and Mah Jong, and every big sporting event, everyone liked to pick a team to support.
"I became interested in horse racing, too. Being young, I was not mature enough and I was a constant gambler. I was attracted to the casinos and from there I met more and more people, high rollers, and eventually, I started my own casino junket business."
Phua's junket business found success in Malaysia, all while he continued to bet sports and invest in the forefront of the online sports betting industry, but when Macau began building Las Vegas-style casinos a short boat ride from Hong Kong, Phua saw another opportunity and pounced.
"When the Venetian first built Sands near the harbor, I saw the potential for the junket business there, before the Chinese even saw it," he said. "I had my junkets in Malaysia, with a lot of VIP clients, and I brought the junkets over to Macau.
"Over time, a lot of the junkets from all round Asia joined us to form a company big enough to allow us to negotiate favorably with the casinos in terms of bonuses. It was really good for everybody. The first year it is true that we brought in about 30 percent of Sands' business. Today that is very small, but at the time, that was a lot of money."
Phua's junket business thrived as Macau's casino revenues soared, and while he had invested in online gambling operations like IBCbet, Phua was a junketeer and never the world's largest online gambling operator, as has been alleged. Nor, he claims, was he the ringleader behind the 1997 Floodlights Affair, where two other Malaysians, a Hong Kong man and a stadium security guard were found guilty of match fixing after two English Premier League games — West Ham vs. Crystal Palace and Arsenal vs. Wimbledon — were stopped in the second half after the stadium lights failed.
"It's absolute nonsense and without any basis in fact," he said of those allegations. "It's some rumors. Being in the gambling circles you get these kinds of allegations, but it's nonsense."
Phua says bookmakers profit from margins in balancing their books, giving them every reason to combat match-fixing because it can produce massive one-sided losses.
Nonsense or not, Phua had been labeled, and there was a snowball effect. An Australian TV documentary on match fixing in tennis even called him a threat to that sport, without offering any evidence that Phua had done anything to deserve the accusation and despite the fact he has never been anywhere near the tennis scene.
"I haven't even gone to a tennis match in Australia even once," Phua said. "I don't know where it is coming from, but these allegations are baseless and ridiculous."
The Wynn Macau opened in 2006 and Phua moved most of his junket operations over. It was a place he would call home for the next seven years and where he soon discovered the game of poker.
"I had been staying in Macau for two years with the junket business and when the Wynn started we walked by one day and saw this game with six or seven people on the table with two cards. We stopped and we watched because we wanted to know how they play it.
"The next day the first session we had was three Chinese junket operators. They are all friends of mine, but I didn't play with them. They played alone. The next day, they knew I couldn't play the game, so they said, 'why not ask Paul to come join.' That was my first session.
"From there we suddenly had 30 or 40 junket owners, and gamblers, all Asian, who were interested in the game. For the next two years all we did was sleep, eat, and play poker. Nothing else."
Right from the outset, these veteran Asian gamblers come poker newbies were playing as high as $5,000/$10,000 HKD, which is in the neighborhood of $600/$1,200 USD, and high enough to attract the interests of some of the world's top cash game rounders, including Phil Ivey, Tom Dwan and John Juanda — even if they had to offer up the equivalent of a PhD in poker for Phua and his crew just to get a seat at the table.
"We are not all always in the same place at the same time, so sometimes when we were short of players, we called in the pros," Phua explained. "That first year, we had a rule that the winner of every hand had to show his cards. The pros, of course, obliged as well, because that was the rules of the game and you have to observe them to get a seat. Even a VIP would have to show his hand, so it worked both ways in terms of giving away tells.
"For us, this helped make the learning curve very short, and it was fun."
Within a year, Phua and his fellow Asian gamblers and junketeers were up to speed. The forced showdowns stopped and the stakes went up, making this Macau game the biggest in the world.
"The first sessions were $5K/$10K HKD. Sometimes there were smaller game like $2,500/$5K, but most of the time $5K/$10K, and after a year, $10K/$20K," Phua said. "Sometimes you have a Chinese VIP and he says 'Oh, it's so small,' So I would say, 'OK, let's put a straddle in,' and we made it $10K/$20K/$40K."
Sometimes, a VIP wins and he thinks, 'I might be as good as them.' That's the beauty of poker.
Players were sitting down with anywhere from $1 million USD to $3 million USD, and rumors of bloated pots inflated by amateur Asian whales in Macau spread like wildfire around the poker community. Top pros flocked to the Asian gaming Mecca from around the globe, waiting for days on end for a magical call from the game's fixer with news a seat had opened up. And while there was a revolving door filled with Asian businessmen, VIPs, junketeers, and some of the biggest names in poker outside the game, Phua was a fixture.
"We played long sessions, 50 or 60 hours," he said. "A 30- or 40-hour session was very common."
Phua learned the game, the fact poker is an ongoing educational experience, and at least one very important lesson about playing against the best in the world.
"I think initially, on certain good days, even someone who is not the best player at the table can win," he said. "Sometimes, a VIP wins and he thinks, 'I might be as good as them.' That's the beauty of poker. After a period of time, at least for me, I realized that in the long run we are still behind the pros. We just try to be better than most amateur players.
"I don't mind playing in a game with all pros to pass the time, to learn, to improve myself. Poker is the kind of game where you can never stop improving. Every session you learn new things and that's why we invite pros over for the game."
In between sessions in Macau, Phua still ran his junket business, and could occasionally be found playing some of the highest stakes Baccarat sessions in the history of that game. Alongside business partner and good friend Richard Yong, who Phua says is like a brother to him, he started turning up on the live tournament scene, just in time for the start of the boom in high roller events around the globe.
Yong cashed in the inaugural Big One for One Drop $1 million buy-in event at the 2012 WSOP. Two years later, when the WSOP ran the event for the second time in 2014, Phua, Yong, some family, close friends, and fellow Asian junketeers came to Las Vegas, moving into the newly-built Caesars Palace villas for the summer to get in on the action while sweating the 2014 World Cup in style.
Just a week into the trip, Phua was called back to Macau to meet with a European business associate he had made arrangements to show the ins and outs of his junket business, and that's when what Phua now calls "a chain of very bad events" kicked off.
The authorities in Macau were watching a group of junket operators alleged to be running an illegal sports betting operation. Although Phua maintains he is only loosely associated with anyone in the group, offering them advice on match lines from time to time, fresh off the flight from Vegas, just a few minutes after checking into his hotel, he was arrested.
"I was not the target at all," he said. "I had just landed and five minutes later the police came in my room. It will be proven in court, but there is no evidence of my involvement in any illegal gambling operations there."
After posting bail, Phua returned to a similar reception back in Las Vegas.
He played in a $100,000 buy-in event at Bellagio and continued to sweat action in the World Cup for a few days before July 9, when the FBI suddenly stormed a group of villas, including Phua's, searching thoroughly and questioning him about World Cup betting line stats and data they found on his computer.
A few days later, Phua, Yong, their sons, and several other villa inhabitants were arrested with the FBI publicly lauding the fact it had pinched Phua, who they called a high-ranking member of the 14k Triads, on charges he was running boiler room-style sports betting operations on Caesars property.
Every one of the other parties charged made plea deals to avoid felony charges and jail time, except for Yong's son, for whom the charges were dismissed. But Phua maintained his innocence, and decided to stay and fight, putting up his Gulfstream V private jet as a part of a bail agreement, hiring legal representation with the help of poker pros Ivey and Dwan, and living on house arrest in Las Vegas while they prepped for trial.
Nine months later, U.S. District Judge Andrew Gordon ruled the FBI's search of the villas at Caesars was unconstitutional, as the FBI cut Internet lines to the property and performed it's initial fact-finding mission inside posing as Caesars IT staff there to get them back online.
By June 1, 2015, the government decided not to appeal and withdrew all charges against Phua.
"The truth is that I was not guilty of the crimes they charged me with, and I'm not a 14k Triad, and that's why I stayed on to fight the case at the risk of jail time," Phua said, pointing out that in anyone in high-stakes gambling in Asia will unavoidably have some social contact with alleged members of the Triads, but that hardly makes them members or leaders.
Phua emphasized that the gambling operation found by the government at Caesars was in an entirely separate villa that he had never visited and that he had not placed or taken any bets with it.
People were buying in for $1.5 million US dollars, $2 million, $3 million even. We have those games.
While the charges may not have stuck, the FBI's allegation that Phua was mixed up with the 14k Triads did in the popular media, and continued to be printed in any and all media coverage of the case.
Phua and his lawyer, Tom Goldstein, say pretrial discovery showed the FBI came up with the allegation based solely on a single reference from a police officer overseas, who was actually reporting on someone else entirely. Then when the FBI followed up, they discovered nothing more to substantiate the claim.
"It's just a random police report," Phua said. "It's just an officer in another country telling the FBI he saw me with a Triad, so suddenly I am a Triad? I think they just wanted to try to criminalize me, but we managed to prove it was all false allegations."
Regardless, it's a label that seems to have stuck, and one that has now affected both his business and personal relationships.
"Now it has gotten to a point where all this bad publicity affects my life, my family's, my associates', and my friends' lives in a certain way. People don't want to be linked to a Triad. This interview is also partly to put that allegation to rest, because our business was affected. High management people don't want to be linked to the Triads. Loans were recalled by banks and our business partners were very worried. It affects the business."
Outside of talking with PokerNews, Phua went as far as to hire respected independent Hong Kong investigations firm Hill & Associates to investigate and report on any links between him and the 14k Triads. Hill both employs former Hong Kong law enforcement and maintains deep ties with law enforcement. To summarize the report: There are none.
"Basically, we are a bunch of fun-loving people who are involved in the gambling industry," Phua said. "The gambling industry has some people with bad reputations. But I think in every aspect of life there are good and bad people.
"We make so many friends around the world. People may want to know how come so many top pros are associated with me, and why they helped bail me out. It's honestly not about what I can do for them. It may be partly, but it's more about all the time we've spent around each other, playing poker, going to dinner before games. After games we go party, have a drink, play liars dice for money and drinks. It's fun.
"They know I am not what the media alleges me to be: A Triad and all that bullshit," Phua said. "These people are comfortable to be associated with me because I'm not a Triad.
"It is very important, at this stage of my life, that people know that. I'm half retired and just looking for opportunities to invest. So, to clean up all this bad publicity is very important. Initially, I thought to just leave it, but over time it has affected everybody around me. It's time for this to end."
With the crackdown on corruption in the junket business in Macau, gaming revenues have sunk over the past couple of years. Phua says the junkets are moving elsewhere, including the Philippines, Australia, and across Europe, and since the big game revolved around all the junketeers and their VIPs, the slowdown in Macau has hurt the game.
"Also, over time, certain VIPs lose a lot of money and if they cannot make up for that loss, they don't come back into the game," Phua said. "We simply had to move elsewhere. It's not completely dead in Macau, there's still some big games that run, like $5K/$10K. But it's not like it was before, $40K/$80K games, sometimes even $100K/$200K in the private games."
For now, elsewhere has become the Solaire in Manila, where the third floor of the Sky Tower and its VIP salons now host the biggest games in the world. Of course, Phua is usually in on the action, and Ivey has taken up at least part-time residence there now. Last summer, online high-stakes wizard Dan "Jungleman" Cates even told the world through Twitter that he'd dumped $5 million USD in the Manila game.
Yes, Phua says they play that big.
"We were playing with antes, like $20K or $30K, and people were buying in for $1.5 million US dollars, $2 million, $3 million even. We have those games. Less frequently now, but yes, it's true."
Sometimes the stakes get so high, the pros are asked to sit out.
"It happens more frequently now," Phua explained. "Those businessmen that are still playing, they've realized they can't beat the pros after so many years. So, if they have a choice, they would rather play with other businessmen. But if they don't have enough players and the VIPs in the games agree, we have the pros on call.
"I think it depends on which professionals we are talking about, but I think most of them are used to these stakes. Some are bankrolled into the games and they may be a bit affected by how big the game gets, but I think most are not these days.
"From the businessman and VIP point of view, generally, they would prefer players who can bankroll themselves. They are not comfortable with three players having pieces of each other in the same game. But for me, over the years, I've found even players who share pieces of each other play to the true spirit of the game. So I don't have a problem with it."
The spirit of the game appears to be important to Phua, and they have stayed true to it in his game, even as the stakes and the level of competition has risen.
"Through so many years and so many big games, we've never had any fights," he said. "Maybe a little argument on certain hands, but never any really big fights.
"The Chinese mentality is that if you want to play and you lose, you just say 'OK, I lose. It's not my day.'
"Even the pros that come to play with us, they see all these VIPs and somehow they lose 10 million, five million US, and they will laugh. They like it. It's fun and I think that's the way that they all see our game."
Phua says his legal team is currently looking into all the allegations made against him in the media and honestly just wants the public to understand the truth about who he really is.
"People in the junket business and poker, they know the truth," he said. "But outside, people just know from media reports and online news portals and I think that's unfair. After much consideration, I decided to do this interview, to clear up what's not true in media reports and online portals.
"I consider myself a professional gambler. The difference between me and other gamblers is that I'm a high risk taker. I'm willing to gamble big in a Baccarat session for high stakes. The biggest all over the world. I make my money from gambling, but I also give some back to the casinos. A lot actually. But we get the services and high-roller treatment that the casinos offer.
"I am also a poker player, and yes, I love the game. For the past seven or eight years my life has been all about poker. For the first four years I did not even go on holiday with my family. So it has come at a cost, as I've spent a lot of time at the tables. Anything else the FBI or the media has said about me is simply ridiculous and baseless."
Want to stay atop all the latest in the poker world? If so, make sure to get PokerNews updates on your social media outlets. Follow us on Twitter and find us on both Facebook and Google+!