Top 10 Stories of 2014: #7, Yong, Phua, Others Involved in World Cup Betting Scandal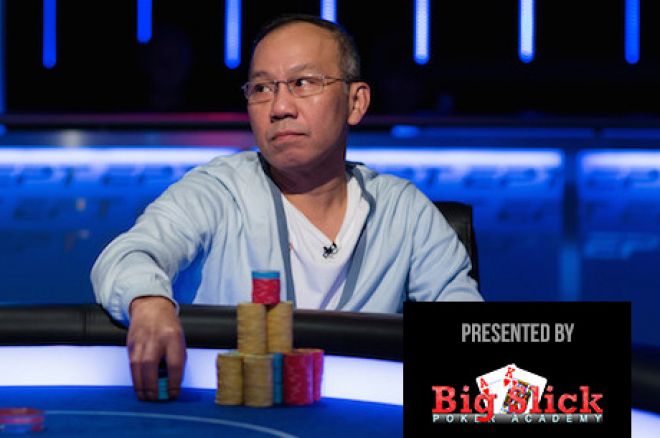 The PokerNews Top 10 Stories of 2014 is presented by Big Slick Poker Academy.
The countdown continues as the PokerNews staff brings you the Top 10 Stories of 2014, and coming in at No. 7 on the list was a scandalous affair involving the "Beautiful Game" and one of the oldest rackets around.
On July 9, 2014, the Federal Bureau of Investigation (FBI) executed search warrants and raided three luxury villas at Caesars Palace, later arresting eight individuals on suspicion of operating an illegal gambling ring. Among those caught up in the dragnet were Paul Phua and Sen Chen "Richard" Yong, well-known Chinese businessmen who frequent Macau's high-stakes cash-game scene. As reported by the Las Vegas Review-Journal at the time, Phua and Yong were arrested along with six other Chinese and Malaysian nationals on charges that the group was accepting illicit wagers during the FIFA World Cup — a soccer tournament held every four years which pits the 32 best national teams against one another until a champion is crowned.
One day after the German squad demolished and demoralized host nation Brazil in the FIFA World Cup semifinals, Phua, Yong, and their associates were arrested at other resorts along the Strip, after the group had been evicted from Caesars Palace upon discovery of their alleged gambling operation in one of that property's luxury villas. According to reporting published in December by the Las Vegas Review-Journal, Paul Urban –--who works as the director of special investigations for Caesars Entertainment — began to investigate the group after receiving a photograph of their luxury villa "loaded with computers, wide-screen televisions, and WiFi equipment commonly found in illegal sports-betting wire rooms."
Phua and Yong were taken into custody along with their 22-year-old sons, Darren Wai Kit Phua and Wai Kin Yong, respectively. Paul Phua was charged under the name Wei Seng Phua — and according to a criminal complaint unsealed shortly after his arrest, this identity has been linked to a Chinese organized crime syndicate known as the 14K Triad. Based largely in Hong Kong, the 14K Triad is reportedly tied to vice crimes like prostitution, illicit substances, and indeed, illicit gambling. That criminal complaint contains allegations made by the FBI claiming that Paul Phua was "known by law enforcement to be a high-ranking member of the 14K Triad."
Phua was also arrested in Macau on June 18 on charges of operating a major sports-betting and gambling operation that allegedly handled hundreds of millions of dollars in illicit wagers on World Cup soccer. As the FBI claimed in its Las Vegas criminal complaint, upon his release on bail Phua fled Macau for and made his way to a villa inside Caesars Palace, where he allegedly continued to lead the illegal gambling ring.
Better known as "Paul" to the poker world, Phua — along with Yong — were regulars in the ultra-high-stakes cash games that have attracted elite players like Phil Ivey, Tom Dwan, and Andrew Robl to essentially relocate to Macau during the last few years. In addition to his cash-game exploits, Phua and Yong have both experienced moderate success on the high-roller tournament circuit. In April, Phua registered a sixth-place run in the PokerStars and Monte-Carlo® Casino European Poker Tour Grand Final €100,000 Super High Roller for a €385,000 score. In addition, Phua also has three live tournament cashes reported on the Hendon Mob database, each good for more than $340,000 in prize money. Yong is no stranger to the high-stakes tournament scene in his own right, and in 2012 he finished in eighth place at the inaugural $1,000,000 buy-in Big One for One Drop at the World Series of Poker, earning $1,237,333 for his efforts.
In the days after the arrest, Phua obtained the services of high-powered defense attorney David Chesnoff — who is familiar to many high-stakes poker pros after representing Ivey in his divorce proceedings. Chesnoff vehemently denied the charges against his client, working to secure his client's release on bail but only doing so after U.S. Magistrate Judge Bill Hoffman ordered a number of conditions. According to the Las Vegas Review-Journal, Hoffman set Paul Phua's bail at $2,000,000 — with his $48,000,000 private Gulfstream jet to be held as collateral — while Darren Phua's bail was set at $500,000 against the same collateral. Both father and son were to be placed on home detention through electronic monitoring, while being held under the custody and supervision of a local physician trusted by both the court and the defendants.
In order to secure the $2,500,000 in cash needed to secure his clients' bail, Chesnoff reportedly worked in close conjunction with several well-known poker pros, many of whom have played alongside Paul Phua for the last few years while Macau's high-stakes cash games assumed their now legendary status. As reported by the Las Vegas Review-Journal, poker luminaries like Ivey and Robl combined to collect the necessary funds, with Ivey contributing $1,000,000 ($500,000 for each of the Phuas) and Robl adding $1,500,000. Dwan also came to the Phuas' aid, as the man known as "Durrrr" during his online heyday had become close acquaintances with them following their time competing in Macau, and he was actually in the room on July 13 when FBI agents arrested the pair.
Despite these bail arrangements being met, however, the Phuas' freedom was short-lived. Immediately after being released both men were taken into custody by U.S. Immigration and Customs Enforcement (ICE) officials pending deportation proceedings connected to his Macau arrest, a move which angered Chesnoff and further complicated an already complex case.
"Our clients have complied with every condition set by a federal judge for their release," Chesnoff said at the time. "We have repeatedly attempted to contact ICE authorities, who have not responded. We are going to take further legal steps."
The case hung in legal limbo for months after both the WSOP and the World Cup were in the books, but in December five of the eight defendants in the case — including Yong — agreed to plea deals largely consisting of misdemeanor charges. Paul and Darren Phua, however, have elected to fight the charges and each tendered pleas of "not guilty" in August.
"We are not guilty as we always maintained," said Chesnoff immediately after the Phuas decided to contest the charges. "It is our intention to fight the unconstitutional conduct of the federal government for our clients and for the rest of the public."
At the heart of Chesnoff's defense strategy is his contention that FBI agents knowingly provided "flimsy" — and possibly even illegally obtained evidence — to dupe a federal judge into granting the search warrants used to conduct raids at Caesars Palace. Additionally, the FBI's case against the Phuas has been attacked as unlawful after reports surfaced that agents may have illegally posed as telecommunications workers in order to operate a warrantless search and seizure prior to the July 9 raid. The Las Vegas Review-Journal has reported that Nevada Gaming Control Board Special Agent Ricardo Lopez — who was working undercover on behalf of the FBI when a clandestine search was executed on July 4 — did not obtain consent from either Caesars Palace or the prosecutor's office, and that his decision to disable Internet service in the Phuas' villa was done so without a warrant to justify the intrusion.
Dwan provided a sworn affidavit in which he questioned those tactics, and according to reports he was also present in the courtroom when the Phuas and their associates made their initial appearances. Reportedly engaging in private discussions with defense attorneys as the proceedings progressed, Dwan has also offered public support for the Phuas on social media, tweeting a link to an NPR article that explicitly questions the FBI's methods in the Phua case.
With a trio of prominent professionals aligning themselves with the Phuas as they contest the charges against them, comments made by Assistant U.S. Attorney Kimberly Frayn have cast a cloud over the poker players' possible involvement with alleged World Cup betting. As reported by the Las Vegas Review-Journal, "without citing names, Frayn said a number of Paul Phua's poker associates may have been involved in illegal activity uncovered by the FBI investigation, which is continuing ... (and) there has been talk that more arrests are coming."
While this may be nothing more than sabre rattling from an aggressive prosecutor preparing for a long legal battle, the possibility that poker may become embroiled in a sports-betting imbroglio is concerning to say the least. Ivey is already saddled with a pending "edge-sorting" lawsuit lodged against him by Borgata (more on that to come later in the countdown), and Dwan has receded from public eye since Black Friday, but neither they nor Robl can afford to be implicated in wrongdoing as the Phua case continues to unfold. Accordingly, the poker world will no doubt be waiting on edge to see how things develop for the Phuas, and for the triad of pros who have taken up their cause.
PokerNews Top 10 Stories of 2014:
Be sure to stay tuned to PokerNews as we continue to count down the top stories from 2014.
Get all the latest PokerNews updates on your social media outlets. Follow us on Twitter and find us on both Facebook and Google+!