Top 10 Stories of 2014: #9, Tony G Leaves Poker for European Parliament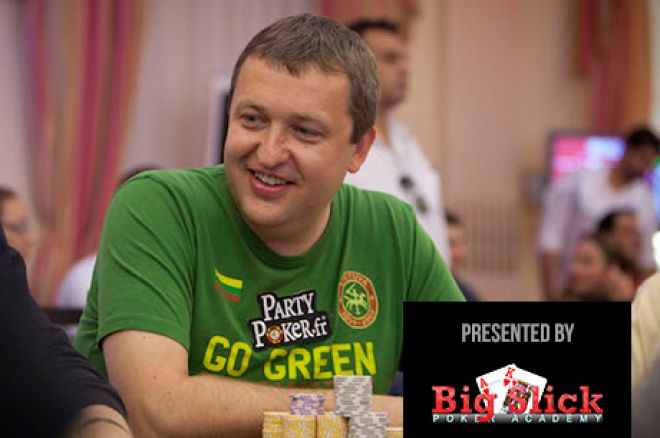 The PokerNews Top 10 Stories of 2014 is presented by Big Slick Poker Academy.
The leaves have fallen, the snow keeps falling, and with a few more flips of the calendar's pages yet another new year will commence. But before the ball drops to usher in 2015, the PokerNews staff proudly brings to you the latest edition of our own annual tradition: the Top 10 Stories of 2014. A team of editors, reporters, and contributors all came together to vote on the most memorable and meaningful poker stories to make headlines in 2014, with the 10 most impactful events topping the list. Over the next nine days, PokerNews will continue to count down the powerful and provocative stories that mattered most, after Aaron Hendrix kicked things off yesterday with his review of Darren Elias' back-to-back wins on the World Poker Tour. And while the "End Boss" made almost $1 million on the felt with his consecutive wins, the next installment in our series highlights Tony G's historic victory away from the tables.
Back in 2006, the poker world was treated to one of the greatest displays of trash talk ever exchanged between two gamblers, as the brash and boisterous Tony G took on Ralph Perry in the inaugural Intercontinental Poker Championship. Although Tony G was representing Australia on that day, the man born as Antanas Guoga in Kaunas, Lithuania, let loose with a tirade tinged with both pride and patriotism, after successfully baiting the Russian-born Perry into an ill-timed call with an inferior hand.
"Yeah!," bellowed Tony G when a safe river card arrived to seal Perry's demise. "Yeah baby, come on Russian, get out! It's time to go! Look at this... look how he's playing, look how ugly this is! You're a professional player and I can do this to you... you're a terrible player! This is disgraceful. Bring the Russians on, bring more Russians on... I'm here to get 'em all. You played that as bad... your career is finished! You are gone, gone, gone! Feel the power! You feel my power baby? Feel my power!"
While the outburst fit perfectly with Tony G's self-styled role as poker's loudest loose cannon, and could also be understood given his native land's tortured history under Soviet Russian rule, viewers at the time could never expected his final words to prove so prescient.
Eight years later, when the morning of May 26, 2014 dawned, and the European Parliament election results rolled in throughout the EU, the time had finally come for Tony G to wield real power. After a series of successful transitions from poker pro to entrepreneur, and finally, to Lithuanian Liberal party representative, Guoga had run pure once again — and this time the stakes were the highest he had ever played. Garnering just over 16.5 percent of the parliamentary elections in his homeland, Guoga's Liberal Movement party became the third most influential group in national politics, while also securing two of Lithuania's 11 seats in the European Parliament. Occupying one of those seats in his own right, Guoga now looks to make good on his campaign pledge to infuse Lithuania with innovative ideas and progressive policies.
"I think that Lithuanian politics needs new people and new blood and I want to change policy," Guoga stated during his campaign's launch in October of 2013. "I have been fortunate enough myself to be reasonably successful in my life and I have new ideas and hope to inspire others to come into politics, too. I think I can bring a lot to the table with my experience in life and business."
That business experience was exemplified throughout 2014, as the newly launched TonyBet Poker online gaming platform expanded Guoga's already expansive influence within the industry by becoming the industry leader in online open-face Chinese (OFC). His TonyBet brand continued to evolve as the year progressed, organizing the first-ever live OFC Poker World Championship series in Prague. But despite the undeniable impact that his Tony G persona played in poker's development since the boom, Guoga's political ambitions clearly took center stage during the last year.
"I have packed up the bike and I am going to EU parliament in Brussels to change Lithuania," stated Tony G during his campaign's launch. "I made second in the list as a candidate for the Liberal Party and am really happy. This result leaves me well positioned for next year. The Liberal Party has set a goal during the European parliamentary election to fight hard for two seats. Currently, the Liberal Movement in the European Parliament has one representative so there is a lot of hard work ahead of me."
That hard work paid off in spades for Guoga and his political allies, as the Liberal party in Lithuania bucked European trends to double its gains in the Parliamentary election. Guoga now serves as a full member of the Committee on the Internal Market and Consumer Protection, and as a substitute member of the Committee on Employment and Social Affairs, roles which provide a platform for the Liberal party's stated goals of creating a "fair-minded Lithuania, educated Lithuania, and wealthy Lithuania ... (where) a person's dignity and welfare will be ensured by high standards of living, as well as by freedom of creativity and civil initiatives."
In a September interview with European Voice — an English-language newspaper focusing on European Union political affairs — Guoga described his own philosophy toward political leadership by personalizing the voters who entrusted him with power.
"Politicians need to go and see the people more," he said during a typically impassioned explanation of his party's success. "And also attract new faces, faces outside of politics. It can't be too heavy on politics, it has to be about people. About efficiency, about being proactive and thinking ahead... and maybe move on, maybe let some people go who have been there too long. I think we should do things in life, and it shouldn't be politics forever. I don't believe in that, that you can be a politician for all of your life and nothing else. I don't see much success in that. You have to understand and feel the pulse on the street, feel the pulse in the factories ... you have to know what's going on. You have to be in touch."
One part of Guoga's commitment to his new position involves a prolonged, and perhaps even permanent, withdrawal from the world of high-stakes poker, a vow he made to Lithuanian news outlet 15min.lt. in May. With over $4.8 million in reported live earnings to his credit — including the 2005 European Poker Championship Main Event title for $456,822 — Guoga's legacy as a poker pro has long since been established. Today, his ambitions are larger, spanning the spectrum from legislative efforts within Lithuania's Liberal Movement to the geopolitical gambits taking place between regional adversaries Russia and Ukraine. Asked recently about the EU's response to simmering tensions between the two nearby nations — accelerated by Russia's aggressive annexation of the contested Crimea region and reported troop buildups along the Ukrainian border — Guoga's response was, in signature Tony G fashion, both blunt and bold.
"You've got to be honest," he began, before offering a brutally candid read on the situation. "We have to be a little bit embarrassed. In terms of how slow we have been, and that we still believe we can negotiate with Russia. That we can be diplomatic, that we can find a diplomatic solution. We have to understand what Russia is: they only understand tactics. We have to take steps and we have to tell them, 'this happens now, you get these sanctions,' and they're not enough. They need to be very severe sanctions for what they've done in Crimea ... Now, they've put a lot of troops into Ukraine, and they want more of that country. Next will obviously be Poland and the Baltic states, and they will not stop. Unless Russia respects us, they will not stop."
In only his first year as a member of the European Parliament, missives like that make it clear that the man now known as MEP Antanas Guoga still wields Tony G's infamously sharp tongue. But in a political era dominated by doublespeak and deception, Guoga's refusal to abandon his principles for the sake of public appeal has proven to be a refreshing alternative, especially for hundreds of thousands of Lithuanian liberals looking to him for effective leadership.
PokerNews Top 10 Stories of 2014:
Be sure to stay tuned to PokerNews as we continue to count down the top stories from 2014.
Get all the latest PokerNews updates on your social media outlets. Follow us on Twitter and find us on both Facebook and Google+!