Top 10 Stories of 2014: #4, Daniel Colman's Massive Success and Controversial Year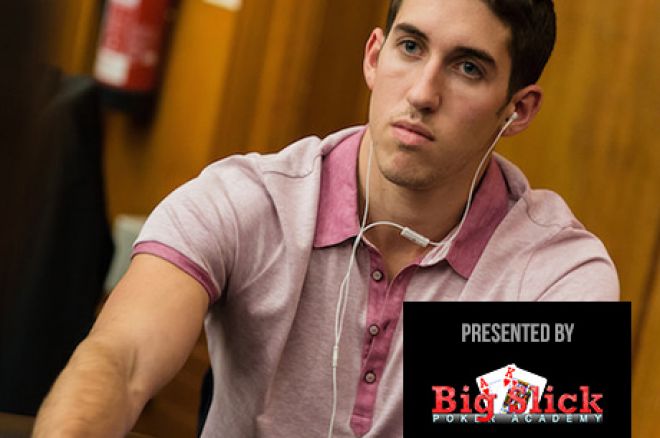 The PokerNews Top 10 Stories of 2014 is presented by Big Slick Poker Academy.
We're more than halfway through our Top 10 Stories of 2014, and today we're highlighting the incredible, and somewhat tumultuous year, of 24-year-old wunderkind Daniel Colman. Known for his online success, Colman exploded onto the live scene with a record-setting year that saw him move into second place on the all-time money list. Perhaps more notable though were Colman's actions away from the table, but altogether his success and the off-felt drama is our No. 4 story of the year.
The Good, the Bad, and the Ugly
Colman entered the year with a reported $504,699 in lifetime tournament earnings. A blip on the live poker radar, Colman was mainly known for his success online under the screen name "mrGR33N13" crushing high-limit hyper-turbo sit-and-gos. Things would change quickly when Colman beat another online legend, Daniel Cates, to win the European Poker Tour Monte Carlo Super High Roller for over $2.1 million.
Colman and his
would eliminate one of his toughest opponents, Ole Schemion, who had the misfortune to wake up with the
in the big blind after Colman opened from the button. Colman would enter heads-up play with Cates facing a significant deficit, but he eventually took the lead with patient play. The final hand saw Cates move all in for slightly more than 10 big blinds with the
and Colman made the call with the
. Colman's hand would hold, and he would win the pot and the tournament.
While that win was impressive, it didn't have nearly the magnitude or publicity that his next win would have. Two months later at the World Series of Poker in the $1,000,000 Big One for One Drop, Colman would defeat perhaps the biggest name in poker, Daniel Negreanu, heads up to win over $15.3 million and move his name up the all-time winners' list in tournament poker in one fell swoop.
Heads-up play began with Colman holding a slight chip lead. He would lose that lead early on before taking control when he hit a full house on the river with the
on a board of
and extracted 18 million in chips from Negreanu. From there, it was just a matter of time until Negreanu was all in and at risk with the
against Colman's
. The flop hit Negreanu hard as it came
to give him two pair. It wasn't over, though, as Colman did have four outs to an inside straight. He would hit it when the dealer put out the
on the turn and only an ace or four on the river would keep Negreanu in the tournament. The river was the
, and the victory was Colman's.
Normally winning over $15 million would be the biggest story of the day, but that changed when Colman refused to speak to the media afterwards. He took a stoic photo with the pile of cash, made a quick comment about raising money for the One Drop Foundation, and then quickly left the Amazon Room. This reaction led to widespread criticism, especially from mainstream media that covered the event, and Colman took to the poker forums to explain himself. Among the things he would say:
"First off, I don't owe poker a single thing," Colman wrote. "I've been fortunate enough to benefit financially from this game, but I have played it long enough to see the ugly side of this world... I would never in a million years recommend for someone to try and make it as a poker pro."
He then continued: "I get it if someone wants to go and play poker on their own free will, but I don't agree with gambling being advertised just like I don't agree with cigarettes and alcohol being advertised.
"As for promoting myself, I feel that individual achievements should rarely be celebrated. I am not going to take part in it for others and I wouldn't want it for myself.
"I realize I am conflicted. I capitalize off this game that targets peoples weaknesses. I do enjoy it, I love the strategy part of it, but I do see it as a very dark game."
Colman would continue his impressive results at the table as well as his penchant for drama when he would finish second to his mentor, Olivier Busquet, in the EPT Barcelona Super High Roller and adding more than $1 million to his ever-growing bankroll. He would also use the final table as an opportunity to make a political statement, as he would don a t-shirt that said "Free Palestine" while giving Busquet a t-shirt of his own to wear that said "Save Gaza." Busquet would explain on the Thinking Poker Podcast that Colman was adamant about wearing the shirts and that he was supporting the efforts of his friend.
The EPT sponsor, PokerStars, would respond in kind by changing their rules regarding the display of political statements at their live events. The company's Head of Corporate Communications, Eric Hollreiser, stated: "Our tournaments are designed to promote poker and poker competition and not as a platform for political statements. Players have many channels to express their views on world politics, but our tournaments are not an appropriate place. We will refuse entry to any player displaying political statements of any kind."
If you thought Colman was done for the year with success at the tables, you'd have been wrong as less than two weeks later he would take down the high-profile Seminole Hard Rock Poker Open Main Event for just shy of $1.5 million, besting a bevy of top pros at the final table including Joe Kuether, Shawn Cunix, John Dolan, and the eventual runner-up Mike Leah.
Colman's run of a lifetime would continue when he would win the WPT Alpha8 London event for his sixth score of greater than $750,000 in 2014. A seventh-place finish at the Asia Championship of Poker Super High Roller tournament would move Colman into the lead for the Global Poker Index Player of the Year title — a position he still holds as the year comes to an end. There's no doubt Colman had a year for the ages as he would collect nearly $22.4 million in live tournament winnings and move into the No. 2 spot all time behind only Negreanu.
Here's a look as some of the impressive results he posted this year:
| Date | Tournament | Finish | Prize |
| --- | --- | --- | --- |
| April 24 | EPT Grand Final Monte Carlo Super High Roller | 1st | $2,127,398 |
| June 19 | WSOP $10,000 NLHE Heads-Up | 3rd | $111,942 |
| June 29 | WSOP $1,000,000 The Big One for One Drop | 1st | $15,306,668 |
| July 10 | Aria $100,000 Super High Roller | 3rd | $796,821 |
| Aug. 18 | EPT Barcelona Super High Roller | 2nd | $1,118,479 |
| Aug. 28 | Seminole Hard Rock Poker Open $5,300 Main Event | 1st | $1,446,710 |
| Oct. 6 | WPT Alpha 8 London | 1st | $957,396 |
| Nov. 1 | APPT 2014 Asia Championship of Poker Super High Roller | 7th | $373,932 |
Colman wouldn't end the year quietly, however, as he once again took to the forums. This time his target was Phil Hellmuth and Colman had this to say about the all-time leader in WSOP bracelets:
"It's embarrassing that we have to share our profession with whores like this guy," Colman wrote. "After I [won] One Drop, he immediately [came] on stage to shake my hand in front of a camera and congratulate me. As if he's the gatekeeper to the poker world and welcoming me inside.
"It is truly pathetic that a 40-year-old would behave the way he does at the table, not to mention how spineless he is, just willing to take any sponsorship regardless of the company's integrity. 'Hey, anything for a payday!' Really makes me sad to think there's a chance some people may look up to this charlatan. People of his attitude and character are a cancer to this world."
Colman would later issue a clarification on his comments by stating "I understand I come off poorly attacking Phil [Hellmuth] in the way I did. Let's agree that I was harsh and over the top and didn't do myself any favors. I'm happy to have a dive taken in my almighty Two Plus Two street cred as long as we can focus some parts of the discussion on [Hellmuth's] overall behavior and his representing of [Ultimate Bet]."
When it was all said and done, whether Daniel Colman wanted the spotlight or not, it found him frequently in 2014. Partly because of the phenomenal year he had at the tables, and partly because of the drama he often created away from it. It's for all those reasons that Colman's tumultuous year ranked as our No. 4 story from 2014.
PokerNews Top 10 Stories of 2014:
Be sure to stay tuned to PokerNews as we continue to count down the top stories from 2014.
Get all the latest PokerNews updates on your social media outlets. Follow us on Twitter and find us on both Facebook and Google+!