Five Thoughts: EPT Prague, Re-Entry Debate at WPT Five Diamond, and More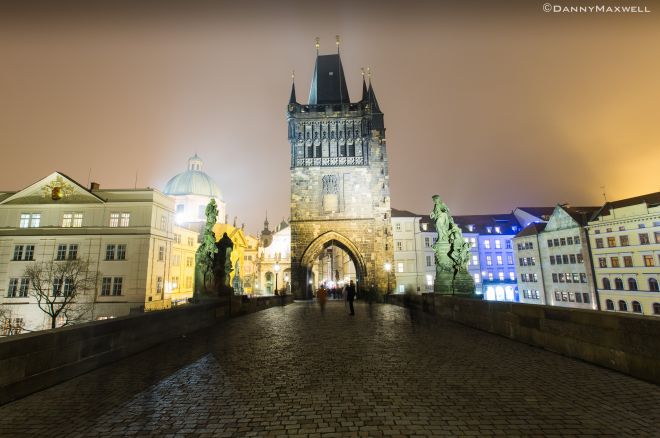 The year 2014 is coming to a close, but unlike traditional workplaces where employees are doing less and less the closer we get to the holidays, the poker world is starting to heat up.
EPT Prague concluded this week, crowning a Super High Roller, Main Event, and High Roller champion, and the WPT Five Diamond World Poker Classic is in full swing at the Bellagio. There is also Alpha8 Las Vegas, which begins on Thursday and promises to be a massive event.
All of this action in December is leading to a very interesting conclusion to the various Player of the Year races on the Global Poker Index. Dan Colman remains the leader in the overall POY race, but can still be caught if Davidi Kitai or Ole Schemion somehow put together a deep run in a qualifying event.
With Sam Cohen cashing 17 times this year there was a sweat for the Ladies POY, but Vanessa Selbst sealed the deal at EPT Prague. She secured the title for the third-consecutive year with a 14th-place finish in the Main Event.
Most likely, these races will be settled in Las Vegas with the exciting conclusion of the WPT Five Diamond World Poker Classic, and the start of a massive Alpha8 Las Vegas. Before we discuss Sin City, however, let's look back at the festivities in Prague.
1. Graner Wins EPT Prague
Stephen Graner more than doubled his lifetime earnings on Wednesday, winning the EPT Prague Main Event and €969,000. Graner topped a record-breaking field of 1,107 players, defeating Anton Bertilsson heads up to secure the title.
"It feels great to win a really prestigious event," Graner said after the final table was over. "I just caught a lot of premium hands and won some critical flips. The dealer did as much work as I did."
Final Table Payouts
| Place | Name | Country | Prize |
| --- | --- | --- | --- |
| 1 | Stephen Graner | USA | €969,000 |
| 2 | Anton Bertilsson | Sweden | €582,720 |
| 3 | Jonathan Wong | UK | €410,190 |
| 4 | Fabio Sperling | Germany | €308,180 |
| 5 | Simon Mattsson | Sweden | €235,700 |
| 6 | Bjorn Wiesler | German | €172,340 |
| 7 | Remi Castaignon | France | €129,390 |
This was Graner's first ever EPT event. Earlier this year he nearly secured a million-dollar score at the World Series of Poker, finishing sixth in the "Millionaire Maker" for $273,854. Graner has won at least one live tournament for $21,000 or more in this past four years.
The aforementioned Vanessa Selbst and Davidi Kitai were both in contention going into the penultimate day of the EPT Prague Main Event. The two returned with only 22 players remaining, but looking to secure yet another major score in 2014. Selbst ran
into the
of Bjorn Wiesler and failed to improve, exiting in 14th.
Kitai bubbled the unofficial final table of nine when his
couldn't top fellow EPT Champion Remi Castaignon's
. The money went in the middle preflop, and the Triple Crown winner made a pair of nines on the turn, but the
spiked on the river to send the Belgian packing.
If you can stand the cold, and a little bit of snow and ice, Prague is a lovely destination in the winter. The city is aglow with holiday cheer and decorations, and the beers, hot ciders, and warm wines are delicious. Despite the frigid temperatures, I don't think I've ever spent as much time outside the poker room or my hotel room during a tournament stop as I did in Prague.
If you don't believe me, check out Remko Rinkema's video from Old Town:
2. Zaya Breaks Hearts; Wins EPT High Roller
When Martin Jacobson won the WSOP Main Event, Donnie Peters, myself, and the rest of #TeamMedia shared a few laughs. Not only did we bubble the money in the $25K Fantasy League, but one of our players somehow won the Main Event and we were unable to receive full credit.
For those of you that don't know why the $25K Fantasy League ends before the final table resumes, the players want to square up before everyone departs from Las Vegas. It makes sense, especially because the pot is fairly large.
Jacobson's win brought with it a pinch of salt in the wound, but it was certainly satisfying to see that someone we spent $1 on in the draft was crowned Main Event champion.
Fast forward to EPT Prague, where Stephen Chidwick goes deep in the €50,000 buy-in Super High Roller. The Brit busted in third place, earning €355,070. After Phil Ivey, Chidwick was the most expensive player on #TeamMedia, and for good reason. Unfortunately for us, he made all of his deep runs after the WSOP was over, reaching three final tables in three different countries.
Then there's Andrey Zaichenko, who won the EPT Prague High Roller for €487,180. Zaya was too busy grinding social media and Candy Crush on his iPad during the WSOP to put together any substantial runs during big buy-in events before the WSOP Main Event for #TeamMedia. Then, like Jacobson, he went on a sick run during the Main Event and reached the final day before the final table. Zaichenko was unable to chip up, however, and exited shy of the final table in 17th place.
It's certainly no surprise that Zaichenko had the most success in the event with the least amount of technology allowed – remember, you can't use electronic devices when you're in the money at the WSOP.
After a three-handed deal with Laurynas Levinskas and Francois Billard, Zaichenko defeated the former heads up to win the title and an extra chunk of change. There were several other notable players at the final table, including German wizard Ole Schemion.
Schemion bowed out in sixth place, earning €141,420, and is poised to once again with the European GPI Player of the Year award. If he hops a last-second flight to Las Vegas for the upcoming Alpha8 event, he could also make a run at the overall Player of the Year award as well.
3. Re-Entry Debate at WPT Five Diamond World Poker Classic
The Season XIII WPT Five Diamond World Poker Classic is underway at the Bellagio in Las Vegas, where the World Poker Tour was born 13 years ago. The $10,400 buy-in event attracted a total of 586 entries this season, up from 449 in Season XII.
This created a total prize pool of $5,684,200, with $1,477,890 going to the victor. Every member of the official final table of six will walk away with a minimum of $218,842.
This tournament features unlimited reentries – this began in Season XII – and this has caused a stir within the poker community. Daniel Negreanu, who registered late and fired several bullets, was among the chip leaders after Day 2, but the often loveable Kid Poker was receiving some flack in the comments section of the official World Poker Tour Facebook page.
"Who gives a s***, bought in 5x before level 8.
"Rebuy tournaments suck!!"
"Where is the fairness in constant rebuys for tournaments?
It's a mentality that, understandably, troubles most amateur and non-professional poker players. Allen Kessler was banging the drum this entire week, conducting very scientific polls on Twitter to determine whether or not unlimited reentry tournaments are "good for poker."
The first thing we need to recognize is that all tournaments are not created equal. Some tournaments cater to recreational players, while others target professionals with big bankrolls. It's fair to say that your average weekend warrior isn't going to rock up to a five-figure buy-in tournament very often. Vegas may be a bit unique because there is a certain influx of cash and individuals willing to gamble, but that will also make it more likely that these people would want to reenter if they were eliminated before registration was closed.
Of course, if every poker tournament allowed for unlimited reentries, it would be disastrous. Bankrolls would shrink, backers would be more wary of investing in horses, and ultimately tournaments would stop fielding such large numbers. That's why you need to pick and choose.
Most of the negative comments about the reentry format at Bellagio didn't come from the players themselves, save for Mr. Kessler. They came from passionate fans that are more likely to play smaller buy-in events. At this level, where the difference between $10,000 and $50,000 isn't as large as it may seem for the fans, a bit of gambling is encouraged. Most of the players who intend to only play on one entry want to see their opponents fire multiple bullets, because that increases the prize pool substantially.
Not all tournaments are created equal, and should cater to the players most likely to participate in that price range. A rigid set of rules for structures, pay outs, and entry format does not work if applied to every single buy-in level.
4. New Watch Alert, Hublot
The World Poker Tour and luxury Swiss watch company Hublot held a celebration at Hyde Bellagio on Wednesday night, announcing Hublot as the Official Watch and Timepiece of the WPT. Likewise, the WPT POY title is now named the Hublot WPT Player of the Year, and the winner will earn a one-of-a-kind Hublot timepiece.
Hublot also revealed the limited-edition Big Bang World Poker Tour, which will be sold at boutiques across the world.
The event was spectacular. Hyde was littered with amazing timepieces from Hublot, including the new Big Bang World Poker Tour and the Season XIII Hublot WPT Player of the Year watch. On the balcony, overlooking the Bellagio Fountains and the Las Vegas Strip, there was a special poker table set up so that WPT President Adam Pliska and Hublot CEO Ricardo Guadalupe could match their wits on the felt.
WPT Champions Club members, and Hublot owners, Noah Schwartz and David Williams joined in the festivities, as did Liv Boeree.
Hublot is constantly focused on the art of fusion, and in announcing this partnership with the World Poker Tour they didn't just want to throw an ordinary party and move on to the next one. They were very keen on highlighting the game, so much so that the box the retail timepieces come in includes poker chips.
The small poker game with Guadalupe, Pliska, and the others was also supposed to be a simple and fun photo opportunity, but the game lasted for what seemed like an hour. Although there was no money on the line, no one at the table wanted to be eliminated.
In order for poker to fully establish itself in the mainstream, we must secure more mainstream sponsors like Hublot. The PGA Tour is a perfect example of what poker could be; a series of tournaments with big buy-ins and big purses, both of which are supplemented by sponsors who appear on advertisements, clothing, equipment, and apparel.
As poker becomes more legitimate as a [mind] sport, and hopefully more states like California begin to regulate it, these opportunities may increase. Still, with only three regulated markets in United States, the World Poker Tour has been able to secure major sponsorship details with well-known global brands, including Hublot, Monster Headphones, FIAT, Royal Caribbean International, DraftKings, and Skrill. That's an impressive roster.
5. GG, Ladies Events?
In a recent interview with PokerNews, Maria Ho was asked about women in poker and how to bring more women into the game. One of her ideas was to stop holding ladies' events altogether:
Let me propose you something crazy. I have actually given this some thought, and as you have mentioned the ladies events, let me propose you this: what if we just got rid of the ladies events?

What if we made it so that if a woman wants to play poker, she has to play poker with everybody else? I think we underestimate the will of a woman; I think that if you make them choose between to play at an open event or not play at all, they will come.

Maybe we could consider to make the buy-ins a little bit smaller, even if it would be important to make sure that the events would still be prestigious enough to attract people. Besides this, I also think that the casinos could do more. They could host seminars geared towards women, and have women come in.

I can't tell you how many women have told me things like "Oh, I just don't know if it's my turn to bet or check". When you walk into a casino, you don't want to feel like you are the newbie, you don't want everyone to immediately notice that you don't have a lot of experience. If you just have them come to a casino to simply sit at a table and practice all the different steps that form a poker game, I think they would just feel a lot more comfortable. We should never forget that everybody started as a beginner and that there's nothing bad about that.
This isn't the first time I've been exposed to this point of view, and it is very sensible. Ladies' events – which is a term I despise because the word "lady" doesn't feel appropriate – are protected environments where the players feel safe and male intruders are supposed to be shamed. If anything, it further separates the two genders in the poker room and disparages a more diverse game.
If we truly went poker to be gender equal, then we need to ensure that women are comfortable at all times. This is a tall task, and one that we can only slowly chip away at. I don't have enough limbs to count the amount of times I personally have been at the table and a player has cracked an inappropriate joke about women with a woman in the box or playing at the table. Some players feel as if, because they are in the majority, they are protected by the numbers and free to say whatever they feel no matter how offensive.
Strangely, finding these jokes distasteful and saying something often times breaks "social code." Evidently, you're supposed to just mindlessly laugh at sexist and racist remarks.
I applaud Ho for her thoughtfulness and nuance. She has always thought about more than just poker, and I am glad she has been able to parlay her success on the felt into opportunities off of it.
Get all the latest PokerNews updates on your social media outlets. Follow us on Twitter and find us on both Facebook and Google+!