Top 10 Stories of 2014: #2, Phil Ivey Endures More Legal Drama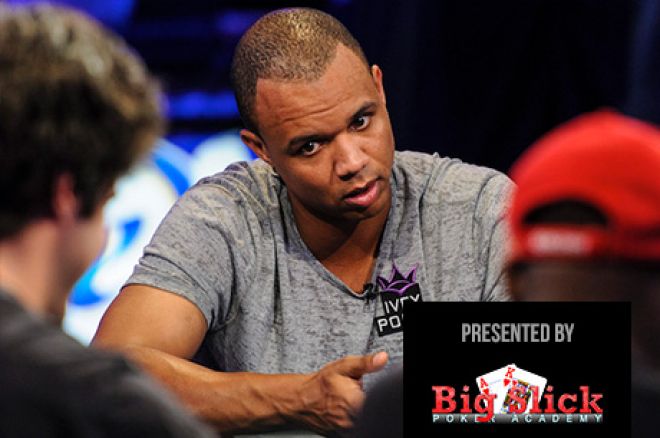 The PokerNews Top 10 Stories of 2014 is presented by Big Slick Poker Academy.
Each year the staff at PokerNews picks what we feel are the top stories of the year in the poker world based upon a vote of each of the staff members. For a little more than a week, we've been counting down those stories and today our No. 2 story of the year highlights a person who is no stranger to our yearly top countdown.
For the third consecutive year, Phil Ivey has made our list. In 2012, Ivey came in at No. 10 with his big return to poker. In 2013, he would return at the No. 10 spot as part of a group of poker players struggling with legal issues. It would be those legal troubles that would thrust Ivey into our runner-up spot for the top story in 2014.
Ivey Goes Mainstream
In August of 2012, Ivey would win £7.8 million at Crockfords Casino playing punto banco, a variant of baccarat. The casino refused to pay Ivey and he filed suit in May of 2013. As time passed, it was revealed that Ivey had used a technique called "edge sorting" to gain advantage over the casino. This method allowed Ivey and his partner to identify the cards based upon the edge of the card.
More trouble would soon follow, when in April of this year Borgata Hotel Casino & Spa in Atlantic City filed a lawsuit against Ivey for the $9.6 million he won playing baccarat there. The lawsuit alleged that, like at Crockfords, Ivey had used edge sorting to gain an advantage against the casino. In addition to Ivey, the manufacturer of the cards, Gemaco Inc., and Ivey's partner, Cheng Yin Sun were named. The charges in the lawsuit included breach of contract, racketeering, fraud, conversion, unjust enrichment, and civil conspiracy.
According to the complaint, Ivey arranged a visit and was able to negotiate special arrangements for his baccarat play. Those arrangements included a maximum bet of $50,000 per hand; his own pit; a dealer who spoke Mandarin Chinese; being allowed to have a guest sit with him; and a eight-deck shoe of purple Gemaco Borgata playing cards would be used for the session. The casino granted these requests but claimed in the lawsuit that Ivey had misrepresented his motive and did not communicate the true reason for the arrangements.
In July, Ivey's attorneys would file a motion to dismiss the Borgata lawsuit responding that his win was done by "sheer skill." The motion asserted that Ivey and Sun did nothing that could be considered cheating and that the statute of limitations to recover the money had expired. Additionally, they claimed that individual casinos could not pursue violations of state casino regulations.
Ivey's partner would file her own lawsuit against Foxwoods claiming they owed her and two others $1.1 million in mini-baccarat winnings and $1.6 million they had deposited with the casino. PokerNews contributor and attorney Maurice "Mac" VerStandig broke down the legality of this lawsuit in an in-depth article for the site.
Ivey's tale would make the mainstream media when he sat down for a 60 Minutes Sports interview with James Brown that aired at the beginning of October. The normally media-shy Ivey allowed the show to follow him around while he was playing at the World Series of Poker in Las Vegas. He sat down with Brown and discussed the lawsuits and why he felt he was innocent of the claims levied against him.
As this story was about to air, Ivey was busy appearing in court in London for his lawsuit against Crockfords Casino. Ivey admitted to using the edge-sorting technique, but he rejected any accusations that he cheated. He told the court, "it's not in my nature to cheat and nor would I risk my reputation by acting unlawfully in any manner. As a professional gambler, my job is to seek to lawfully reduce the perceived house edge. My integrity is infinitely more important to me than a big win, which is why I have brought these proceedings to demonstrate that I have been unjustly treated."
Unfortunately for Ivey, his plea would fall on deaf ears as the court ruled in favor of the casino. Judge John Mitting ruled that edge sorting constituted cheating under civil law. Mitting said, "he gave himself an advantage which the game precludes. This is in my view cheating." A disappointed Ivey, via a spokesperson, responded, "I believe that what we did was a legitimate strategy and we did nothing more than exploit Crockfords' failures to take proper steps to protect themselves against a player of my ability. Clearly the judge did not agree."
A month later, Ivey would file an appeal against Mitting's decision. Matthew Dowd, Ivey's attorney, told F5Poker that Ivey "is seeking to appeal the decision on the basis that the judge was incorrect in both fact and law to conclude that edge sorting was cheating, particularly in circumstances where the judge made it very clear in his judgment that he considered Phil to be a truthful witness and that he accepted that Phil genuinely believes that his actions during the game at Crockfords did not constitute cheating."
The year would end with the appeal against Crockfords and the lawsuit by Borgata being unresolved. Could Ivey make another appearance on this list in 2015 based upon what happens in those cases? Only time will tell, but 2014 ends with this as our No. 2 story of the year.
What story tops our list? Find out tomorrow.
PokerNews Top 10 Stories of 2014:
Be sure to stay tuned to PokerNews as we continue to count down the top stories from 2014.
Get all the latest PokerNews updates on your social media outlets. Follow us on Twitter and find us on both Facebook and Google+!