Top 10 Stories of 2014: #6, Vicky Coren Mitchell Becomes First Two-Time EPT Champ
Aaron Hendrix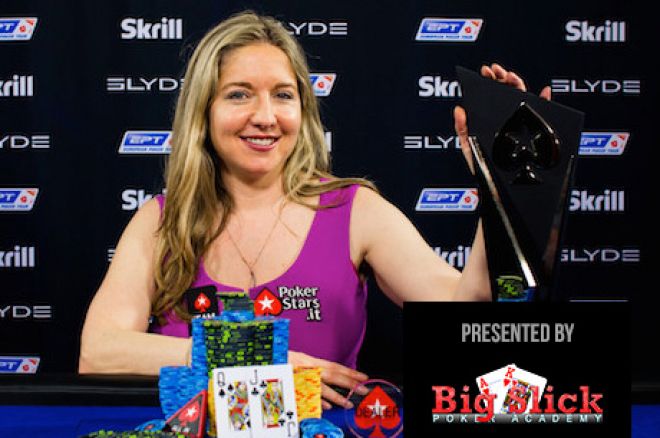 The PokerNews Top 10 Stories of 2014 is presented by Big Slick Poker Academy.
Each year, the staff at PokerNews votes on and compiles a list of its Top 10 Stories of the Year. We started things off with our No. 10 story on Darren Elias winning back-to-back World Poker Tour events and have released one story each day since as we count down towards No. 1. Coming in at No. 6 is the roller coaster year of Victoria Coren Mitchell, who would start things off by becoming the first two-time European Poker Tour champion in history and end it on a sad note when she announced her departure as a member of Team PokerStars Pro.
A Woman of Principle
Make no mistake about it, Victoria Coren Mitchell can play poker, and she can play it well. She entered 2014 with nearly $1.7 million in lifetime tournament earnings including a win in the early days of the EPT (their third season) when she took down the European Poker Championships in her home country for $941,513 in 2006. Coren Mitchell is known for much more than her poker prowess, however, as she is widely regarded in the UK as a broadcaster and journalist where she writes weekly columns for The Observer and The Guardian, and has also served as a commentator on numerous television shows including "Celebrity Poker Club".
Her early success in poker and visibility in the mainstream media led to PokerStars adding her to their roster of sponsored professionals in 2008. At the time, Coren Mitchell had this to say about her signing: "I'm genuinely proud and happy to be an ambassador for PokerStars, I have played on the site for years. And I'm especially delighted to help promote the EPT, which was already my favorite tournament series even before I won in London. The only difference is that I used to play it in cheaper shoes. Team PokerStars Pro is a lineup of some of the most exciting and memorable characters in modern poker, I'm really chuffed to be joining them."
She would go on representing PokerStars for the next six years, and it was in April of this year that she accomplished a feat that no other poker player had been able to do when she won her second EPT title. Anytime a player who had won a previous event would near a final table, the talk would be about whether they would become the first two-time winner. It would not happen until the 10th season during the EPT Sanremo Main Event, and it would be Coren Mitchell making history.
It would be a hard-earned victory as she would enter the final table with the shortest stack of the eight remaining players. She would pick her spots well and with four players left would score a timely double up with the
against the chip leader Jordan Westmorland and his
to put her right in the thick of things.
With three players remaining, Coren Mitchell would pick up the biggest pot of the tournament when Westmorland opened to 200,000 from the button and she reraised to 500,000 out of the big blind. Westmorland called, and the two would see a flop of
. Coren Mitchell checked and Westmorland bet 550,000 only to see his adversary check-raise to 1.2 million, which he would call. The dealer put out the
on the turn and both players checked. The river was the
and the chips started flying with Coren Mitchell putting out a wager of 1.5 million and Westmorland moving all in. Coren Mitchell thought for a moment before making the call with the
for trip tens with an ace kicker. Westmorland also had trip tens with his
, but the queen kicker was not good enough and Coren Mitchell moved into the chip lead.
She would hold that until the very last hand when she would flop top two pair with the
to crack the
that her opponent, Giacomo Fundaro, held. Coren Mitchell would tell PokerNews afterwards, "I'm not even sure I'm awake. I can't believe this is happening, and it's not because of the two-time champion thing — it's because I was the short stack. I came back with the smallest chips thinking I'd be happy to be eighth, and it's like miracles have happened. I don't really believe it."
In late November, Coren Mitchell would shock the poker world by announcing her departure from PokerStars citing that the introduction of casino games to the site was not something she could support.
In her blog she stated:
"I can't hang around, sleep on it, have meetings and talk myself into staying, when my gut tells me that the right thing is to walk away. This is no criticism of PokerStars itself: business is business, they are providing a new service that people want, and I know they intend to abide by some key principles of responsible gaming. It's not anti-casino either; I spend a lot of time in casinos, and I have been known to indulge in live table gaming."
She would go on to add:
"But I cannot professionally and publicly endorse it, even passively by silence with my name still over the shop. Poker is the game I love, poker is what I signed up to promote. The question I'm probably asked most often in interviews is about the danger of addiction, going skint and so on. I'm always careful to explain the difference between the essentially fair nature of poker, where we all take each other on with the same basic chance, and those casino games at unfavourable odds which can be (especially online) so dangerous for the vulnerable or desperate. Although PokerStars assured me I would not have to actively promote the casino arm, I know in my heart that continuing in my current role could risk helping to send people to a place where they would encounter something I think is dangerous. That's not the way I want to make a living."
Coren Mitchell's departure was met with widespread applause from the poker community as many had been critical of some of the decisions PokerStars had made recently and found a hero in Coren Mitchell taking a stance that not many would. While she might no longer be a sponsored pro, it would not surprise anyone in the poker world to continue to see the spirited Brit dominating at the poker tables again soon.
PokerNews Top 10 Stories of 2014:
Be sure to stay tuned to PokerNews as we continue to count down the top stories from 2014.
Get all the latest PokerNews updates on your social media outlets. Follow us on Twitter and find us on both Facebook and Google+!