Top 10 Stories of 2013: #10, Ivey, Kagawa, Smith, and Others Face Legal Trouble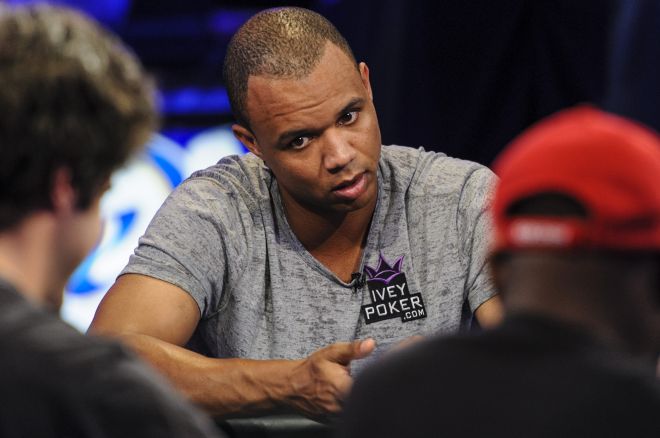 As the calendar reaches its end, the staff here at PokerNews has sifted through the most interesting and compelling occurrences in the poker world to bring you our Top 10 Stories of the Year. Our list was compiled through voting by each member of our staff, and we'll spend the next 10 days counting down what we believe to be the biggest stories of the year. Coming in at the No. 10 spot this year is the legal trouble many big names in the poker world were involved in.
Phil Ivey Battles Crockfords
You may remember that last year Phil Ivey's return to the tournament poker world was our No. 10 story. He appears once again in a similar spot on our list this year, but for a much different reason.
Back in August of 2012, the nine-time World Series of Poker bracelet winner made headlines when he won £7.8 million playing punto banco, a variant of baccarat, at Crockfords Casino. Despite months of negotiations, the casino refused to pay Ivey his winnings, which led to Ivey filing a suit on May 7, 2013.
At that time, Ivey commented on the lawsuit:
"I am deeply saddened that Crockfords has left me no alternative but to proceed with legal action, following its decision to withhold my winnings. I have much respect for Gentings, which has made this a very difficult decision for me... Over the years I have won and lost substantial sums at Crockfords and I have always honoured my commitments. At the time, I was given a receipt for my winnings but Crockfords subsequently withheld payment. I, therefore, feel I have no alternative but to take legal action."
It was reported that Ivey, who was accompanied by a "beautiful Oriental woman," was originally playing £50,000 per hand and was at one point stuck £500,000. After gaining permission to increase the stakes to £150,000 per hand, Ivey went on a massive winning streak to finish in the black.
Ivey's situation was looked at in a Five Thoughts piece by our very own Rich Ryan where he examined a comical graphic published by the Daily Mail that illustrated how they speculated Ivey's game may have unfolded.
As the year wore on, PokerNews learned that Ivey was said to have used a technique called "edge sorting" to gain advantage during his run at Crockfords.
According to the Daily Mail, the claim states, "During the second session on August 20, [Mr. Ivey] made various requests for decks of cards to be changed at the end of hands with which [Crockfords] chose to comply. This continued until Kelly identified a deck or decks of cards where the pattern on the reverse side of the cards was asymmetrical."
Kelly accompanied Ivey at Crockfords, and is "adept at identifying the design flaws."
"Kelly would ask the dealer to reveal each card in turn by lifting the edge furthest from the dealer so that Kelly could identify whether the card was a seven, eight, or nine — the key cards in the game," the claim continues. "The first time that Kelly identified a key card, she told the dealer that it was a 'good' card, which she wanted the dealer to rotate in the opposite direction to all the other cards and the dealer complied with the request... The cards in the deck were increasingly orientated so that 'good' and 'bad' cards faced in the opposite direction."
As of the time that the edge sorting claim was made, Crockfords had only returned £1 million of Ivey's £7.8 million in winnings. While Ivey remains in the search for his winnings, other notable poker players have been dealing with problems that include run-ins with the law.
Masa Kagawa Charged with Running Malware Ring
In July, high-stakes poker player Masa Kagawa was one of nine men arrested by the Chiba Prefectural Police in Japan. He was charged with running an Android malware ring and operating a scam dating website. The 50-year-old Kagawa, who at the time served as the president of the Tokyo IT firm Koei Planning, was charged as the mastermind behind distribution of malware used to collect personal contact details.
According to symantec.com, Kagawa and his team were "able to collect approximately 37 million email addresses from around 810,000 Android devices. The company earned over 390 million yen (approximately $3.9 million USD) by running a fake online dating service called Sakura site in the last five months of the spam operation. Spam used to lure victims to the dating site was sent to the addresses collected by the malware."
For those unfamiliar with his poker accolades before the arrest, Kagawa appeared on GSN's High Stakes Poker, scored a fifth-place finish in the 2012 PokerStars and Monte-Carlo® Casino EPT Grand Final €100,000 Super High Roller for $468,030, and a third-place finish in the 2013 Aussie Millions $100,000 Challenge for $337,824.
While Kagawa's arrest caused drama in Japan, there was just as much legal trouble occurring stateside.
FBI Crime Bust Indicts 34 Individuals Including Top Poker Pros
In April, the FBI's Eurasian Organized Crime Squad executed federal search warrants throughout New York City, Los Angeles, Miami and Philadelphia in connection with an illegal gambling ring tied to Russian organized crime. The investigation sought to reveal high-stakes poker dens and offshore sports betting. It resulted in 34 individuals being indicted by Preet Bharara of the United States District Court of the Southern District of New York. Among those indicted were well-known poker pros Justin Smith, Bill Edler, Peter Feldman, Abe Mosseri, Joe Mancuso, Vadim Trincher, John Hanson and Eddie Ting.
Here's a deeper look at some of the more notable names in the poker world who were indicted:
Molly "Poker Princess" Bloom — Best known as the organizer of past high-stakes poker games that included Toby Maguire, Leonardo Dicaprio and Alex Rodriguez, among others.
Bill Edler — World Series of Poker bracelet winner with $1,331,178 in WSOP earnings. Also named BLUFF Magazine's 2007 Player of the Year.
Abe Mosseri — Won the 2009 WSOP Event #55: $2,500 2-7 Triple Draw Lowball for $165,521. Has also appeared on the poker TV show The Big Game.
Peter Feldman — Two-time WSOP Circuit ring winner with $1,142,388 in career WSOP earnings.
John Hanson — An options trader from New York who has two final-table appearances in the $50,000 Poker Players' Championship (third in 2007 for $852,480 and runner-up in 2009 for $789,199).
Michael Sall — Once bet Brian Zembic $100,000 that he wouldn't get breast implants.
Just weeks ago, further developments in this story arose as Bloom pleaded guilty to charges of running illegal high-stakes poker games for Hollywood stars and Wall Street millionares at The Plaza Hotel in New York City. Bloom joins 24 of the defendants who have all opted to plead guilty in the criminal case. Over the course of the year, the likes of poker pro Justin Smith, television producer Bryan Zuriff, and Manhattan art dealer Helly Nahmad all opted to sign plea agreements.
Bloom, who was facing up to five years in prison, was able to work out a plea deal that allowed her to serve probation or up to six months in prison. Her agreement also stated that she would forfeit $125,000. Her sentencing will take place on April 30, 2014.
As many names in the poker and gambling world are connected with activities that involve large sums of money, its no surprise that legal issues have arisen over the course of time. Though they took place in 2013, many of these issues have yet to find closure, and as we head into 2014, PokerNews will be here to provide the conclusions to these legal tales of woe.
Stay tuned for more of the Top 10 Stories of the Year right here on PokerNews.
Get all the latest PokerNews updates on your social media outlets. Follow us on Twitter and find us on both Facebook and Google+!