2009 WSOP: Abe Mosseri Claims Event #55 2-7 Triple Draw Gold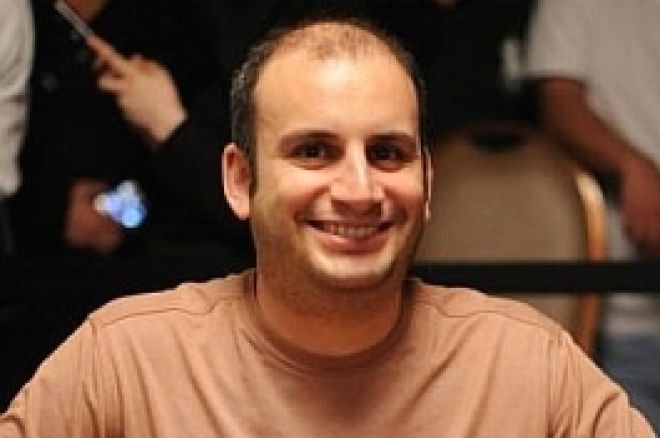 This year's World Series of Poker featured only one 2-7 Triple Draw event, Event #55. The field drew gamblers, lowball specialists, poker authors and even a world champion or two. But by the time Day 3 rolled around, only nine players remained. Abe Mosseri started Day 3 atop the leader board, and fought off all comers as he claimed his first WSOP bracelet when he busted Masayoshi Tanaka heads up to claim the $162,521 top prize.
Play started on two tables, as 2-7 Triple Draw is a six-handed game. Nam Le busted early to move the action closer to the final table. Le busted in ninth place ($13,423) after two rough hands in a row. In the first hand, Le raised preflop only to find Masayoshi Tanaka playing back at him with a three-bet from the button. Le drew three on the first draw while Tanaka took one. Le drew two on the second draw, but Tanaka stood pat and led out one more time. Le folded and was running on fumes. Le was practically all in after paying his big blind on the next hand, and his last few chips went in after drawing three in the first round against Hertel Zalewski. Zalewski drew three as well, then drew one and stood pat showing 10-9-8-4-2 at the end. Le drew two, then one to show K-5-4-3-2 as he headed to the rail.
Zalewski busted in eighth place ($17,933) just a couple of hands later. He lost most of his chips in a big pot with Brad Libson, and then the rest went in on the hand immediately following. Zalewski opened for a raise, then Masayoshi Tanaka three-bet before the first draw. Brad Libson called, and Zalewski called all in. Zalewski drew two on every round, but Brad Libson got there after the second draw, standing pat on the third draw with 9-8-7-5-3 for the scoop. The remaining seven players condensed to a single table as Zalewski headed home.
Kris Lord was the final-table bubble boy when he busted in seventh place ($17,933). Again most of the damage was done before the final hand, when most of Lord's stack went across the table to Blair Rodman before Abe Mosseri delivered the coup de grace. Lord opened for a raise in his final hand, and Mosseri was the only caller. Lord drew one card and bet out after the first draw, and Mosseri took two and called. Mosseri stood pat on the second draw and led out, and Lord took one card and thought for a moment before committing the last of his chips. Mosseri stood pat again on the last draw, and once Lord drew one card Mosseri showed 8-7-6-3-2. Lord couldn't compete, and was done in seventh place.
Brad Libson held the chip lead as the final table kicked off, with chips stacks as follows:
Brad Libson — 432,000
Blair Rodman — 418,000
Abe Mosseri — 342,000
Masayoshi Tanaka — 325,000
John Juanda — 220,000
Julie Schneider — 207,000
Libson went from penthouse to outhouse in practically no time, as he started the final table with the chip lead but became the first player to bust from the final table in sixth place ($23,484). Julie Schneider claimed the knockout. In Libson's final hand, Schneider raised before the first draw. Libson put in a raise for his last few chips, and Schneider called. Both players drew two on the first two draws, and Schneider stood pat on the third. Libson took one as Schneider showed J-9-5-3-2. Libson was drawing live with 8-7-4-2, but an ace on the last draw proved to be his undoing as he finished in seventh place.
Blair Rodman busted in fifth place ($31,818) after a big pot with John Juanda. Rodman drew one card on the first round, and then led out with a bet. Juanda check-raised, and Rodman called. Rodman then drew two cards on the second round as Juanda stood pat. Juanda bet out, and Rodman called off the last of his chips. Rodman drew one last card as Juanda stood pat and showed 8-7-5-4-2. Rodman bricked on the last draw and showed 6-5-4-3-2 for a straight.
Event #55 marked John Juanda's fourth final table of the 2009 WSOP, and his second in deuce-to-seven lowball. He got the last of his chips in from the big blind against Abe Mosseri, who called from the small blind. Juanda drew on every round, taking three cards, then two, then one. Mosseri took two cards on the first draw, then stood pat to table 9-8-7-4-2. Juanda started good with 8-6-2, but he picked up face cards for the last two and busted in fourth place ($44,941).
Julie Schneider doubled the number of cashes her husband Tom (the 2007 WSOP Player of the Year) logged to date in the 2009 WSOP with her final-table appearance in Event #55, her second cash of the series. Schneider busted in third place ($66,285) in a three-way pot against Masayoshi Tanaka and Abe Mosseri. Schneider called from the button pre-draw, as did Tanaka. Mosseri raised from the big blind, and Tanaka called into the side pot. Tanaka took two cards on the first draw and checked to Mosseri, who stood pat and bet out. Schneider drew one card as Tanaka made the call. Tanaka again took two cards on the second draw as Mosseri stood pat once more and Schneider drew one. Mosseri bet out again, and again Tanaka called. Tanaka and Mosseri both stood pat on the third draw as Schneider took one last card. Mosseri checked behind Tanaka, and showed 9-5-4-3-2. Tanaka and Schneider both mucked and Schneider picked up the biggest cash of her career as she headed to the rail.
Masayoshi Tanaka took a slight edge into heads-up play:
Masayoshi Tanaka — 1,019,000
Abe Mosseri — 916,000
It didn't take Mosseri long to recapture his chip lead, and after a relatively short final table, he sent Tanaka packing in second place ($102,313). Tanaka opened with a raise from the button, and Mosseri three-bet on the final hand. Tanaka called and drew two cards, and Mosseri took one card and bet. Tanaka called. Mosseri stood pat on the second draw, and bet out. Tanaka drew one and raised. Mosseri three-bet, Tanaka re-raised all in and Mosseri called. Both men stood pat on the last draw, and when Mosseri tabled 7-6-5-3-2, Tanaka couldn't better that hand and the tournament was over.
Abe Mosseri took down his first WSOP bracelet over a tough final table, pocketing $165,521 in the process.