Top 10 Stories of 2013: #2, Daniel Negreanu's Massive Year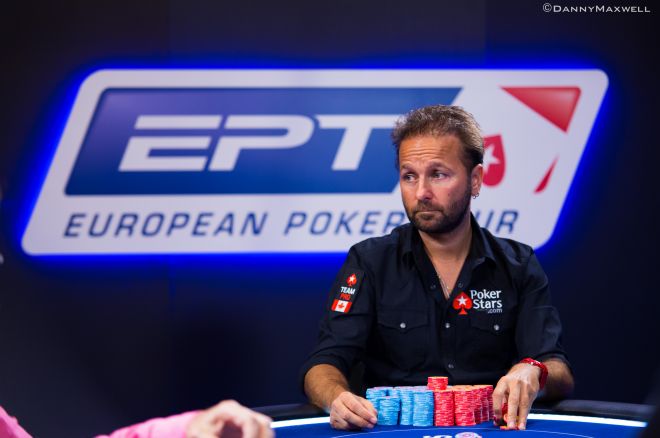 We're almost there, folks! Today marks the final day of 2013 and the release of the No. 2 story on the PokerNews Top 10 Stories of 2013. Coming in as the runner-up this year was none other than "Kid Poker" himself, Team PokerStars Pro Daniel Negreanu.
In 2012, PokerNews' No. 2 story of the year was Phil "The Poker Brat" Hellmuth, who added two gold World Series of Poker bracelets to his list of accolades including winning the WSOP Europe Main Event. This year, it was Negreanu who booked another win for the seasoned pros by dominating the poker scene, and life in general.
It was Albert Einstein who once said, "Try not to become a man of success, but rather try to become a man of value."
Negreanu, whether aware of these words or not, has certainly followed in Einstein's path by entirely evolving his way of life in 2013. He hired a personal trainer, became an avid drinker of freshly-juiced vegetables, grew out his hair, and crushed more than a few tournaments he participated in.
Through one of his infamous rants posted on YouTube, Negreanu briefly discussed the reason for his evolving success, which he largely attributes to ChoiceCenter Leadership University. According to its website, ChoiceCenter offers "Personal Development and Leadership courses using experiential learning to elevate Emotional Intelligence (EQ) — the single biggest factor in determining success in life." Negreanu accepted the challenge and began the leadership program in November 2012 and completed it in February 2013.
"I have a newfound confidence in trusting myself," Negreanu says in his video blog. "I owe it to the training I received at ChoiceCenter."
That newfound confidence certainly paid off because Negreanu not only proved to be successful in poker but in life, as well. To kickstart the year, Negreanu took a shot at love by making his reality TV debut on the Bravo Network's Millionaire Matchmaker show, which matches single millionaires with potential spouses. Although his television appearance didn't end with a fairytale wedding, you have to give Negreanu credit for putting it all out there on a nationally recognized TV show. That wouldn't be his only TV appearance, though, as Negreanu also appeared on Canadian sitcom Mr. D.
In talking about his appearance Negreanu said, "I've done cameos before, and this is by far my most extensive roll. I actually get to do some acting."
With as much controversy that has stirred around the poker community over the last few years, Negreanu once again proved to be one of the good guys and shed some positive light to the industry. In early 2013, Negreanu aimed to raise $100,000 for St. Jude Children's Research Hospital. He also pledged to match up to $50,000 in donations made to the cause. Negreanu not only hit his $100,000 mark but exceeded the amount to $173,848.
As far as poker is concerned, Negreanu stole the headlines throughout the year, and it all started back in April during the WSOP Asia-Pacific tournament series. Negreanu, along with nine-time bracelet winner Phil Ivey, led the final table of Event #3: $2,200 Mixed Event. Negreanu was second in chips, while Ivey sat in first. Although it would be Ivey who took the gold, it was a good stepping-stone to what would come in the near future for Negreanu.
Just three days later Negreanu won his fifth WSOP gold bracelet. A feat he had waited five years to achieve finally came during the WSOP Asia-Pacific Main Event in Melbourne, Australia. Negreanu bested a field of 405 to win the top prize of AU$1,038,825 and the prestigious gold bracelet. The Team PokerStars Pro dominated a tough final table that included Russell Thomas, Benny Spindler, and Winfred Yu, and eventually took down Daniel Marton heads up to claim his first WSOP Main Event title. He said afterward that everything about his fifth bracelet was significant, but winning the inaugural Main Event in Australia made it extra special.
"A million dollars doesn't suck either," he added.
His career success only began to escalate from there. In May, just a short month later, Negreanu continued his incredible run in 2013 by taking down his first major online tournament, winning the PokerStars Spring Championship of Online Poker (SCOOP) Event #33. He added another $216,000 to his bankroll by winning the $5,200 Pot-Limit Omaha event and claimed his first SCOOP watch in the process.
Winning poker tournaments is one thing, but being picked as most popular by poker's biggest fans is another success all of its own. Poker fans from around the world voted a hand played by Negreanu as the greatest in PokerStars' history. Of 22 options given, "The One Where Daniel Calls" received the most votes. Negreanu put his opponent on his exact hand, making a move that caused his opponent to fold. The full hand can be seen here.
It was definite, Negreanu was on a heater for most of the year and it surely wasn't stopping. Negreanu nearly took down another major event, but fell just short in second place during the PokerStars.com European Poker Tour €10,000 High Roller in Barcelona. Although in an unflattering manner, during his first bullet on Day 1, he so strongly disagreed with a ruling that he wound up "removing" himself from play. He came back late in the day and made his way to the final table.
As if things couldn't get any better for "Kid Poker," they did.
In October, Negreanu did the unthinkable by winning his sixth WSOP gold bracelet in Event #8: €25,600 High Roller of the 2013 WSOP Europe. His achievement earned him enough points to win the 2013 WSOP Player of the Year award. The honor made him the first two-time WSOP Player of the Year winner, after earning the honors back in 2004 after he made five final tables and won a gold bracelet.
"I love things like these," said Negreanu on Day 3 of the High Roller. "Points. Stats. All of it."
"I love drama!" Negreanu exclaimed after the win. "What's better than bottom of the ninth, bases loaded, and you just got to win? I love it."
Here's a look at the 10 cashes Negreanu recorded in 2013 just in WSOP events:
| Event | Place | Prize |
| --- | --- | --- |
| WSOP APAC A$2,200 Mixed | 4th | $17,096 |
| WSOP APAC A$10,000 Main Event | 1st | $1,087,160 |
| WSOP $2,500 Omaha/Seven-Card Stud Hi-Lo | 12th | $12,269 |
| WSOP $2,500 Seven-Card Stud | 26th | $3,889 |
| WSOP $3,000 No-Limit Hold'em Mixed Max | 49th | $6,475 |
| WSOP $5,000 No-Limit Hold'em Six Handed | 39th | $11,495 |
| WSOP $5,000 Pot-Limit Omaha Six Handed | 34th | $10,960 |
| WSOP $2,500 2-7 Triple Draw Lowball | 2nd | $107,055 |
| WSOP Europe €10,450 Main Event | 25th | €21,750 |
| WSOP Europe €25,600 No-Limit Hold'em High Roller | 1st | €725,000 |
| Total | | $2,266,387 |
Negreanu's amazing year reached near perfection as he led the Global Poker Index Player of the Year race for the greater part of the year. However, in last minute fashion, the title was snatched away from him and taken by Ole Schemion. With a fifth-place finish in the PokerStars EPT Prague Main Event, Schemion passed Negreanu to take the lead. After leaving Prague, Negreanu told PokerNews that he was "packing it up" and won't play any more events in 2013. Not that he needed another player of the year award anyway, but it would have been some extra icing on the cake.
Negreanu's additional cashes of 2013:
Although it's impossible to predict whether Negreanu will keep up the pace in 2014 as he did in 2013, it's safe to say he has been a staple in the industry not just as a successful poker professional, but also as an advocate and ambassador both for the game we all love and for the industry.
"2013 was an exercise in DREAMING, DECLARING, and DELIVERING, and I'm very proud of my results," says Negreanu. "In 2014, I plan to play a bit less, but will still be putting in a 52-tournament schedule down from 66 this year and plan to work hard at the WSOP. The goal is to win three WSOP bracelets this year. Seriously."
If you want to learn more about Negreanu on a personal level, check out his interview on Seat Open:
PokerNews Top 10 Stories of 2013:
Stay tuned for more of the Top 10 Stories of the Year right here on PokerNews.
Photo courtesy of the WPT Blog.
Get all the latest PokerNews updates on your social media outlets. Follow us on Twitter and find us on both Facebook and Google+!