Old Guns TJ Cloutier and Donnacha O'Dea Reach Final 26 of WSOP Monster Stack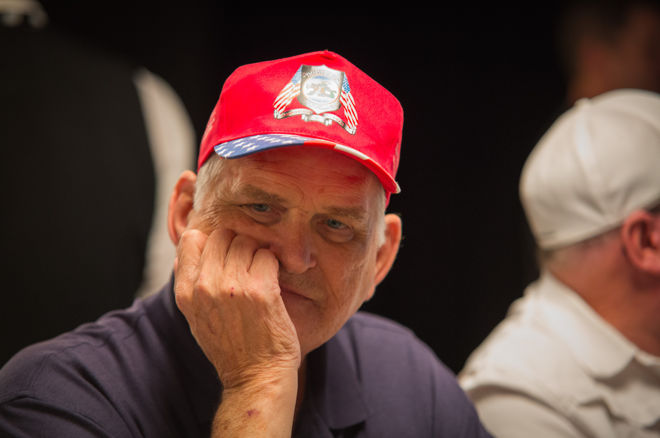 When the $1,500 Monster Stack at the 2016 World Series of Poker bagged up after Day 3, 26 players remained from a field of 6,927. A couple of those players were two old guns, TJ Cloutier and Donnacha O'Dea, both legends of the game looking to make more poker history.
"I bet I'm the oldest one left," Cloutier said with a laugh after bagging up a stack of 4.6 million.
For 76-year-old Cloutier, an old-school Texas road gambler who's won six gold bracelets, it was a chance to return to WSOP glory.
"Hell no, it's the same thing," Cloutier said when asked if he felt the game had passed him by. "It's a miracle I'm here, though. Today I held jacks four times, and they held up three times and one time they didn't. I held queens once, but I never held aces or kings. I finally got ace-king on one of the last hands and won that, but that was about it. I set the traps all day long."
For Irish legend O'Dea, he's chasing his second WSOP gold bracelet after having won his only one in 1998.
"I would be very happy, absolutely," O'Dea said about the chance to win his second gold bracelet. "That would be a good thrill. To even get to the last table, it's nice. It's sort of a strange thing; the only two last tables I've been to in no-limit hold'em at the World Series is in the Main Event. I'd like to make the final table and take it from there."
In 1983, O'Dea made the WSOP Main Event final table and took sixth for $43,200. In 1991, he took ninth in the WSOP Main Event for $17,250.
"I'm more of a cash-game player, as people probably know," O'Dea pointed out. "The only place I play tournaments is in Vegas. I mainly play two or three hold'em tournaments to get in shape for the Main Event. I think they're very tough as you get older because you're moving tables all the time and the concentration, you're actually tired. But it's been fun."
Going forward to Day 4 of the Monster Stack event, O'Dea bagged up 2.9 million in chips, good for 17th overall, whereas Cloutier's stack put him in eighth position on the leaderboard.
Another area where Cloutier has one-upped O'Dea is WSOP Main Event final-table appearances, as Cloutier has four in his career to O'Dea's two. In 1985, Cloutier took second for $280,000. In 1988, he scored fifth for $63,000. In 1998 and 2000, he made the final table again, placing third for $437,500 and second for $896,500, respectively.
"You know, the greatest thing about poker if you do it for a living like I have for a lot of years, is that it doesn't matter what happens to your body because you've still got your brain," Cloutier said in regards to the ability to still be able to play after over these years. "And the main thing about it is that it can help you from getting Alzheimer's because you've got to use your brain."
"Just because I'm getting older, I don't feel like throwing in the towel," O'Dea said about his play these days. "It's nice to have a good run, get in the money. Last year, I played my usual six [tournaments] and I didn't cash. Some people maybe play 20 and don't cash, but I'm sort of like, 'this isn't good enough.' I think I've played four now and cashed in two."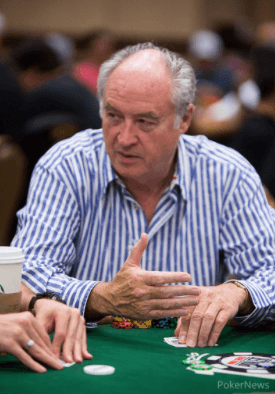 O'Dea went on to elaborate on his typical summer schedule in Las Vegas during the Series, saying he usually plays the events for seniors because they provide good spots for him.
"The Seniors Event is such value," O'Dea said. "The Super Seniors, I mean that's like waking up and finding yourself in heaven (laughs). I was really sort of sweet on my chances. Somebody just jammed in the small blind with jack-nine and I had ace-king, so I would have had just over average if I had won that. I basically really wanted to play two or three hold'em tournaments and a couple of Omaha ones. I'm pretty tired after this, so I won't be rushing in to play."
In that $1,000 Super Seniors event at the 2016 WSOP, O'Dea took 29th from a field of 1,476 for a score of $5,692. Interestingly enough, Cloutier also went deep in that event, taking 38th for $4,720. Those runs only cost each player two days of play, and when you're on the older side like O'Dea and Cloutier, that's something that can certainly wear on you. In the Monster Stack, both are headed into Day 4 of action.
"I didn't really think about that so much," said the 67-year-old O'Dea about the extra days of the Monster Stack affecting him. "You don't really figure you're going to be there, but I've played every day since I've been here. I more came to play cash, but the cash games are very tough anyways. I'm winning in them, so I'll probably go back and play a bit of cash. With the cash, you can play 4-5 hours and have a nice coffee break. What I really miss is not being able to get down in 15 minutes and get a cappuccino (laughs). I need to get a runner out here."
The way things sit, these two fabled grinders are as live as ever to carve their names into another chapter of poker's history books. They might be on the older side of things, but they're both confident in what they're able to accomplish. For O'Dea, he's quietly confident, regularly traveling the circuit in Europe, but mostly to play big cash games. For Cloutier, his confidence shows a little more through his personality, and we'll be able to see plenty of that come Day 4.
"It'd be great," Cloutier said about the chance to win his seventh gold bracelet. "What the hell, why not? I figure I should have 14 with all the seconds and thirds, but I've got six, and I haven't squawked one iota about it because it's all par of the game. But I'd love to get number seven, and maybe number eight, too."
Want to stay atop all the latest in the poker world? If so, make sure to get PokerNews updates on your social media outlets. Follow us on Twitter and find us on both Facebook and Google+!