Phil Hellmuth: "I Have Amazing Energy Right Now, It's Flowing!"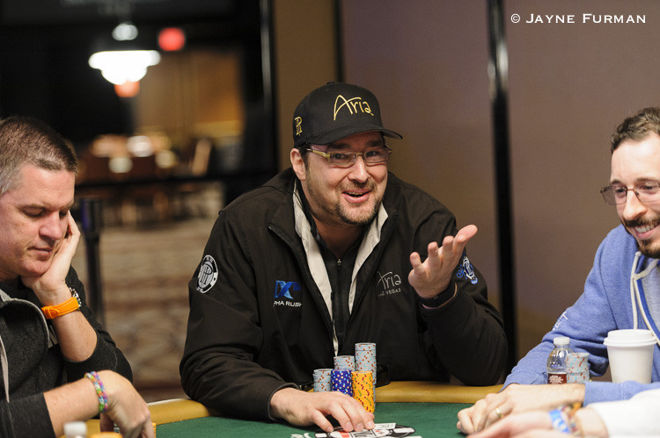 Two weeks ago, during the 18th event on the 2016 World Series of Poker schedule, Phil Hellmuth had yet to book a cash, but "The Poker Brat" told PokerNews he was as confident as he's ever been.
Now, coming off his first WSOP final table appearance of 2016 — finishing in eighth in the $5,000 No-Limit Hold'em Turbo — the 14-time WSOP bracelet winner had some strong thoughts about his play, his opponents, and his general mindset now into the second half of the summer.
In fact, despite missing a golden opportunity to grab his 15th bracelet, his confidence remained completely unshaken and he was as bullish on his future prospects as the poker world has come to expect.
"I just finished eighth in the tournament," Hellmuth said in a rather upbeat fashion. "But my energy's so good, I worked so hard to get here, I've been working out hard almost every day, sleeping, resting, doing everything I possibly can to play great."
It's no secret Hellmuth likes to let the world know through Twitter that he's extremely focused and dedicated to getting results at the WSOP.
"I've been analyzing every hand I play in every tournament," he said. "It's been a lot of work and a lot of frustration, and it's unfortunate that I ran out of cards there at the end. This is a very frustrating finish for me, on the very first official hand of the final table I have ace-queen, and somehow Ankush [Mandavia] raises me, and I know he had his money in drawing to a five earlier. I've seen him get into crazy spots because he plays really fast, and a player like that I'm going to get, but I just ran out of time. He's gonna try his little aggressive moves, and I give him credit because he's a very good player."
Mandavia went on to win the tournament, ultimately beating Daniel Strelitz heads up to claim the first-place prize of $548,139, but on the first hand of the final table Hellmuth is referring to, the all-time WSOP bracelet win leader raised to 160,000 from early position and Mandavia three-bet, making it 345,000 on his direct left. The action folded back to Hellmuth, and he spoke up.
"You've been doing this to me all day, buddy," he said, folding ace-queen face-up, like only The Poker Brat can.
A few hands later, Hellmuth lost another pot to Mandavia, after which he directly addressed live-stream commentator Jason Somerville.
"Who is commentating on this? Jason Somerville?," Hellmuth asked. "Jason knows me. The rest of you might think I'm crazy for folding this."
In that hand, Hellmuth folded and flashed the ace of diamonds.
Another orbit later, Hellmuth was out, without winning a single pot at the final table.
"I had to make some amazing folds to get there, and I made them all," he said. "To wait, and wait, and wait, and wait, and wait, and then finally having to go all in with ace-four because you're down to just two-and-a-half big blinds is very frustrating.
"I'm also frustrated because I showed the ace-queen laydown, and I talked about folding tens earlier, which nobody else on the planet would've folded. I'm sure of that. When I talked about that, it slowed down the action. These guys were cutting their throats all day long for no reason, playing way too fast, thinking that the math called for that. It didn't.
"Maybe I shouldn't have shown those hands, because maybe I could've moved up two or three spots, and things would've changed. Sometimes I teach people on my Twitter, sometimes I teach people in person, and that's the way it goes sometimes. I'll get over this fairly quickly, as it was a 30-minute blind structure and there's just not quite as much skill at the end as you would hope."
In the end, Hellmuth made his 53rd WSOP final table and his 117th cash, and he's confident that this deep run is just the start of special summer.
"I'm at one, or two, or three final tables every year at the World Series of Poker," he said. "If people haven't figured it out yet that I will get there in all the games, then they haven't figured it out yet.
"I have amazing energy right now, it's flowing! I think I'm going to have a really great last week and [second] half. I already thought that before, but my mind is just right now. It's taken a lot longer than I wanted [to get to this point], a lot more work than I wanted, a lot more effort than I wanted, but that is why the World Series of Poker is great, because you have time to make those adjustments, time to get better, time to get your head in the right spot, and now I'm in a great place. I look forward to the last few weeks of this thing."
As the 2016 WSOP rolls on, be sure to stay tuned to PokerNews for continued coverage, brought to you by our sponsors, 888poker.
Want to stay atop all the latest in the poker world? If so, make sure to get PokerNews updates on your social media outlets. Follow us on Twitter and find us on both Facebook and Google+!