BorgataPoker.com Pro Michael "Gags30" Gagliano Shares His Thoughts on His Amazing Summer and More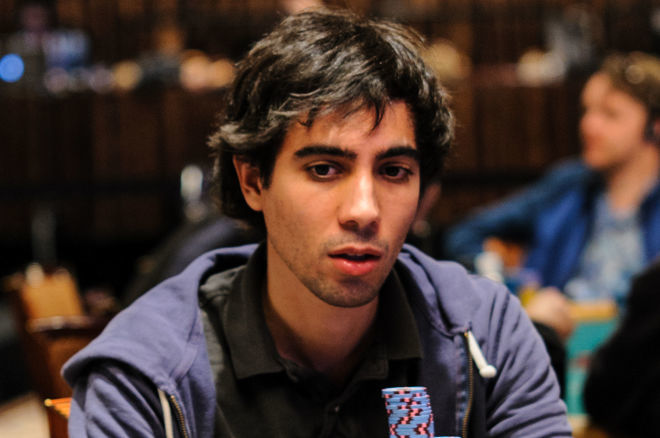 Michael "Gags30" Gagliano is one of the most well-known professional poker players to come from the state of New Jersey. The former top ranked player in New Jersey according to PocketFives.com is currently ranked in fourth place in the state's rankings and has compiled almost $2.7 million in online cashes including over $400,000 from New Jersey regulated online poker rooms alone.
The poker coach and BorgataPoker.com pro is also a force to be reckoned with on the live felts with over $1.3 million in live cashes tracked by The Hendon Mob. This is especially true during the past few months with Gagliano taking third place in the 2016 Borgata Spring Poker Open $2,700 Championship for $128,768 in April followed by his first World Series of Poker (WSOP) gold-bracelet this summer when he took down Event #25: $2,500 No-Limit Hold'em for $448,463.
On the way to WSOP gold, Gagliano played against many friendly faces at the final two tables, facing off against many friends including his close compadre Niall "Firaldo87" Farrell. He described his path to glory as interesting due to the relaxed environment playing and joking with friends created.
"It was interesting," Gagliano described of his WSOP gold-bracelet run. "More so even with two tables left, out of 18 people, there were probably nine or 10 fairly well known pros with eight of us were all seated in a row at the table. Beyond that, I was fairly good friends with like seven of these guys. So it's just seven guys that have known each other for years, sitting in a row with two tables left playing for almost half a million dollars!"
It just didn't seem real," Gagliano continued. "We were telling jokes and making fun of each other, creating a very non-standard deep tournament experience. It's usually very tense with two tables left, but this was just not at all. It was also great playing with Niall at the final table. It definitely helped keep things loose and relaxed."
While Gagliano admitted he doesn't normally feel butterflies in his stomach when deep in a tournament due to his vast experience, he shared that the friendly environment helped him enjoy a surreal experience.
"I don't generally get nervous deep in tourneys, but the friendly atmosphere just helped me to like really enjoy the time," Gagliano shared. "It really didn't seem real, like it didn't feel like the WSOP stage. We were just having fun. then like all of a sudden we were at the Thunderdome and it still didn't feel real. Then all of a sudden we were just heads up and i was like, 'Oh, OK I actually can win a bracelet. I guess this is happening.'"
Like many might expect, Gagliano was relieved to ship his first major live tournament after many close calls. However, unlike his friend and notorious party-goer Niall Farrell, Gagliano quietly celebrated with a dinner and was back to business and on the felts a couple of days after his victory.
"It's funny, but I've been deep in so many live tourneys," Gagliano said. "I've finished in the top three a bunch of times, and I never had a win. So the first emotion I really had was just relief to finally win something. After it sunk in that I won a WSOP bracelet I was just happy. I'm not that baller or anything, so I didn't really do much to celebrate. Niall, who got 6th place, did more partying that night than I did by a lot. It was pretty late and I just went home. We took the next day off and just went out to a nice dinner. there were some other big events that week, so it really was just right back to work the day after.
Not too much later, Gagliano headed back home to spend time with his family, which also gave him an opportunity to grind on New Jersey regulated sites. His time wasn't wasted as he put together a Sunday many would dream about with two wins in major tournaments and a final table appearance on another for almost $12,000 combined.
Gagliano describes the balancing of family life and being a poker pro difficult at times. Unlike many poker pro's who grind the entire summer in Sin City during the WSOP, Gagliano chose family over poker for a good part of the series. Not too long after his gold-bracelet win, Gagliano returned to Sin City to compete in the WSOP Main Event, which he took 842nd place for $16,007.
"Being away for six weeks is just way too much, so I just kind of picked the best week or two to be there, went for that, then went back for the Main Event," Gagliano explained. "Balancing everything can be tough at times. I generally just play poker in the evenings, which is nice because I get to spend the day with my family. But it's tougher with coaching and live tourneys because I need to do that stuff during the day. The summer is the roughest because there's always a lot going on and we go on vacation. Then in April, May, July, and August, there's a bunch of series both live and online, and of course the WSOP is in the middle. So it just feels like a big long rush to October where I can finally just settle back down and stay home. Overall I think I do OK though. I just make sure I get the family time in.
Gagliano recommends for players to become success to put in the time and study the game. He credits consistency, along with a strong mental outlook as his keys to success.
"If you want to be good at poker you really just need to put in the time and study," Gagliano explained. "I think people think that others have this natural talent or they just snap their fingers and are good at poker. But they don't realize that the top players are putting in a massive amount of hours studying the game. I think I do well online because I'm just consistent. I don't get tilted easily and I don't let things outside of poker influence my play, etc. So i'm able to just show up and play my 'A' game more so than my opponents."
As the WSOP poker festival was winding down, over on the east coast the 2016 Borgata Summer Open kicked off a huge schedule at the Borgata Hotel Casino & Spa from July 12-26. Due to his busy schedule the BorgataPoker.com pro was only able to compete in the $2,700 Borgata Championship No Limit Hold'em, an event that featured a huge $1 million guarantee. While Gagliano was unable to repeat the success he experienced in the 2016 Borgata Spring Open, he did share that he had an overall good experience and is looking forward to the 2016 Borgata Poker Open taking place from Sept. 6-23.
"I just got back from the Borgata Summer Open," Gagliano shared. I only came out for the Main Event, and busted just shy of the money. Overall it was a good experience. The Borgata opens are always 'cant miss' tourneys and I'll be back in September!
Gagliano loves playing at the poker room in the Borgata, which many players describe as the best place to play poker on the east coast. He also loves the special set-up in the ballroom during many of the Borgata Poker Opens with food easily and quickly available.
"The Borgata is just great," Gagliano proclaims. "The poker room is a really massive room with a ton of tables and really nice comfy chairs. But the thing I like is that even though it's a big room, it kind of doesn't feel that way. I normally hate being in just a sea of poker tables, but the shape of the room, I feel like i'm always near a walkway or wall or something and never too far from the bathroom."
"A lot of the bigger Opens are upstairs in the ballroom, which is nice and spacious as well," Gagliano describes. "They always have food right there on the side of the room, so you don't have to worry about running across the casino on a 15 minute break to grab something fast. This is really helpful for someone like me who likes to eat a few small meals throughout the day."
The highlight of the upcoming Borgata Poker Open is the six-day WPT Borgata Poker Open Championship running from Sept. 18-23. The tournament features a mouth-watering $3 million guarantee, however, along with that comes a hefty buy-in of $3,500.
Many poker players looking to win big have already have this event marked on their calendar. Regardless of how big or small their bankrolls, many players are planning to play in qualifiers on BorgataPoker.com to get into the action for pennies on the dollar.
"I'll definitely try some satellites for the Borgata Poker Open," Gagliano said. "It can't hurt getting into a $3,500 event for a fraction of the price!"
Additionally, many of our readers will be heading to the Borgata during the Borgata Poker Open thanks to the first-ever PokerNews Cup in North America on Sept. 20, 2016. BorgataPoker.com will be hosting a plethora of satellites to our event along with many others on the Borgata Poker Open schedule.
Gagliano believes that many players do not fully understand that playing satellites is a different beast than playing in a typical poker tournament, and offers up some advice.
The best advice I can give for satellites is that they're satellites," Gagliano explained. "You don't always have to get first to win the seat. I see a lot of players play these huge pots with four left when three people get seats, when if they just folded they could have won a seat! I recommend to keep the prize structure in mind, and if you've got the chips to not be afraid to make some tight folds."
To many, Gagliano is the face of New Jersey poker, especially online. It therefore seems like a natural fit that he is a pro of one of the biggest sites in the Garden State, BorgataPoker.com. Gagliano believes his path to becoming a pro began with playing many live and online Borgata events.
"I think I got on Borgata's radar just from playing a lot of events there and playing online a bunch in New Jersey," Gagliano shared. "I've known Tab Duchateau, the poker tournament director for the Borgata Hotel Spa and Casino, for quite a while, and he asked me to do some live commentary for some events. This turned into talking to the people running BorgataPoker.com to become a pro for their online poker room."
Gagliano is proud to represent BorgataPoker.com sharing that, "It's great to be able to wear a patch and publicly support the best poker room in New Jersey!"
If you are interested in poker coaching from Michael "Gags30" Gagliano, you can direct message him on Twitter at @Gags30poker.
Want to stay atop all the latest in the poker world? If so, make sure to get PokerNews updates on your social media outlets. Follow us on Twitter and find us on both Facebook and Google+!