Poker & Pop Culture: Lady Gamblers and Poker Alice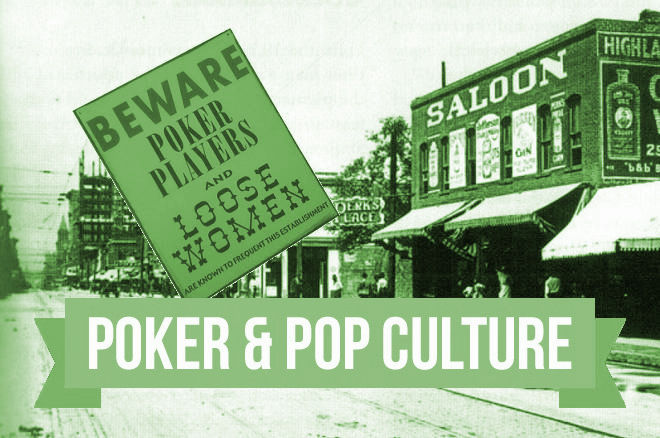 It's no great surprise that during our tour thus far of poker games in 19th-century saloons we've mostly encountered only men seated around the tables.
The Old West saloon was a male-dominated arena, primarily occupied by single men seeking respite from labor by drinking, gambling, and fighting. "Saloon culture" (as some scholars of the era have called it) was therefore predictably masculine, with the swinging doors shutting out domestic obligations and — for the most part — women, too.
Especially in the westernmost states, temperance movements wouldn't gain much traction until later in the century — well after areas became settled, men got older, and more families were begun. That further sustained the trend of saloons being almost solely the province of men, with poker's early history likewise reflecting the predominance of men at the tables. The mere entrance of a woman into a saloon as a patron was itself often noteworthy. Her taking a seat at a table and buying into a game of poker — or faro, monte, roulette, or other gambling games on offer — would be even more of a story.
But there were women who played. By doing so, some would earn as much attention and notoriety as some of the most famous Old West gunslingers.
The "Faro Ladies"
At the end of the 18th century — prior to poker's introduction in America's south and west — stories of women at the gambling tables in Europe evoked a cultural response that would prefigure what would later come in the United States.
In England legal restrictions were placed upon various gambling games, including the popular faro games that had captured the fancy of the upper classes. The games persisted, however, in some cases hosted privately in an attempt to avoid the notice of the authorities.
"Well-off women with no other income sometimes allowed their houses to be turned into gambling houses," explains David G. Schwartz in his history of gambling, Roll the Bones. He identifies Lady Archer and Lady Buckinghamshire as "the most prominent of a circle of 'Faro Ladies' who owned banks in private homes."
The games would cause legal trouble for the "Faro Ladies," with some being broken up and fines having to be paid. They also exposed the women to criticism from the culture at large. Schwartz tells of The Morning Post making fun of Lady Archer's penchant for applying lots of makeup in a report on the games, an extraneous, unwarranted censure. Another Post article reporting a bust made certain to add how the women hosting such games were to be regarded as "the disgrace of human nature."
As the latter comment suggests, "lady gamblers" were perceived as doubly threatening. By becoming involved in such games at all, they ran afoul of both moral and legal prohibitions against gambling, exposing themselves to the negative consequences (both real and imagined) of such risk-taking. Such women also challenged social norms by participating in what were thought to be activities only fit for men — an even worse transgression, believed some.
Hazard-Seeking Heroines
Moving across the Atlantic and rejoining poker's progress across America, several women appear in Old West gambling narratives, including a few for whom poker was a favored game. These women likewise encountered frequent criticism and in many instances significant hardship in life, then often were elevated afterwards to storybook status as their tales were told and retold, each iteration adorned with added details to heighten their drama.
Belle Ryan and partner Charles Cora were two of many gold-seekers arriving in California in 1849. They'd earn their share of those new riches not through mining, but by running games of poker and faro in saloons and eventually their own gambling den in Marysville. Later they'd open a second place in Sonora that doubled as a brothel, and after a few instances of running afoul of the law Charles would eventually be hanged for killing a marshal. A few years later Ryan would be dead herself at 30.
Then there was Kitty Leroy who gambled her way into her twenties at faro and other games while also working as a dealer, a dancer, a prostitute, and even owning her own saloon. She was said to have been involved in gunfights as well, with various stories of her having either shot or stabbed more than a few she'd caught cheating at cards. Her story eventually carried her to Deadwood, intersecting briefly with that of Wild Bill Hickok. Like Hickok, Leroy's life would be abruptly cut short when she was killed at the Lone Star Saloon in late 1877 by the fifth of her five husbands in a murder-suicide.
Originally from France (so they say), Eleanora Dumont dealt all over the west from Deadwood to Tombstone, eventually opening a gambling parlor called Vingt-et-un (i.e., "21") and later a brothel. Maria Gertrudis "Tules" Barceló — either Mexican or French, depending on which historian you read — ran a popular saloon in Santa Fe. Belle Siddons, a.k.a. Madam Vestal, was a dancer turned "faro queen" in several midwest saloons. And Kate O'Leary was another dealer who eventually owned a gambling den in Dodge City, Kansas.
Faro was the game most often associated with these women, though many played poker, too. For example, when not involved with rustlers, bootleggers, and other notorious Old West types, Belle Starr regularly played and won in saloon poker games before her mysterious shooting death in 1889.
Minnie Smith was another dealer and poker player in Colorado. Lottie Deno played poker throughout Texas before moving to New Mexico with her husband Frank where the pair ran a gambling den. Mary Hamlin, a.k.a. "Mary the Owl," was a poker player and con artist said to have been involved in some celebrated heists. One lucrative scheme involved selling false shipping rights on the Mississippi to investors, while another even more famous one saw her and some accomplices swindle a San Francisco bank via a diamond hoax.
Most accounts of these women gamblers (both contemporary and later) make a note to draw attention to their beauty, with their attractiveness to men said to serve them well at the tables while also occasionally being cited as a factor in stories of violent conflicts. "A voluptuous creature with dark hair, hazel eyes, and a fair complexion" writes Chris Enss, author of more than a dozen books about women of the Wild West, of Belle Ryan (for example), following a frequently employed method of introducing these daring damsels.
In some cases their prominence in the male-centric world of saloons and cards also shaped contemporary responses to them. Much was made, for instance, of Kitty Leroy's penchant to dress in men's clothing. A late 19th-century novelist styled Belle Starr a "female Jesse James." And in later life, Eleanora Dumont earned the unfortunate nickname of "Madame Moustache" thanks to a shadowy upper lip.
The Legend of Poker Alice
In the context of poker and its early history, though, Alice Ivers has easily earned the most notice of all the women courageous enough to compete in the saloon poker games.
Born in the early 1850s in England, Ivers grew up in Virginia before moving to Colorado as a teenager. Her first husband, a miner named Frank Duffield, was a poker player, and after his death in a mining accident she began dealing poker, faro, and twenty-one as a means to provide for herself. She played poker, too, her early success netting her still more income while quickly earning her wide renown — and a nickname, "Poker Alice."
Soon she would be recruited to deal and play at various western saloons, her celebrity having become a marketable draw for the proprietors. While in Deadwood, South Dakota she'd meet her second husband — a fellow dealer named Warren G. Tubbs — with one early story describing Alice defending his life against a drunkard by drawing a pistol. Their marriage lasted two decades and produced seven children before Tubbs died of tuberculosis in 1910.
Having set poker aside during her marriage to Tubbs, Alice — now in her fifties — took up the game again, and once more earned a steady income. By some accounts (including her own) she'd earn somewhere around $250,000 lifetime at the tables, though it isn't like we have an Old West version of Hendon Mob to be certain of such figures.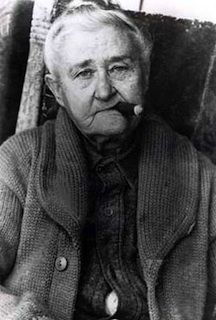 Eventually Alice would open her own saloon-slash-brothel in South Dakota, called "Poker's Palace." There was a third short marriage (again ending with the premature death of her husband), as well as numerous run-ins with the law. Those resulted in occasional fines and prison time for Alice due to various transgressions related to her hosting the games, managing the brothel, and becoming involved in bootlegging during the Prohibition-era 1920s.
Speaking of, Alice enjoyed drinking (her drunkenness occasionally leading to arrests) and smoking cigars, and references to these "masculine" behaviors are often conspicuous in accounts of her. That photo to the right is perhaps the most familiar one of her, taken in her seventies and instantly connoting a stereotype of a woman being styled as a "masculine"-appearing Old West gambler. The photo belies other accounts of Alice's beauty and love of "feminine" fashion, as she apparently enjoyed traveling to New York to spend her poker winnings on dresses during her younger years.
Unlike some of the more tragic Old West stories of lady gamblers' lives shortened by violence, Alice lived to a ripe age of 79, establishing her legacy well enough to elevate her to the forefront of 19th-century women poker players.
Indeed, if Wild Bill Hickok (whom we'll be discussing next week) rates a spot in the Poker Hall of Fame, an argument can be made that "Poker Alice" deserves one, too. After all, unlike Hickok — about whom there are conflicting opinions regarding his poker skills — Alice was by most accounts a winning player.
Images (top): "Beware Poker Players and Loose Women" (adapted), Debra Drummond, Creative Commons Attribution-ShareAlike 2.0 Generic; 2nd Avenue North, c.1900, Birmingham, Alabama, Public Domain. Photo (lower): Poker Alice Ivers, Public Domain.
From the forthcoming "Poker & Pop Culture: Telling the Story of America's Favorite Card Game." Martin Harris teaches a course in "Poker in American Film and Culture" in the American Studies program at UNC-Charlotte.
Want to stay atop all the latest in the poker world? If so, make sure to get PokerNews updates on your social media outlets. Follow us on Twitter and find us on both Facebook and Google+!