Winstar River Poker Series: Mike Wang Tops Day 1B Field $2.5 Million Guaranteed Main Event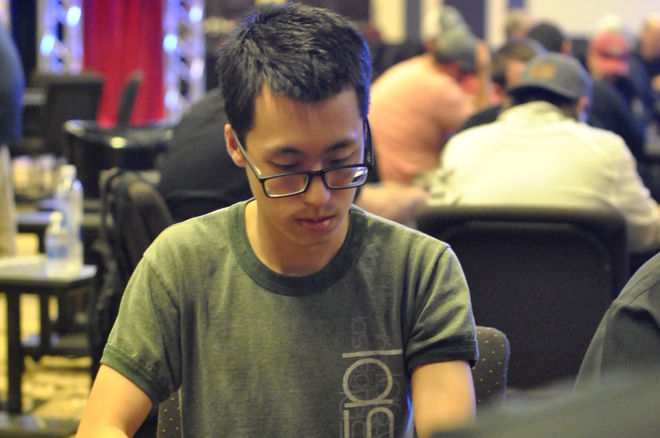 The second of three starting flights for the Winstar World Casino River Poker Series Main Event kicked off at noon and drew a large field of 388 entrants. Coupled with a professional bull riding event, Winstar was stretched to capacity. Saturday's flight finished in the 18th level with Mike Wang leading the field with 660,000. That translates to 82 big blinds as the first level of play on Day 2 will be 4,000/8,000 with a 1,000-ante.
Sitting in second and third respectively are BCP members Jake Bazeley and Zo Karim; the former edged out the latter by 8,000. The top ten was loaded with notables Chris Staats, Hugo Perez and Grant Hinkle all making Day 2. Brandon Steven, Andy Hwang and Daniel Fuhs also advance to Monday but with more moderate stacks.
Ryan Tepen, Jordan Smith and Larry Wright all played deep into the flight but were unable to bag up chips. Tepen bubbled the event day in a three-way all in where he had the best hand preflop but lost to a player that made Broadway.
Maria Ho, Ray Henson, Aaron Massey, Chino Rheem, Kevin Eyster, David Paredes, David ODB Baker, Jason Gooch and Nick Palma all fired at least one bullet on Saturday but ultimately found the rail.
Sunday is the last chance for players to advance to Day 2 and organizers expect it to be the largest of all three. Cards are in the air promptly at noon and they'll finish when they reach 10 percent of the field. Day 2 is set to begin Monday at 1 p.m. and play down to a final table. Follow all the action right here on PokerNews as we bring you coverage from the first flop till the last river each and every day.
| Player | Chip Count |
| --- | --- |
| Mike Wang | 660,000 |
| Jake Bazeley | 567,000 |
| Zo Karim | 559,000 |
| Chris Staats | 514,000 |
| Hugo Perez | 503,000 |
| Brian Gordon | 411,000 |
| Richard Perry | 391,000 |
| Ryan Rogers | 365,000 |
| Grant Hinkle | 348,000 |
| Randi Lister | 328,000 |
| Zelong Dong | 318,000 |
| Brandon Steven | 290,000 |
| Peter Nguyen | 285,000 |
| Jon Jaworski | 284,000 |
| Cameron Rezaie | 261,000 |
| James Ohlwier | 259,000 |
| Ben Zamini | 258,000 |
| Nancy Nguyen | 252,000 |
| Jeff Sowell | 245,000 |
| Kristopher Tong | 231,000 |
| Jared Ingles | 224,000 |
| Gabriel Davis | 215,000 |
| Todd Weers | 200,000 |
| Collin Grubaugh | 178,000 |
| Andy Hwang | 178,000 |
| Zachary Donovan | 150,000 |
| Kenneth Bowie | 142,000 |
| Geoffrey Klein | 139,000 |
| Norm Pettlon | 128,000 |
| Frank Berry | 120,000 |
| Gary Knowles | 119,000 |
| Rees Scruggs | 118,000 |
| Vaughn Brozek | 117,000 |
| Daniel Fuhs | 109,000 |
| Corey Dreser | 108,000 |
| Vinh Hunyh | 106,000 |
| Matt Wilson | 105,000 |
| Justin Jones | 103,000 |
| Stephen Taskett | 73,000 |