The Railbird Report: The Saga Continues; Erik "Erik123" Sagström Returns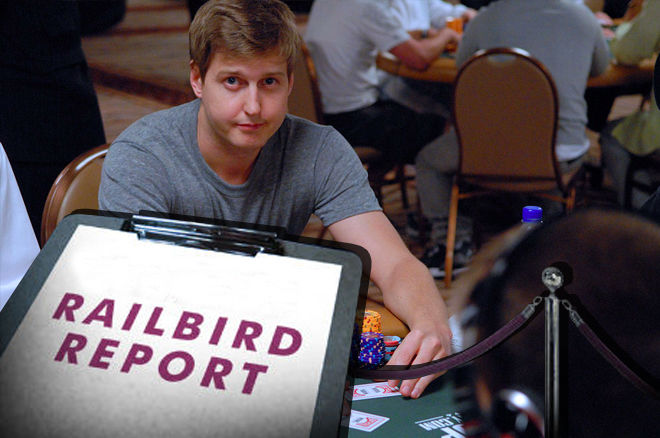 In somewhat of a déjà vu scenario, Daniel Negreanu is playing $2,000/$4,000 live with the likes of Gus Hansen and Phil Ivey and Patrik Antonius and Gus Hansen are back playing online. It's like the high-stakes world hasn't changed in 10 years.
Now, on top of all that, Erik "Erik123" Sagström is also back at the tables, playing in Bobby's Room and winning a "High Roller" WSOP Circuit event in Vegas.
Poker Bosses
Viktor "Isildur1" Blom is a phenom. The role of biggest winner goes to someone else, but Blom is still what it's all about. When he plays, and he plays a lot, railbirds line up to cheer him on. Blom doesn't do a whole lot of interviews, but that just strengthens the mystery surrounding his persona.
Before Blom, it was Tom "durrrr" Dwan who had the biggest share of fans. As soon as "durrrr" logged in, people came running to catch a glimpse of the action. He was seen as the best player for quite some time and signed a deal with Full Tilt Poker at his prime, welcomed as the greatest player alive.
Before Dwan, you had Brian "sbrugby" Townsend, or "aba20" as he was known on PokerStars. Townsend could do no wrong for his fans, and even the chance to talk to him was seen as the highlight of some people's day. Townsend ruled the game.
Before Townsend, you had Prahlad "Zweig/Prefontaine/Spirit Rock" Friedman and Johnny "bad_ip" Lodden. They ruled online and put fear in their opponents' eyes. They battled it out on a multitude of skins, so it was hard to keep track of scores sometimes, but everyone knew they were the end bosses at the time.
Sagström, the First Online Poker Phenom
But before the Friedman/Lodden era, it was Erik Sagström ruling the online tables. Known as "Erik123," "The Salmon" and "The King of Ding" online, he was the first true internet poker phenom and, most likely, the first player to clear a million dollars.
Before the days of tracking software and tracking sites, you had to rely on firsthand accounts of the action and players talking about their profits themselves. Luckily for us, players then were a lot less hesitant to talk about the ins-and-outs of the game. And on top of that, there weren't as many players playing high stakes on a regular basis.
Sagström was widely known as the best player and the stories about his bankroll more than once spoke of $10 million plus.
Sagström played on Ladbrokes, Betfair and Prima (now Microgaming/MPN), where a lot of the action was back in the days. This was when the market was still competitive, PokerStars wasn't yet the strong leader it is today and Full Tilt Poker didn't even exist yet.
The man from Linköping, Sweden, started playing online poker at an extremely young age, finding Paradise Poker on one of his scrolls online. But even before the days of Paradise poker, Sagström played poker via IRC, poker purely text based and without graphics.
He had found something he was good at, so he quit school after one term in his second year of high school to pursue poker. While that can hardly be called a wise decision in today's poker climate, back then it all worked out for Sagström. He climbed the stakes like no other and was playing the biggest games within months of starting his online adventure.
PokerChamps
In 2004, he got on the board of a site called PokerChamps. Tony G and Gus Hansen were other board members of the site. In 2005, while still a part owner of PokerChamps, Sagström played his first-ever World Series of Poker. While he had just recently turned 21, he was already a legend and was hailed in the gamble capital of the world like he was the promised one:
Already hinted at in the interview, the site was later sold to Betfair in 2005 for 100 million Danish kroner (approximately $15 million/€13 million).
The Monte Carlo Millions
After a successful 80-player tournament in 2004, the Monte Carlo Millions was back in 2005 with a $25,000 buy in (up from $14,000 the year before) and seats for 120 players. The $3,000,000 prize pool had a guaranteed $1,000,000 for first and only the best of the best were able to buy in. Notably, there was one seat at the final table reserved for the winner of a "second chance" tournament that all players that had busted out of the Main Event could partake in.
Erik Sagström, young but already notorious in the poker world, was one of the players to compete. He was known as the best online poker player at the time, competing in a field of live pros like Phil Hellmuth, Ivey, Negreanu and Tony G.
He did well, though he would eventually go out on the final table bubble. While not shown on the broadcast, Sagström had aces against the ace-queen of Ivey to go out in 10th place ($35,000). Ivey would end up winning, playing one of the most famous hands in the history of poker against Paul Jackson heads up. A lot of the episodes of the broadcast, including some hands with Sagström, can still be found online.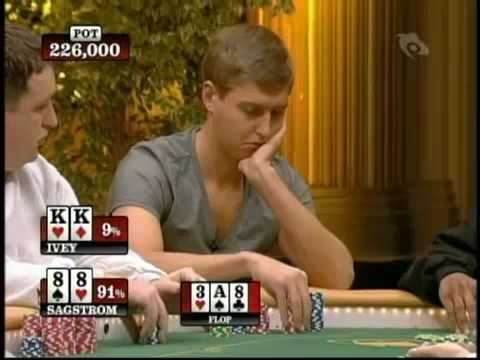 Beauty and The Beast: The $600,000 Limit Hold'em Showdown Versus Liz Lieu
In 2006, Sagström was playing $200/$400 online against Liz Lieu, where the latter was losing badly. Sagström took the better part of her stack and, to literally add insult to injury, called her a fish in the chat box.
While the mockery had been in Swedish, Lieu understood quite well and challenged Sagström to a live heads-up match. Sagström happily agreed.
The two met at the WPT Five-Diamond Classic in the Bellagio and set the terms: Three matches worth $200,000 each and limit hold'em $2,000/$4,000 with no blind increase. Lieu pitched the idea to the Venetian Poker Room and they happily agreed to facilitate the match to get some good publicity for their poker room.
Lieu set up a photo shoot prior to the match, but Sagström didn't show up. They set another date and time for the photo shoot, but once again, Sagström failed to show up. It would turn out to be all mind games, because on match day, Sagström did show up, ready to battle.
Even though the stacks were relatively shallow, the matches took quite some time to finish. In fact, the first match took so long, they called it quits at midnight and continued the next day. Sagström was leading with $245,000 to Lieu's $155,000.
The next day, the two started with a fresh new match and would leave the first match for later. Lieu came out swinging and quickly took a sizable lead in the match. She finished it when she got it in with an open-ended straight draw and flush draw against Sagström's top pair. A heart on the turn left Sagström drawing dead and Lieu leading 1-0.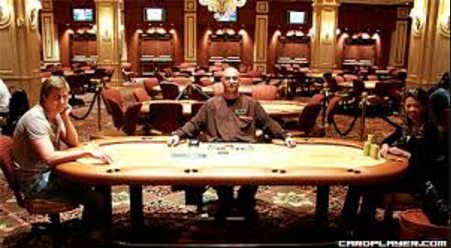 The two of them continued their first match and Sagström won that one, hitting a queen to make a higher straight against Lieu's flopped straight in the last hand of play. Halftime score: 1-1.
The third and final match was attended by a lot of railbirds. With two big tournaments going on in Vegas at the same time, fans swarmed the Venetian Poker Room for the final match up between Liz Lieu and Erik Sagstrom.
Lieu applied pressure and eventually won the third match.
Down to $50,000 to Lieu's $350,000 stack, Sagström raised before the flop, holding
. Lieu three-bet and Sagström made it four bets to go. Lieu called to see a flop of
. Lieu checked, Sagström bet and Lieu raised. Sagström called to see a
hit the turn. Lieu bet out, Sagström raised and Lieu called.
The river
saw the rest of the money go in. Sagström showed
for a rivered set, Lieu turned over
for a rivered straight.
The general consensus was that Lieu had played well, but had gotten lucky a couple of times. Lieu defeating Sagström didn't result in a dethroned Sagström. In an interview about the match against Liz Lieu a couple months later, Sagström put the game in perspective:
[...]I lost about 50 big blinds, which is nothing. Compare it with online, where you can lose three 400 big blinds at the same time, it puts the game in some perspective. In this kind of game, the flow of the cards has a great impact, so it's impossible to determine who is best. Honestly, it was a rather pathetic game, but Liz was playing reasonably well [...]
Disappearance
Sagström was on top of the poker world, but quietly faded to the background. He was never in it for the attention and show; he was in it for the money. So when new players came up ready to take the role of online poker phenom, Sagström increasingly stayed away from the cameras and tournaments, and instead focused on cash games.
In 2007, Sagström had his own poker skin at the BOSS Network (later International Poker Network (IPN), now discontinued) for some time, but that never took off and it disappeared quietly along with the rest of the network.
On top of playing poker live, he found sports betting, wagering fortunes on the NFL. He quickly became a big name in the world of sports betting, finding edges through analysis of endless databases of stats and wagering money at a plethora of sites and subsidiaries.
But while other players have taken a definitive leave from the game, Sagström never really went away entirely. He continued to play every now and then, dividing his time between live ring games and betting sports. In 2009, he made a surprise return to the World Series, finishing 3rd in the $50,000 H.O.R.S.E. ($522,393).
In 2011 he was back again, playing the $25,000 heads up, the $10,000 Omaha Hi-Low Split-8 or Better Championship and the $10,000 H.O.R.S.E. Championship. He finished 13th in the latter, banking $31,719.
Sagström played on Full Tilt Poker as "Erik1223" initially. The account is down $88,289 over 114,258 hands according to HighStakesDB. He also played as "DIN_FRU," making his first appearance in November of 2008 and playing his last hands back in April 2011. In 2013, he made a small comeback online, but only for 500 hands or so. Overall, the account is up $570,650. He played as "Erik123" on PokerStars, but the only time the account was picked up by HSDB was in the first few months of 2013. He's down $161,782 over 21,215 hands.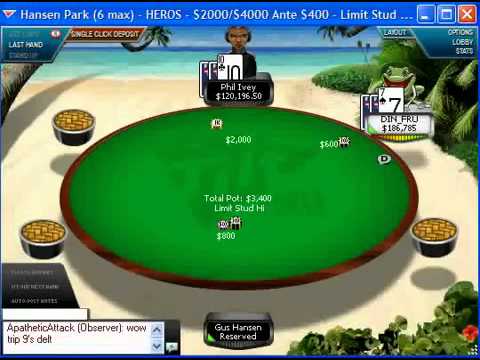 Return of a Legend
This year, he played the $50,000 Players Championship at the 2016 WSOP, ending Day 1 fifth in chips, but busting out on Day 2. He did cash in the $10,000 2-7 Triple Draw Lowball (19th for $15,182).
Sagström then won the $5,200 High Roller during the WSOP Circuit event in Planet Hollywood in Vegas at the beginning of the month ($65,000). Talking to WSOP.com, he mentioned initially not planning on playing the event:
"I wasn't planning on playing much, but once you're here, you get sucked in. Life is crazy, and the degenerate that I am, I play all the time now."
Besides playing $5,000 buy-in 26-player fields in Planet Hollywood, Sagström is back in the big game in Bobby's Room where he plays an 11-variants mixed game with a cap of 20 bets. It appears Sagström is back to poker, as he told WSOP.com, and intends to play more:
"I'm playing a lot of poker tournaments all over the U.S. actually. I played at the Bike a few days ago and then I played here. I'm going to travel and I'm going to play a lot of poker tournaments. I'll be around."
---
Sources:
---
This Week's Biggest Pots Online
There was plenty of action this week, with most of it coming from the PLO tables. More than once, it was multi-way action and the biggest pot would end up being a three-way all in.
---
1) "bajskorven87" and "Aron0621" Win in a $145,525-Pot (363 big blinds) versus Andres "Educa-p0ker" Artinano
($200/$400 PLO 5-Handed)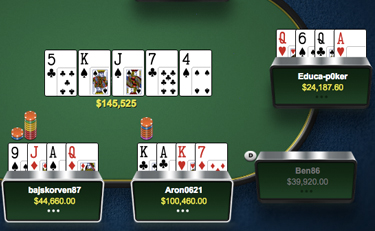 From the cutoff, Andres "Educa-p0ker" Artinano made it $1,800 to go. "Aron0621" called from the small blind before big blind "bajskorven87" squeezed to $7,600.
Artinano got the four-bet in, making it $25,000.
"Aron0621" now pushed all in for $64,985 and "bajskorven87" called all in for $14,755. Artinano called to put both players at risk.
| (user)name | hand | equity | chop |
| --- | --- | --- | --- |
| "bajskorven87" | | 29.39% | (0.96%) |
| "Aron0621" | | 52.30% | (0.06%) |
| Andres "Educa-p0ker" Artinano | | 17.36% | (0.96%) |
The board ran out
, giving "bajskorven87" the main pot with a flush. The much larger side pot went to "Aron0621" with his set of kings.
---
2) "Ravenswood13" Wins a $139,800-Pot (350 big blinds) versus Andres "Educa-p0ker" Artinano
($200/$400 PLO 5-Handed)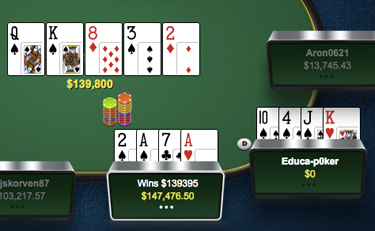 Andres "Educa-p0ker" Artinano opened the button for $1,800 and "Ravenswood13," a Dutch player living in Malta, three-bet to $6,200 from the small blind. The big blind gave up and Artinano called.
The flop came
and "Ravenswood13" fired $7,200 into the $13,600 pot. Artinano called.
"Ravenswood13" bet $14,400 into the $28,000 pot on the
turn and moved all in for effectively $41,500 into the $56,800 pot on the
river.
Artinano called both times with his
for the turn second (and third) nuts. Unfortunately for him, "Ravenswood13" showed
for the nuts.
---
3) "BERRI SWEET" Wins a $101,377-Pot (507 big blinds) versus "WRUUUM"
($100/$200 PLO 4-Handed)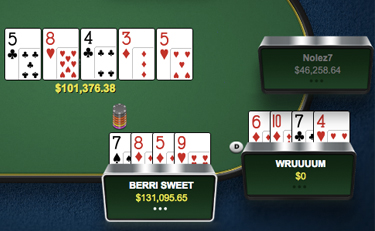 "WRUUUM" opened the button for $860 and "BERRI SWEET" in the small blind three-bet to $2,940. Dani Stern folded his big blind and "WRUUUM" made the call to grow the pot to $6,400.
"BERRI SWEET" checked on
and called as "WRUUUM" bet $3,117.50.
With the pot now at $12,635, the
hit the turn and "BERRI SWEET" checked again. "WRUUUM" bet $10,100.70 and "BERRI SWEET" called.
The
completed the board and "BERRI SWEET" checked for the third time. "WRUUUM" bet $16,335.70 into the $32,836.40 pot and "BERRI SWEET" check-raised all in. "WRUUUM" called for $34,269.99 total.
"BERRI SWEET" showed
for a rivered full house, "WRUUUM" mucked his
for the flopped straight.
---
There was plenty of Pot-Limit Omaha action this week with $50/$100, $100/$200 and $200/$400 running. The top winners and losers this week all participated in the big PLO games.
| | (user)name | hands | profit/loss last week | profit/loss 2016 | profit/loss all time |
| --- | --- | --- | --- | --- | --- |
| | Winning Players | | | | |
| 1 | BERRI SWEET | 2,078 | +$212,307 | - | - |
| 2 | Ravenswood13 | 3,898 | +$135,282 | - | - |
| 3 | Grazvis1 | 102 | +$132,452 | +$104,404 | +$115,325 |
| 4 | bajskorven87 | 817 | +$123,336 | - | - |
| 5 | Mikael "ChaoRen160" Thuritz | 1,765 | +$85,782 | +$271,691 | +$1,132,239 |
| 6 | RaúlGonzalez | 597 | +$72,240 | - | - |
| 7 | Isaac "philivey2694" Haxton | 675 | +$67,221 | +$721,912 | +$932,463 |
| 8 | Alexander "joiso" Kostritsyn | 3261 | +$53,576 | - | - |
| 9 | Eric "thechips55" Wasserson | 4,130 | +$41,822 | +$46,655 | +$46,655 |
| 10 | Hector "TUTI88" Álvarez | 289 | +$37,355 | +$32,532 | +$32,532 |
| | | | | | |
| | Losing Players | | | | |
| 1 | Sean "Nolez7" Winter | 1,481 | -$143,405 | -$193,460 | -$193,460 |
| 2 | WRUUUUM | 1,797 | -$114,452 | - | - |
| 3 | Andres "Educa-p0ker" Artinano | 472 | -$103,810 | $574,639 | +$995,627 |
| 4 | David "Bullitos" van der Weele | 1,115 | -$93,611 | - | - |
| 5 | Elior "Crazy Elior" Sion | 3,455 | -$83,565 | - | - |
| 6 | Daniel "DANMERRRRRRR" Merraz | 351 | -$63,056 | - | - |
| 7 | Viktor "Isildur1" Blom | 2,479 | -$59,695 | -$722,322 | +$1,278,638 |
| 8 | antoha1998 | 351 | -$59,045 | - | - |
| 9 | Ben "Ben86" Tollerene | 401 | -$58,606 | - | - |
| 10 | Dani "supernova9" Stern | 1,994 | -$52,012 | $163,369 | -$271,091 |
The 2016 Leaderboard
Ben "Sauce123" Sulsky remains the biggest winner of the year of all the players that haven't opted out with HighStakesDB. Isaac "philivey2694" Haxton and Andres "Educa-p0ker" Artinano swapped places this week after the latter lost a bit and Haxton won some.
Compared to last week, not much has changed in the losing players department. All three lost a little bit, but the order remains the same.
| | (user)name | hands 2016 | profit/loss 2016 | profit/loss per hand 2016 | profit/loss all time | ↑/↓ this week | most played game 2016 |
| --- | --- | --- | --- | --- | --- | --- | --- |
| | Winning players | | | | | | |
| 1 | Ben "Sauce123" Sulsky | 67,520 | +$1,032,798 | +$15.29 | +$5,070,001 | ↓ | 8-game |
| 2 | Isaac "philivey2694" Haxton | 15,351 | +$721,912 | +$47.02 | +$932,463 | ↑ | PLO |
| 2 | Andres "Educa-p0ker" Artinano | 28,960 | +$574,639 | +$19.84 | +$995,627 | ↓ | NLHM |
| | | | | | | | |
| | Losing players | | | | | | |
| 1 | Viktor "Isildur1" Blom | 140,749 | -$722,322 | -$5.13 | +$1,278,638 | ↓ | 8-game |
| 2 | "bodamos" | 9,977 | -$652,522 | -$65.40 | -$1,979,643 | ↓ | 8-Game |
| 3 | Alex "Kanu7" Millar | 25,034 | -$608,176 | -$24.29 | +$2,652,415 | ↓ | NLHM |
The above top three biggest winners and losers in online poker for 2016 and the top 10 biggest winners and losers online for the last week only consist of PokerStars accounts that haven't opted out with HighStakesDB.com.
---
Be sure to complete your PokerNews experience by checking out an overview of our mobile and tablet apps here. Stay on top of the poker world from your phone with our mobile iOS and Android app, or fire up our iPad app on your tablet. You can also update your own chip counts from poker tournaments around the world with MyStack on both Android and iOS.
---