Elton Tsang Wins the Big One For One Drop Extravaganza for €11,111,111!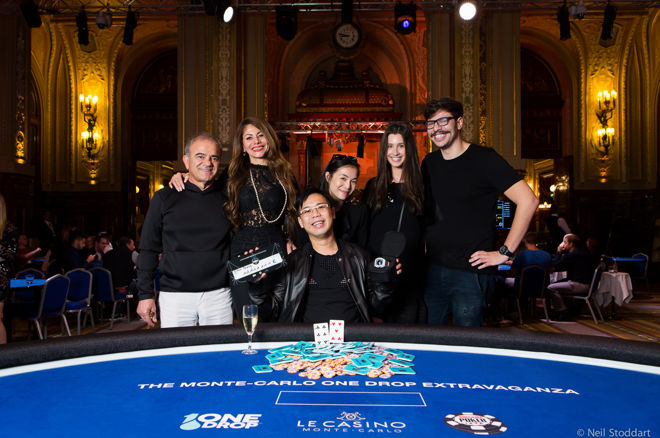 After three fabulous days of action, the 2016 Monte-Carlo One Drop Extravaganza €1,000,000-buy-in Big One For One Drop has crowned a winner.
Tonight, Canadian born but Hong Kong based, Elton Tsang can say that he's won the third biggest prize in poker history as he defeated a field of 28 entries to win a massive €11,111,111.
Such is the scale of the prize Tsang's won that he's vaulted from outside the top 3,000 to 21st on the all-time money list.
He defeated a final table that included Andrew Pantling, James Bord, Rick Salomon, Haralabos Voulgaris, Cary Katz, Brandon Steven and Anatoly Gurtovoy.
Final Table Results
| Place | Player | Based | Prize |
| --- | --- | --- | --- |
| 1 | Elton Tsang | Hong Kong | €11,111,111 |
| 2 | Anatoly Gurtovoy | Russia | €5,427,781 |
| 3 | Rick Salomon | United States | €3,000,000 |
| 4 | James Bord | United Kingdom | €2,100,000 |
| 5 | Cary Katz | United States | €1,750,000 |
| 6 | Andrew Pantling | Canada | €1,500,000 |
---
No Ordinary Tournament, a €1,500,000 Bubble
This was no ordinary tournament and the final table got the introduction it deserved. Guy Laliberté did not disappoint as the players were escorted to the tables to a crescendo of electric guitar riffs and the One Drop Foundation frontman took to the microphone to perform the ceremonial 'shuffle up and deal' announcement.
We didn't have to wait long for action. Just two hands in, Elton Tsang took the chip lead from Andrew Pantling. When the two clashed again on the next hand and Tsang came out on top, Pantling had lost two-thirds of his stack and Tsang now had a big chip lead. Looking back we can say that these were two of the most pivotal hands of the final table; we just didn't know it yet. They're so pivotal because at this point Tsang's stack was over 47,000,000. During the entirety of the final table, no other player would get their hands on a stack that big.
Coming into play as the short stack was Haralabos Voulgaris. The professional sports bettor needed to find a spot and eight hands in he found it. Unfortunately for 'Bob' this one didn't go in his favor as his shove with a suited king was picked off by Anatoly Gurtovoy with ace-queen. Neither player connected with the board and it was bubble time with seven players remaining and just six getting paid.
It was a €1,500,000 bubble but you wouldn't have known it as the action didn't grind to a halt and there was zero stalling. Brandon Steven was the first player all-in and at risk of bubbling. He and Pantling both had ace-king, but after the turn, Pantling was freerolling and any diamond would've burst the bubble. Steven survived and Cary Katz was the next player to face a sweat. He had dwindled to just under five big blinds by the time he took a stand with jack-ten. Again it was Pantling who was looking to play the role of executioner but Katz started, and finished, with the best hand to get a much needed double up.
With Katz as the clear short stack, it became almost a four-handed tournament as Pantling and Steven (the other short stacks) were handcuffed. Again Katz found a hand to get his stack in with, and again he held as his ace-king dodged the jack-nine suited of Elton Tsang.
By this point, Katz, Steven and Pantling were all well and truly in the danger zone and by the time the blinds ticked up to 300,000/600,000 that triumvirate was all below starting stack. Something had to give and when two of the short stacks found hands, it did. Katz shoved all in, Steven called and the former had a dominating hand with ace-king to the latters king-queen. Five blanks later and the bubble had burst; Brandon Steven was the last one to go home empty-handed.
Just a few minutes later, six became five. Andrew Pantling, who was the start of day chip leader, took his last stand with a suited king but didn't get there against Tsang's ace-high. Usually the first in the money finish opens the floodgates but not in this instance as another 20 hands occurred before Cary Katz was knocked out in fifth. In the hand in question, James Bord opened, Elton Tsang three-bet with king-jack and Katz called all in for less than the three-bet with ace-jack. Bord folded. A king on the flop was a dagger to Katz's tournament hopes and neither the turn nor the river saved him.
While Tsang was out of sight as the clear chip leader, James Bord, Rick Salomon and Gurtovoy were all bunched together in the 15-25 big blind range. This created a dynamic where Tsang could pick up a lot of pots, but all three had enough chips to three-bet shove to keep their stack buoyant. It was, though, inevitable that two of these stacks would clash at one point and so it proved. On an ace-high flop, Anatoly Gurtovoy and James Bord created a pot of around 30 million. Both had top pair but Gurtovoy's kicker was better and Bord was kicked out in fourth earning €2,100,000.
With three left it was Tsang who was well in charge; he had almost 100,000,000 of the 140,000,000 chips in play. Salomon and Gurtovoy had to scrap and fight to survive. A period of play that was characterized by Tsang getting walks followed, Tsang raising to take the blinds and antes and others raising and getting shoved on.
This continued for almost 70 hands but then followed big action two hands in a row. First Salomon and Gurtovoy got it all in pre-flop, but both held king-jack and the pot was chopped. The very next hand Gurtovoy three-bet shoved for 16.5 big blinds with king-nine and Tsang put him at risk with pocket sixes. A nine on the flop gave Gurtovoy the lead but Tsang picked up a straight draw. The turn and river were blanks though and Gurtovoy doubled.
That dent altered the landscape as now Salomon was the clear short stack and was down to around a dozen big blinds. For 30 or so hands his shoves went uncalled but then we got action. Rick Salomon three-bet shoved with queen-jack and Anatoly Gurtovoy called with ace-queen. A jack on the flop gave Salomon the lead but an ace turned and Gurtovoy held on the river. Rick Salomon made his exit in third place, good for €3,000,000.
Heads-Up: Tsang Versus Gurtovoy
So to heads-up play we went with chip stacks looking like this at blinds of 600,000/1,200,000 ante 200,000:
Elton Tsang: 93,700,000
Anatoly Gurtovoy: 46,300,000
It was nearly all over on just the third hand of heads-up play. On a nine-six-five rainbow flop all the chips went in. Gurtovoy had a top pair top kicker but Tsang had flopped top two pair. Running cards put a straight on the board and the pot was chopped. The momentum and the chip lead was with Tsang though and he continued to grind Gurtovoy down.
Down to just six big blinds, Gurtovoy managed to get one double up but he wouldn't get a second. Not much later, Tsang and Gurtovoy got it all in again. On the turn of a
-board the last of his chips went in with
for Gurtovoy making him a wheel. Unfortunately for him, Tsang had him beat with
and the river didn't save Gurtovoy this time. Tsang's fans, includingMustapaha Kanit who had been coaching him for two weeks, celebrated and a round of applause rang out.
Thank you to everyone for following our coverage of this extraordinary event. A reminder that we'll be back at noon tomorrow to cover the €1,000,000 cash game and €100,000 freeze-out live from Monaco.
(photos by Neil Stoddart)