New Book, New Challenges for Poker Brat Phil Helmuth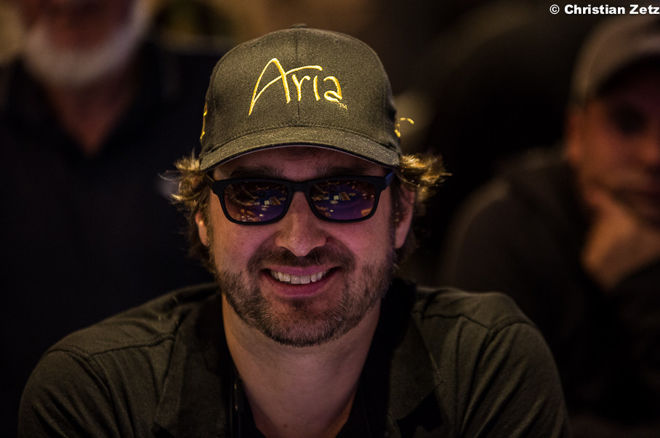 Already a world champion, 14-time World Series of Poker bracelet winner, Poker Hall of Fame inductee and New York Times bestselling author, these days, Phil Hellmuth Jr. is taking on a new challenge: Autobiographer.
An experienced writer, having penned hundreds of hand of the week articles over a decade as a syndicated columnist and several instructional poker books, including the New York Times bestseller Play Poker Like The Pros, Hellmuth is no stranger to the process. Only this time, it's a little more personal.
"This new book is about how I rose above some hard times in my life," Hellmuth explained while taking a break from finishing the tentatively titled Poker Brat at his Palo Alto, California home. "I really struggled in high school. I felt like a big-time high school loser. I struggled with my social life, grades, everything. I was way too immature. I had warts on both hands, the outside of my hands, and it felt almost like an affliction."
But things didn't automatically get better for Hellmuth.
"After two years they magically disappeared and then the acne came," he said. "When the warts went away, the zits came. I really struggled socially in high school. When you have these kinds of things, you don't feel good about yourself. This book is about how I made the transition from a high school loser with low self esteem to a world champion of poker at 24. It's about the development of the Poker Brat, how I came from struggling so much with ego to finding great success."
The theme sounds almost motivational, but Hellmuth says that's actually the plan for the book after this one.
"My next book will be about positivity and how to achieve great things in life," he said. "I don't think a lot of the people that write motivational books are people who have actually done a lot of great things. At least I've done some cool things and I'm looking forward to sharing my experiences and the thought process that led me to do these things. Poker Brat is the inspirational story behind it all and my next book will talk about a lot of the tools I used to become the person I am, the tips and tricks."
Hellmuth actually wrote the first 70,000 words of Poker Brat in 2010 and was planning on getting it published in 2011. That's when Black Friday hit, the bottom fell out of the poker industry, and even though publisher HarperCollins had such great success with Hellmuth's 2004 Play Poker Like The Pros, it suddenly wanted no part in anything poker related.
He sat on the almost-completed manuscript until D&B Publishing owner Dan Addelman came sniffing around this year and Hellmuth agreed to add a few chapters on the end and get it ready for publication in early 2017.
"I wrote the book up to 1993," Hellmuth said. "Right now I'm still stuck in 1993 and editing the 70,000 words I've already written. It's taking some time to get back to 1993, and at that point, I'll have to decide what I want to talk about. I think I want to add about 20,000 words before we sell the book."
According to Hellmuth, those 20,000 words may contain some insight as to how he's been able to maintain his level of play, even as the game has changed.
"That's something I'm definitely thinking of having in there: How to maintain your level of play and stay a champion," he said. "All the work and effort it takes to continue to be one of the greatest poker players in the world. To be considered the top, or right near it, means listening to all the theories other great players have and seeing the different tactics they employ. "
Maintaining the title of champion means understanding and opposing player tactics.
"Following how the online players have elegantly taken the mathematics of the game to such a high level and paying attention, watching what they do, I can develop counter tactics," Hellmuth said. "If the whole world thinks this is right, how can I beat this? If they think that is right, how do I beat that? If they think z, how do I beat z? It's all about counter tactics."
The book's final chapters may also include talk about the shift from hold'em to mixed games, both in the highest-stakes cash games around the world and Hellmuth's own career.
"I don't know if I could have predicted that I would segue into other games the way I have," he said. "After having won 11 bracelets in hold'em, with a number of close finishes in on other games, I mean, I have been close a lot in Omaha eight and seven card stud events and could have picked up another bracelet or two along the way."
This wasn't exactly what Hellmuth expected.
"All of the sudden to be known by the biggest cash game players in the world as not a great mixed game player and then suddenly win two RAZZ bracelets, I can't say I saw that coming. Now I feel like the best RAZZ tournament player in the world and I look forward to more things changing in different directions. I mean, just when it started to look like hold'em was changing and I was only winning in mixed games, I won the WSOP Main Event in Europe and that's hold'em."
Regardless, Hellmuth has promised to have the book done and ready for publication in January 2017. In the meantime, he plans to continue to live like only the Poker Brat can.
Two weeks ago, as his more than 250,000 Twitter followers can attest to, that included a trip to see the world's best golfers at the Ryder Cup. Last weekend, Hellmuth hosted his own poker tournament at the ARIA Resort & Casino in Las Vegas. This weekend he was back playing emcee at a charity tournament for Teaching Tolerance in Chicago, where he helped raise $1.65 million in 2015.
That leaves Hellmuth just a couple weeks away from what has become a regular stint as an analyst for ESPN's WSOP Main Event final table broadcast, alongside Daniel Negreanu and Kara Scott.
"I love it," he said. "For me, I love live TV and I'm obviously pretty good at it. It's hold'em and nobody has my record in hold'em. What they're doing up there, I've already done so many times that I have a good understanding of it and it's easy for me to talk about what the players are doing and what they should be doing. I think it adds a lot of value and people like to hear my perspective."
It's like golf, he said.
"When people watch golf they want to hear Nick Faldo and Johnny Miller talk about golf," Hellmuth said. "These are the champions. They've done it under pressure before. I think people want to hear the greatest players in the world talk about poker as well and what it's like to be under all that pressure and strain."
The job comes with a little good-natured ribbing as well, as Negreanu has made sure to poke a little fun at the Poker Brat on the set in the past.
"Daniel and I have a lot of fun with it," he said. "One thing he does is make fun of some of my most egotistical tweets. I embrace it. I mean, If I'm going to write a cocky tweet, I have to stand by it. The thing is, it's entertaining and I think people want to be entertained. I'm not Charles Barkley, but Charles has a big personality, he's fun to be around, and on Inside The NBA, they make fun of him. He embraces the role and I do too. I embrace the role; if Daniel wants to make fun of me, it's good for me too. I'm a big target."
Alongside celebrities and athletes including Kevin Hart, Chris Paul and Von Miller, Hellmuth also recently signed an endorsement deal with Muzik headphones and is looking forward to promoting a product he believes in.
He may get back on the felt at an upcoming Poker Night in America event in Pittsburgh, or at the World Poker Tour's Five Diamond World Poker Classic at Bellagio Resort & Casino in Las Vegas in early December, but when it comes to poker, his true focus over the next few months will be on preparing to make up for what was an otherwise awful 2016 WSOP.
"It seems to me I play under 10 events a year outside of the WSOP because that's where I can make history," he said. "Here's the ironic thing: There have only really been two years where I have come into the series in great physical condition for me. In 2012, I had a horrible series, and even though I knew that coming into 2016, and felt like working out couldn't hurt and could only help, it was horrible again."
So, Hellmuth started trying to get into a workout routine.
"In 2012, instead of napping on breaks I would go for a run, and when you do that, you're just exhausted," Hellmuth said. "So I knew the only way working out could hurt me was by choosing it over naps and I didn't do that. Most days after working my ass off I would go to the gym and think about how to do things better or differently. I would go over what my mistakes were and how I could fix them."
Helllmuth worked to make sure he was doing all the right things.
"I was coming off a fourth-place finish at the $300,000 Super High Roller Bowl for $1.6 million to start the summer and great things have always come in bunches for me," he said. "I worked so hard. I noticed after three weeks I had only been to one restaurant. I was working hard playing poker, spending time with my wife, studying the game and talking with a player or two about what led to their success, so I felt I deserved a lot better. Instead, I had just three cashes and it was one of my worst years ever at the WSOP."
Even after his best attempts, it wasn't paying off the way he thought it would.
"In 2015, I felt like I was extremely unlucky," Hellmuth said. "I was getting close and just taking bad beats. I was really frustrated, but I won a bracelet. Last year I don't even know what happened. There were no huge bad beats, I didn't blow any massive chip leads or lose four unlucky pots in a row. It just seemed unfair, although fair is a bad word. It was just rough; the cards were too salty. I remember blowing tournaments in my 20s because I wasn't always there mentally. In my 30s, ego played a big part in that, and now in my 50s, when I play great, I'm expecting something great. It just doesn't always work out that way."