Hometown Hero Rachid Rami Wins the 2016 PMU.fr WPTN Marrakech for Almost $100,000!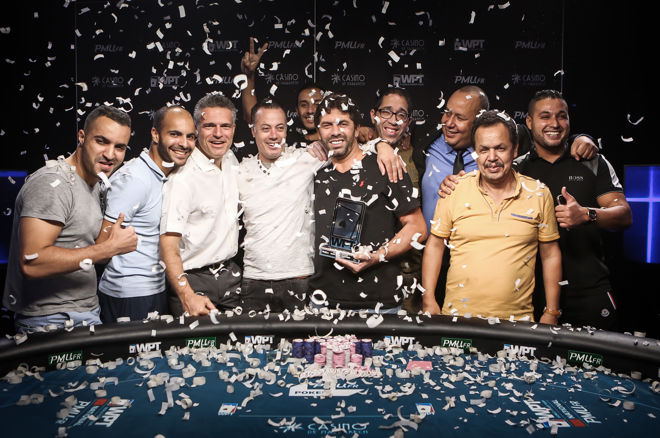 Rachid Rami repelled all attacks, claiming victory in his home country and banking MAD 950,000 ($97,586) at the Main Event of the PMU.fr World Poker Tour National Marrakech, an event that attracted a field of 396 players. Many of these players came from France and came in large numbers to claim the title for the second year in a row. They tried, but ultimately failed.
| Position | Player | Country | Prize (MAD) | Prize ($) |
| --- | --- | --- | --- | --- |
| 1 | Rachid Rami | Morocco | MAD 950,000 | $97,586 |
| 2 | Mohammed Lahlou | Morocco | MAD 650,000 | $66,769 |
| 3 | Arthur Conan | France | MAD 450,000 | $46,224 |
| 4 | Dimitri Sukhorukov | France | MAD 323,000 | $33,179 |
| 5 | Alexandre Riccomi | France | MAD 248,000 | $25,475 |
| 6 | Alexandre Andre Henri De Zutter | France | MAD 198,000 | $20,339 |
| 7 | Joao Pinto Correia | Portugal | MAD 158,000 | $16,230 |
| 8 | Mathieu Maroccini | France | MAD 128,000 | $13,148 |
| 9 | Jean-Claude Guiot | France | MAD 103,000 | $10,580 |
| | | | | |
| 10 | Houssine El Otmani | Morocco | MAD 83,000 | $8,526 |
| 11 | Jerome Sgorrano | Belgium | MAD 83,000 | $8,526 |
| 12 | Arturo Fernandez Barge | Spain | MAD 68,000 | $6,985 |
| 13 | Nicolas Vayssieres | France | MAD 68,000 | $6,985 |
| 14 | Sebastien Boyard | France | MAD 58,000 | $5,957 |
The third and final day of the WPT National started with 14 players divided across two tables. The event had moved to a new room in the beautiful Es Saadi Resort, a lavish room with a big carpet and a TV set many poker tournaments would envy. The cameras were buzzing, red lights were shining and then it was silence on the set... action!
With the live stream broadcasting all the action, Twitch viewers didn't have to wait long for action. Sebastien Boyard was the first to fall, followed by Nicolas Vayssieres and Arturo Fernandez Barge.
Another player that would miss out on the final table was Jerome Sgorrano. Sgorrano, who won the Sismix Winamax Main Event here in Marrakech a couple of months ago, was short and ran king-eight into king-queen and failed to catch up.
After the likable Houssine El Otmani busted in 10th, the final table was set.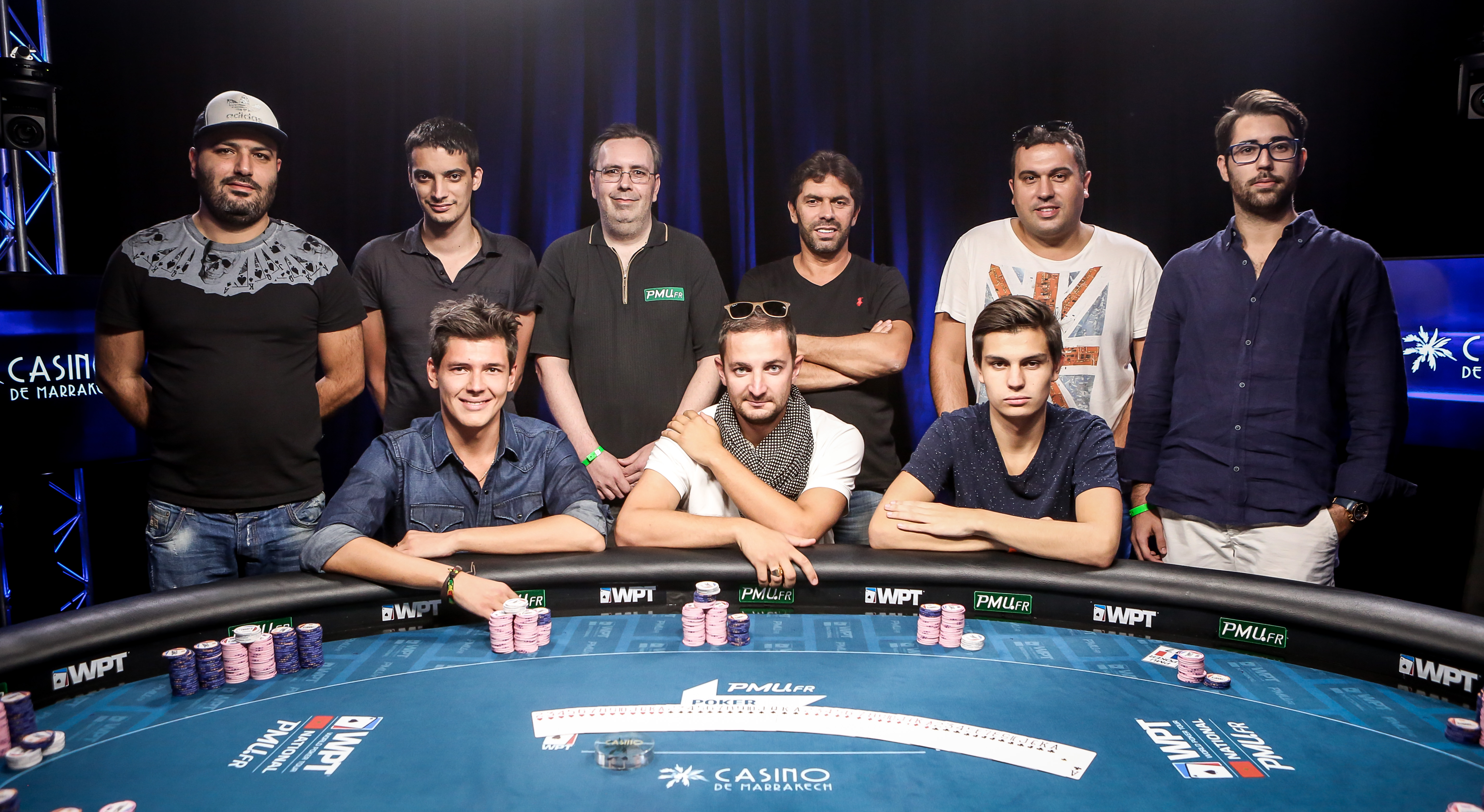 The first hand of that final table instantly meant action as Jean-Claude Guiot busted out. Queen-nine would prove no obstacle for pocket tens and just like that, it was eight-handed.
It would take some time before Mathieu Maroccini hit the rail in eighth place. He was already severely short stacked when he called a raise with king-ten suited. Mohamed Lahlou squeezed behind him with ace-queen and Maroccini went for it and called all in. No luck on the flop, turn or river and Maroccini was eliminated.
Four minutes later, Joao Pinto Correia from Portugal followed him out the door. He pushed with queen-jack off suit and while players with nines and ace-ten folded, Rachid Rami wasn't folding ace-king suited. Correia flopped a queen but the ace on the turn meant it was time to pack the bags for Correia.
Alexandre Andre Henri De Zutter, by far the most active player at the table, was next to go. He check min-raise bluffed all in on the river only to get called by a straight.
Next up was Alexandre Riccomi, busting in fifth place with his second pair all in against top two - drawing dead.
The drama didn't end there as minutes later Dimitri Sukhorukov hit the rail. Sukhorukov, who according to the local French media is a two-time Sunday Million champ, was playing incredibly solid all tournament but couldn't get away from a set of jacks on a board with three diamonds. Lahlou had shown some fine acting work, huffing and puffing like he had a tough decision, only to raise all in on the river. You could see the surprise on Sukhorukov's face and while he wasn't having any of it really, he still reluctantly called all in. Just like that, it was down to three players.
Rami asked if his two opponents were interested in a deal, but the sole French player, 19-year old Arhur Conan, declined instantly with the words "Um... no." Conan, in the eyes of Rami, and to some extent Lahlou, was playing the role of barbarian, declining a deal. It would end up costing him, as he eventually finished in third place. Conan was grinded down by Rami and Lahlou and found himself short and in need of a double up. He went for it with pocket fours and got called by Rami with ace-queen. Rami made a straight on the river to send Conan home and the event was guaranteed a Moroccan champion.
Rami started out with a big lead. At one point, with Lahlou having two-pair and Rami a flush, the latter raised on the river. As soon as Lahlou called, Rami started celebrating, thinking he had won the tournament. Rami hadn't pushed all in, though, and his opponent still had plenty of chips left to play. Rami was confused, realized what had happened, and said he had jinxed himself.
In the end, it wouldn't turn out to be a very effective jinx as he won anyway. Lahlou grinded himself back to almost even stacks but couldn't get away from jacks on a deuce-deuce-three board with a flush draw. The two of them got it all in and Rami showed six-deuce. As the turn and river blanked, Lahlou said his goodbyes and Rami was going to lift the trophy. Rami, who had qualified for this event in a €150 buy in, live satellite here in Marrakech, celebrated his victory with his friends and posed for photos.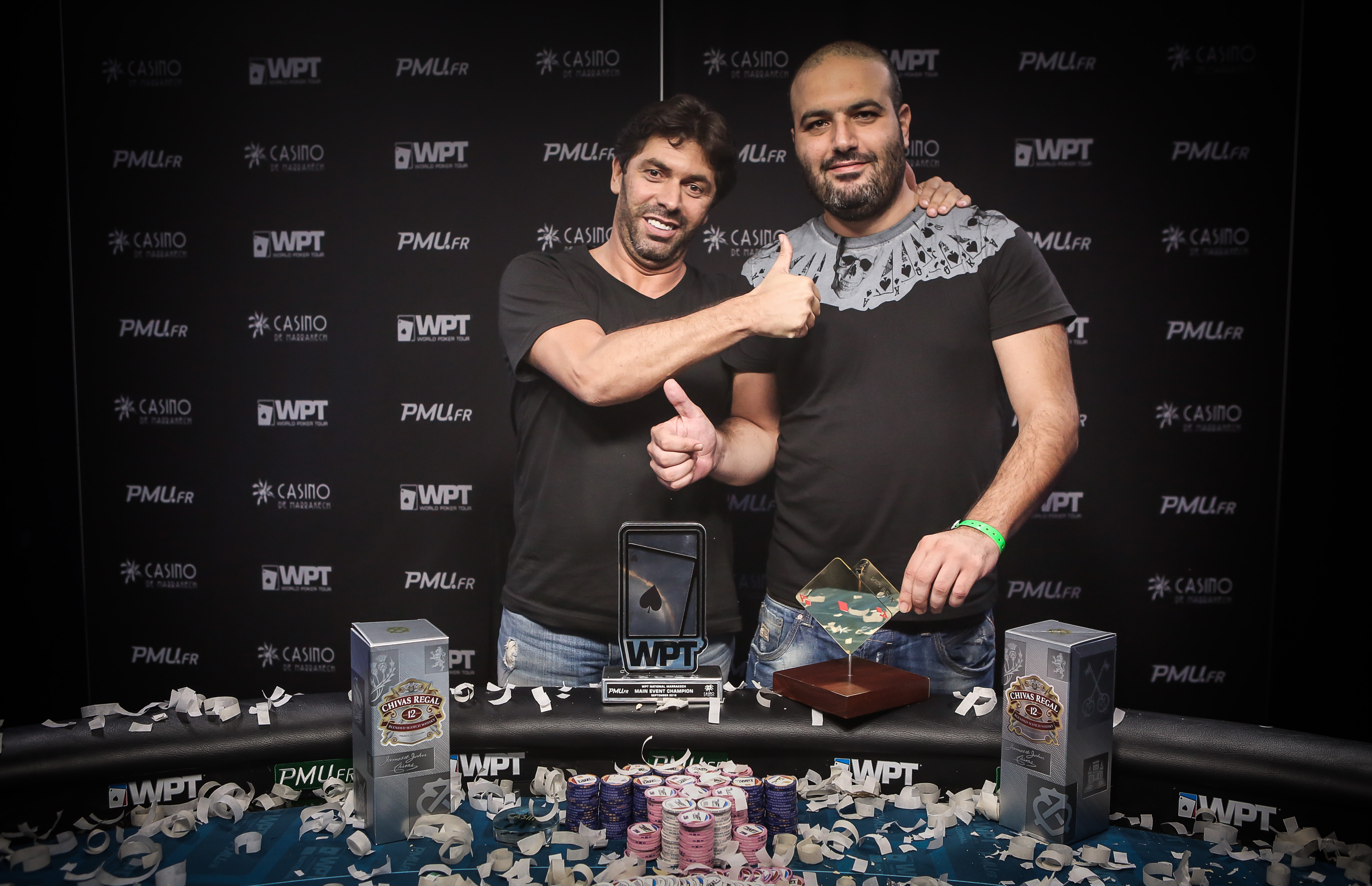 That's it for PokerNews.com from Morocco's tourist hotspot Marrakech. Next big event coming up here is the WSOP Circuit which will be played in January of 2017. In the meantime, you can follow along with the Cash Game Festival in London and get ready for live coverage of the Big One for One Drop Extravaganza where PokerNews will be bringing you exclusive live reporting from the tournament floor of the biggest buy in tournament in the history of the game.
Everybody needs an account at one of these online poker rooms! They're the biggest, the best, and we get you the best poker bonuses. Check out our online poker section for details on all the online poker rooms around.