WPT National Marrakech Main Event: Alexandre Riccomi Leads Final 14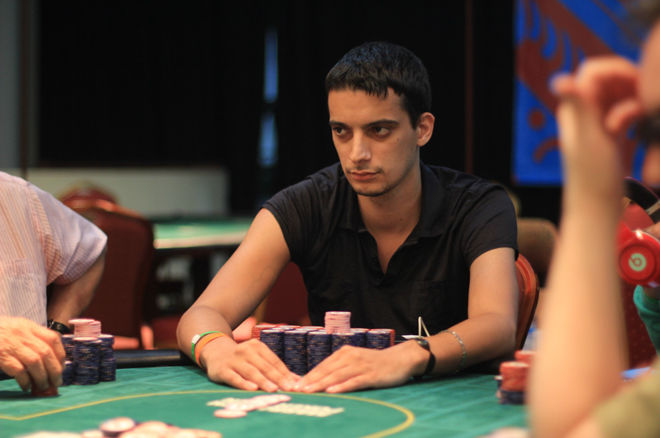 Day 2 of the PMU.fr WPT National Marrakech Main Event started with at least 127 players, but only 45 would make the money.
After almost 12 levels of play, just 14 players remain; all were guaranteed MAD 58,000 at this point. Leading the way is Alexandre Riccomi (photo) from France who'll start the final day on Sunday with 2,251,000 in chips.
Final Day Line Up
| Table | Seat | Player | Country | Chip Count |
| --- | --- | --- | --- | --- |
| 1 | 1 | Mathieu Maroccini | France | 254,000 |
| | 2 | Mohammed Lahlou | Morocco | 903,000 |
| | 3 | Nicolas Vayssieres | France | 293,000 |
| | 4 | Houssine El Otmani | Morocco | 981,000 |
| | 5 | Jerome Sgorrano | Belgium | 416,000 |
| | 6 | Rachid Rami | Morocco | 641,000 |
| | 7 | Arturo Fernandez Barge | Spain | 1,000,000 |
| | | | | |
| 2 | 1 | Sebastien Boyard | France | 204,000 |
| | 2 | Arthur Conan | France | 684,000 |
| | 3 | Joao Pinto Correia | Portugal | 790,000 |
| | 4 | Jean-Claude Guiot | France | 787,000 |
| | 5 | Alexandre Riccomi | France | 2,251,000 |
| | 6 | Dimitri Sukhorukov | France | 776,000 |
| | 7 | Alexandre Andre Henri De Zutter | France | 1,980,000 |
The day started with a triple up for Barny Boatman. The British bracelet winner started out as the second shortest stack in the room but in the first hand he flopped a set to beat pocket aces preflop all in. It wouldn't be enough; the longtime grinder hung around for some time but never followed up on his early triple up. Instead, he steadily lost chips to the point where he was short stacked and found himself all in with pocket tens up against ace-nine. The ace on the river brought Boatman's run to an end.
While Boatman had started out as one of the smallest stacks in the room, Eric Sfez found himself at the other end of the spectrum. He began the day as chip leader, but lost a lot of chips early on, in what at the time was the biggest pot of the tournament. He got it in with a set of queens against a flopped straight in a single raised pot where Sfez had slow played his big pair before the flop. The board failed to pair and Sfez was knocked down considerably.
In the meantime, players busted left and right. While the structure was great with a high average stack forcing people to make moves, the mainly French and Morrocan players were in a hurry to get their chips in. As a result, the bubble got closer and closer soon enough.
partypoker pro Tony Dunst was one of the players hanging on. While his colleague Natalia Breviglieri departed before the money (six-five suited could not beat deuces), Dunst survived. He, amongst others, spiked a king with king-nine suited pre-flop all in against the pocket jacks of Ouassini Mansouri to stay alive.
Michel Anthonioz would end up the most disappointed player in the field, bubbling the event in 46th place. The Frenchman, mostly playing and cashing in Dakar, got it in good with pocket aces against the top pair of Alexandre Andre Henri De Zutter. The queen on the turn gave the latter two pair and as the river blanked, Anthonioz made his exit.
The remaining players all cheered and didn't hold back after that. Now the 'making the money' dream had materialized; everything else didn't matter anymore it seemed. Chips flew in like they had been given out for free and players busted out one after another.
One of them would be start-of-day chipleader Eric Sfez. He had recovered from an early setback but he wouldn't overcome another clash. He flopped a flush draw and got it in against a higher flush draw. Blanks on the turn and river gave his opponent the sizable pot with just king-high, while Sfez had to settle for 37th place (MAD 24,000).
Tony Dunst had gotten lucky at least once to make it to the money, but found himself rather unlucky to eventually bust in 18th place (MAD 43,000). He got it in good holding jacks to Alexandre Andre Henri De Zutter's ace-ten, but the ace on the river proved once again lethal.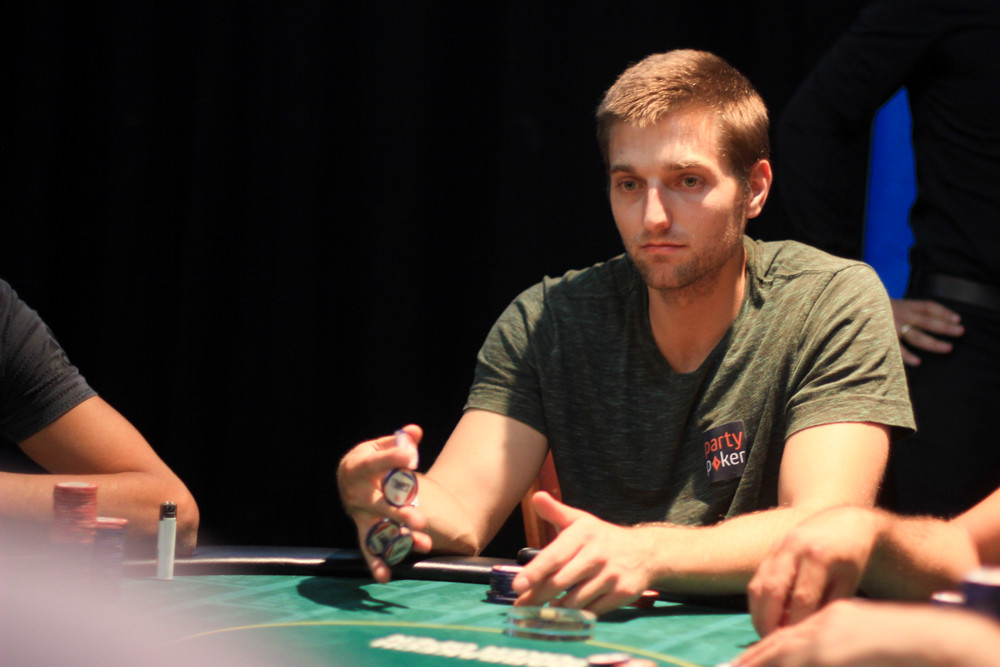 Pierre Antoine Quignard would be the last to leave the tournament room without bagging chips. He finished in 15th place losing ace-seven to kings.
With that, the clock was stopped and the bagging and tagging began. The final 14 players return Sunday at 2 p.m. local time for the final day of the WPTN Marrakech with 28 minutes remaining in the 10,000/20,000 (3,000-ante) level.
While all of them are guaranteed MAD 58,000, all of them most definitely eye that MAD 950,000 first-place prize. Pokernews.com will be on the floor covering all of it live till a champion is crowned in Morocco's hot spot.