Travel Tips for the 2016 PMU.fr WPT National Marrakech Main Event (Sept. 30 - Oct. 2)

Frank Op de Woerd
Matthieu Sustrac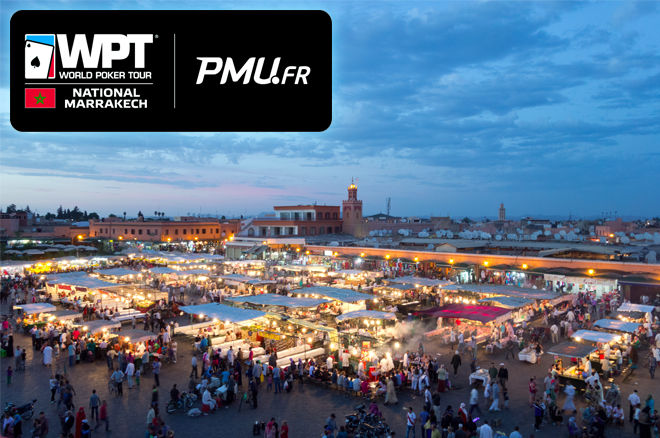 The PMU.fr World Poker Tour National Marrakech kicks off today and runs through Oct. 2. The Main Event is a three-day 13,200 MAD (approximately €1,200/$1,350) single-reentry event held Sept. 30 until Oct. 2.
PokerNews.com will be on-site to deliver all the Main Event updates one can ask for and will be covering the final table of the High Roller on September 29th as well. If you plan on going, here are some quick tips:
Taxi Cabs
When you arrive at Menara Airport Marrakech, go to the back of the parking lot to avoid cab hustlers asking for 200. 70-100 Moroccan dirham ($10/€9) is the normal price for a cab to go to the city. The price is per car, not per person.
A lot of cab drivers will claim their meters are broken; settle on a price before you enter.
Places to Eat Close to the Casino
Supermarket
Carrefour Market la fontaine
Boulevard Al Yarmouk, Marrakech, Marokko
Restaurants You Need to Take a Cab To
The following restaurants are five to eight minutes by taxi, which should cost you about 25 Dirham ($2.50/€2.20). Be sure to ask for the meter to run or a set a price in advance. Smoking inside restaurants is allowed, generally speaking.
World Poker Tour National Marrakech Schedule
| Date | Time | # | Event | MAD/€ | Stack | Levels | Format | late reg levels |
| --- | --- | --- | --- | --- | --- | --- | --- | --- |
| Sept. 24 | 18:00 | 1 | Opening Day 1 | 4,000 MAD/€365 | 13K | 30 | RE | 6 |
| Sept. 25 | 18:00 | 1 | Opening Day 2 | | | | | |
| Sept. 26 | 18:00 | 2 | NLHM | 2,500MAD/€225 | 10K | 20 | FO | 6 |
| Sept. 27 | 16:00 | 3 | Warm-Up Deepstack Day 1 | 6,000 MAD/€550 | 30K | 30 | RE | 9 |
| | 22:00 | 4 | Turbo NLHM | 1,500MAD/€135 | 13K | 15 | FO | 8 |
| Sept. 28 | 14:00 | 3 | Warm-Up Deepstack Day 2 | | | | | |
| | 15:00 | 5 | Classic FO | 3,000 MAD/€270 | 10K | 30 F | FO | 4 |
| | 16:00 | 6 | WPTN High Roller Day 1 | 20,000 MAD/€1,800 | 35K | 40 | RE | start Day 2 |
| | 22:00 | 7 | Double Chance | 1,400MAD/€125 | 8K/8K | 20 | DC | 4 |
| | 14:00 | 8 | Monster Stack | 5,000 MAD/€450 | 35K | 30 | RE | 6 |
| Sept. 29 | 16:00 | 6 | WPTN High Roller Day 2 | | | | | |
| | 17:00 | 9 | Wanted Bounty | 1,400MAD/€125 | 10K | 20 | FO Bounty | 6 |
| | 22:00 | 10 | Ironman | 1,400MAD/€125 | 8K | 20 | No Break | 4 |
| Sept. 30 | 12:00 | 11 | WPTN ME Day 1 | 13,200MAD/€1,200 | 30K | 60 | RE unique | 8 |
| | 22:00 | 12 | FO | 1,400MAD/€125 | 10K | 20 | FO | 4 |
| Oct. 01 | 12:00 | 11 | WPTN ME Day 2 | | | | | |
| | 14:00 | 13 | Carte Blanche | 4,500MAD/€410 | 10K | 60 | FO | 4 |
| | 18:00 | 14 | Progressive Bounty | 2,000 MAD/€180 | 10K | 20 | RE Bounty | 6 |
| | 22:00 | 15 | Plo | 1,400MAD/€125 | 10K | 20 | Unlimited RB | 4 |
| Oct. 02 | 13:30 | 16 | Bigstack | 2,500MAD/€225 | 20K | 20 | FO 8-Handed | 6 |
| | 14:00 | 11 | WPTN ME Day 3 | | | | | |
| | 14:00 | 17 | Super High Roller | 30,000 MAD/€2,700 | 25K | 30 | RE | 6 |
| | 14:30 | 13 | Carte Blanche Day 2 | | | | | |
| | 16:00 | 18 | Turbo NLHM | 1,500MAD/€135 | 10K | 20 | FO | 4 |
| | 20:00 | 19 | Open Face Chinese Poker | 1,500MAD/€135 | 10K | 6 hands | FO | 4 |
For a more detailed schedule, including a plethora of satellites, click here. (PDF)
Location
Former Champions
| Year | Entries | Tour | Buy-In | Champion | Country | Prize |
| --- | --- | --- | --- | --- | --- | --- |
| 2015 | 462 | WPTN | €1,200 | Rodolphe Rey | France | $102,714 |
| 2014 | 502 | WPTN | €1,200 | Mostafa Boukri | Morocco | $131,058 |
| 2013 | 465 | WPTN | €1,500 | Alain Manquant | France | $171,921 |
| | | | | | | |
| 2011 | 274 | WPT | €3,000 | Mohamed Ali Houssam | Morocco | $214,983 |
| 2010 | 222 | WPT | €5,000 | Sebastian Homann | Germany | $341,798 |
| 2009 | 416 | WPT | €4,500 | Christophe Savary | France | $558,515 |
It's still summer in Marrakesh. Join me for some great events at the world's best venue. https://t.co/tUDNPi6opR

— Barny Boatman (@barnyboatman)