The 2016 PMU.fr WPT National Marrakech Main Event Kicks Off Sept. 30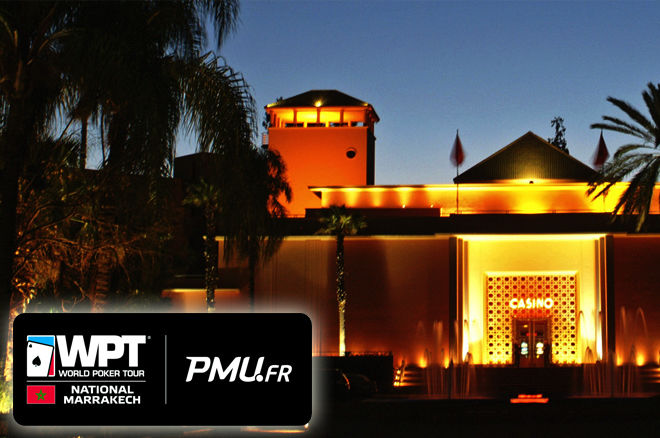 The PMU.fr World Poker Tour National Marrakech kicks off in two weeks, running Sept. 24 through Oct. 2. The Main Event is a three-day 13,200 MAD (approximately €1,200/$1,350) single reentry event held Sept. 30 till Oct. 2.
The Main Event boosts a guaranteed €300,000 prize pool and promises to be once again very busy. Players will start with a 30,000 starting stack and levels will be 60 minutes long (first level: 50/100). Players have the option to reenter once within the first eight levels of play.
The World Poker Tour has had a presence in the famous Moroccan city since 2009. After three regular World Poker Tour Main Events and a one year hiatus, the tour returned as World Poker Tour National Event in 2013. The tournament attracts huge numbers, with a lot of local poker fanatics and French players competing in the event.
PokerNews.com will be on-site to deliver you all the Main Event updates one can ask for, and will be covering the final table of the High Roller on Sept. 29.
Schedule
| Date | Time | # | Event | MAD/€ | Stack | Levels | Format | late reg levels |
| --- | --- | --- | --- | --- | --- | --- | --- | --- |
| Sept. 24 | 18:00 | 1 | Opening Day 1 | 4,000 MAD/€365 | 13K | 30 | RE | 6 |
| Sept. 25 | 18:00 | 1 | Opening Day 2 | | | | | |
| Sept. 26 | 18:00 | 2 | NLHM | 2,500MAD/€225 | 10K | 20 | FO | 6 |
| Sept. 27 | 16:00 | 3 | Warm-Up Deepstack Day 1 | 6,000 MAD/€550 | 30K | 30 | RE | 9 |
| | 22:00 | 4 | Turbo NLHM | 1,500MAD/€135 | 13K | 15 | FO | 8 |
| Sept. 28 | 14:00 | 3 | Warm-Up Deepstack Day 2 | | | | | |
| | 15:00 | 5 | Classic FO | 3,000 MAD/€270 | 10K | 30 F | FO | 4 |
| | 16:00 | 6 | WPTN High Roller Day 1 | 20,000 MAD/€1,800 | 35K | 40 | RE | start Day 2 |
| | 22:00 | 7 | Double Chance | 1,400MAD/€125 | 8K/8K | 20 | DC | 4 |
| | 14:00 | 8 | Monster Stack | 5,000 MAD/€450 | 35K | 30 | RE | 6 |
| Sept. 29 | 16:00 | 6 | WPTN High Roller Day 2 | | | | | |
| | 17:00 | 9 | Wanted Bounty | 1,400MAD/€125 | 10K | 20 | FO Bounty | 6 |
| | 22:00 | 10 | Ironman | 1,400MAD/€125 | 8K | 20 | No Break | 4 |
| Sept. 30 | 12:00 | 11 | WPTN ME Day 1 | 13,200MAD/€1,200 | 30K | 60 | RE unique | 8 |
| | 22:00 | 12 | FO | 1,400MAD/€125 | 10K | 20 | FO | 4 |
| Oct. 01 | 12:00 | 11 | WPTN ME Day 2 | | | | | |
| | 14:00 | 13 | Carte Blanche | 4,500MAD/€410 | 10K | 60 | FO | 4 |
| | 18:00 | 14 | Progressive Bounty | 2,000 MAD/€180 | 10K | 20 | RE Bounty | 6 |
| | 22:00 | 15 | Plo | 1,400MAD/€125 | 10K | 20 | Unlimited RB | 4 |
| Oct. 02 | 13:30 | 16 | Bigstack | 2,500MAD/€225 | 20K | 20 | FO 8-Handed | 6 |
| | 14:00 | 11 | WPTN ME Day 3 | | | | | |
| | 14:00 | 17 | Super High Roller | 30,000 MAD/€2,700 | 25K | 30 | RE | 6 |
| | 14:30 | 13 | Carte Blanche Day 2 | | | | | |
| | 16:00 | 18 | Turbo NLHM | 1,500MAD/€135 | 10K | 20 | FO | 4 |
| | 20:00 | 19 | Open Face Chinese Poker | 1,500MAD/€135 | 10K | 6 hands | FO | 4 |
For a more detailed schedule, including a plethora of satellites, click here. (PDF)
Location
Former Champions
| Year | Entries | Tour | Buy-In | Champion | Country | Prize |
| --- | --- | --- | --- | --- | --- | --- |
| 2015 | 462 | WPTN | €1,200 | Rodolphe Rey | France | $102,714 |
| 2014 | 502 | WPTN | €1,200 | Mostafa Boukri | Morocco | $131,058 |
| 2013 | 465 | WPTN | €1,500 | Alain Manquant | France | $171,921 |
| | | | | | | |
| 2011 | 274 | WPT | €3,000 | Mohamed Ali Houssam | Morocco | $214,983 |
| 2010 | 222 | WPT | €5,000 | Sebastian Homann | Germany | $341,798 |
| 2009 | 416 | WPT | €4,500 | Christophe Savary | France | $558,515 |