Tweet, Tweet, Bad Beat: Pet Therapy, Doppelgängers and Twitchin'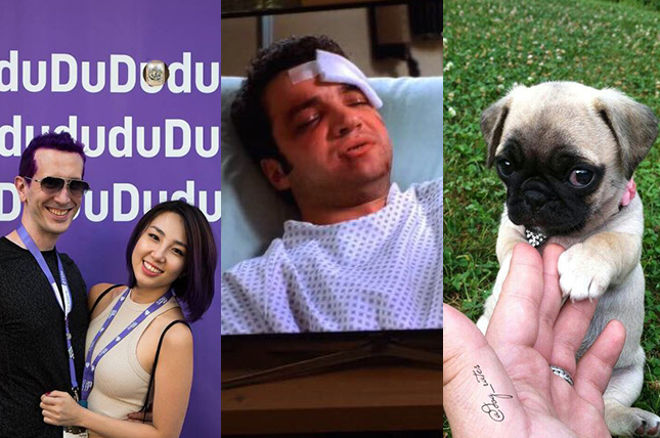 Poker players are just like you! They do weird things and then they post on social media about them. This week on Tweet, Tweet, Bad Beat, everything from pet therapy after a bad loss and doppelgängers to twitchin' at TwitchCon.
Phil Hellmuth just seems like the kind of guy to yell U! S! A! at every inappropriate moment. But in the Ryder Cup instance, it's warranted boasting.
PIC: some European @RyderCup--and poker--fans and me. They're colorfully draped, and I'm pointing at something... https://t.co/qMPJq0Xblj

— phil_hellmuth (@phil_hellmuth)
This is what I imagine happens when you put three poker players in a room with little to do…
Recovery after a bad stint is crucial. #pettherapy
Matt Savage gets particularly presidential, golfing in his spare time.
Made 50 foot putt on 18 for par @PinehurstResort #2. Great week but happy to be heading home to see @MaryannSavage. https://t.co/bWVJd2nnCT

— Matt Savage (@SavagePoker)
Moorman, is that you?
Thou shalt not undertake liposuction.
Bet has been struck. we have fixed the typo and Date in Clause 3. Start Tuesday!! https://t.co/YhsnLKTo2Y

— Tom Hall (@hongkongtom888)
And she's back with a bang! Or a boom? Jackie Glazier, ladies and gentlemen.
Doug Polk gets an upgrade.
Cereal > poker.
Honey, I shrunk Erik Seidel!
Poker Players Twitch It Out at TwitchCon
duDududuDudu?
What does it mean to have a true Kappa face…? #realtalk