25 Free Slots Games with Bonuses to Play in 2016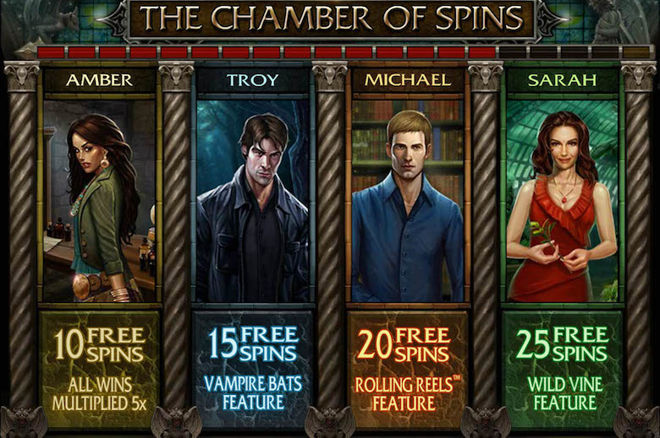 There are hundreds if not thousands of online slots games to suit every niche, interest and preference. In the end, it is entirely up to you to try these games out and determine which ones you like best.
While it may seem like a daunting task — have no fear — the CasinoSmash team is here to help you make that decision!
So, what are your options?
Below is a list of some of the best video slot games with bonus rounds to play in 2016. We selected all the best bonus offers available for each game for you to play the games for free and win real money at no cost.
Immortal Romance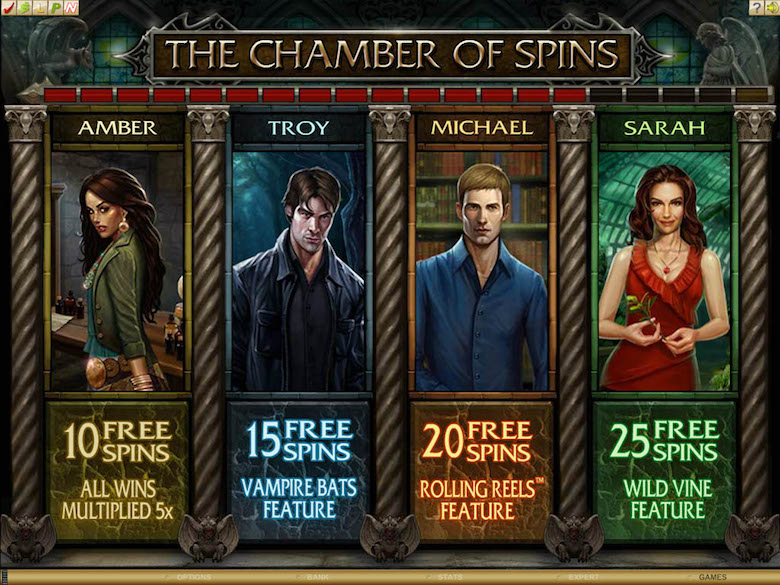 Spin the reels on one of Microgaming's best video slots games, Immortal Romance. The vampire theme, combined with great animations and outstanding background music, will seduce you into playing for very long sessions at a time.
Hit three or more scatters on the reels to trigger the free spins feature and start making your way through the Chamber of Spins. Complete each bonus feature four times to unlock the next one and be on the lookout for the Wild Wine, where each drop of blood will turn a reel wild up to a maximum of five.
I'm sold, where can I play?
Thunderstruck II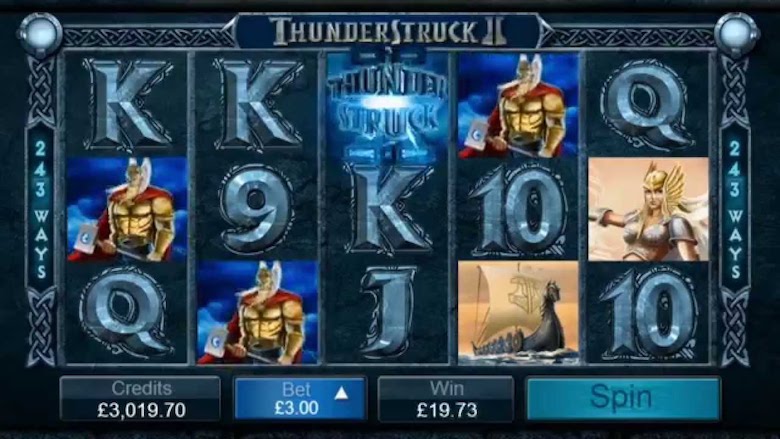 Based on Nordic mythology, Thunderstruck II is one video slot game you need to treat with respect and fear. You're at the mercy of Odin with each spin, and if you are worthy, he will reward you with great payouts. Or he will punish you with no wins at all.
If he is merciful enough to grant you at least three scatters on the reels, you will start your journey through the Chamber of Spins where Loki, Valkyrie, Odin and Thor can grant you multipliers, extra wilds or multipliers combined with the rolling reels feature. Once Thor lands on the central reel, get ready for a Wildstorm, where each lightning bolt will turn a reel wild.
Terminator II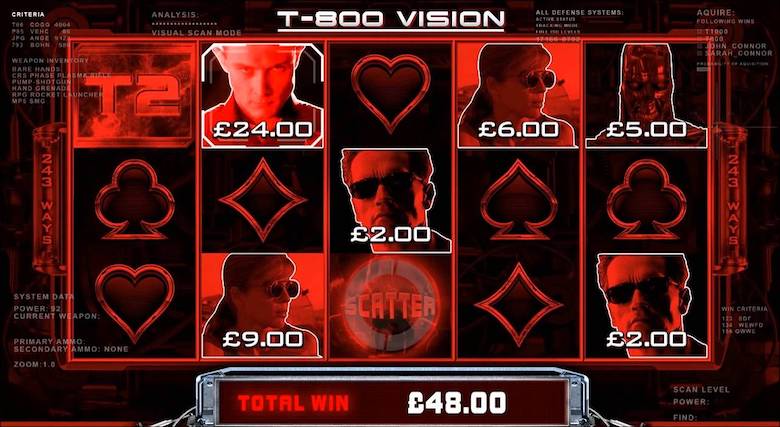 He made a promise that he'll be back, and sure enough, Arnold Schwarzenegger is back on the reels of Microgaming's 243-ways-to-win slot game, Terminator II.
Based on the blockbuster movie franchise, The Terminator, this slot game offers a great set of bonus features. Trigger the random T-800 bonus to earn cash prizes or trigger the free spins feature when a scatter symbol is found on the reels. Once they are on the way, the free spins bonus will transform the reels into massive 1,024 ways to win for eight free spins and each T-800 terminator will transform to other symbols creating the maximum win possible.
Dead or Alive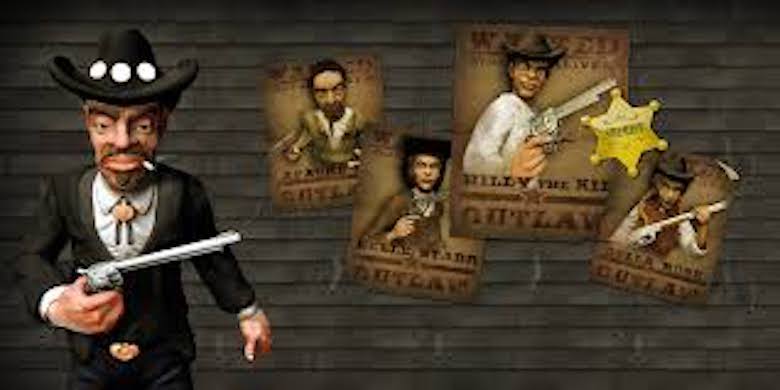 NetEnt is proud to present their personal, world best video slot game Dead or Alive (DOA).
It may be simple in design and appearance, but when it comes to DOA, there is a lot more than meets the eye. Hit at least three scatters on the reels to trigger 12 free spins with doubled payouts or hit the max five scatters and win an amazing 2,500-times total stake payout.
Once the free spins start, be on the lookout for any wild outlaw that lands on the reels as he will stay in place to the very end. Hit a full outlaw gang with Apache, Bella, Jesse, Della and Billy on the reels to get an extra five free spins or line them up for the ultimate payout.
The Wishmaster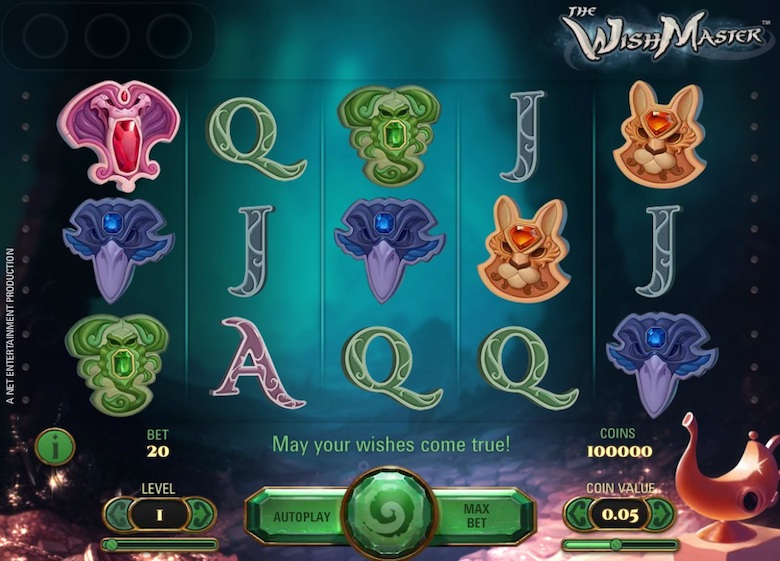 Don't be intimidated by the genie's burning eyes and evil grin; you are his master now. Rub the magic lamp to set him free and watch as he works his magic. Get up to three lamps in the free spins bonus which will result in three extra features combined to produce massive payouts.
You have a chance to trigger random wilds, extra wilds, two-or-three-time multipliers as well as an expanding wild feature. Hit a full screen of wilds and walk away richer, 2,000-times your stake.
Twin Spin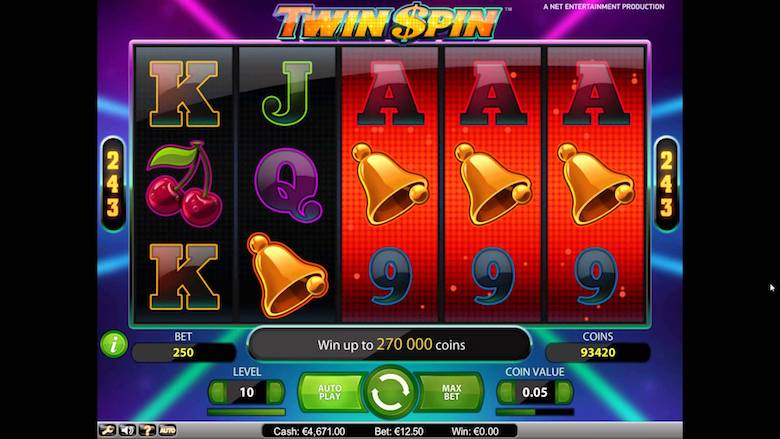 Twin Spin's the name; winning big is the game. This slot is the perfect example how a very simple gameplay with standard features can be designed to deliver big payouts while also being incredibly fun.
You may be surprised to see a set of vintage symbols on the reels of Twin Spin as bells and sevens, but once the linked reels feature kicks in, you can end up with a full screen of matching symbols. With 243 ways to win, Twin Spin is the game to play and win big.
Dazzle Me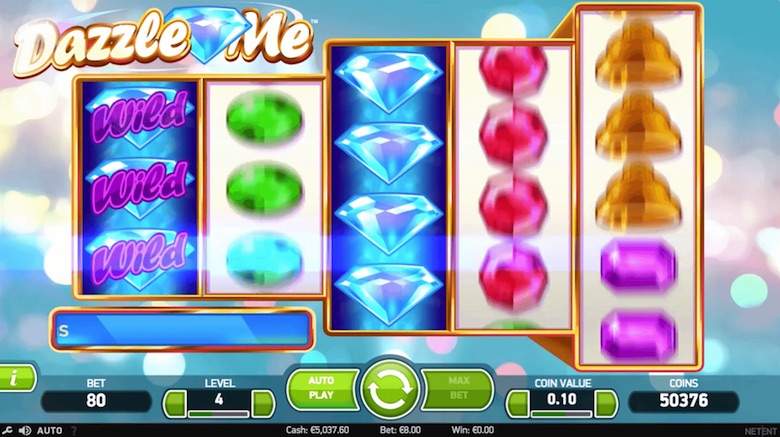 Get ready to be dazzled as you see the reels of Dazzle Me for the first time. With 76 ways to win, a 3x3x4x4x5 grid and plenty of precious gems as symbols, this slot game is gleaming with glitz and glamour.
Spin your way to the Dazzling Reels feature, where up to five full wild diamond reels can win you an incredible payout. Land three, four or five free spins scatters to trigger eight, 12 or 16 free spins where the linked reels feature is in play, awarding a maximum full screen of identical symbols.
Medusa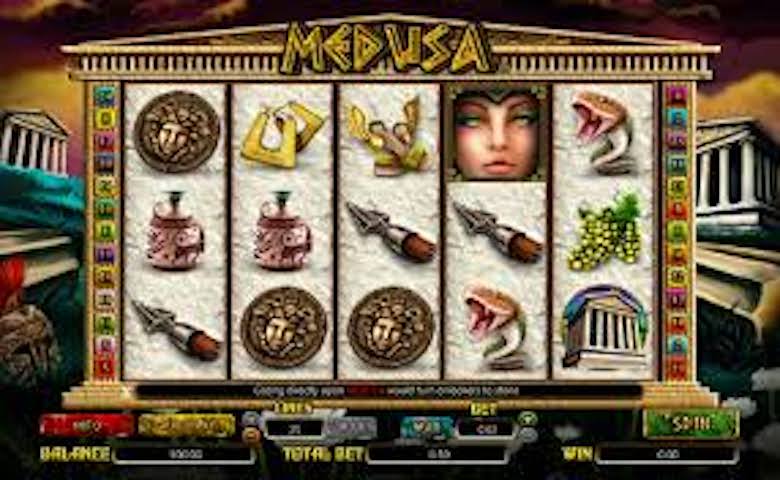 Whatever you do, don't look into her eyes or they will turn you to stone!
Well at least that's how the legend of Medusa goes, but luckily for you, the only danger here is winning more than you can handle!
Gaze as much as your heart desires, because when three of these beauties fill the central reels, three re-spins are awarded with one wild reel held in place. Hit three scatters to trigger the free spins where all wins are tripled and collect Super Free Spins to get payouts with five times the multiplier. Once Pegasus lands on the central reels, pick your favorite for a nifty cash payout.
Wild West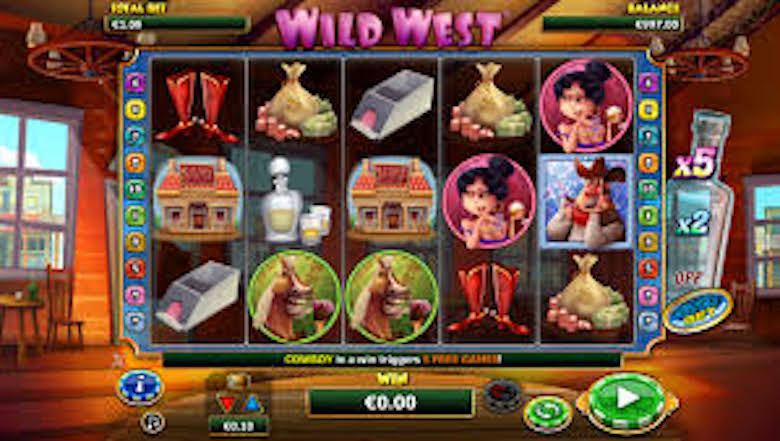 The outlaw is back in town, but this time on the reels of NextGen's video slot game: Wild West. Don't get your hopes up too high if you are spinning the reels in normal mode, but once you hit the Super Bet button to the max, each win with a wild symbol will be multiplied by five.
That's not all. Each wild win will trigger five free spins, where each chip symbol that lands on the reels will trigger a massive payout. Hit another wild win during this feature and you will get another five free spins with chip payouts from the second triggering wild win.
The Rift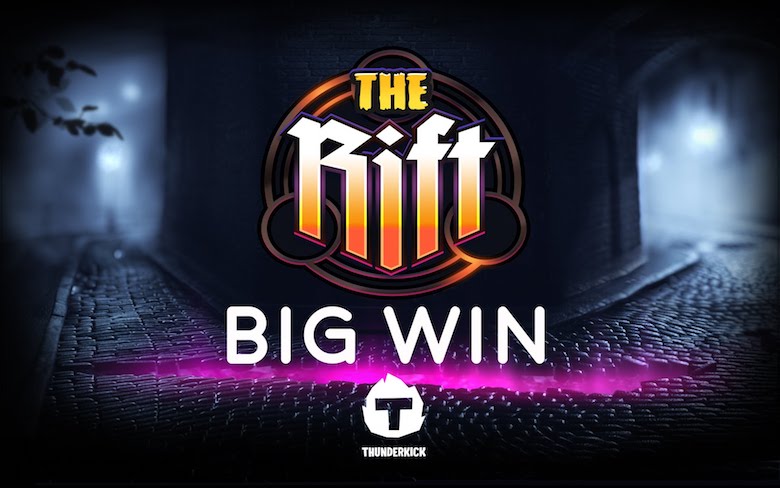 Thunderkick invites you to play their new slots game, The Rift, where you will enter a passage to another dimension found in the back of a dark alley.
What awaits you on the other side?
Hit two scatters on the reels to trigger the Rift re-spin where you can win up to three random wilds on the reels. Once three, four or five scatters are in sight, the free spins bonus begins and you can win 10, 15 or 20 free spins! Keep an eye out for any scatters that land during the bonus round as they will unlock different levels on the Rift Seal.
Each third scatter that lands will award you two extra free spins. Increase the sticky wilds number to the maximum of three for each spin when you reach the final Rift Seal level.
The Book of Ra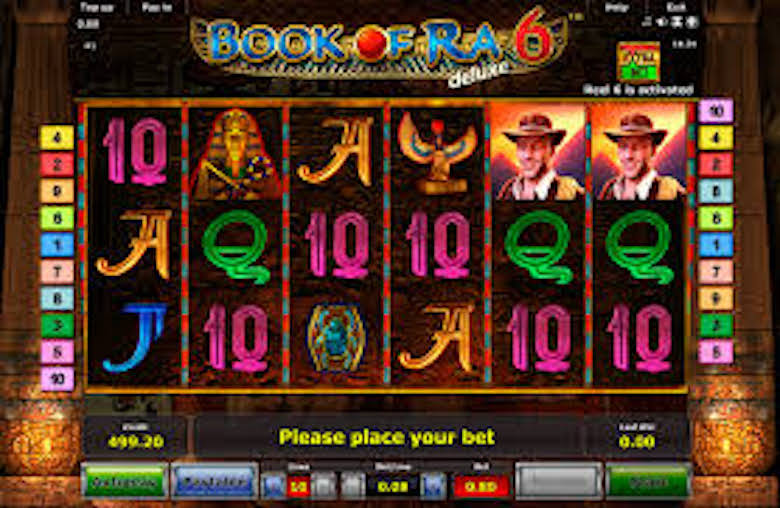 Travel back in time to ancient Egypt and witness the glory of the pharaohs and their pyramids. Book of Ra is one of Novomatic's most popular video slot games, both online and in land-based casinos.
Why?
Because the game is designed to produce massive payouts in the free spins bonus mode!
Land 3 Scatters or wilds on the reels to trigger 10 free spins plus an extra scatter symbol. This symbol will expand to cover the entire reel on the screen, allowing for a full screen of identical symbols to show up on the reels. Another three scatters will re-trigger the bonus, awarding another 10 free spins.
Halloween Fortunes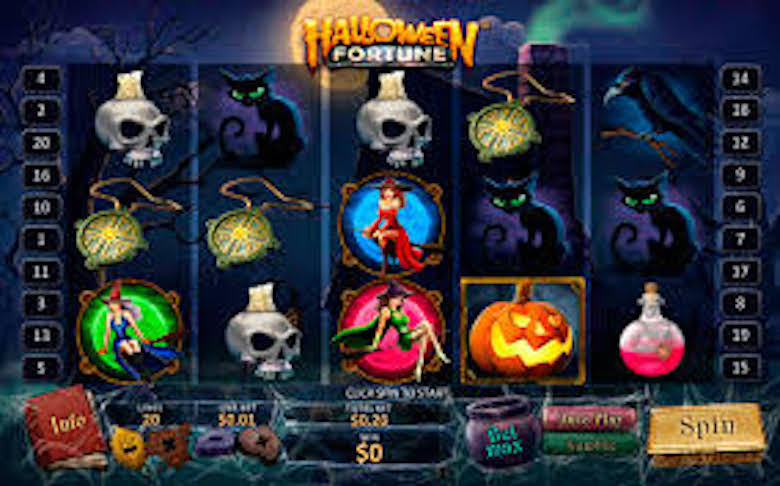 Halloween Fortunes' main characters invite you to a sinful, reel-spinning session on one of Playtech's most popular video slots games.
Stick around for dinner while the hostesses prepare the Witches Brew bonus. Lend a helping hand by choosing the sexy chef and the brew's ingredients. Choose wisely and you can win up to 20 free spins with an incredible times-10 multiplier.
Game of Thrones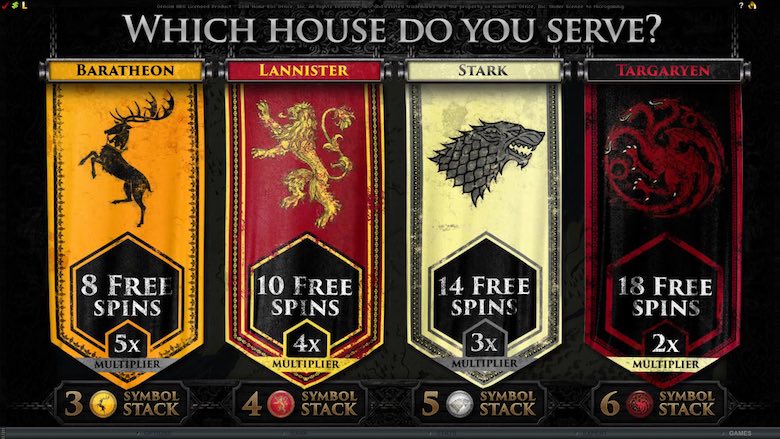 Game of Thrones has caught the attention of millions of viewers around the world as one of the best TV series of all time. And now the fun continues as Microgaming captures the world of Westeros on the reels of one of its best video slots games.
Look out for the Game of Thrones logo, as this wild symbol and can land stacked across all reels and reward you with massive payouts. Land three or more scatters on the reels and trigger the free spins selection bonus, where you need to make a choice between one of the four great houses.
Choose your house wisely!
Whether your loyalties lie with house Baratheon, Lannister, Stark or Targaryen, you are guaranteed to be awarded free spins, multipliers and extra stacked symbols.
Fans of dragons, betrayal and white walkers, watch out!
Gladiator Jackpot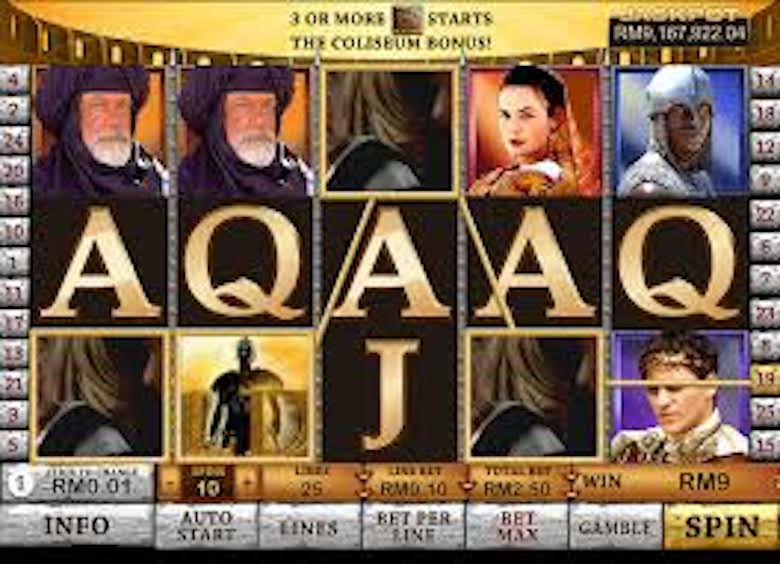 General Maximus Decimus Meridius has found his way into the arena through the reels of Playtech's top jackpot slot game: Gladiator. Help our hero fight his way through the arena as the evil emperor Commodus does everything in his power to destroy him.
But General Maximus will prevail!
Land three wild helmets on the central reels to trigger the Gladiator bonus, where a full screen of golden helmets will trigger a Gladiator jackpot. Trigger the Coliseum free spins when three scatters hit the reels and take your pick from extra free spins, multipliers, extra scatters or extra wild symbols.
Victorious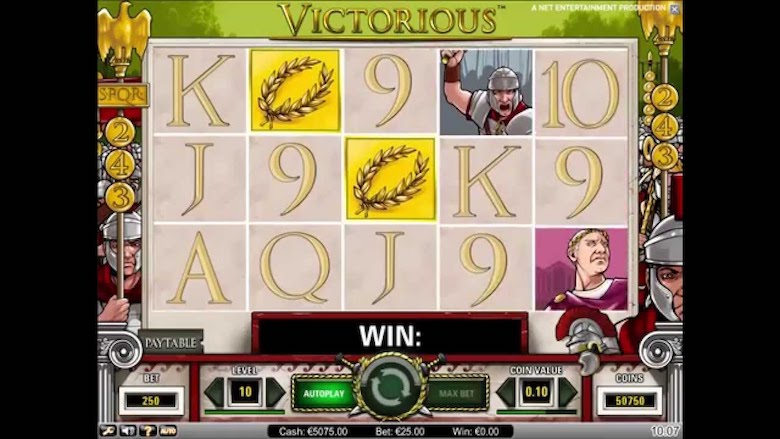 Veni, vidi, vici.
I came, I saw, I conquered.
The legendary words of Julius Caesar best describe what the Roman army and empire was all about. Each battle these brave soldiers fought was a hard-earned victory or an honorable defeat; surrender was never an option.
NetEnt commemorates the spirit of the ancient Roman armies on the reels of their video slot game, Victorious. With 243 ways to win, a triple multiplier during the bonus feature and up to 25 free spins to be won, you are sure to leave the game Victorious.
When Pigs Fly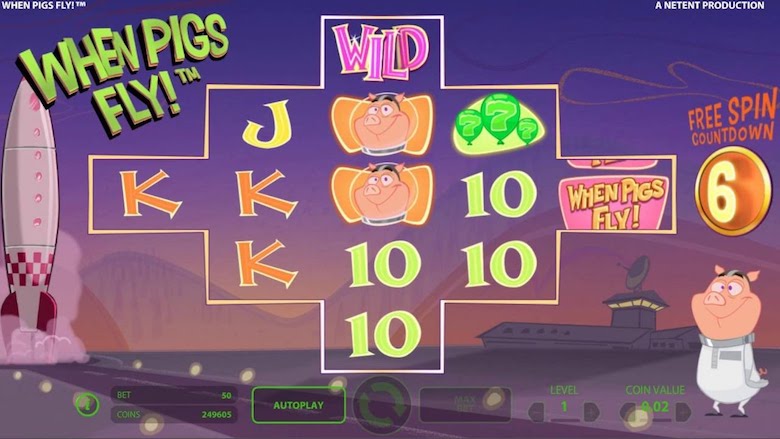 We've seen a lot of things in our lifetime, but we've never seen a pig fly.
Well, that is until we had a chance to play NetEnt's new slot game: When Pigs Fly. Get five consecutive winning spins on the reels to launch the daring astronaut pig into space. Before he sets off, he will award you with eight free spins!
Played on the maximum 3,125 ways to win with stacked wilds and stacked symbols, the When Pigs Fly game can trigger a sky-high payout of up to 480,000 coins.
Golden Caravan
Join Marco Polo on his adventures to the Orient as he leads the Golden Caravan through scorching desert sands. No caravan is complete without camels to carry the goods, so once three of them land on reels one, three and five, the journey can begin.
What happens next?
You will be awarded 10 free spins and doubled payouts, where the camel symbols act as extra wilds. Land another set of three camels to retrigger the bonus, starting with another 10 free spins but with an increased multiplier times three.
Piggy Riches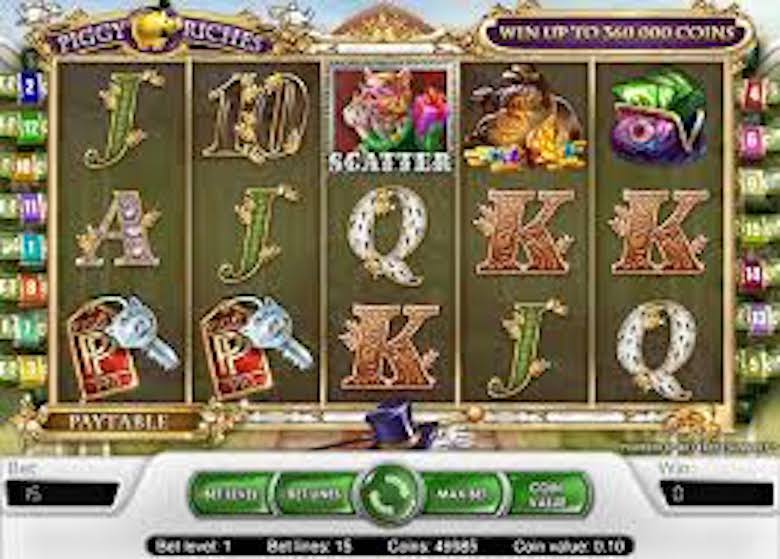 He may be a pig, but he's a very rich pig.
Getting a cut of this little piggy's cash may seem like mission impossible, but it is well worth the trouble. Each time the wild piggy contributes to a win he will triple the payout, including the payouts from the free spins bonus.
But that's not all!
Land three, four or five scatters on the reels to trigger the free spins bonus, where you can win 22 free spins with doubled payouts, 15 free spins with tripled payouts, nine free spins with quadrupled payouts or 10 free spins with a great times-six multiplier.
Land a money bag five of a kind win with a wild piggy on the highest multiplier and get rewarded with a massive 2,400-times total stake win on a single pay line.
Flowers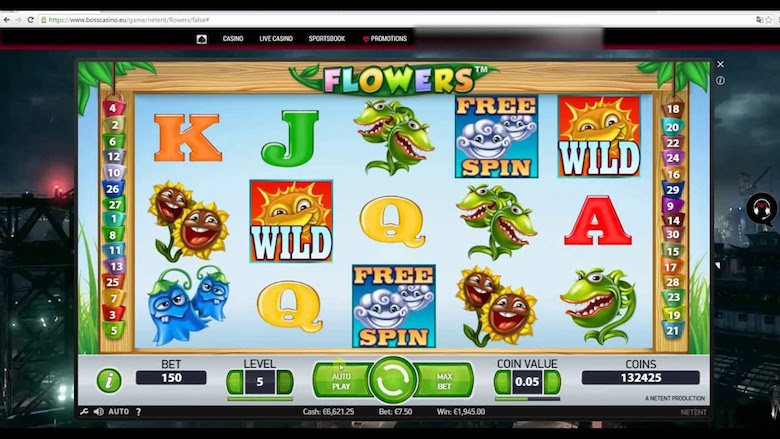 Flowers is an adorable and cartoony video slot game by NetEnt which is simply too cute not to play. But under all that cuteness lies the workings of a high variance slot game with the potential for massive payouts.
So, how can you win?
With 30 pay lines, double symbols and a great free spin bonus round, Flowers can make your day a lot greener in more ways than one. Land four, five, six, seven or eight scattered Clouds to win 10, 15, 20, 25 or 30 free spins with tripled payouts, the chance for a retrigger and stacked wilds across all reels.
Hook's Heroes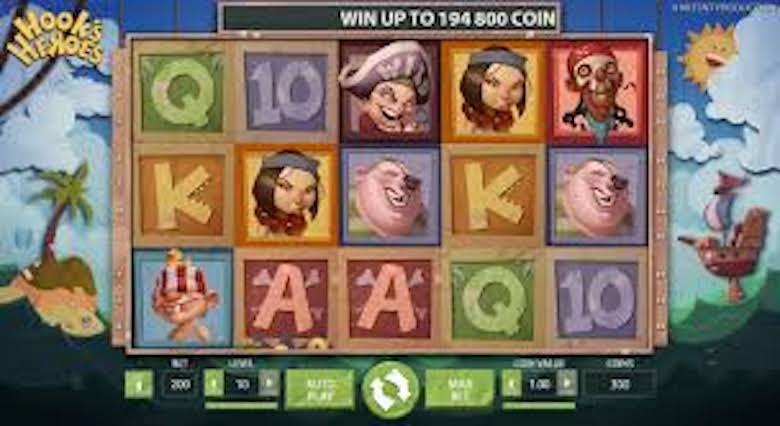 Join Captain Hook and his jolly pirates on their sea adventures where hidden treasures are just waiting to be found.
Claim your treasure from any of the three features of the game, including Trigger the Pirate, Mermaid or Fairy Feature, to get winning symbol payouts, quadrupled wild wins or up to five overlay random wilds every spin.
With only two scatters on the reels, any of the features will be awarded to the following spin as a comfort prize for not triggering the free spins bonus round.
Avalon II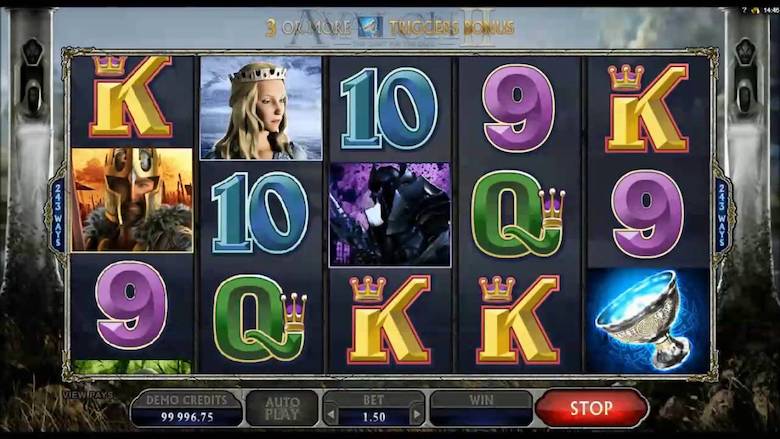 Avalon II will take you on the ancient quest for the Holy Grail.
On this quest, you will get receive guidance from the Lady of the Lake, Merlin and the stacked wilds that can land across all reels. With 243 ways to win and eight bonus features in total, the quest for the ultimate payout in Avalon II is well worth the effort.
Activate the Grail bonus and start your quest by forging Excalibur and battling your way across the Misty Vale an on through the Whispering Woods to the Forrest Falls. Follow the Wild Trail through the Dusky Moors to reach Morgan's Keep.
The journey doesn't end there!
Pass through the dark Hall of Shadows before finally reaching your destination: the Isle of Avalon. The reward at the end of your journey is a massive 16,200-times total stake payout the game can award in a single spin.
The Slotfather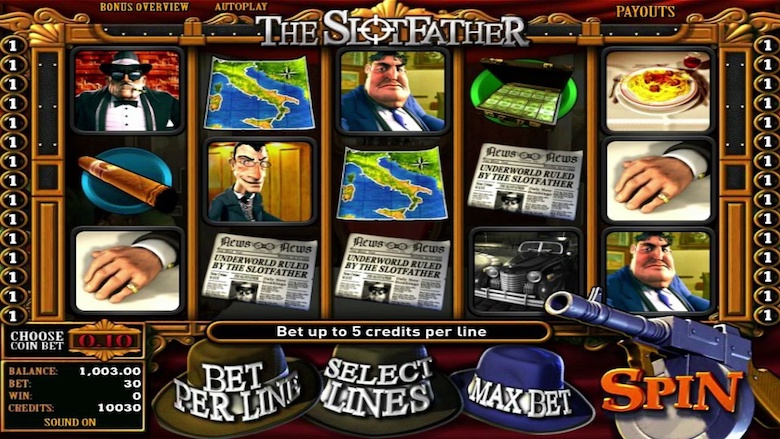 People ask me: "Slotfather, how do you do it?"
How do I keep them coming back time after time playing? Simple, I make them an offer they can't refuse!
That's right, when the Slotfather makes you an offer, you take it. Collect winnings from the Slotfather's downtown businesses, get a Sneaky instant win from Sammy "Quickfingers" or go on a Multiplier Mob free spins shootout with Frankie "da Fixer" and his tommy gun.
Great Blue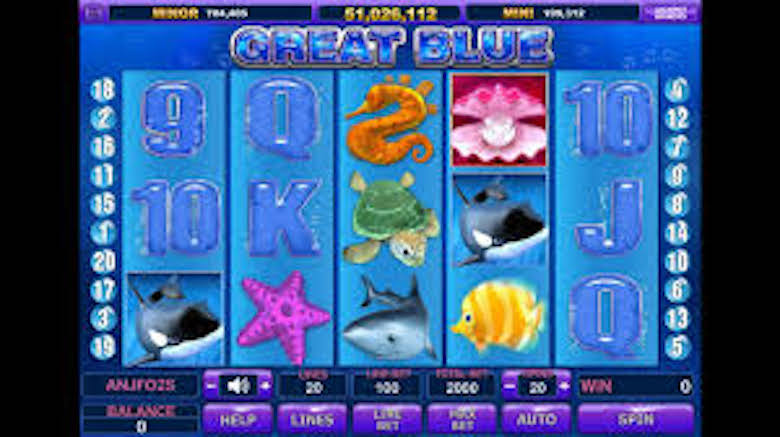 Great Blue's refreshing gameplay is the perfect escape for hot summer days.
With nothing but the Great Big Blue on the reels and calm music in the background, this slots game offers nothing but chill vibes and relaxation for the tired soul.
Just wait, it gets better!
Play on all pay lines to maximize your chances of winning big, as the Wild Orca Whale lands stacked across all reels. Hit three scattered sea shells to trigger the free spins bonus, where you can win up to 33 free spins and an incredible 15-times multiplier.
Spinions Beach Party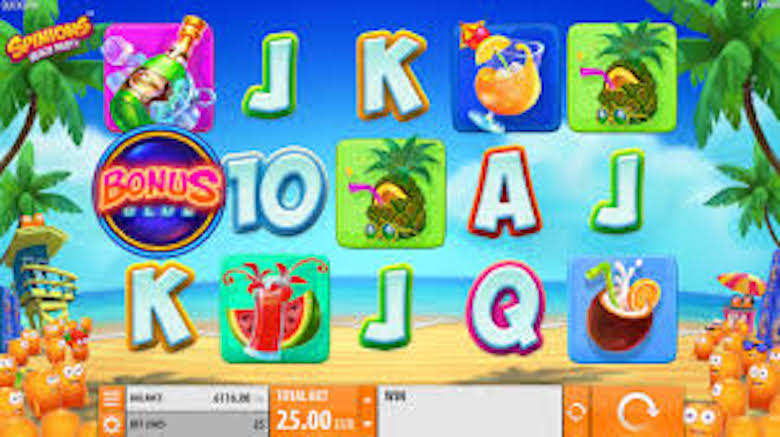 One beach-inspired slots game just isn't enough!
Attend the Spinions' party at the beach this summer on the reels of Quickspin's latest slot game. It doesn't take much to get the party going. All you need to do is land two Spinions next to one another to kick off the Spinions Sticky Wild Re-Spins. Hit three scatters to get invited to the Beach Club after party.
That's not all!
For each of your 10 free spins, all Wild Spinions that land on the reels will also act as Sticky Wilds, potentially leaving a full screen of Spinions and a great 500-times total stake payout for just one spin!
Jekyll & Hyde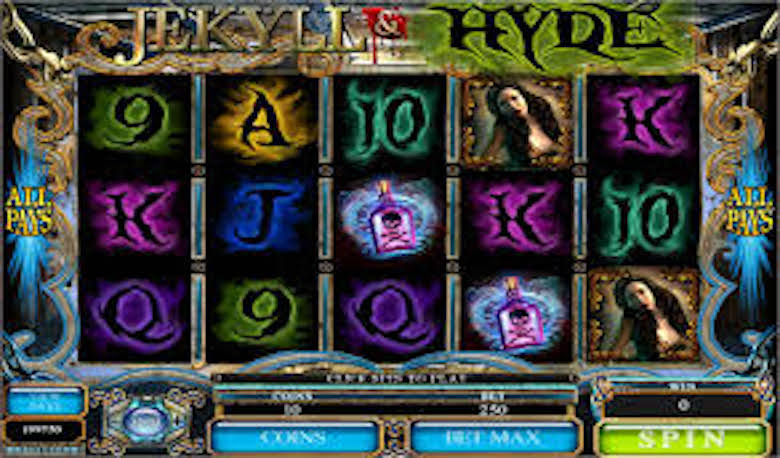 Man's eternal inner battle between good and evil can now be waged on the reels of the Jekyll & Hyde slot game.
Instead of tragedy, this slots battle will only bring you fortune!
Spin the reels with the Power Up Scatters feature enabled to win the free spins bonus more often. Once three scatters trigger this feature, make your choice between good and evil.
The Jekyll free spins option gives you an increasing multiplier of up to four times for every potion that lands on the last reel. Choose Hyde and with every potion and one of the highest paying symbols will be turned to extra wild. You have no limit on how many free spins you can play, but once the scatter lands for the fourth time on the last reel, this feature ends.
If you want to find out more about awesome slots games you can explore the extensive Game Review section published at CasinoSmash.com. The site also offers tips on how to perfect your online slots strategy in case you need some help landing your first big, fat win.
Be sure to complete your PokerNews experience by checking out an overview of our mobile and tablet apps here. Stay on top of the poker world from your phone with our mobile iOS and Android app, or fire up our iPad app on your tablet. You can also update your own chip counts from poker tournaments around the world with MyStack on both Android and iOS.