Inside Gaming: Crown Resorts Sell Macau Stake; No Bump for Atlantic City Post-Trump Taj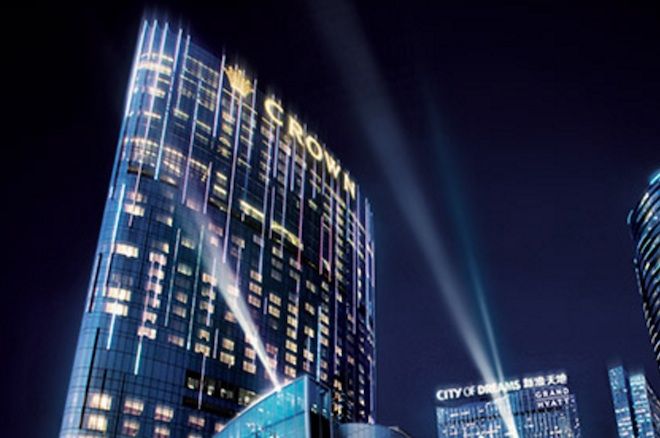 This week's installment of Inside Gaming reports news regarding Crown Resorts plans to sell in Macau and abandon Las Vegas, tells of the November revenue numbers in Atlantic City, and shares an announcement of a new poker room opening in Tampa.
Crown Resorts to Sell Off Part of Macau Operations, Abandon Las Vegas Project
There is news this week that Crown Resorts, one of Australia's largest gaming groups, has plans to "sell off a major stake in its Macau casino business amid a major crackdown on gambling and corruption in China," reports the Australian Broadcasting Corporation. Crown and its Executive Chairman James Packer have also made known intentions to stop pursuing a project in Las Vegas.
Crown intends to sell off nearly half of its stake in Melco Crown Entertainment with a price tag of $1.6 billion. Those funds will be used to reduce the company's debt, pay a special dividend to stockholders, and enable a share buy-back. Melco Crown's holdings in Macau including Studio City Macau, City of Dreams, and Altira Macau.
Meanwhile, the Alon Las Vegas project begun in 2015 by Crown has has been scrapped. Having bought land where the New Frontier Hotel and Casino was once located (until its closure and demolishment in 2007), Crown had begun construction on the new property which it has now halted.
The decision by Crown to reduce its exposure in Macau follows the sharp two-plus year decline in gaming revenue in the Special Administrative Region. "Crown's share of Melco's annual net profit plummeted by two-thirds in 2016 to $43 million," reports ABC.
That decline has in large part been attributed to various anti-corruption measures and other legislation by the Chinese government that have affected Macau's gambling industry. However another consequence of those measures has directly diminished Crown's interest in remaining in the region.
In October we shared news here of 18 Crown employees having been detained by Chinese authorities as part of a crackdown on the promotion of gambling in China, including the company's vice president of VIP international operations, Jason O'Connor.
Those employees were detained as part of anti-gambling measures initiated by President Xi Jinping, with a statement from the Ministry of Foreign Affairs charging the Australians working for Crown with "suspected involvement in gambling crimes."
Formal arrests of all but one of the employees were made in late November, meaning their detainment could continue into the new year while the cases are further investigated, BloombergMarkets reports.
Speaking to BloombergMarkets, gaming analyst Richard Huang noted the significance of the detainment and arrests for companies like Crown who in the past have actively sought high rollers from mainland China, the source of the majority of their top players.
"The key message from the Chinese government is that it will take [its] policy on the gaming industry more seriously" going forward, explained Huang. "The law has always been their to forbid gambling marketing. Now the government is vigorously enforcing the regulation."
For more on Crown's plans, go to the Australian Broadcasting Corporation.
Small November Gain for Atlantic City's Remaining Seven Casinos
This week the New Jersey Division of Gaming Enforcement released November revenue figures for the seven remaining Atlantic City, showing a total win of $180.1 million, up just 1% over the $178.3 million for those seven in November 2015.
Some industry observers had forecasted a more significant increase than that during the first full month since the closure of the Trump Taj Mahal on October 10, reports The Press of Atlantic City.
Several nearby properties had been offering free slot dollars and comps to Taj Mahal customers during the months leading up to the closure to attract business. Additionally, the Taj Mahal closing "left more than $180 million a year in gaming revenue, about $12 million a month, up for grabs among the remaining casinos."
However casino analyst Wayne Schaffel says he doesn't believe there will be much of a bump for those who remain.
"What is going to happen is that those people who used to come to the city eight times a year are now going to come six times a year," Schaffel told The Press of Atlantic City. "That revenue is gone."
In relative terms, the Tropicana Casino & Resort Atlantic City (up 12.1 percent) and Bally's Atlantic City (up 6.6 percent) enjoyed the biggest increases for the month, while Caesars Atlantic City (down 12.4 percent) fell the most. The city's largest operator Borgata remained steady (down just 0.2 percent), again showing a total win of about $57 million.
For more on the November numbers in AC, visit The Press of Atlantic City.
Seminole Hard Rock Tampa to Open New Poker Room in January
A new state-of-the-art poker room is set to open at the Seminole Hard Rock Hotel & Casino Tampa on January 12, 2017, part of the current ongoing expansion to the property.
As the site's blog reports, the new room will feature 46 tables, with free wi-fi with 40 televisons (including 10 widescreen). A new high-limit lounge will also feature two VIP tables. The room will "offer the largest variety of games and highest limits in the Tampa Bay area including all variations of Texas Hold'em, Seven-Card Stud and Omaha."
Comedian, actor, and poker player Brad Garrett will take part in the new poker room's opening, taking part in a "ceremonial guitar smash" before the room opens to the public and he plays the first hand "which will include the presentation of a commemorative chip (limited to the first 800)."
First opened in 2004, Seminole Hard Rock Tampa is the sixth-largest casino in the world, and is currently completing its third major expansion.
The current expansion began back in June, although wasn't as large as had been originally planned earlier in the year when the Seminole Tribe had hoped to add a second hotel tower, a new music venue, and more. It has involved adding a parking garage, a 30,000-square-foot gaming area, a new restaurant, and the poker room, and has added 100 new jobs.
Poker has exploded in popularity across Florida over the past decade. Poker Atlas currently lists 29 poker rooms operating in Florida, including seven in Tampa and West Florida.
For more visit the Seminole Hard Rock Tampa blog.
Image: Melco Crown Entertainment.
Finding a trustworthy room to play online poker can be a monumental burden. That's all the more true if you're just looking for a place to play poker for free. We've listed five of the best play-money poker sites to enjoy and help hone your skills.