Kevin Hart Plays $100K Super High Roller at PokerStars Championship Bahamas: 'I Don't Need Luck!'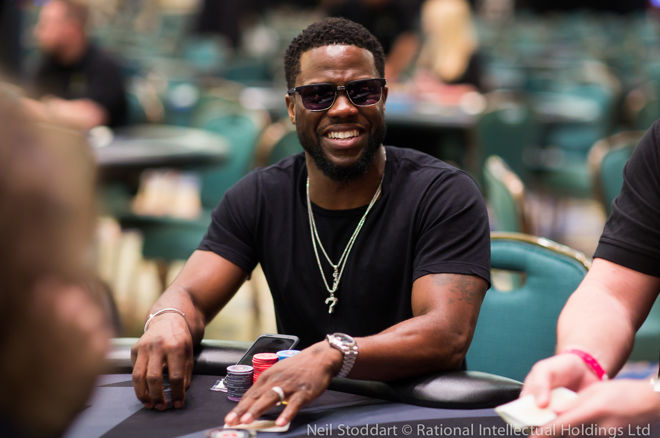 The inaugural PokerStars Championship Bahamas kicked off today with the $100,000 Super High Roller. Just about all of the usual suspects showed up and sat down early on: Daniel Negreanu, Steve O'Dwyer, Adrian Mateos, Nick Petrangelo and Ivan Luca.
And while a lot of railbirds were star struck by their poker idols so close by, it was a different player getting the most attention all day; none other than actor and stand-up comedian Kevin Hart sat down.
Sometimes, mainstream celebrities try to blend in when they play a poker tournament and just keep to themselves. Sometimes, they wear sunglasses and tuck their heads away in hoodies to not attract too much attention. Not Hart though. He was as loud as you'd expect him to be if you're familiar with his stand-up shows and movies.
"I had a good time but I was card dead all day"
"Are you prepared to go eight rebuys today?" shouted Hart across the room to Bill Perkins at a neighboring table when play was just five minutes underway.
"Depends!" Perkins responded with a smile.
Tablemate Jason Koon told the story of once firing three bullets, prompting Hart to admit he was willing to do 22 buy-ins if needed.
"Yeah, $2.2 million!"
All Koon could say was "That'd be a big boost to the prize pool," according to the PokerStars blog which recorded the specifics of the interaction.
If that was Hart's first big bluff of the day or if he really was willing to go that deep, we'll probably never know. But the question of whether he could afford to do so is one that can be answered positively with relative certainty.
He ranked number six on Forbes' 2016 World's Highest-Paid Celebrities Top 100 List with $87.5 million in earnings. The site credited Hart for having changed the economy of the funny business:
"Comedian Kevin Hart is the biggest year-over-year gainer, more than tripling his 2015 earnings from $28.5 million to $87.5 million. His secret? Touring like a rock star. He performed over 100 shows at stadiums and arenas around the world during our scoring period, grossing over $1 million on average per gig. This makes him not only the highest-paid comedian on our list, but also the first jokester ever to make more money than Jerry Seinfeld, whose earnings clock in at $36 million this year."
At the end of the day, Hart wasn't in for $2.2 million, but he hadn't escaped the eight levels of play totally unscathed either.
"I can say I lasted till about 35 minutes left on Day 1. And then I rebought." Hart told PokerNews at the end of play.
He had gotten short and had made a move with pocket fives in a blind battle against high roller regular Jason Koon. The latter called with jacks and sent Hart to the rail, a position he wouldn't stay in long. He headed for the cage right away and put another $100,000 on the counter to give himself another shot at eternal poker glory.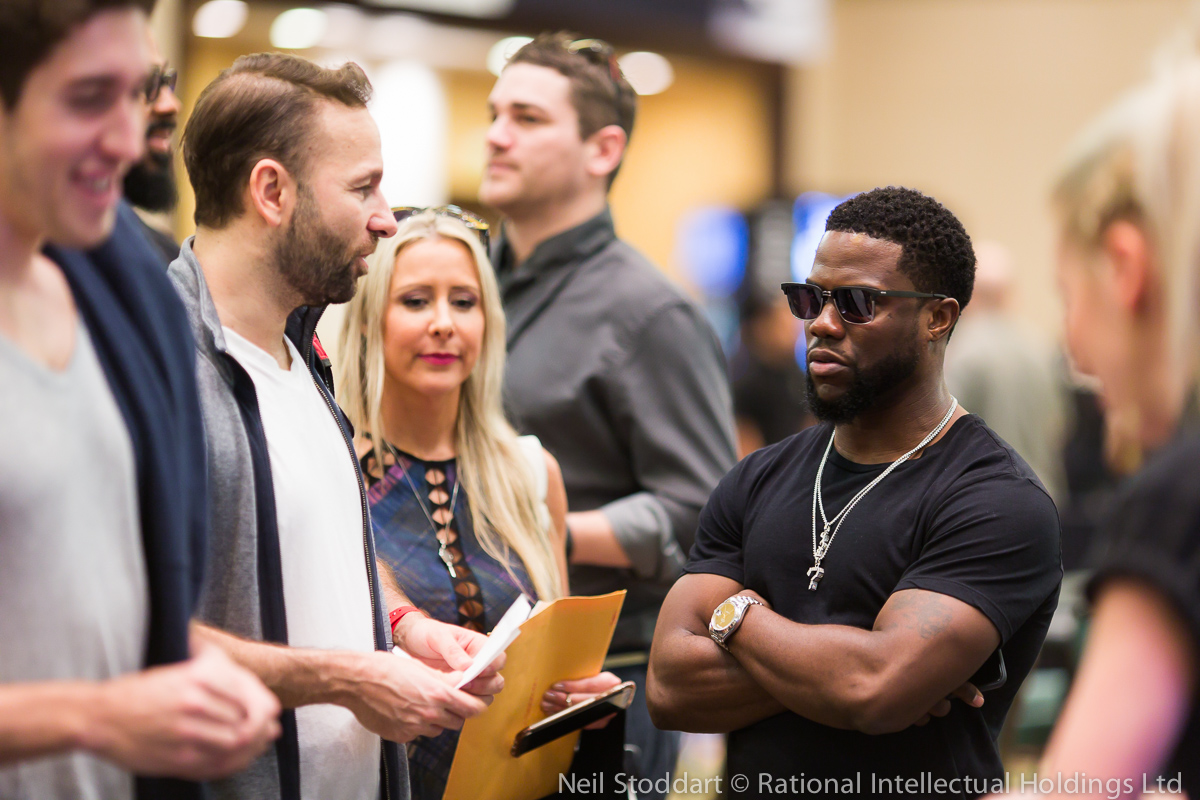 Even though he had to buy back in to bag chips, he wasn't at all disappointed.
"I'm happy with making it that far," Hart told us after play wrapped up. "I had a good time but I was card dead all day. It wasn't like I had a run of cards, so hopefully I can run into a string of cards tomorrow and match it with some good play. If that's the case, things will go better."
While it cost him $200,000 total so far, Hart was satisfied with things.
"The fact that I'm in Day 2, I'm happy about. I'm OK."
Hart was happy with his performance, despite busting once.
"Just being able to compete, being among them and being here all day, I take that as a pat on the back for myself."
Hart certainly showed his excitement and was the life of the party all day. He interacted with a lot of players, but Bill Perkins certainly was the one he bantered with the most.
"I play big cash games and I know some of the guys here that play cash," he said of playing a lot with pros like Perkins before. "We play pretty big no-limit hold'em."
"I don't need luck! I'm gonna f!%$#g win! You quote that!"
The fact that Hart plays big cash games wasn't a secret after Dan Bilzerian tweeted a photo of the two of them playing, together with Jean-Robert Bellande, back in June of last year. Hart, however, hadn't shown his face in tournaments before.
"I'm not the tournament player so coming into this world is definitely new for me," Hart told PokerNews.
His first experience at the PokerStars Championship Bahamas was a positive one.
"It's good to be embraced," he said. "It's good to come, step in, be accepted and be treated well. And, you know, people actually are giving me credit so that's a good thing."
Hart enjoyed catching up with players he already knew, but he was just as chatty with poker players he he had read about and new players he had never seen before.
"Seeing them is all fun and games; there's nothing but love," Hart said with a big smile.
Hart battled with the best of the best all day and at no moment seemed outwitted. He did, however, realize he was dealing with elite players.
"These guys are good," he said. "They don't make mistakes, which is good."
The plan for Day 2 is simple, according to Hart.
"Tomorrow is just about doing more like I did today and we'll see how far I can go," Hart said. "Tomorrow is when it counts; Day 1 is bullshit!"
As PokerNews wished Hart good luck on Day 2, he had one final quote. It was like the famous Rounders quote where Mike McDermott rolled his eyes over people insisting on calling poker luck, but with a Hart twist.
"I don't need luck! I'm gonna f!%$#g win! You quote that!"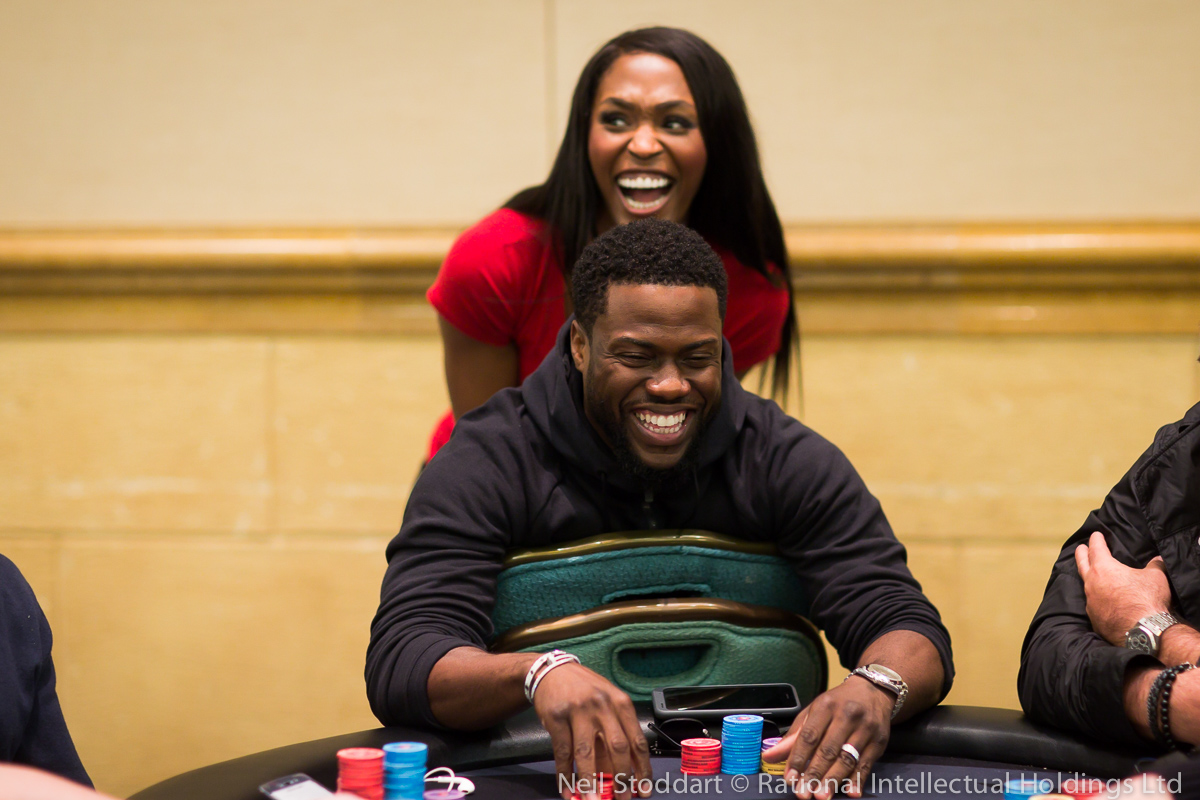 Have you ever wanted to write your own articles about poker? Maybe you've got some experiences or opinions about poker that you'd like to share. PokerNews is proud to launch The PN Blog where you can have a platform to make your voice heard. Learn more here.