PPC Charged With Racketeering, Hit With Restraining Order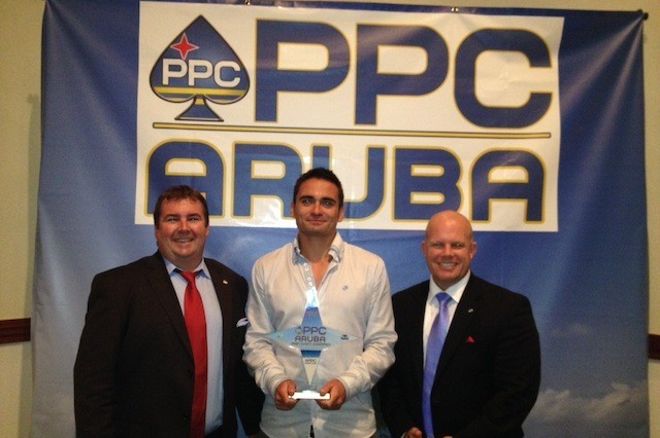 Bryan Oulton and Sandy Swartzbaugh, owners and operators of the Players Poker Championship, have been charged with racketeering and fraud as part of a civil lawsuit that alleges they've operated the PPC as a Ponzi scheme. As of Jan. 3, a restraining order has been requested and granted by a Maryland state court, PokerNews has learned, and litigation is now pending.
"PPC has been operating a complex international Ponzi scheme involving poker tournaments at myriad casinos inside — and outside — the United States for at least one year and potentially for as many as four years," the motion for the restraining order says. "It is now apparent that the Ponzi scheme has reached its final legs, PPC has invaded the trust holding the Plaintiffs' money, and a mad dash toward illegality has come to subsume the financial and operational affairs of PPC with its fraudulent patterns and practices now publicly exposed."
Maryland Live! Casino, which hosted some PPC events, was also named in the suit and hit with charges that included aiding and abetting negligence and negligent misrepresentation.
Mac VerStandig, the lawyer representing four players who made the final table of the PPC Aruba World Championship, filed a complaint featuring those charges and others and got the restraining order against the PPC principals approved Tuesday. The order prevents the PPC from "engaging in any business whatsoever" for the time being.
"The filing of a civil racketeering claim is not something any attorney considers lightly," VerStandig told PokerNews. "But the facts of this case do appear to be so uniquely dismaying as to give rise to such a claim, and it is accordingly a part of the suit."
In the letter of demand submitted Dec. 23, VerStandig alleged that the PPC had yet to pay out at least $173,000 to Stephen Deutsch, Michael Lerner and Joan Sandoval, all of whom finished among the top six at the World Championship. In addition to those three, John Ott, who got fifth for $32,085, is also named as a plaintiff in the suit and restraining order.
According to the suit, a copy of which was obtained by PokerNews on Tuesday, the prevailing belief is that the PPC consistently failed to segregate player prize funds in order to properly distribute payouts. Instead, the PPC allegedly utilized that money and various other revenue streams that included contributions from investors to satisfy financial obligations, rolling each one over until the money ran dry and there was nowhere to turn for the next dollar.
Copies of emails obtained by PokerNews and included in the motion for the restraining order indicate a pattern of behavior wherein PPC officials continuously assured plaintiffs their money was on the way in the weeks leading up to Dec. 22.
At that point, an individual claiming to represent a PPC creditor asked at least one of the plaintiffs to defer rights to prize money and instead accept an undefined portion of the PPC's cash flow. Part of the agreement entailed not bringing suit or disparaging the PPC.
On Dec. 24, Swartzbaugh reached out a final time pleading with the players to accept the request, apologizing for the delays.
Oulton and Swartzbaugh did not respond to PokerNews' requests for comment regarding the Dec. 23 letter of demand and appear to have scrubbed the PPC website of all information. Forum members on TwoPlusTwo reported in a thread that attempts to reach the two via social media failed as well.
VerStandig said that any outstanding monies may have been transferred to third parties, so up to 10 John Does have been named in the suit in the event that proves to be the case. He labeled Swartzbaugh and Oulton "accomplished hucksters" in the restraining order request.
"As facts continue to emerge, we will constantly reassess whether additional defendants or counts warrant addition," he said. "It appears other poker operators may have been involved in operation of the PPC Main Event, but we need to investigate those claims and not permit rumor and innuendo to dictate the course of a legal proceeding.
"While it is regrettable that this matter has progressed to a point where judicial intervention is necessary, the plaintiffs look forward to trying their case in the courts and have faith in our legal system."