Golden Nugget Grand Poker Series Schedule 2017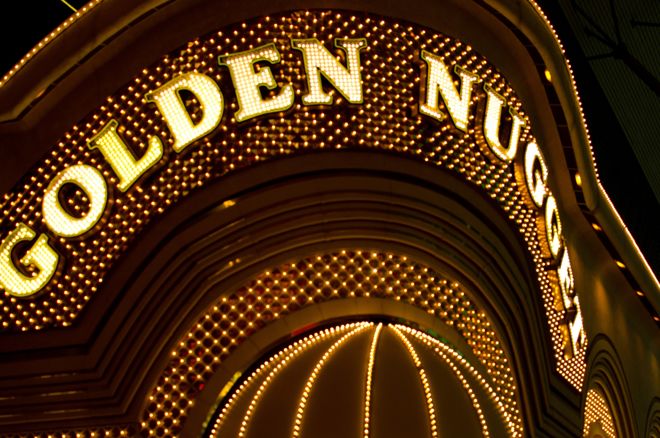 The Golden Nugget's annual Grand Poker Series is back for a 10th edition in 2017. The series, which runs alongside the World Series of Poker and several other poker series during the summer in Las Vegas, runs from May 30 through July 3 with a total of 57 events.
The Grand Poker Series is one of several lower-buy-in options available during this summer, with most tournaments ranging from $150 to $570. While the series features predominantly no-limit hold'em events, a handful of Omaha, stud and other mixed game tourneys are sprinkled in. This is considered one of the best tournament series for low-stakes tournament players and a great way to play poker while avoiding the craziness of the Las Vegas Strip.
The biggest buy-in on the schedule is the $1,000 Seniors Super High Roller, presented by OKJ, on June 17. It's one of five Seniors events at the Golden Nugget running from June 15-20, and conveniently coincides with the Seniors events at the World Series of Poker on June 16 and June 18.
The 2017 Grand Poker Series finishes strong with a No-Limit Hold'em $500K Guarantee from June 29-July 2. The $570 buy-in tournament feature three starting flights. Last year, Darrell Smith defeated Robert Stan heads-up to claim the title after the two made a deal that guaranteed more than $100,000 for each.
Low buy-ins with big payouts! Here's the full schedule of the 2017 Grand Poker Series at the Golden Nugget in Las Vegas.
Golden Nugget Grand Poker Series Schedule
| Date | Time | Event | Guarantee | Buy-In |
| --- | --- | --- | --- | --- |
| 5/30 | 11 a.m. | Omaha Hi/Low 8 or Better | | $250 |
| | 1 p.m. | Daily No Limit Hold'em | $10,000 | $150 |
| 5/31 | 11 a.m. | No Limit HORSE | | $250 |
| | 1 p.m. | Daily No Limit Hold'em | $10,000 | $150 |
| 6/1 | 11 a.m. | Mixed Triple Draw Lowball Limit (A-5; 2-7; Badugi) | | $250 |
| | 1 p.m. | Daily No Limit Hold'em | $10,000 | $150 |
| 6/2 | 11 a.m. | NLHE $100K GUARANTEE (Flight A) | $100,000 | $150 |
| | 3 p.m. | NLHE $100K GUARANTEE (Flight B) | $100,000 | $150 |
| | 7 p.m. | NLHE $100K GUARANTEE (Flight C) | $100,000 | $150 |
| 6/3 | 11 a.m. | NLHE $100K GUARANTEE (Flight D) | $100,000 | $150 |
| | 3 p.m. | NLHE $100K GUARANTEE (Flight E) | $100,000 | $150 |
| | 7 p.m. | NLHE $100K GUARANTEE (Flight F) | $100,000 | $150 |
| 6/4 | 11 a.m. | Omaha Hi-Lo/Stud 8 | | $250 |
| | 1 p.m. | Daily No Limit Hold'em | $20,000 | $150 |
| 6/5 | 11 a.m. | Mixed PLO/8; Omaha 8/B; Big-O | | $250 |
| | 1 p.m. | Daily No Limit Hold'em | $20,000 | $150 |
| 6/6 | 11 a.m. | Heads Up No Limit Hold'em (64 player max) | | $570 |
| | 1 p.m. | Daily No Limit Hold'em | $20,000 | $150 |
| 6/7 | 11 a.m. | HORSE | | $360 |
| | 1 p.m. | North American Amateur Poker Championship | $20,000 | $150 |
| 6/8 | 11 a.m. | NLHE $200K GUARANTEE Ultimate Re-Entry (Flight A) | $200,000 | $200 |
| | 3 p.m. | NLHE $200K GUARANTEE Ultimate Re-Entry (Flight B) | $200,000 | $200 |
| | 7 p.m. | NLHE $200K GUARANTEE Ultimate Re-Entry (Flight C) | $200,000 | $200 |
| 6/9 | 11 a.m. | NLHE $200K GUARANTEE Ultimate Re-Entry (Flight D) | $200,000 | $200 |
| | 3 p.m. | NLHE $200K GUARANTEE Ultimate Re-Entry (Flight E) | $200,000 | $200 |
| | 7 p.m. | NLHE $200K GUARANTEE Ultimate Re-Entry (Flight F) | $200,000 | $200 |
| 6/10 | 11 a.m. | NLHE $200K GUARANTEE Ultimate Re-Entry (Flight G) | $200,000 | $200 |
| | 3 p.m. | NLHE $200K GUARANTEE Ultimate Re-Entry (Flight H) | $200,000 | $200 |
| | 7 p.m. | NLHE $200K GUARANTEE Ultimate Re-Entry (Flight I) | $200,000 | $200 |
| 6/11 | 11 a.m. | Pot Limit Omaha/8-or-Better | | $250 |
| | 1 p.m. | Daily No Limit Hold'em | $20,000 | $150 |
| 6/12 | 11 a.m. | Bar Poker Open (Flight A) | | -- |
| | 1 p.m. | Daily No Limit Hold'em | $20,000 | $150 |
| 6/13 | 11 a.m. | Bar Poker Open (Flight B) | | -- |
| | 1 p.m. | Daily No Limit Hold'em | $20,000 | $150 |
| 6/14 | 11 a.m. | Black Chip Bounty No Limit Hold'em | | $360 |
| | 1 p.m. | Daily No Limit Hold'em | $20,000 | $150 |
| 6/15 | 11 a.m. | Seniors Championship No Limit Hold'em (50+) | | $360 |
| | 1 p.m. | Daily No Limit Hold'em | $20,000 | $150 |
| 6/16 | 11 a.m. | 8 Game Mix (NLH, LH, R, ST, ST8, PLO, O/8, 2-7TD) | | $250 |
| | 1 p.m. | Daily No Limit Hold'em | $20,000 | $150 |
| 6/17 | 11 a.m. | Seniors No Limit Hold'em (50+) | | $250 |
| | 1 p.m. | Daily No Limit Hold'em | $20,000 | $150 |
| | 4 p.m. | OKJ Presents: Seniors Super High Roller | | $1,000 |
| 6/18 | 11 a.m. | Omaha Hi/Low 8 or Better | | $360 |
| | 1 p.m. | Daily No Limit Hold'em | $20,000 | $150 |
| 6/19 | 11 a.m. | Super Seniors (60+ or played Seniors) | | $250 |
| | 1 p.m. | Daily No Limit Hold'em | $20,000 | $150 |
| 6/20 | 11 a.m. | Triple Stud | | $250 |
| | 12 p.m. | Seniors Choice (50+) | | $250 |
| | 1 p.m. | Daily No Limit Hold'em | $20,000 | $150 |
| 6/22 | 11 a.m. | HORSE Championship | | $570 |
| | 1 p.m. | Daily No Limit Hold'em | $20,000 | $150 |
| 6/23 | 11 a.m. | NLHE $100K GUARANTEE (Flight A) | $100,000 | $150 |
| | 3 p.m. | NLHE $100K GUARANTEE (Flight B) | $100,000 | $150 |
| | 7 p.m. | NLHE $100K GUARANTEE (Flight C) | $100,000 | $150 |
| 6/24 | 11 a.m. | NLHE $100K GUARANTEE (Flight D) | $100,000 | $150 |
| | 3 p.m. | NLHE $100K GUARANTEE (Flight E) | $100,000 | $150 |
| | 7 p.m. | NLHE $100K GUARANTEE (Flight F) | $100,000 | $150 |
| 6/25 | 11 a.m. | Pot Limit Omaha/8-Or-Better | | $250 |
| | 1 p.m. | Daily No Limit Hold'em | $20,000 | $150 |
| 6/26 | 11 a.m. | Big-O | | $250 |
| | 1 p.m. | Daily No Limit Hold'em | $20,000 | $150 |
| 6/27 | 11 a.m. | Mixed PLO/8; Omaha 8/B; Big-O Championship | | $570 |
| | 1 p.m. | Daily No Limit Hold'em | $20,000 | $150 |
| 6/28 | 11 a.m. | NLHE $500K Guarantee MEGA Satellite | 25 Seats | $150 |
| | 1 p.m. | Daily No Limit Hold'em | $20,000 | $150 |
| 6/29 | 11 a.m. | No Limit Hold'em $500K Guarantee Day 1A | $500,000 | $570 |
| | 1 p.m. | Daily No Limit Hold'em | $20,000 | $150 |
| 6/30 | 11 a.m. | No Limit Hold'em $500K Guarantee Day 1B | $500,000 | $570 |
| | 1 p.m. | Daily No Limit Hold'em | $20,000 | $150 |
| 7/1 | 11 a.m. | No Limit Hold'em $500K Guarantee Day 1C | $500,000 | $570 |
| | 3 p.m. | Daily No Limit Hold'em | $10,000 | $150 |
| 7/2 | 11 a.m. | HORSE | | $360 |
| | 1 p.m. | Daily No Limit Hold'em | $10,000 | $150 |
| 7/3 | 11 a.m. | Super Mega Deep Stack Turbo NLHE | | $150 |
| | 1 p.m. | Daily No Limit Hold'em | $10,000 | $150 |