Maria Lampropulos Wins the partypoker LIVE MILLIONS Main Event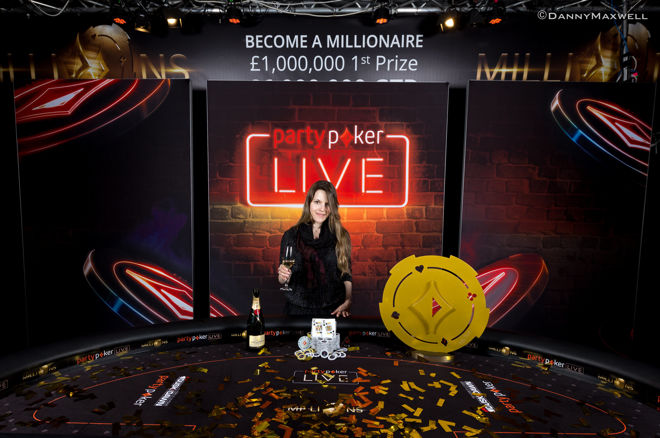 Maria Lampropulos won the partypoker LIVE MILLIONS Dusk Till Dawn Main Event for £1,000,000, a historic feat.
"It really feels like a magic moment I'm in right now," she said after her win. "I'm a little tired after such a difficult final table, but tomorrow I'll realize what I did. He didn't want to make a deal. He was convinced that he could win. Perhaps because I am a woman and he didn't want to deal with a woman, but I trusted in my game, I just thought 'let's play.'"
Outside Super High Roller results, Lampropulos has just made history by winning £1,000,000 – an incredible achievement cheered by the female players in the Ladies Event.
"I am proud of that obviously," she said. "It's wonderful. Every woman here supported me. When everyone chanted, I felt so emotional. They were all cheering and smiling because they feel 'OK, I can do it too.'"
The festival promised to be a huge event with three events guaranteeing seven-figure prize pools and the home of poker in the UK delivered in style. A total of £6,000,000 were locked up before the first card was dealt in Nottingham, and the £5,300 Main Event broke that number to create a massive prize pool of £6,017,395 with the top 253 spots earning their share and more than 8,500 players taking part through the various stages.
When everyone chanted, I felt so emotional. They were all cheering and smiling because they feel 'OK, I can do it too.'"
After several online and live starting days at the venue and three following tournament days, the field was reduced to the last eight hopefuls and the final table was set with an incredible combination of stories.
There were two women left in contention, one of which qualified twice through partypoker for a combined £131. one of the biggest names in UK poker. One of the biggest names in UK poker took his seat and there was the story of the duel for an extra payday of £100,000 as part of a special Golden Chip last longer competition with a special twist.
Add to that the guaranteed first-place prize of £1,000,000 in one of the biggest card rooms of Europe, with two other events with at least £1,000,000 in prizes up for grabs, and it was a match made in heaven for all poker enthusiasts with a dream.
It would take less than five hours to set up the duel for the title and seven-figure score. Jacob Mulhern faced Maria Lampropulos in a 79 versus 77 big blind deep battle. By then, Mulhern had already locked up the last longer competition and was on cloud nine thanks to the support of a massive rail. The 24-year-old from Doncaster quickly pulled away and put tremendous pressure on Lampropulos before the duel ended with a bang after just 40 minutes.
Lampropulos shoved with kings and Mulhern called with ace-queen. The board came no higher than a nine and the rail exploded.
Final Result 2017 partypokerLIVE MILLIONS Dusk Till Dawn Main Event
| Place | Winner | Country | Prize (in £) | Prize (in $) |
| --- | --- | --- | --- | --- |
| 1 | Maria Lampropulos | Argentina | £1,000,000 | $1,281,700 |
| 2 | Jacob Mulhern* | United Kingdom | £650,000 | $833,105 |
| 3 | Jeremy Pantin | Trinidad and Tobago | £450,000 | $576,765 |
| 4 | Mateusz Rypulak | Poland | £320,000 | $410,144 |
| 5 | Jon Spinks | United Kingdom | £220,000 | $281,974 |
| 6 | Stephen Chidwick | United Kingdom | £150,000 | $192,255 |
| 7 | Katie Swift | United Kingdom | £100,000 | $128,170 |
| 8 | Neel Murthy | United States | £72,395 | $92,789 |
* winner of the £100,000 Golden Chip last longer competition
Mulhern not only took home £650,000 for his second-place finish, but also another £100,000 on top of that after being the last man standing for all Caribbean Poker Party players that bagged up chips in Punta Cana last November.
"I'm chuffed," he said. "Maybe I could have folded at the end, but I'd struggle to fold ace-queen heads up. I didn't think she'd shove for that many big blinds with kings, to be honest. But it all spun from $22 online in a tournament. I can't believe it. It feels unbelievable.
"My life has changed. It's a massive amount of money for anybody to win, but for a lad like me of 24 it's huge. It means a lot to my family. Yesterday my phone was vibrating all day, they took it off me. It's gone so fast. People talk about getting tired playing poker. I've not felt tired once. It kept me going all day. I've loved it from start to finish."
For five months, Mulhern continued to work and dream of his moment. Today, it came.
"Every time we talked about it with my mates, I've been saying '£1.1 million soon' and they'd laugh, but heads up then I was looking at them all thinking, 'There's a chance here.' I'm not disappointed at all, I thought I gave a really good account of myself."
"I'm not disappointed at all, I thought I gave a really good account of myself."
Coming into the final table, there was one man who Lampropulos wasn't looking forward to taking on.
"The hardest opponent was Stevie [Chidwick] - he's a huge player," she said. "I have no words, because he's better than so many players, I was afraid of him."
Lampropulos had the support of her friends on the rail, and was cheered home by her poker-playing boyfriend Ivan Luca. It's clear how much the two rely on each and celebrate as equals in moments like the one we've just seen.
"It's important to have his support," she said. "I learned all that I know from Ivan and we play so much together. I'm next to him every day and I learned a lot. I can never be better than him but I'm happy."
The day started with eight hopefuls remaining and short stack Stephen Chidwick turned two pair and doubled through Mateusz Rypulak's top pair.
Neel Murthy became the first casualty on the final table. Murthy picked the wrong timing to three-bet seven-five off suit out of the blinds, bet a ten-high flop and jam a blank on the turn only to see Lampropulos look him up with pocket kings to leave Murthy drawing dead.
The second woman on the final table, Katie Swift, saw her hopes destroyed within two big hands in quick succession. First, Chidwick doubled through Swift with ace-jack versus ace-king when a jack on the turn and the river gave Chidwick a full house. Then, Swift moved all in with pocket tens and was unfortunate enough to have Jeremy Pantin wake up with pocket queens in the small blind.
Chidwick would bow out just a few minutes later. After Pantin raised, the Brit got it in with ace-queen and Rypulak looked down at pocket kings in the big blind. Rypulak, who was the other player in the last longer competition, reshoved to isolate successfully and a ten-high board sent the most-accomplished finalist to the rail in sixth place for £150,000.
Down to the last five players, Jon Spinks was the shortest stack and wouldn't find an opportunity to chip up. His elimination came in brutal fashion, as Spinks jammed over the top of a raise by Lampropulos and a call by Pantin. While Lampropulos folded, Pantin called with ace-seven off suit and cracked the pocket kings of Spinks thanks to an ace in the window.
Rypulak, who started the final day with the chip lead, saw his stack plummet and he then defended the big blind with seven-eight suited.
On the three-way ten-high flop, Rypulak check-jammed with second pair and Lampropulos called with queen-ten suited for top pair. Another ten on the turn left Rypulak drawing dead and Mulhern's rail went wild as the last longer competition was decided.
Another ten on the turn left Rypulak drawing dead and Mulhern's rail went wild as the last longer competition was decided.
With three players remaining, the stacks were very similar. But then Pantin lost a lot of chips with two pair on the river against Mulhern's straight. Pantin then ran a big bluff against Lampropulos that would reduce his stack to zero.
Lampropulos limp-called the raise of Pantin out of the small blind with ace-three and check-called with bottom pair on the flop and two pair on the turn. A deuce on the river delivered a four-card straight and Pantin went for it with king-jack only, and Lampropulos called after long consideration.
The duel for the seven-figure score and trophy was very intense. Lampropulos fell back rather quickly, as Mulhern tried to push her around. Two bluff-catchers in a row with ace-high and second pair, however, gave Lampropulos a 2-1 lead and it was over three hands later. Mulhern three-bet with ace-queen and called the four-bet shove to run out dry against pocket kings.
This ends the PokerNews live reporting here from the Dusk Till Dawn, and poker enthusiasts can look forward to plenty of events coming up from the partypokerLIVE team.
The Grand Prix Canada runs from April 25 – May 1, at the same time the Grand Prix Dublin (April 28 to May 1) and the Grand Prix Germany at the King's Casino in Rozvadov (April 27 to May 1).
The next chance to become a millionaire then awaits in the partypokerLIVE MILLION North America at the Playground Poker Club in Montreal (May 5-10, with CA$5 million guaranteed) in less than two weeks time.
An online Day 1 at partypoker for that event runs tonight, with live reporting on PokerNews.com starting shortly.