Tweet, Tweet, Bad Beat: Make Poker Great Again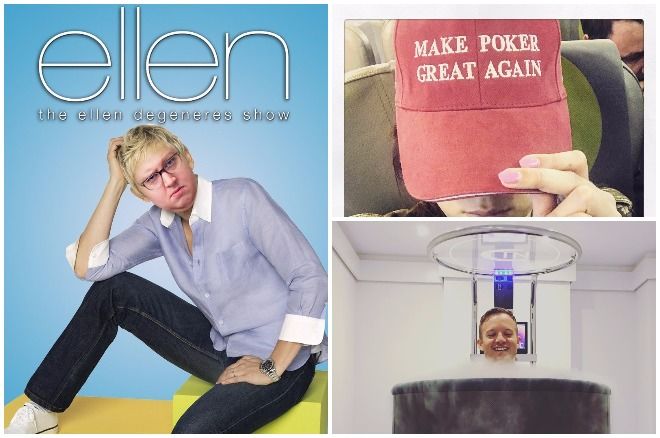 Every week PokerNews brings the weird back into poker by sharing the best of the week's social media.
This week is no different.
Urban Dictionary defines "agian" as "normally used in chatrooms and MMogs it's a funny way to spell 'again.'" OR, it's just a TYPO.
Make poker limit again! @limonpoker @LIVEattheBike @Chase_Bianchi @shawn_karmil https://t.co/M352bKcfta

— Zac Rockwell (@Zac_Rockwell)
When in Sochi, wear your 'Make Poker Great Again' hat. #appropriate
Magic mirrors?
Staying at the brand new Wynn Palace! Easy access 2 #PSCMacau across the road with free carousel rides# gonna check… https://t.co/N9qQmM27HM

— Celina Lin (@CelinaLin)
Game changer, at least for Eli Elezra.
THE BEST THING YOU'LL SEE ALL WEEK.
Role reversal.
Took many years, but I finally found a man, sitting behind his woman while she grinds. ❤❤❤ https://t.co/iGpX4xcGie

— Danielle Andersen (@dmoongirl)
Babies.
Surreal experience watching our first daughter be born today. 6 lbs 15 oz Cora Elias https://t.co/0k5X3SysPU

— Darren Elias (@DarrenElias)
I love how we have to make sure the cake is one color or the other. I don't think we should limit the baby so early. #jokesonjokes
Because we have to let "beingthegreatest" wear sparkles.
But WHY? It doesn't make SENSE.
Dude, where's my ride?
Bringing it back.
Casual (and because all floors are always clean enough for sitting on. Blegh).
We never saw Martin again. #cauldron
Lead image courtesy of Vedran Premuzic, Lia Novikova and Martin Jacobson
Finding a trustworthy room to play online poker can be a monumental burden. That's all the more true if you're just looking for a place to play poker for free. We've listed five of the best play-money poker sites to enjoy and help hone your skills.