Boris Becker on Handling Nerves, Tools for Success in Poker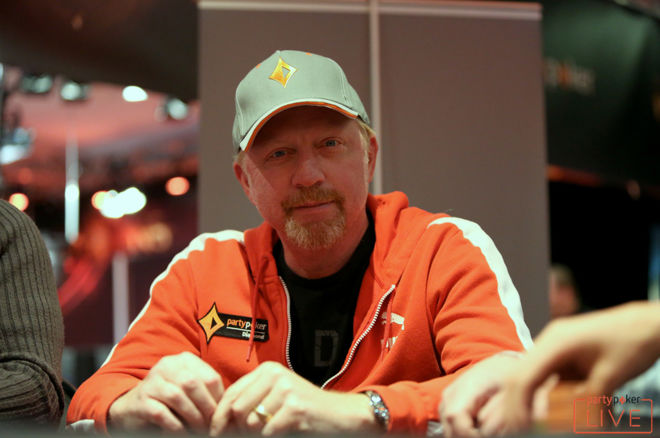 Entering a tournament as a comparative novice in an attempt to win a major title might put some poker players in panic mode. But for the tennis legend and former Wimbledon champion Boris Becker, there wasn't a hint of nerves as he took to the felt at the recent partypoker MILLIONS Main Event at Nottingham's Dusk Till Dawn Casino.
Back in 1985, Becker was 17 years old and unseeded when he won the Men's Singles title at the Wimbledon Championships. Nerveless on court, he would come back to defend his title before winning at SW19 a third and final time in 1989. PokerNews sat down to find out what gives certain players in poker or tennis the ability to play without nerves.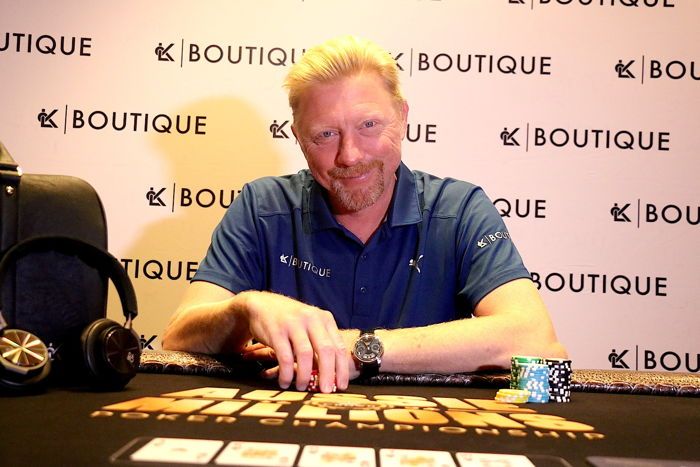 "A lot has to do with your personality, whether you're a nervous character or not," he said. "I'm not a nervous character and I think that helps. I was never a nervous kid. That doesn't mean I never had any doubts, of course I did. Everybody does. But I wouldn't really show it. Once I realized that tennis - very much like poker - is a mind game where you have to control your nerves and emotions, I started to develop that as an art."
As Becker continued to build a fearsome reputation in tennis during the 1980s, his rivalries with players such as Sweden's Stefan Edberg and compatriot Michael Stich dominated the back pages of the newspapers. Back home, he was a phenomenon, the child who won Wimbledon. It won't surprise you to know that he recognized doubt in his opponents during his heyday.
"You can see when you serve to the opposition if they have moments of doubt or are nervous," Becker said. "On the other hand, every top player has the same ability not to show nerves. You need to have a great mentality otherwise you won't win. So when you face someone who has the same qualities as yourself, it becomes a real match."
Those rivalries took place over years, growing into sporting legacies over a decade. But before winning Wimbledon, Becker, the son of an architect, was relatively unknown. It's clearly a lifetime ago to a man who has lived three decades in the brightest of spotlights.
"It was over 30 years ago and I don't remember what life was like without Wimbledon," he said. "It changed [my life] overnight, I became a household name and that has many, many upsides. You excel at what you love to do, you make money, you get freedom, but the down side is losing your privacy. You lose your right to be nobody. It comes with the territory and you can't feel sorry for yourself. I did what I wanted to do, to win, to be successful, and that's it."
"It was over 30 years ago and I don't remember what life was like without Wimbledon."
While the intrusion into sports stars' lives in the 1980s was intense, the perversion of a life increasingly viewed through Twitter and Instagram now seems to have warped to becoming more and more about a celebrity's lifestyle and habits away from the achievements that earned their notoriety. For Becker, this isn't a positive trend.
"I think it's a problem, especially with the younger generation," he said. "I'm at an age where I can see the difference between fake news and reality, but I have teenage children and they believe everything they read, especially online and most of it isn't true. On one hand the internet is a wonderful source of information that also connects everybody, but it also gives a lot of freedom to idiots."
He worries about monitoring information for the youth and this new business model created by media.
"There are people out there who will post something for the sake of it and I think that's very dangerous and should be much more censored," Becker said. "Why is the performance of an athlete becoming less important to people, but what they are doing outside of their job more so? It's a business model that media has created and we all live within it. We can't turn the clock back, but we must teach our children to really find out what's true and what's not."
For Becker, a man whose own life has been bathed in the glare of the flashbulb on more than one occasion, his own thoughts turn to his children. The 49 year-old father of four is keener than ever to develop one-on-one relationships within his family rather than any kind of social media presence.
"My father passed away 15 years ago now, but I'm a big family guy and I want to keep mine together," he said. "Last summer, my 16-year-old read something on the internet. We were in London outside the house and said 'Dad, it says it's raining today online.' I said 'Son, look up. The sun is shining. Don't believe everything you read.'"
Becker said information isn't what it used to be.
"I worry because where can teenagers get their information from? You can't possibly travel everywhere, so you must believe what you read or see on television. But the quality is not what it used to be."
For a man who is still an inspiration to the next generation of tennis players and Europeans who aspire to sporting greatness, he has his own theory on the nature of heroes.
"When I grew up, I was a sports fanatic," he said. "My heroes growing up were Muhammed Ali and Michael Jordan. I really loved them and followed every fight or game they had. Later in life, I was fortunate enough to meet both of them on many occasions. They were human beings. They were men, with their own moments."
He said that as he gets older, you look less for heroes but people in their everyday lives.
"When you're a father, you want to make sure that your children learn right from wrong."
"I have four children and it's important they know who are the right role models," he said. "I'm 49 years old and I know who I am; I know my weaknesses and my strengths, my qualities and my failings. When you're a father, you want to make sure that your children learn right from wrong."
For someone who is such a hero to so many, Becker is the opposite of how you might expect. Although focused at the the table, the ruthless nature of his art as a tennis player is long gone, replaced at the felt by a stoic appreciation of the game he has grown into during his post-sport career. There are flashes of brilliance, and he is capable of the aggression required to win. But the art of the game drives him, too.
Growing up in Leimen, Germany, Becker was among just 20,000 townspeople. After winning Wimbledon in the summer of 1985 and into his entire adult life, he's been surrounded by people who know his name. But at the poker table, the cap is pulled down over his brow and the eyes that used to glare across the net are hidden from his opponents.
The partypoker ambassador has enjoyed success at the felt before, and with his natural obsession to compete still as it was all those years ago, Boris Becker may yet serve up another major title.