Calling the Clock with Ari Engel Sponsored by KO Watches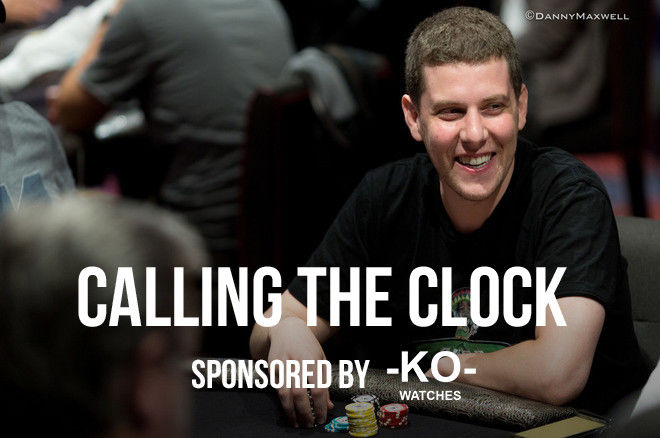 Beginning as a cutting-edge brand active in design, manufacturing and distribution of quality-finish watches from young Mexican entrepreneurs, KNOCK OUT -KO- Watches works to distinguish itself with its quality and clean design, allowing people to use time they have as they wish and without interruption. With our sponsor, KNOCK OUT -KO- Watches in mind, we're now going to "Call the Clock" on Ari Engel.
PokerNews' Sarah Herring called the clock on Ari Engel, giving him two minutes to answer as many questions as he can. This week's segment comes from a previous interview with Engel on the PokerNews Podcast.
What advice would you give to someone who wants to be a poker player?
Keep your job!
Are you on Tinder?
Yes.
What's the worst trend in poker?
I guess, for my answer, it's tanking, but I would not say that at all. I think people overstate how bad tanking is so that'll be my answer.
What was your favorite subject in school?
History.
What was your least favorite?
Science.
What's your favorite country to visit?
Israel.
Describe yourself in three words.
Nitty, hard worker.
Favorite Disney movie?
I don't have one.
If you could be on the cover of a magazine, what magazine would it be? Forbes obviously.
I was thinking some news magazine, like if I actually did something impressive, you'd have to be in whatever. I don't know if Time is big anymore.
Yeah, Time. I don't even know why this is a question. Magazines barely exist. What's your favorite cereal?
What's my favorite cereal? Just like bran flakes or something plain like that.
Who's your celebrity crush?
One of the games my friends used to play in college was Name the Celebrity and I could name like zero out of 100. I haven't watched any movies. I don't know any celebrities. I don't know anything about them.
Like, I'm on the grind. That's it. What was your first job?
I sold water and peanuts and hot dogs at baseball games.
You're known for being extremely cerebral. What's something dumb that you love to do? Nothing. Only smart things.
I wouldn't say that. Well, I don't necessarily want to publicize all the dumb things that I do, but I guess I'll tell of one dumb thing that I did, which was probably like five years ago.
I took out all my rings, I took out a bunch of cash and my brother had a few guns at my parents' house and for some reason I decided to take a picture with that, with guns, and money and rings. And obviously, I was messing around and all that, but the picture's out there still. Once you put a drop on the internet, it's never gone.
When the clocks stops, time comes to life. Get your hands on a Knock Out -KO- watch right here.