James Moore Captures Back-to-Back Titles in WSOP Super Seniors Event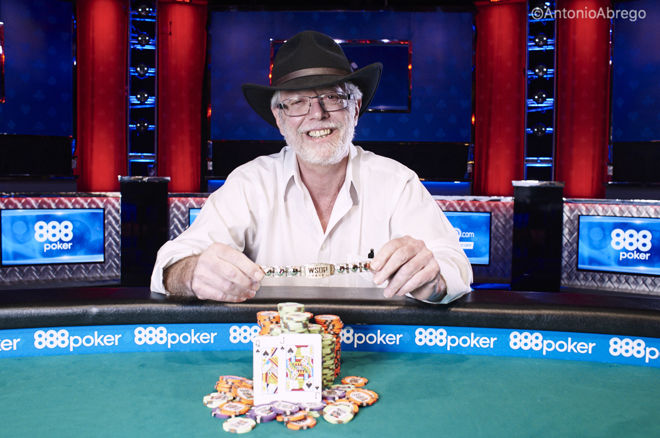 After three long hours and 133 hands of heads-up play, James Moore accomplished the amazing feat of winning the World Series of Poker $1,000 Super Seniors event in back-to-back years. This year's win earned him $259,230 and a second gold WSOP bracelet after defeating Kerry Goldberg, a worthy opponent in his own right. Last year, Moore pocketed $230,626, earning himself almost half a million dollars in this event across two series.
This event attracted a total of 1,720 entries for a total prize pool worth $1,548,000 paying out 258 spots. The numbers in this event are up from 1,476 entries and a prize pool of $1,328,400 last year, proving that this event is most definitely a successful one.
In the final hand, the final two players saw a queen-high flop and got it all in, with Goldberg being the player at risk. He held second pair, but Moore had top pair and they had the same kickers. The turn gave both players two pair and Moore held on to capture a second title for a second straight year. Goldberg may have fallen short of the title, but he took home $160,120 for his impressive run in this event.
"I want to be described as someone with a deep understanding of the fundamentals of the game."
Moore is currently a full-time Radiologist just outside of Philadelphia, Pennsylvania even though he is able to work from home. After winning the Super Seniors Event last year, Moore said he felt like he got lucky so he wanted to go out and improve his game. He has played frequently in the Philly area and also attended a WPT event in Atlantic City. When asked what he has done to improve his game, Moore replied with "I am really focused on making the best decisions at any given time. I have become a little bit more sticky on flops, instead of just folding to a bet all the time."
Last year was the first year Moore was eligible to compete in the Super Seniors Event and now he has gone two-for-two. "I am shell-shocked at this point," Moore said about his most recent victory. Moore came into heads-up play with a big chip deficit and slowly worked his way into the lead. "Once we got to even in chips, that's when I began to feel more confident."
Moore will be returning next year to once again defend his title in the Super Seniors Event and will take his shot at the Seniors Event again as well. "I'm not sure if I will play any other events other than those two - we'll have to see next year," Moore said with a shrug of the shoulders. Going forward, Moore still wants to continue playing poker and continue getting better. "I want to be described as someone with a deep understanding of the fundamentals of the game."
Final Table Results
| Place | Player Name | Country | Prize (USD) |
| --- | --- | --- | --- |
| 1 | James Moore | United States | $259,230 |
| 2 | Kerry Goldberg | United States | $160,120 |
| 3 | John Isler | United States | $115,357 |
| 4 | Veronica Daly | United States | $84,005 |
| 5 | Ken Aldridge | United States | $61,842 |
| 6 | Darrell Ticehurst | United States | $46,029 |
| 7 | David Smith | United States | $34,641 |
| 8 | Daniel Favreau | United States | $26,365 |
| 9 | Terry Stuhldreher | United States | $20,296 |
This event attracted some big names, and some of the players who went deep but were unable to make the elusive final table included Armand 'Oyster King' King (29th place $6,535), James Woods (34th place - $6,535), June Jenkins (101st place - $2,025), Michael Shahade (118th place - $2,025), Tom McCormick (134th place - $1,856), TJ Cloutier (174th place - $1,723), and Susie Isaacs (211th place - $1,550).
Final Table Action
The official final table of nine lasted seven and a half hours and a total of 288 hands. It began after the elimination of Stanley Siegel in 10th place ($15,804) when he lost a flip with pocket fives against the ace-king of Goldberg. His elimination set the stage for what was an eventful final table.
Action began with the first seven pots getting taken down preflop, and then Terry Stahldreher was the first to go in ninth place ($20,296) in the eight hand. He ripped his stack in the middle with ten-five off suit and was unfortunate enough to run into Moore's pocket aces. He couldn't catch a break and made his way to the rail.
Daniel Favreau was next to go. David Smith moved all in on the button with king-three off suit and Favreau called for slightly more in the big blind with two sevens. Smith managed to back into a straight and Favreau was left with less than one big blind, only to bust in the next hand with eight-three off suit. He pocketed $26,365 for his deep run today. Just two hands later, Smith picked up ace-jack of spades and moved in again, this time running into Moore's ace-king and was unable to get there. He settled for seventh place and a payout worth $34,641,
Almost 20 hands later, Darrell Ticehurst lost his stack to John Isler in back-to-back hands. He first doubled him up after getting his kings cracked by ace-nine suited, and in the next hand moved all in with a flush draw but couldn't get there against Isler's top pair. He battled to the top of the counts at one point, but had to be happy with $46,029 for his sixth place finish.
Just ten short minutes later, Ken 'Teach' Aldridge saw his hopes of winning a second WSOP bracelet get dashed after running pocket kings into the aces of Moore. He left the final table with a massive smile on his face, just what he is known for, and shook every player's hand on his way out. He even thanked all of the staff on the floor individually. Aldridge missed two flights in the last two days due to the fact that he kept finding a bag in this event, so it's safe to say he is just fine with his payout of $61,842 for fifth place.
Almost an hour and a half of play went by, and by the dinner break, Moore had put together a nice lead with 3,800,000 in chips, while his opponents all had under two million. In just the fourth hand of play after dinner, Veronica Daly flopped top set and decided to slow play it. Unfortunately for her, Moore back into a straight and she called off her stack on the river after Moore shoved. She earned herself the title of Last Woman Standing in this event, and pocketed $84,005 for fourth place.
An hour and ten minutes, and about 50 hands, went by before the next elimination, and it was Isler who would find himself flipping with ace-queen against Moore's pocket threes. Moore flopped a set and after getting a count, Isler had just less than Moore and was eliminated in third place for a nice payday worth $115,357.
Heads-up play lasted three hours and Moore was the one who eventually claimed his second bracelet in back-to-back wins. It was a special way to end a fun-filled tournament, and there is certainly no reason why this event won't continue to be successful.
Finding a trustworthy room to play online poker can be a monumental burden. That's all the more true if you're just looking for a place to play poker for free. We've listed five of the best play-money poker sites to enjoy and help hone your skills.