Global Poker Player of the Week: Adrian Mateos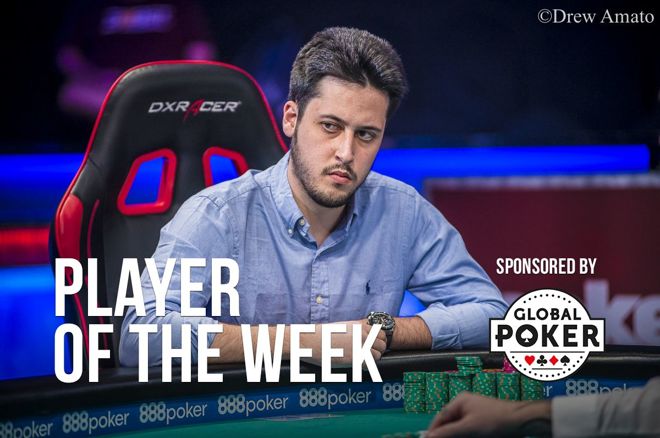 One might think winning a bracelet in a prestigious $10,000 event would warrant a few days off. But that's not how Adrian Mateos rolls, hopping right back into the grind the next day after.
"I will play every day because I love to play," Mateos told PokerNews on Monday. "It's not work for me to play and I'm pretty happy when I play. I will take one week off before the Main Event, but I plan to play as much as I can."
Adrian Mateos was primed for a stellar World Series of Poker. Leading into the summer he narrowly missed a PokerStars Championship High Roller event final table in Monte Carlo, then final-tabled two Aria high rollers, and had a second- and ninth-place finish in two other $10K events. And that was just in the month of May.
Prodigy, phenom, wizard, and genius have all been used to describe Mateos who, at just 22 years old, has racked up $9,172,532 in live tournament winnings. To put that in perspective, he is $3 million dollars shy from claiming Spain's leading money winner from Carlos Mortensen.
"I know that I am not far behind," Mateos said. "It would be nice to catch him. It would be really good for my career if I could become number one."
His latest win in Event #15: $10,000 Heads-Up No-Limit Hold'em Championship allowed him to stake claim to his third WSOP bracelet and the title of youngest player to earn three bracelets, previously held by Dominik Nitsche.
"I will play every day because I love to play. It's not work for me."
And to help you understand the significance of that milestone, Nitsche held the title for the last three years. And prior to that, Phil Ivey held it for 12 years. Considering Mateos is only 22 years old, there's a good chance the youngest player to earn three bracelets title has found a home for a long time.
"It's insane that I have three bracelets," Mateos said. "It feels really good for sure. It's really difficult to win three bracelets and I'm 22. I run good and I think I play good, so that's all that matters."
Mateos has a poker resume to which most players aspire over a career. He started to play poker online after seeing it on television at the age of 16, he won his first bracelet at 19 at the WSOP Europe and slapped his second bracelet on his wrist during his second summer in Vegas while he was still 21.
"I really like to play for titles and for money, of course. But in poker, it is hard to make goals like that because it does not always depend on you. The only thing I can do is to play my best and that is my goal."
While many players are looking to Mateos for inspiration, we wondered who Mateos was looking to, and like a seasoned pro, he answered carefully.
"I look at all the best players in the world. I try to copy them because it's a good way to improve. I try to understand why they do what they do. I study online players and players who play cash games at the highest stakes. Also, players who are in the high roller. I can't say one is the best because they are all close, so I just try to study them all."
Mateos is most proud of his latest accomplishment because his previous WSOP wins came in full ring events and he values the prestige that comes along with winning one of the premier events on the WSOP summer schedule.
"There are not many heads-up events in the year, but I really want to play," he said. "I was really focused for every round to win and I really like to play heads-up, so it's really fun."
Getting the final table, though, was no walk in the park for Mateos — phenom or not. He had to beat Daniel Negreanu, Ian O'Hara, Eric Wasserson, Taylor Paur, Ryan Hughes and Charlie Carrel before facing John Smith, a fan-favorite and Purple Heart recipient, in the finals. Mateos knew Smith as the runner-up in this event last year and tried to prepare for a challenge.
"He plays really different from a lot of players but that worked for him. It's really tough to play against him; he makes different plays every hand. He changed his game every hand. He's really hard to read."
But Mateos kept adjusting against the unorthodox style of Smith. Mateos said the match was tougher than he thought and that he sometimes made calls because he couldn't figure out what Smith had. He was impressed with Smith's play.
On the subject of adjusting, Mateos talked about the adjustment from online to live tournament play.
"It was way different. You have to change your game. The really important thing is you have to be open-minded because people play so differently. So some of the really good online players play worse in live because they don't adjust their game to the other players. And that's the most important thing is to try and focus and think abut why people make their moves. You have to try to know what they are thinking. I like playing live but playing online is also important if you want to be at the top."
One thing is for sure, Mateos will be around for awhile. Right now, his focus is only to play poker. He wants to continue to improve and continue to win.
"At the moment, I love the game, so I want to keep winning and try to crush the high rollers," Mateos said. "I think that's the biggest goal I have at the moment."