The Muck: Matt Glantz Loses Controversial Hand in $10K Dealer's Choice
The World Series of Poker was winding down late Thursday night with all but one event having concluded for the day. The $10,000 Dealer's Choice event, which was stacked with some of the biggest names in poker, was in the final level of Day 1 in the Miranda Room when suddenly a dispute caught the attention of our live reporting team. Here's how it played out in during a No-Limit Hold'em round.
From under the gun, Samuel Touil opened with a raise to 5,100 only to have Matt Glantz three-bet the cutoff to 11,000.
The action returned to Touil, and after a few moments he grabbed what remained of his chips - roughly 53,900 - in both hands and moved them towards the bet he had already placed.
Believing that Touil had moved all in, Glantz pushed his chips forward and tabled his
.
"I never went all in," stated Touil.
"You might win the hand. You might hit your three-outer. Just don't take a shot at me!" stated Glantz.
Immediately the floor was called over to make a decision on what had just happened.
After hearing of the situation, another tournament floor was called and a more detailed explanation of the situation was given.
Glantz and the rest of the table that included John Monnette agreed that Touil did in fact not release his chips but did motion them forward like he was intending to move all in. Touil and Glantz both started to become a little agitated at the situation thinking they both had correct points of view. As the two tournament floors conversed in the corner with their supervisor for nearly five minutes, eventually they returned to make a ruling.
Under WSOP rules and guidelines, the chips must be released and touch the felt in this situation and consequently, the all-in action would not be binding. Instead, Touil would be forced to only match the bet, and due to this, Glantz became more outspoken.
"You're allowing someone to take a shot!" stated Glantz. "There was a clear motion to go all in. You have to rule in the interest of the game and protect the integrity of the game. You cannot reward shot-takers."
With Touil forced to call the three-bet and the hand continuing to the flop, Glantz believed that this kind of play wasn't fair and that Touil should have been forced to at least min-raise.
"Everyone can do it later on if this is the ruling," continued Glantz.
"You are still in position to protect your hand," stated the tournament floor supervisor.
Regardless, the hand continued and Touil called as the dealer fanned the
flop and Touil moved all in for 38,000. Glantz called and the cards were tabled.
Glantz:

Touil:
Glantz was out in front but the
on the turn saw chop outs develop. When the
landed on the river, Touil hit a straight and awarded the double up.
Once the chips were pushed to Touil, he added, "See it doesn't matter anyway!"
"It's not about the hand losing," Glantz responded. "It's about the shot you took. It's about them allowing it. I don't care about you. I care about the rules and the integrity of the game."
"Same, same," added Touil.
"I don't care about your hand. I want people to be honest!" stated Glantz as the next hand began.
Glantz, one of our must-follow Twitter users during the WSOP, was surprisingly reserved after it all played out, but many offered their opinions on social media.
@WSOP the ruling that was just made in dealers choice against @MattGlantz was awful. rules rewarding angling as customer are v concerning

— Daniel Zack (@Dan__Zack)
@tRaMSt0p @MattGlantz Doesn't matter if the chips hit the felt Matt, I'll prove it to you. Glantz: screaming like c… https://t.co/geMBoox0NR

— Brandon Cantu (@brandoncantu)
@tRaMSt0p @MattGlantz This is absolutely horrifying. Someone considered 4betting Glantz with AJo? In a 10k no less #disgusting

— Jason Rivkin (@jayriv2)
Glantz managed to rebuild his stack and bagged chips at the end of Day 1. He is still alive as play is into the third level of Day 2. You can follow all of the action right here.
So Close Yet So Far
We first met Bernard Lee and the infamous picture of his kids during his deep run in the 2005 World Series of Poker. The fan favorite narrowly missed the final table and ended up exiting the tournament in 13th place.
Twelve years later and he still has a picture of his kids with him on the table. The picture on top is a current picture of his kids and every year he updates the picture. However, he still carries the original picture that got some TV time in 2005. And he's thrown in a picture of his two-year-old - dog that is.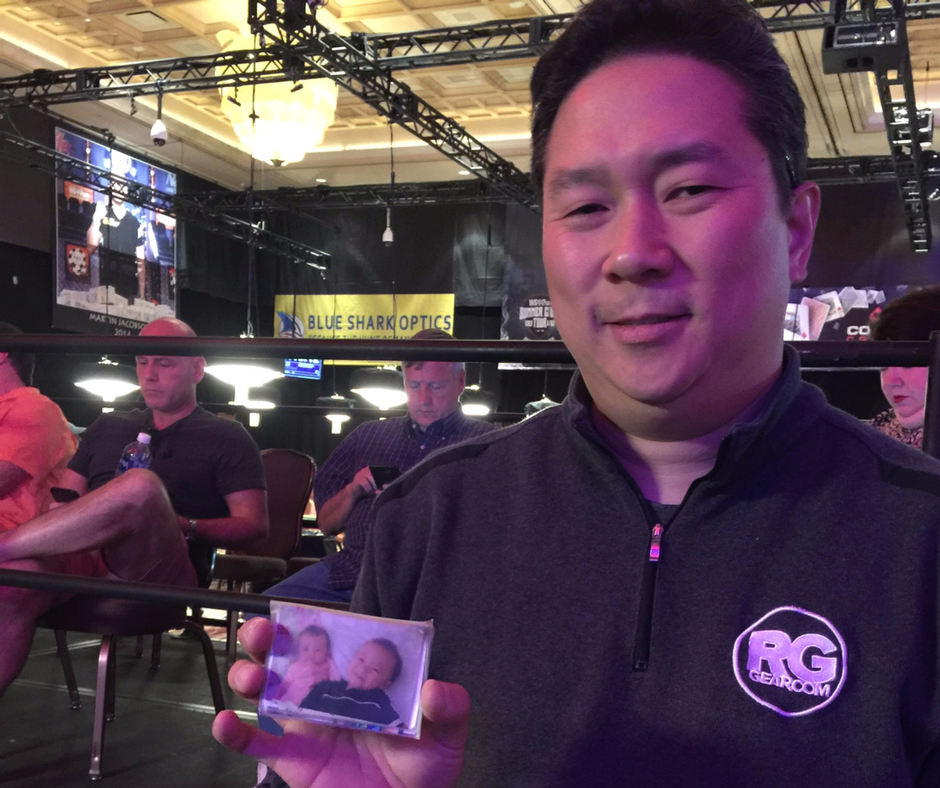 Lee made a deep run in Event #13: $1,500 No-Limit 2-7 Lowball Draw. In fact, he found himself narrowly missing his first bracelet after an intense heads up battle with Frank Kassela.
"2-7 is my favorite game," he told us. "The way I look at it is I'm 47 and I have about 15 years left in me and with two of them a year then I have 30 shots at a bracelet. I gave up tag team, I gave up 1500 because those happen every day. Right now my I'm focused and hope I can walk away with one."
Winning a bracelet is everything to Lee. While talking about the possibility, he choked up a bit. In fact, he was still for a short time to control his emotion and trying to maintain his composure.
When the table was three-handed, Lee mouthed, "I want this so bad." He realizes it's hard to get close and he's close. It was an emotional minute that is a testament to someone who values the community that allows him to do what he loves every day. But he's going to have to wait for another day to claim the bracelet that alludes him.
Lee is celebrating ten years as host of his popular radio show, "The Bernard Lee Poker Show," and is still as enthusiastic about the game today as he was when he first started playing the game just a few years before becoming a household name in the poker community.
When asked how he stays so grounded and positive, he credits his family.
"Poker isn't my number one priority. My family is my number one priority. Playing the game shouldn't be a chore, there might be money on the line but it's still a game. I'm very fortunate I get paid to do be around a game I love, I get talk about the game and people actually listen to what I have to say - so I have to smile."
And smile he does. He takes the time to stop and talk (and even hug) those that recognize him.
"How can get it old? I'm not Negreanu but I built a brand. I try to represent the game as best I can. I'm trying to do what I can to help this game grow and get it to a new level. I love this game."
With Lee's love and dedication to the game and his focus on winning a coveted bracelet, it won't be long before he's slapping gold on his wrist.
All Talk and Some Action
And here's another story from Event #13. It was during Level 4 on Day 1 of this event when Jared Bleznick had a hunch.
You've heard of all talk and no action? Well, that's not the case where Bleznick is involved. He's all talk, looking for action and winning.
"I guarantee that I'm going to make the final table," he declared on the first day of the tournament. "I mean it! Write this down."
He was looking to put his money where his mouth is, as poker players are often quick to do.
Sure enough, it was Day 3 and guess who made the final table? Bleznick.
"I don't usually make that kind of statement," he said, "but I felt it. I know I'm short, but I knew I would get here and I wanted to get here."
He found some action to help make the journey to the final table more interesting.
"Eric Wasserson gave me 5:1 during level four and another friend gave me 3:1 a little later, but I wanted more."
Taking the side bets did not change his strategy. He was still playing to win, just final tabling wouldn't do.
"I'm always playing to win. I don't look at the money when I'm playing; I don't even look at the price jumps. I'm just playing to win."
Bleznick ended up taking fifth in the tournament.
The Attack of the Vendors
If you've walked down the halls of the Rio Convention Center, chances are you've had a battery case, lucky coin or magnetic bracelet thrust in your direction multiple times per day.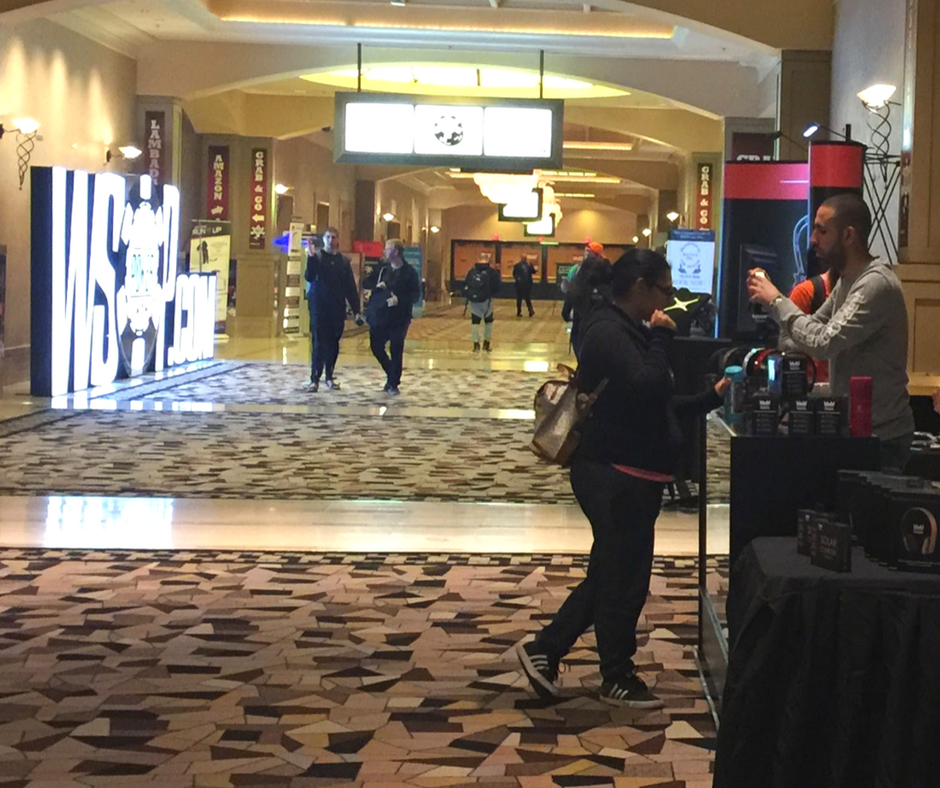 Even wearing headphones, sunglasses and looking down at the floor are not optimal strategies to outwit those friendly, but somewhat aggressive, ladies and gentlemen that man the booths.
So how can you scoot by them unscathed? Well, you can run, you can walk with a constant shaking of the head, or you can try the advice Robbie Strazynski offered on Twitter:
@KimYuhl They're all Israel, so just say "Lo, toda" and smile #

— Robbie Strazynski (@cardplayerlife)
So, "Lo, toda" we did. In return, we received a big smile back and were assured, "We'll try again tomorrow." Time to start entering and exiting the Rio through a back way.
Be sure to complete your PokerNews experience by checking out an overview of our mobile and tablet apps here. Stay on top of the poker world from your phone with our mobile iOS and Android app, or fire up our iPad app on your tablet. You can also update your own chip counts from poker tournaments around the world with MyStack on both Android and iOS.