WSOP What to Watch For: June 2, 2017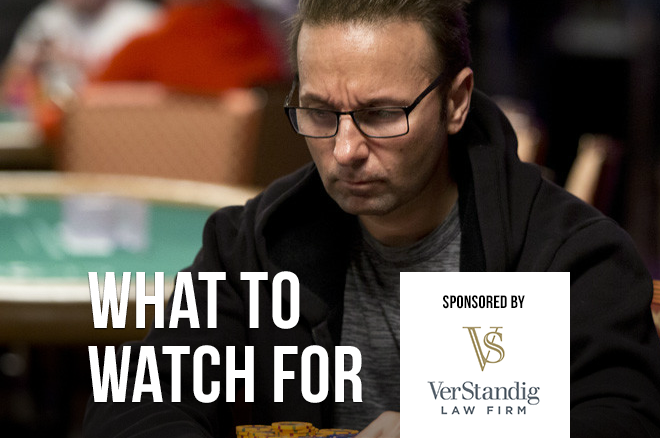 Today's What to Watch For is brought to you by the VerStandig Law Firm, LLC. Combining a keen understanding of the gaming world and an equally keen understanding of the law, Mac VerStandig and his colleagues are devoted to fighting on behalf of the poker community and its members.
The VerStandig Law Firm, LLC represents poker professionals, sports bettors and advantage players across the United States. The firm assists clients in connection with legal issues including personal LLC formation and operation, tax planning that focuses on gaming deductions and exemptions, casino disputes, and personal matters spanning from divorce to criminal dust-ups.
The Brasilia room was open for business on Thursday when the Rio unveiled the new location of the Thunderdome as the WSOP's first final table got underway for the Casino Employees event. The muted red and blues, dim lighting, and fans on the rail made for a cool vibe and perfect way to get the summer started.
All eyes were on Team Negreanu as "Kid Poker" played the great majority of the day for his team that included Eric Wasserson, David Benyamine, and Mark Gregorich. Negreanu was one of chip leaders much of the day as he sought his seventh gold bracelet as well one for each of his teammates, who are certainly no slouches at the table either. Wasserson has more than $1.1 million in tournament winnings, Benyamine has $7.26 million and a bracelet, and Gregorich has $1.67 million and numerous final table appearances. Team Negreanu led in chips as the night came to a close with 1,498,000 chips. The team captain was happy with the results of Day 2.
The event features first-place money of $273,964, which is divided amongst a team's members, and a prize pool of $958,800. Other top teams looking to finish tag team champions include: the team of Anthony Ajlouny, David Fong, and Mike McClain (second in chips with 932,000); and the team of Liv Boeree and Igor Kurganov (third in chips with 929,000).
A full list of final six payouts for this event are:
1st – $273,964
2nd – $169,323
3rd – $119,753
4th – $86,237
5th – $63,253
6th – $47,271
Action resumes on Friday at 2 p.m. with blinds of 10,000/20,000. Will Negreanu notch another title? Click here to follow all the live updates.
Day 1 of this event saw 369 players enter to battle it out for a prize pool of $996,300. The field was cut down to 50 and play will resume on Friday at noon and then play down to a winner on Saturday. Some big names making it through Day 1 include Barry Greenstein, Dominik Nitsche, Jean-Robert Bellande, and Matt Glantz. For PokerNews' live updates of the action, click here.
This popular event got underway Thursday afternoon with 905 entries, a slight dip from last year's 934. With a first-place prize of $238,620 there should be plenty of action when play resumes on Friday at 2 p.m. at Level 10 with blinds at 1,000/2,000. Rex Clinkscales takes the chip lead into Day 2 with 96,200 and numerous pros remain in the mix including Jeff Lisandro, Victor Ramdin, David Bach, and Allen Kessler. One name also remaining to definitely watch is Benny "The Razor" Glaser, who not only won this event in 2016, but also the $10,000 Omaha Hi-Lo 8 or Better. Can he do it again? Check back Friday for the live updates.
Event #5: THE COLOSSUS III - $565 No-Limit Hold'em
The actual Roman Colosseum could hold 50,000 to 80,000 spectators for gladiator battles, chariot races, animal hunts, re-enactments of famous battles, and even executions. While hopefully no blood will be shed over the next few days in the third installment of the Colossus, there should be plenty of card-playing gladiators battling it out for the $1 million first prize.
Last year's champion Ben Keeline is back to defend his title and said he is ready to fire several bullets in the event that features two starting flights a day (10 a.m. and 4 p.m.) for three consecutive days (Friday, Saturday, and Sunday). Players are allowed one re-entry per flight and can play multiple flights. Last year's event attracted 21,613 entries, not quite enough to fill the Colosseum, but making for a colossal prize pool of more than $10.8 million nonetheless.
Event #6: $111,111 HIGH ROLLER for ONE DROP No-Limit Hold'em
One of the biggest events of the WSOP, and the biggest buy-in, brings out plenty of high stakes players with a chance at a massive payday, but also a chance to give back. Out of every buy-in $11,111 goes to the One Drop Foundation, which provides fresh water services to third world countries. The 2016 champion was pro Fedor Holz, who took home $4.98 million, and is no stranger to winning high-stakes events. Last year's tournament attached 183 entries and a staggering prize pool of more than $19 million. One re-entry is allowed and the action gets underway at 3 p.m. Follow our live blog for all the bluffs and bets at these nosebleed stakes.