Artur Rudziankov Wins Event #58: $1,500 No-Limit Hold'em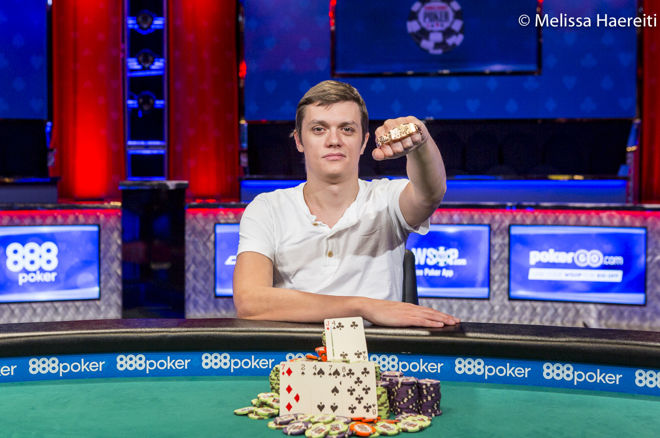 A field of 1,763-entrants has been diminished to just one man in Event #58: $1,500 No-Limit Hold'em. The last player standing is Artur Rudziankov, playing under the Czech flag and only the second player ever representing that country to win a WSOP gold bracelet.
An extra fourth day of play was needed with the two last survivors coming back to play it out on the Main Stage. The cameras weren't filming, but the atmosphere wasn't any different because of it. Both the Czech rail as well as the Spanish rail for Mario Prats were big and loud. In the end, though, it was the Czech flag that was waved the longest.
| Position | Player | Country | Prize |
| --- | --- | --- | --- |
| 1 | Artur Rudziankov | Czech Republic | $395,918 |
| 2 | Mario Prats | Spain | $244,611 |
| 3 | Timothy Miles | United States | $176,455 |
| 4 | Arman Zolnoorian | United States | $128,645 |
| 5 | Christian Rudolph | Germany | $94,799 |
| 6 | Lee Watkinson | United States | $70,618 |
| 7 | John Esposito | United States | $53,184 |
| 8 | Martin Kabrhel | Czech Republic | $40,500 |
| 9 | Scott Lychwick | United States | $31,187 |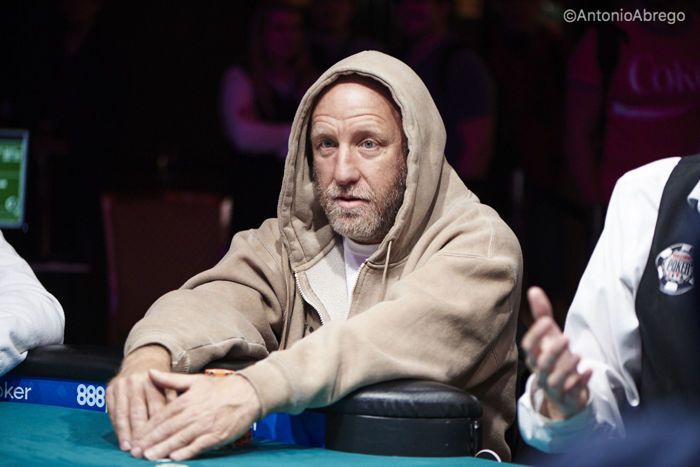 After some heavy battles on Day 3, the field of 26 remaining players was eventually whittled down to just 10. The unofficial final table was formed but, still, one player had to go home without the note of making the official final table.
"I was just running hot. You've got to run hot to win these tourneys."

Scott Lychwick and Mario Prats scored early double-ups before two-time WSOP bracelet winner John "Razor" Phan bubbled the official final table. Phan moved all in from the button with pocket sevens only to see Christian Rudolph in the big blind call instantly and turn over pocket kings. The board ran out ace-high and that was it for Phan.
Only five hands into the official final table, Lee Watkinson raised for the vast majority of his stack from the small blind. Fellow short stack Scott Lychwick called all in for slightly less. Lychwick showed six-four of diamonds and Watkinson had five-three of diamonds. The flop brought a five and a three and Lychwick failed to improve to a straight.
Once the final eight came back from dinner, it took almost two hours for the next player to fall. It was the always-talkative Martin Kabrhel who ran out of chips. Kabrhel, accompanied by his chip-protecting hippo, was entertaining the rail and opponents for the entire day, though some of them were willing to call the clock on the Czech at any point. Kabrhel was eventually down to fewer than four big blinds and raised for most of his stack with ace-three. Arman Zolnoorian and John Esposito called out of the blinds and the latter spiked a king with king-nine to send Kabrhel to the rail.
Esposito was the next to fall. The 1999 WSOP bracelet winner shoved from the small blind and tabled king-five suited. Rudolph flipped over ace-queen suited in the big blind and the board ran out queen-high.
Former WSOP bracelet winner Lee Watkinson had to settle for sixth place. He defended his big blind and shoved on a ten-high flop with nine-six for a gutshot only for Rudziankov to snap-call with ace-ten for trip tens. Both the turn and river bricked, ensuring a first-time bracelet winner would be crowned in this tournament.
"After that big bluff, I had the momentum."
Rudolph suffered a massive setback when he called the shove of Prats. Rudolph had pocket tens while Prats only had pocket fives. Prats, however, flopped and rivered a five for a set and then quads to leave the German with just change. Rudolph doubled once but soon after ran ace-king into the pocket aces of Rudziankov to go out in fifth place.
In hand #144, a short-stacked Arman Zolnoorian moved all in with ten-nine off suit from the small blind and Rudziankov called with king-six in the big blind. Neither player connected with the ace-high board and the field was reduced to the last three hopefuls.
Only nine hands later, Timothy Miles got his last 14 big blinds in from the button holding king-ten. Rudziankov quickly called with ace-king in the big blind and the kicker played a crucial role on a king-high board to set the stage for the heads-up battle.
Prats almost closed the gap, only to fall back when Rudziankov showed him a bluff in the last hand of the night. With the momentum on Rudziankov's side, Prats instantly opted to come back the next day instead of playing it out when the organizers asked what the players wanted.
At 1 p.m. local time, the two returned to the Brasilia Room in the Rio All Suite Hotel & Casino. While Prats started out the shorter stack, the roles were reversed soon enough as the Spaniard doubled when he made a big call with bottom pair on a dangerous board. Rudziankov showed a bluff and Prats suddenly had the advantage.
The Spaniard didn't enjoy the lead for long as Rudziankov retook the lead soon enough, winning several medium-sized pots. Rudziankov won more and more chips but saw Prats double once again when his flush draw didn't improve in time to Prats two pair. Prats made a full house on the turn, securing the double-up and rendering Rudziankov's rivered flush useless.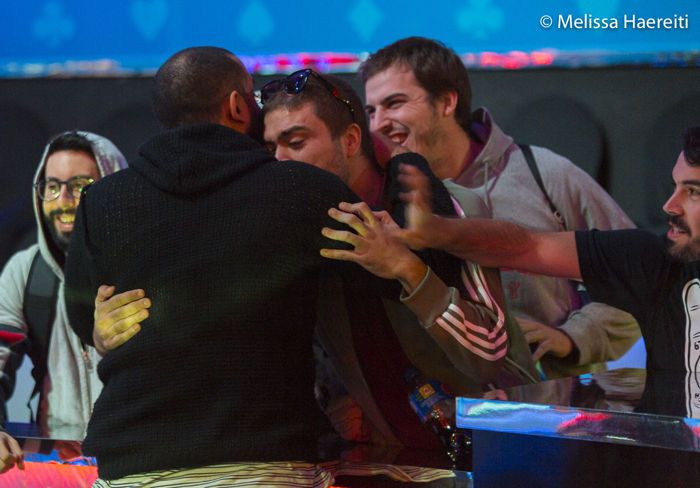 A huge failed bluff by Prats changed it all around again. Rudziankov made the nuts on the river and saw his Spanish opponent shove all in on him with nothing but eight-high. Rudziankov had the majority of the chips after that hand, as Prats had just three big blinds left. Two hands later, it was all over. Prats got it in with the best hand, ace-jack, but Rudziankov out-flopped him, hitting a four with jack-four.
And just like that, it was all over. Rudziankov, while born in Belarus, was crowned the second Czech bracelet winner for the WSOP stats, living there for 19 years now.
Rudziankov is actually friends with Tomas Junek, the player who won the first bracelet for the Czech Republic back in 2012. "He's not going to be very happy," Rudziankov smiled after he was handed the bracelet for the photos.
"I was just running hot. You've got to run hot to win these tourneys. There's nothing to it. You just have to get lucky," Rudziankov said. "They just have to fold when you don't have it and call when you have it. That's it."
"Not many changes. Not really, just more money for poker I guess."
Asked about whether he was happy with the extra day or not, Rudziankov told PokerNews he would've rather played it out on Day 3; "After that big bluff, I had the momentum. He snap-said he wanted to finish tomorrow because he felt I had all the momentum."
Still, Rudziankov more than understood Prats' decision to call it a day. "Two years ago, the same happened with me. That time, I felt like I didn't have the momentum so that's why I said I wanted to finish the next day. Just to regroup and talk strategy with my friends."
Two years ago, Rudziankov finished runner-up to Ivan Luca in a $1,000 event, good for $219,976. He had to settle for silver that time; this time it was gold. Where some players end up a bit tired of poker after a long summer at the WSOP, the contrary is true for Rudziankov. "Vegas always saves me. When I'm about to bust, Vegas saves me."
Rudziankov, who was joined by a big group of Czech players cheering him on on the final day, thanked his coach Sam Grafton and backer Vojtěch Růžička as he received the bracelet. The group seemed destined to celebrate somewhere in Vegas. Other than a big party, however, not much was going to change, according to Rudziankov. "The Main Event I play every year, obviously. Not many changes. Not really, just more money for poker I guess."