History of the World Series of Poker Main Event: 1970-1979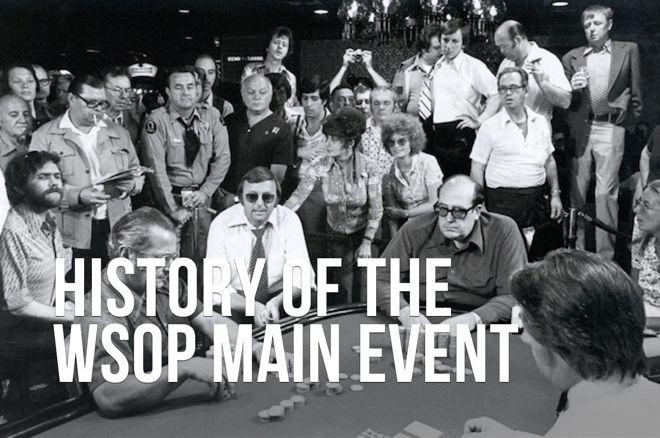 It's almost here — the "Super Bowl" of poker, the World Series of Poker Main Event.
Indeed, the history of the WSOP Main Event stretches back nearly as far as does football's big game, with Super Bowl I taking place in early 1967 and the first WSOP happening three years later.
Both featured relatively modest debuts. The first Super Bowl wasn't even called the "Super Bowl" yet. The game didn't even sell out, and it wasn't until recently tapes were recovered and restored piecing together a mostly full record of the action.
So, too, did the first World Series of Poker begin inauspiciously, with only a small group of players involved playing cash games with no climactic tournament on the schedule and relatively little about it reported at the time. And don't bother looking for any video!
Yet over the decades since both have grown into huge international spectacles, comprehensively covered and televised while attracting intense interest from around the world. Just as the Super Bowl isn't just another game, the World Series of Poker Main Event is hardly just another poker tournament — it's the big one.
This week we'll highlight some of the major events along the WSOP Main Event's timeline that together chart the tournament's growth into the most prestigious event on the poker calendar, taking the story a decade at a time.
1970-1979
As noted, the first World Series of Poker in fact featured no tournaments at all, but rather just a collection of cash games played among a small group of players at Binion's Horseshoe Casino over the course of a few days. In fact, the whole idea of calling it a "World Series of Poker" was more than a little bold, given how small the gathering was and the fact that there were only a few dozen poker tables in all of Las Vegas at the time.
In 1969, Tom Moore invited players to his Holiday Hotel in Reno for an event dubbed the "Texas Gamblers Reunion." The idea initially hatched by Moore's associate, Vic Vickrey, as a means to increase business at the hotel's casino.
A series of cash games played out at the Holiday Hotel with future WSOP champions Doyle Brunson, "Amarillo Slim" Preston, Johnny Moss, and Walter "Puggy" Pearson among those who participated.
Both Benny Binion and his son Jack were there as well, and Benny asked Moore about whether or not he had plans to continue the event going forward. Moore said he wasn't, citing the fact that it hadn't generated enough revenue thanks to all of the participants only playing poker. Benny asked Moore if he would mind if they hosted a similar annual event at the Horseshoe, Moore said he didn't, and the following spring came the first WSOP.
For about a week-and-a-half in May 1970, a small group of players gathered around a few tables in Binion's for that first ever WSOP. The games they played included some no longer part of the WSOP tourney schedule like five-card stud, five-card draw, and ace-to-five lowball. They also played seven-card stud (high only and hi-lo), razz, deuce-to-seven and no-limit hold'em
The idea of crowning a "champion" was introduced, and a vote was conducted to determine who among the players would be given the honor with Johnny Moss being named "Best All-Around Player" and awarded a silver cup.
A reporter from the Los Angeles Times named Ted Thackrey, Jr. had come to cover that first "World Series," and having found watching a group of players play cash games for several days less than exciting, was said to have suggested to Binion to "make it a contest" in order to drum up more interest. "Amarillo Slim" Preston would later add more details to the story, including recounting his own interjection that a winner-take-all, "freezeout" tournament might be a way to make the WSOP seem more of a "contest" to spectators.
In 1971 such a tournament did take place at the second staging of the WSOP, with a grand total of six players putting up $5,000 apiece to play. Moss won the event, outlasting Pearson heads-up to claim the $30,000 prize. There were four other "preliminary" events that year as well, each with buy-ins of $1,000.
In 1972 another Main Event was held, with the buy-in increased to $10,000 although Binion covered the extra $5K for each player. Such was not enough incentive, apparently, to attract some to play. As Brunson tells it in his autobiography, The Godfather of Poker, "there were twelve players signed up, but with the cash games so good only eight of us played."
That tournament took two days to complete, with Preston ultimately winning the title following a much discussed conclusion. With three players left — Brunson, Pearson, and Preston — both Brunson and Pearson decided neither wanted the publicity associated with becoming poker's newest "world champion." Thus, as Brunson explains in his memoir, both he and Pearson "started playing crazy so we could let Slim win."
According to Brunson, Jack Binion and Jimmy "The Greek" Snyder who had helped arrange for greater media coverage of the event weren't pleased at the turn of events, and a meeting with players put an end to the shenanigans. However, Brunson was allowed to withdraw from the tournament in third place — and was even able to cash in his chips (something not normally done in tournaments). Then Pearson and Preston played it out with Preston eventually winning to claim the remaning prize money.
From there Preston took advantage of his new status as a world champion, embarking on a year-long publicity tour that included several appearances on The Tonight Show with Johnny Carson and in other venues, thus increasing his own profile while also giving poker and the WSOP a major publicity boost. Read more about Preston's post-WSOP Main Event victory tour in "Poker & Pop Culture: Mainstream America Watching Amarillo Slim."
Thanks in part to Preston's efforts, in 1973 CBS shot a documentary covering the World Series of Poker with Jimmy "The Greek" Snyder narrating. It's a compelling chronicle for those with an interest in the WSOP's history:
That year there were 13 entrants with each putting up the full $10,000 buy-in. As shown in the documentary, Walter "Puggy" Pearson won the title and the entire $130,000 prize pool. It was at that 1973 WSOP that Benny Binion was interviewed by historian Mary Ellen Glass who asked the Horseshoe's owner about the future of the WSOP Main Event.
"We got awful good coverage on it this year," Binion said to Glass, referring to the increased publicity the WSOP had attracted. "This year we had thirteen [players in the Main Event].... I look to have better than twenty next year. It's even liable to get up to be fifty. Might get up to be more than that; it will eventually."
Indeed, by the end of the 1970s the WSOP Main Event did reach Binion's modest-sounding goal (from our perspective), finally exceeding 50 players in 1979.
Here's a quick look at the turnouts and results from those first 10 years of the WSOP:
| Year | Champion | Main Event Entrants | First Prize |
| --- | --- | --- | --- |
| 1970 | Johnny Moss | n/a | n/a |
| 1971 | Johnny Moss | 6 | $30,000 |
| 1972 | "Amarillo Slim" Preston | 8 | $80,000 |
| 1973 | Walter "Puggy" Pearson | 13 | $130,000 |
| 1974 | Johnny Moss | 16 | $160,000 |
| 1975 | Brian "Sailor" Roberts | 21 | $210,000 |
| 1976 | Doyle Brunson | 22 | $220,000 |
| 1977 | Doyle Brunson | 34 | $340,000 |
| 1978 | Bobby Baldwin | 42 | $210,000 |
| 1979 | Hal Fowler | 54 | $270,000 |
A few other items of note from the first decade of the WSOP Main Event:
The buy-in has remained $10,000 for the Main Event since 1973.
The number of preliminary events grew throughout the decade, peaking at 13 events total (including the Main Event) in 1977, also the first year a Ladies Event was included on the schedule (a $100 buy-in seven-card stud event).
Walter "Puggy" Pearson became the first player to win three WSOP events in a single year in 1973.
After Moss won a silver cup in 1970, Main Event winners were awarded a trophy from 1971-1974. In 1975, Brian "Sailor" Roberts was awarded a sterling plate for his ME win. Then starting in 1976, bracelets were given to winners, thus beginning the long, storied tradition of the WSOP bracelet. In bracelet counts, however, all WSOP event winners throughout its history are considered as having won "bracelets" (i.e., Johnny Moss is said to have won nine "bracelets" even though five of those wins came before bracelets were awarded).
The tourney remained winner-take-all until 1978 when the prize pool began to be distributed among the top finishers. In 1978 and 1979, winners won half of the prize money with the other half divided among those finishing second through fifth.
Hal Fowler's victory in 1979 represented the first instance of a non-professional player winning the WSOP Main Event.
Stay tuned for more this week. We'll continue to carry the story of the WSOP Main Event forward through the remaining decades as we ready for the start of this year's Main Event this Saturday.
Photos, including from the 1976 WSOP (top): courtesy the UNLV Special Collections on the World Series of Poker.