History of the World Series of Poker Main Event: 2000-2009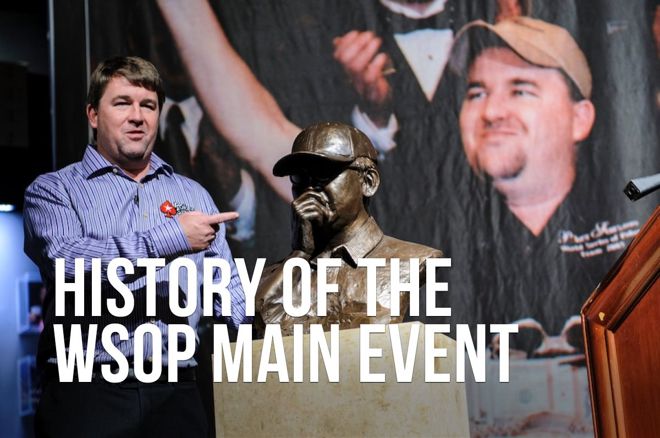 When the 2000s began, it was still possible to argue that the World Series of Poker still resembled in many respects what the tournament series had been throughout its first three decades.
Sure, the fields had become much bigger, more amateurs and players from all over the world were participating, and the number of preliminary events had grown to cause the WSOP to stretch over two-and-a-half weeks rather than last just a few days.
But the WSOP was still being played at Binion's Horseshoe Casino, media coverage was still mostly limited to poker-centric outlets and a single edited broadcast of the Main Event, and those who followed, reported on, and participated in the WSOP each spring still comprised a community of people who were more or less all familiar with one another.
All of that would change over the next ten years. And how.
2000-2009
In 2000 there were 24 bracelet events total at the WSOP, a new record to that point. The 512 players who participated in the Main Event that year represented a new high as well and a big jump over the previous year's 393.
A computer science Ph.D. named Chris "Jesus" Ferguson established a presence on the poker scene with his Main Event victory that year, earning $1.5 million for doing so (another WSOP record). Ferguson defeated T.J. Cloutier heads-up, the second time Cloutier finished second in the Main Event after having done so back in 1985 when Bill Smith won.
Also of note at that 2000 WSOP Main Event was the deep finish of poker writer James McManus. On an assignment to write a feature about the WSOP, McManus won his way into the $10,000 Main Event via a satellite, then managed to last all of the way to a fifth-place finish in the tournament.
McManus related his experience in detail in the well-regarded Positively Fifth Street (first published in 2003), then later would provide a valuable resource to those with an interest in poker history with his 2009 book, Cowboys Full: The Story of Poker.
The following year saw another increase of more than 100 players at the Main Event with Carlos Mortensen taking top honors to win another $1.5 million first prize. Twelve years later Mortensen would come close to another WSOP Main Event final table appearance, falling just shy to finish 10th in 2013, part of an extensive résumé of tournament finishes that helped the Spaniard originally from Ecuador be inducted into the Poker Hall of Fame last year.
In 2002, ESPN returned to covering the WSOP Main Event after a three-year hiatus. The network produced a two-hour broadcast of that year's final table which saw Robert Varkonyi emerge as champion to win a $2 million prize.
Varkonyi's win was the most notable instance of an amateur winning the WSOP Main Event since Hal Fowler had done so back in 1979. That distinction would be quickly erased, however, the following year.
Many in the poker world consider 2003 as a special year in the game's history, particularly with regard to the WSOP. The series expanded further to 36 events that year, and the Main Event attracted another all-time high of 839 entrants, many of whom had won their way to Las Vegas via satellite tournaments played online on sites like PokerStars and others.
In other words, momentum was already gathering to indicate the WSOP would likely expand further over the coming years. Online poker had only been around for a few years, with the first sites going live at the end of the 1990s and PokerStars only launching in 2001. But the game's popularity was growing, and the debut of the World Poker Tour on the Travel Channel in the spring of 2003 with its use of "hole card cameras" has begun to help fashion televised poker into more of a "spectator sport" than had previously been the case.
Then came the "boom," so to speak. Amateur Chris Moneymaker, an accountant from Tennessee and one of those PokerStars qualifiers, surprised everyone to win the WSOP Main Event bracelet and a $2.5 million first prize. Moneymaker memorably outlasted a tough final table that included 1995 Main Event champion Dan Harrington (who finished third) and Sam Farha (who took runner-up).
ESPN made a decision in 2003 to increase its WSOP Main Event coverage considerably, devoting seven one-hour episodes shown on a weekly basis during the late summer. At at time when Survivor, American Idol, and other examples of "reality TV" had just begun to capture the fancy of the viewing public, the 2003 WSOP Main Event fit right in, providing what turned out to be another compelling competition-based show that proved a major hit among not just poker players but a wider audience.
The new use of hole card cameras helped a lot, of course. As did the narrative produced by Moneymaker's David-beats-Goliath story, a highlight of which came in the final show when Moneymaker famously ran a successful bluff versus the veteran Farha during heads-up play.
The moment was commemorated by a bust presented at the 2013 WSOP as part of a 10th anniversary celebration of Moneymaker's win (pictured above). It's also one of the most watched hands in televised poker history, and remains a great one no matter how many times you've seen it. Take a look:
The shows were repeated frequently over the coming months on ESPN, further inspiring new players to start playing the game with a number of them motivated by thoughts of following Moneymaker's footsteps to the WSOP. The online game grew by leaps and bounds, and the WSOP experienced unprecedented growth as well.
In 2004 the number of entrants in the Main Event more than tripled to 2,576. Greg Raymer — who like Moneymaker won his way into that year's ME via PokerStars — won the title and a $5 million first prize. ESPN expanded its programming even further that year to show many of the preliminary events, featuring games like fixed-limit hold'em, pot-limit Omaha, seven-card stud, and even razz, all of which further piqued viewers' interest in other poker variants.
The next year saw the total field size of the Main Event jump again to 5,619, with winner Joe Hachem of Australia taking away a $7.5 million prize for his victory. There were 45 bracelet events that year as well, with the entire series — having been moved a little later to take place during the summer — needing six weeks to complete.
Another important change during these years was the acquisition of the WSOP by Harrah's Entertainment in 2004, a development covered in detail here. Barely able to accommodate the ever-expanding crowds, 2004 would be the last year the entire WSOP played out at Binion's Horseshoe, with only the conclusion of the 2005 WSOP Main Event going back to Binion's for a final farewell.
From that point forward, the Rio All-Suite Hotel and Casino would become the new home for the WSOP, with tournaments staged in huge ballrooms filled with hundreds of tables. In 2006 the Main Event peaked in terms of participation, with an incredible 8,773 players taking part and winner Jamie Gold earning a still-record $12 million first prize.
There seemed no end in sight in terms of the WSOP's continued growth. However, the passage of the Unlawful Internet Gambling Enforcement Act of 2006 — one consequence of which was to lessen the ease with which players could qualify for WSOP events via online satellites — did manage to halt further expansion of Main Event fields as the turnouts settled thereafter into the mid-6,000s.
Another amateur, Jerry Yang, took the title in 2007. He was followed by a 22-year-old from Denmark, Peter Eastgate, and a 21-year-old from Michigan, Joe Cada, both of whom established new records for youngest-ever Main Event champions. (Cada continues to hold that distinction today.)
But while the WSOP Main Event fields stopped expanding during the latter 2000s, the series as a whole continued to grow with more bracelet events (57 in 2009) as well as the introduction of the WSOP Circuit in 2005 and the WSOP Europe in 2007.
Here's a look at the champions from the 2000s, showing also how those fields and first prizes jumped remarkably during the decade:
| Year | Champion | Main Event Entrants | First Prize |
| --- | --- | --- | --- |
| 2000 | Chris Ferguson | 512 | $1,500,000 |
| 2001 | Carlos Mortensen | 613 | $1,500,000 |
| 2002 | Robert Varkonyi | 631 | $2,000,000 |
| 2003 | Chris Moneymaker | 839 | $2,500,000 |
| 2004 | Greg Raymer | 2,576 | $5,000,000 |
| 2005 | Joe Hachem | 5,619 | $7,500,000 |
| 2006 | Jamie Gold | 8,773 | $12,000,000 |
| 2007 | Jerry Yang | 6,358 | $8,250,000 |
| 2008 | Peter Eastgate | 6,844 | $9,152,416 |
| 2009 | Joe Cada | 6,494 | $8,547,042 |
And here are a few other items of interest from the WSOP Main Event's period of most marked growth:
Through 2000 the "official" WSOP Main Event final table was six-handed, but from 2001 to present it has been nine-handed.
Dan Harrington followed his third-place in 2003 with a fourth-place finish in 2004, a remarkable pair of performances in two huge fields that helped make his subsequent Harrington on Hold'em series of tournament strategy books big sellers.
Speaking of making multiple WSOP Main Event final tables, Mike Matusow also managed the feat by finishing sixth in 2001 and ninth in 2005.
In 2003, Phil Ivey just missed the final table of the WSOP Main Event after being eliminated in 10th in a hand versus Moneymaker. Ivey would make it to the final table in 2009, however, finishing seventh.
All nine of those making the final table in 2006 won more than $1 million (i.e., the tournament's first prize as recently as 1999). In fact, 10th-place finisher Fred Goldberg enjoyed a seven-figure score as well, cashing for $1,154,527.
The 2003 WSOP Main Event was the last to feature only a single Day 1 flight. In 2004 there were two Day 1s, in 2005 there were three, from 2006-2011 there were four Day 1 flights, and since 2012 there have been three Day 1s.
PokerNews became the official live coverage partner of the WSOP in 2007, continuing as such through 2014, then again this year. Its live reporting from every bracelet event including the Main Events is available here.
The "November Nine" was first introduced in 2008 which called for the WSOP Main Event to play down to a final table in July, then pause until November when the players returned to the Rio All-Suite Hotel and Casino to play out the remainder of the tournament.
Tomorrow we'll conclude the series with more discussion of the "November Nine" delayed final table, and a look at the most recent winners of poker's most prestigious title.