History of the World Series of Poker Main Event: 1980-1989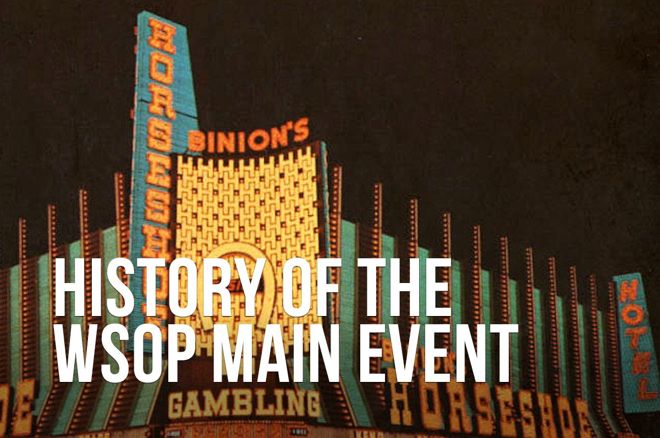 Yesterday we looked back at the first decade of World Series of Poker Main Events, talking about the inaugural WSOP in 1970, the introduction of a freeze-out tournament to determine a champion in 1971, and the steady growth of entrants from single digits to more than 50 players by 1979.
By the end of that first decade the WSOP had evolved into something more than just a "gamblers reunion" as it had essentially been during those first few springs at Binion's Horseshoe, earning increased attention from media with each successive year. Winners of the Main Event began to achieve modest fame beyond the close community of poker players and gamblers, thanks in part to "Amarillo Slim" Preston's publicity efforts following his victory in the 1972 Main Event.
Doyle Brunson was among the original participants in the WSOP. In fact, when Brunson made the money in the 2013 WSOP Main Event, he achieved the distinction of cashing at least once in all five decades of the WSOP Main Event, as shown below:
| Year | Finish | Prize |
| --- | --- | --- |
| 1976 | 1st | $220,000 |
| 1977 | 1st | $340,000 |
| 1980 | 2nd | $146,000 |
| 1982 | 4th | $52,000 |
| 1983 | 3rd | $108,000 |
| 1997 | 16th | $25,440 |
| 2004 | 53rd | $45,000 |
| 2013 | 409th | $28,063 |
While Brunson was reluctant to become a World Champion at the WSOP during its early years, by 1976 his feelings had changed in this regard as he explains in his autobiography, The Godfather of Poker.
"For the first time, I wasn't afraid of the publicity that winning would generate," writes Brunson, alluding to the 1976 WSOP Main Event. "Not that I wanted public notoriety, because I didn't — but the WSOP had received so much press over the previous years that the stigma of being a professional gambler was diminished. And by now, my competitive instincts overrode everything."
Brunson would win titles in both 1976 and 1977 — famously holding 10x2x on the last hand on both occasions, a hand that subsequently came to be known as "The Brunson." He'd continue to be a favorite in the event over the coming years, too.
1980-1989
Indeed, Brunson was poised to win a third ME title in 1980 after having made it all of the way to heads-up out of a then-record field of 73 players. "All that stood between me and my third championship was this brash young kid out of New York," writes Brunson.
That brash young kid was 26-year-old Stu Ungar, a gin rummy whiz who had only begun playing no-limit hold'em tournaments shortly before that year's Main Event. Ungar enjoyed a 2-to-1 chip lead to start heads-up play versus Brunson, then after Brunson closed the gap Ungar would win the title on a hand that saw Brunson flop two pair but Ungar hit a straight on the turn, after which all of the chips went in the middle. The river brought no improvement for Brunson, and Ungar had won.
Ungar would repeat with a second Main Event win in 1981, with that year's World Series of Poker receiving comprehensive coverage in The Biggest Game in Town, Al Alvarez's excellent book-length narrative describing the WSOP and Las Vegas in particular while also discussing the place of poker in American culture, more broadly speaking.
The last two chapters of The Biggest Game in Town focus on the 1981 Main Event. Alvarez quotes future Poker Hall of Famer Jack "Treetop" Straus complaining about the relatively new division of prize money (introduced in 1978) that saw the winner only take half of the prize pool and other deep finishers dividing the remaining money.
"I don't reckon it should be divided up — half to the winner, 20 percent to the runner-up, and so on," Straus told Alvarez. "That's not what a competition is about. The winner should take the whole seven-fifty."
Indeed, the total prize pool was $750,000 that year, with Ungar earning $375,000 of it for his win. Here's a clip of the final hand of the 1981 WSOP Main Event, with sportscaster Curt Gowdy providing the call and interviewing Ungar and runner-up Perry Green afterwards:
The next year saw the number of entrants in the WSOP Main Event exceed 100 players for the first time, with Straus breaking through to earn the title, doing so after having been down to a single $500 chip on the second day of play. His comeback has often been credited with having inspired the much-used poker phrase "chip and a chair" — an encouraging refrain for tourney players not to lose hope when down to a short stack.
Straus was also the first WSOP Main Event winner to take away more than half a million dollars, earning $520,000 for his win. In 1983, Tom McEvoy would likewise earn more than half a million after topping a field of 108 to win.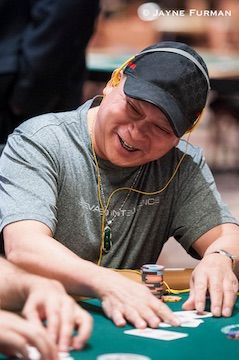 The Michigan native won his $10,000 seat into that year's tournament via a one-table satellite, besting Rod Peate — who also won his seat via a satellite — heads-up to win. "Texans got some competition!" said McEvoy afterwards.
The WSOP Main Event continued to grow throughout the 1980s, with 178 players entering in 1989. The decade concluded with a remarkable run of success by Johnny Chan, who by winning in 1987 and 1988 became the last back-to-back WSOP ME champion in its history.
Chan nearly won a third straight WSOP Main Event, making it all of the way to heads-up versus a young, relatively unknown player named Phil Hellmuth, Jr..
But the "Poker Brat" emerged with the victory, earning the first of what has by now become a collection of 14 WSOP bracelets, currently the record with Chan, Brunson and Phil Ivey tied for second with 10 apiece.
Here are the turnouts and results from the WSOP Main Event during the 1980s:
| Year | Champion | Main Event Entrants | First Prize |
| --- | --- | --- | --- |
| 1980 | Stu Ungar | 73 | $365,000 |
| 1981 | Stu Ungar | 75 | $375,000 |
| 1982 | Jack Straus | 104 | $520,000 |
| 1983 | Tom McEvoy | 108 | $540,000 |
| 1984 | Jack Keller | 132 | $660,000 |
| 1985 | Bill Smith | 140 | $700,000 |
| 1986 | Berry Johnston | 141 | $570,000 |
| 1987 | Johnny Chan | 152 | $625,000 |
| 1988 | Johnny Chan | 167 | $700,000 |
| 1989 | Phil Hellmuth, Jr. | 178 | $755,000 |
And here are a few other items of interest from the second decade of the WSOP Main Event:
In 1982 the WSOP awarded watches instead of bracelets to winners, but reverted back to bracelets the following year.
Wendeen Eolis became the first woman to cash in the WSOP Main Event in 1986.
After having made WSOP Main Event final tables in 1976 and 1978, Jesse Alto would make three more WSOP ME final tables during the 1980s, with his best-ever finish being third place in 1984. Alto made three other final tables in WSOP preliminary events during his career, though never won a bracelet.
In 1986 the payout schedule was adjusted again with that year's winner, Berry Johnston, earning about 40 percent ($570,000) of the total prize pool ($1.41 million).
An American citizen, Chan was the first player born outside of the U.S. (China) to win the WSOP Main Event.
1988 was the first year ESPN covered the World Series of Poker, with the conclusion of that broadcast showing the final hand in which Chan defeated Erik Seidel featured in the 1998 film Rounders.
When Hellmuth won in 1989 at age 24, he was the youngest WSOP Main Event champion ever, a record that would stand until 2008 when a 22-year-old Peter Eastgate won, then was topped again when Joe Cada won in 2009 about a week shy of turning 22.
Back tomorrow with more poker history as we look at the WSOP Main Event during the 1990s, a decade that saw winners starting to realize seven-figure paydays.
Photo: Binion's Horseshoe (Las Vegas), 1980s (top), courtesy the UNLV Special Collections on the World Series of Poker.