History of the World Series of Poker Main Event: 2010-Present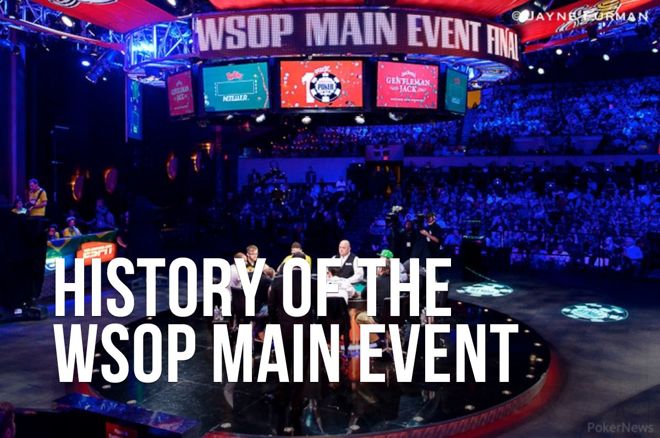 In recent years the World Series of Poker Main Event has come to signify a kind of culmination to what has become a year-round schedule full of WSOP-related events.
Starting in 2005, the World Series of Poker Circuit has included non-bracelet events occurring throughout the year. Since 2007, the World Series of Poker Europe has added more events during the years it has been held, with a total of 11 gold bracelets due to be won at the upcoming 2017 WSOPE at King's Casino in Rozvadov, Czech Republic this fall. And in 2013 the WSOP Asia Pacific series was introduced as well.
Meanwhile events continue to be added to the "original" WSOP in Las Vegas, with a record 74 bracelets being awarded this summer. That includes the one that will go to this year's Main Event winner, since for the first time in a decade the WSOP Main Event will play all of the way down to a conclusion during the summer rather than being delayed until the fall.
2010-present
The "November Nine" concept was first introduced in 2008, causing a radical change in the scheduling of the WSOP Main Event.
Initially when the WSOP Main Event only attracted a handful of players the tournament was completed in a single day. By 1979 it took three days for Hal Fowler to outlast a field of 54 to win. The 1989 WSOP Main Event lasted five days, with Phil Hellmuth earning the first of his record 14 WSOP bracelets after topping a field of 178.
That five-day schedule would continue for several years, and indeed even in 2003 when Chris Moneymaker bested a field of 839 the tournament was still able to be completed within five days — running from Monday through Friday — albeit with several especially long days of poker needed to complete the tournament within that schedule.
Ensuing years, however, saw both the explosion in Main Event field sizes — from 2,576 (2004) to 5,619 (2005) to 8,773 (2006) — as well as the need to introduce multiple Day 1 flights to accommodate the larger fields. By 2007 there were four Day 1s and the tournament took 11 days total to complete, with Jerry Yang coming back from a short stack at the final table to win as the clock approached 4 a.m. at the end of a nearly 16-hour day of poker.
Then — just a few weeks before the 2008 WSOP began — the announcement was made regarding that year's Main Event final table being delayed until November, thereby introducing a huge four-month gap into the tournament. The idea was introduced in part to help build an audience for the televised coverage of the final table, with ESPN's weekly highlights of the Main Event playing out during the intervening months.
From 2008 forward, the WSOP Main Event final table would be moved from the Amazon Room in the Rio All-Suite Hotel and Casino to the Penn & Teller Theater, with a huge audience in attendance to cheer on the participants, making a game of cards seem even more like a major sporting event.
There was no live coverage of that year's final table from which Peter Eastgate emerged as the winner, but a rapidly-produced, edited package did appear on ESPN mere hours after play had concluded. Such was also the case in 2009 when Joe Cada won and again in 2010, although that year additionally featured a live stream of the final table that could be viewed online.
For many one of the most memorable hands of the 2010 WSOP Main Event won by Jonathan Duhamel came not at the final table in November but back in July when Duhamel ousted Matt Affleck in 15th place. That dramatic hand saw Duhamel call a huge turn shove by Affleck with the board showing
. Affleck had the edge with
versus the Canadian's
, but the
fell on the river to complete a straight for Duhamel.
The decisive hand of that year's Main Event came three-handed, however, when Joseph Cheong and Duhamel clashed in a huge preflop all-in confrontation that saw Duhamel with
call a six-bet shove by Cheong who held
. Duhumel's queens held up, awarding him what ESPN described as the "largest pot in WSOP history" (chip-wise). Take a look:
A suddenly chip-depleted Cheong was knocked out shortly thereafter, then Duhamel eliminated John Racener win the title, their heads-up match taking place the following day.
In 2011, ESPN introduced new "virtually live" comprehensive coverage of the WSOP Main Event final table with every single hand of the final table shown on a brief delay on its networks. With a few tweaks, such has been the method followed each year since, with the start-to-finish broadcast of the final table culminating months' worth of weekly lead-up episodes showing the tournament play down to the final nine.
From a field of 6,865 entrants, the final table that year was the most international in WSOP Main Event history with no less than seven different nationalities represented among the nine players — Belize, Czech Republic, Germany, England, Ireland, Ukraine, and the United States. Pius Heinz, a 22-year-old from Cologne, won after dueling heads-up with Martin Stasko for 119 hands.
The 2012 Main Event final table was even more of a marathon, lasting an incredible 399 hands total with Greg Merson of Maryland ultimately being the last one standing. Then another young American, Ryan Riess of Michigan, won in 2013 to claim another $8 million-plus first prize.
While field sizes continued to hover just above or below the 6,500-player mark, in 2014 a change to the payout schedule guaranteed $10 million would go to the winner, the first eight-figure payout since the only other instance when $12 million was awarded to Jamie Gold for winning the Main Event in 2006.
After making the final table and finishing ninth out of 6,352 players the year before, Mark Newhouse managed the amazing feat of making the final table again in 2014, this time out of 6,683 players — the first player to make back-to-back WSOP Main Event final tables since Dan Harrington did it in 2003 and 2004.
Alas for Newhouse, he'd take ninth a second year in a row, again being the first player to bust from the final table. Meanwhile Martin Jacobson of Sweden started the final table eighth in chips, but survived no less than 19 all-in shoves on the first day of the three-day finale, eventually going on to win the title and $10 million — nearly twice what runner-up Felix Stephensen won ($5,147,911).
The first-prize guarantee was jettisoned the next year when Joe McKeehen of Pennsylvania led wire-to-wire to win $7,683,346. However a couple of other guarantees were instituted — (1) the top 1,000 players (out of 6,420 who played that year) all made the cash, and (2) all nine who made the final table were guaranteed at least $1 million. Both those guarantees were in place again in 2016 when Vietnamese-American Qui Nguyen topped 6,737 players and survived an exciting final table to win just over $8 million.
Here are this decade's WSOP Main Event champions along with what they won and the fields they topped to win the bracelet:
| Year | Champion | Main Event Entrants | First Prize |
| --- | --- | --- | --- |
| 2010 | Jonathan Duhamel | 7,319 | $8,944,310 |
| 2011 | Pius Heinz | 6,865 | $8,715,638 |
| 2012 | Greg Merson | 6,598 | $8,531,853 |
| 2013 | Ryan Riess | 6,352 | $8,361,570 |
| 2014 | Martin Jacobson | 6,683 | $10,000,000 |
| 2015 | Joe McKeehen | 6,420 | $7,683,346 |
| 2016 | Qui Nguyen | 6,737 | $8,005,310 |
And here are a few last items of interest from recent years in the WSOP Main Event:
Duhamel was the first Canadian player to win a WSOP Main Event title.
In 2010, 97-year-old Jack Ury became the oldest person ever to play in the WSOP Main Event.
Irish player Eoghan O'Dea finished sixth in the 2011 WSOP, incredibly replicating the feat of his father, Donnacha O'Dea, who also finished sixth in the WSOP Main Event in 1983.
The 2012 Main Event saw not one but two women nearly make the final table with Gaelle Baumann finishing 10th and Elisabeth Hille 11th. Barbara Enright remains the only woman ever to make a WSOP ME final table with her fifth-place finish in 1995.
2001 Main Event champion Carlos Mortensen just missed making the final table again in 2013, busting in 10th.
Ronnie Bardah finished 475th to make the money in the 2014 WSOP Main Event, his record fifth consecutive Main Event cash. His best Main Event finish was his first one when he took 24th in 2010.
Daniel Negreanu finished 11th in 2015, exactly matching his previous best finish in the WSOP Main Event in 2001.
Countering the trend toward youth, Pierre Neuville made the 2015 final table aged 72 years young (finishing seventh), while Neil Blumenfield, aged 61, made it all of the way to third place.
The victory last year by 39-year-old Qui Nguyen broke a streak of eight straight years of WSOP champions in their 20s dating back to 2008, with all but one of them (Jacobson at 27) less than 25.
Be sure to stick close to PokerNews for coverage of this year's Main Event starting tomorrow and find out how the next chapter of WSOP Main Event history is written.