Celebs and Poker Pros Ready for Charity Series of Poker on July 9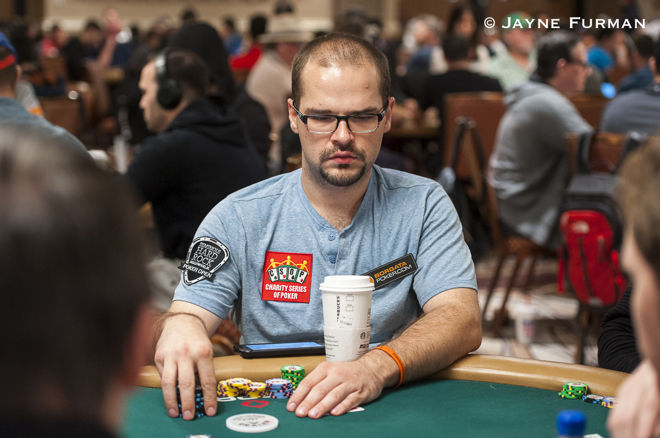 Professional pokers players, athletes, and other famous faces will be hitting the felt to give back and do some good. In a world where grind, bust, and broke are common terms, there is no shortage of supporting worthwhile causes and helping those less fortunate. The truth is even though a player might bust a tournament, they recognize what a privilege it is to do what they do for a living.
The problem is it's not always easy to know where to give and how to ensure a donation is doing the most good. Recognizing this issue is what prompted Matt Stout (pictured above) to organize the Charity Series of Poker (CSOP), where every event is designed to give back to local charities.
We caught up with Stout to talk about the latest event in the CSOP scheduled for Sunday, July 9 at the MGM Grand Hotel.
"Our goal is to find the most effective way to help as many people as possible. The event will benefit Three Square Food Bank, not only is Three Square the only food bank in Las Vegas, it serves all of Southern Nevada. And this is their slow time. They get the majority of their donations during the holidays, so to be able to help them fill their shelves during their slow time is something we look forward to. And what's even more important is ninety-three cents of every dollar goes directly to the food. As a result, for every dollar donated, three meals are being provided to hungry Las Vegans."
The Charity of Poker Series has raised around $180,000 for local charities through their last nine events, including $81,000 to benefit Three Square Food Bank here in Las Vegas. Their biggest event to date netted $41,000 and Stout hopes to beat that number.
"It's nice to be able to do something to benefit others, while having fun and a few drinks."
"We're hoping to make $50,000. I don't know how realistic that is, but in the end knowing every dollar helps, I can't be upset no matter what we raise. It's making a difference, no matter how big or small that matters in the end."
The latest installment of the series is scheduled to take place right smack in the middle of the Main Event's multiple starting days. Perfect timing since every poker player, professional and recreational alike, will be in town.
"There are so many players that want to do more, but they get caught up in the daily grind," Stout says. "They're never home, flying from city to city to play tournaments. So, it's nice to be able to do something to benefit others, while having fun and a few drinks. The best part? Nobody goes away frustrated or mad. It's really a nice relief for us after a full summer grinding tournaments to be able to have a good time and remind us why we play the game."
Join film critic Richard Roeper, former NHL player and analyst Ken Daneyko, seven-time NFL Pro Bowler Richard Seymour, as well as WPT anchor Lynn Gilmartin, WSOP champ Chris Moneymaker and 2016 November Niner Cliff Josephy at the open-bar player's party at the KA Theater at 1 p.m. Remember this is a charity event, so come prepared to rebuy and add-on once the action gets started cards at 2 p.m. There are $1,000 cash bonuses for the chip leader at the end of the rebuy period and for the person who purchased the most rebuys and add-ons.
Stout wanted to make sure to thank to All-American Dave and Las Vegas Water Sports for their support of the Charity Series of Poker. Click here learn more about the Charity Series of Poker. Want to help but can't make it to the event? You can donate directly to Three Square here.
Everybody needs an account at one of these online poker rooms! They're the biggest, the best, and we get you the best poker bonuses. Check out our online poker section for details on all the online poker rooms around.