Game On: 888's 8-Team in the Main Event and Ready for Action
With Day 1C of the Main Event underway at the Rio, 888 Poker's 8-Team has taken the field and looking to cash in. The promotion brings qualifiers from around the world to compete on five different teams: Team Brazil, Team Canada, Team Germany, Team United Kingdom, and Team Sweden. Each team has a pro as captain and wingman for the 888 roster of ambassadors with one qualifier filling out the roster. The captain and wingman offered coaching and tips for each qualifier on their team.
While there is not only the possibility of a big cash for each 888 qualifier, the one lasting the longest out of all five qualifiers will win a package to next year's WSOP Main Event as well. Here's a look at each team and qualifiers:
Team Brazil
Qualifier Joao Sousa is led by captain Bruno Foster and retired soccer star Denílson, who played in more than 60 international games for Brazil including two World Cups. No doubt there is plenty of competitive experience on the team.
Foster has a long poker career that features $1.39 million in live tournament winnings including a win in Sao Paulo as part of the WSOP International Circuit for $36,514. He has two wins on the Brazilian Series of Poker and numerous final tables. He's certainly a nice player to offer advice and be on one's team.
"Joao and Denílson are good players and they have a mindset prepared for the Main Event," Foster said.
Sousa is no stranger to the poker felt and has more than $75,000 in live tournament winnings. His biggest score came in 2015 when he finished runner-up in a $2,200 no limit hold'em event for almost $60,000. He was pleased to be in Vegas and part of the team, noting simply: "Bruno gave me good advice."
Team Canada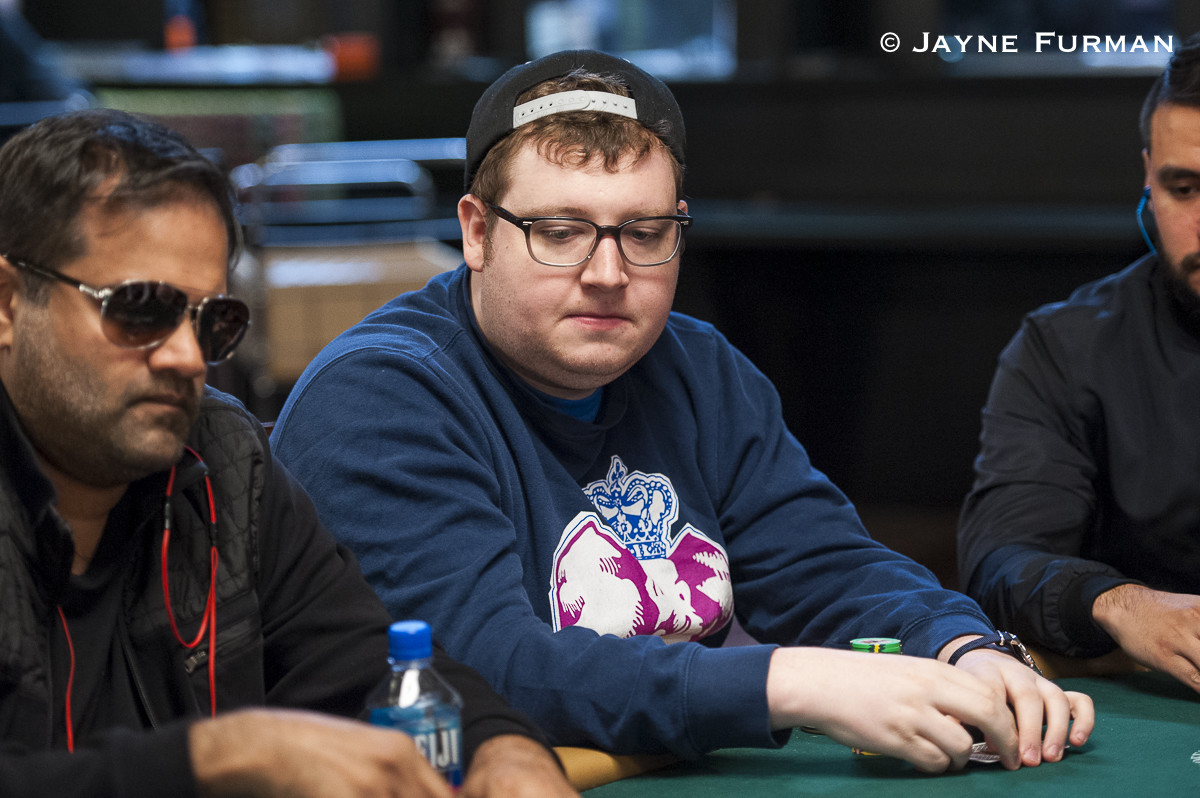 Parker "Tonkaaaa" Talbot captains this team from north of the border, assisted by wingman Griffin Benger. Qualifier Timothy Cavallin will have plenty of experience to help him weave through the massive Day 1C field. Talbot has almost $250,000 in tournament earnings including finishing seventh in the EPT-Barcelona €25,500 Single Re-Entry 8 Handed for $180,909. He has has significant experience with live cash games and began playing on Twitch in 2016.
"Our team's great," Talbot says. "Honestly, I'm pretty sure we have the best team. Tim Cavallin seems like an absolute legend."
And when it comes to a wingman, Cavallin couldn't have asked for better. Benger has $3.9 million in tournament winnings including a seventh place finish in last year's Main Event for $1.25 million. In March he won the Irish Poker Open Main Event for $215,731.
Another interesting aspect of the promotion is the inclusion of William Kassouf as the wingman for Team UK. Benger and Kassouf had a major war of words at the 2016 final table, and are now on opposing sides again.
"It's certainly interesting to have him here and be involved in this," Benger says. "Obviously I think it's a great promotion and everyone was really entertained by what happened last year, and any opportunity to create more of that, I think that's definitely something that's good to chase for."
The team seems strong including qualifier Cavallin, who has $85,000 in tournament winnings and in November took down the WSOP-Circuit Main Event on the island of St. Maarten for a championship ring and $84,000.
"Some of the advice they gave was very practical," he says. "Just take it easy, nice long levels, pick your spots. I think I'm going to take a few chances and try to accumulate some chips early, and try to avoid getting into some troubles."
Team Germany
Three-time WSOP bracelet winner? Check. Big skills at the table? Definitely. Team captain Dominik Nitsche brings a big resumé ($6.6 in tournament winnings) to this team and hoping qualifier Sebastian Bachman runs deep. What can be expected from this team?
"Complete domination of everyone that sets themselves in our way," Nitsche says. "We're the best and have a great team."
An interesting note from the qualifier that earned Bachman a Main Event spot is that Bachman eliminated Nitsche on the bubble.
"I'm sorry Dominik," Bachman says. "Maybe we'll see each other heads-up at the Main Event final table."
Wingman Mario Basler brings plenty to the is team from Deutschland as well. The retired German soccer star scored 85 goals in a club career that spanned 1987-2013, and also played for the German national team from 1994-98. He has since gone into coaching and hoping to bring some of his skills to the poker table. Time will tell if his skills on the pitch can transfer to the poker felt.
Team United Kingdom
This is another tough team headed by Chris Moorman, who won his first bracelet this summer in $3,000 No Limit Hold'em 6-Hand for $498,682 and has $5.2 million in winnings. Despite such a stellar captain, he might be a bit overshadowed by Kassouf, who finished 17th in last year's Main Event for $338,288 and has $1.3 million in tournament winnings including an EPT high roller title. This duo will be mentoring 888 qualifier Ky Maciejewski, and the Benger-Kassouf rivalry may stoke some competitive juices.
"We've been trying to root for him and give him the best advice as possible and answer any questions he has," Kassouf says. "We give support to get through each day and take it one level at a time, effectively, one day at a time. You can only focus on the eight players at your table, don't be overwhelmed by the magnitude of the occasion."
Moorman feels that Maciejewski is up to the task of the Main Event.
"I met Ky today and he's enthusiastic," Moorman says. "His biggest quality is that he's not nervous at all. He's just here and really excited and ready to do well."
For his part, Maciejewski said he feels ready and prepared. He doesn't have any major tournament scores, but there's always a first – why not the Main Event? He says: "The technique, help, practice, advice – loving it."
Team Sweden
Captain Sofia Lovgren brings $293,000 in poker winnings to the table – as well as WSOP Main Event champion Martin Jacobson as her wingman. The two are hoping to coach up qualifier Anton Bertilsson to a big Main Event performance.
Lovgren said she has a strong team with Jacobson and that Bertilsson also has plenty of skills at the tables. Jacobson is closing in on $16 million in tournament earnings. He has cashed four times this summer including a sixth-place finish in the $111,111 High Roller for One Drop for $641,382. Certainly his help would be nice for any rounder heading into Main Event battle.
"I whispered a few tips in his ear and he's ready and motivated," Jacobson said.
Not a novice at all, Bertilsson has a hefty $1.25 million in tournament winnings and four cashes at this summer's WSOP. He has numerous final tables including a runner-up finish in 2014 at the EPT-Prague Main Event for $722,198. Bertilsson says: "I've been here for 12 days and played a lot of poker, so I'm feeling good."
The Games Begin
Which 888 Poker qualifier will snag that 2018 Main Event package? PokerNews will have an update as the event progresses. Also, which team will score the most cash, come out on top, and have those international bragging rights? Look for that in the days ahead as well.
Get a Free WSOP Satellite Ticket Worth $30
Download 888poker via PokerNews, make a deposit of $20 using the bonus code "PNWSOP30" and 888poker will reward you with a WSOP Step 5 satellite ticket worth $30 for free. This in on top of the free $88 (free £20 to UK residents) you receive just for creating a new 888poker account.
Finding a trustworthy room to play online poker can be a monumental burden. That's all the more true if you're just looking for a place to play poker for free. We've listed five of the best play-money poker sites to enjoy and help hone your skills.