Sam Grafton and Doug Polk: A WSOP Poker Bromance Brewing?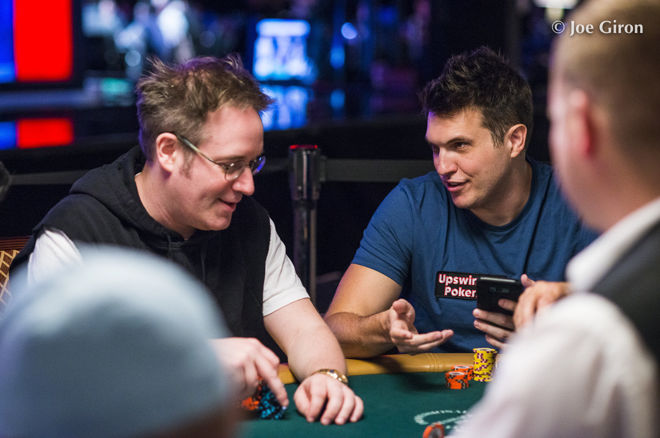 Table draws don't come much more exciting, friendly or loud than today's World Series of Poker Main Event Day 2a match-up. British poker hero Sam "The Squid" Grafton has his tentacles on a huge chip stack, but he has got to take on three-time WSOP bracelet winner Doug Polk, who sits on his direct left. We gave them a level to get acquainted then stepped in to ask them about each other's place in the game.
"I'd happily trade places with Doug," said Grafton, grinning like the Cheshire Cat in this poker Wonderland. "If he was on my right, I think it would be fine, but for a Day 2 draw. It isn't Dmitri Nobles. Thankfully for me, he's playing quite badly, so I'm actually a little underwhelmed. I don't think he got much sleep."
This is the land of trash-talking and Polk, hopping from foot to foot, was never going to let that sort of poker slander lie.
"If he tries any shenanigans and steps out of line, I'm going to put him right back in his place."
"When you sit down and see that there's - I guess you could say – another notable player at the table, you're not that happy, but he's to my direct right. If he tries any shenanigans and steps out of line, I'm going to put him right back in his place. I still have a few chips left and I'm hoping to keep fighting the good fight."
Three bracelets in the last four years for Polk coupled with his online entertainment output have seen him become one of the game's most recognizable faces and voices.
"Believe me he's mentioned that," says Grafton. "It's come up a couple of times."
"I love that you've been able to congratulate me if front of Sam," quips Polk. "In the Main Event specifically, though, I've done terribly. When I was younger, 21 or 22, I was just firing and people were calling me down with whatever kings they had. I've done poorly in this event. I just want one year to get a nice deep run going."
Grafton is sympathetic to Polk … for all of three seconds.
"I haven't even had the money to play this event the last three years! So, yeah, we have one cash between the two of us. In all seriousness, it's really fun having Doug at the table. The others at the table are joining in and there's a good convivial atmosphere. It makes the day go faster. Doug is someone who advocates having fun at the table and I'm similar. Put it this way, while I've got the chip lead…well if I get short it might change."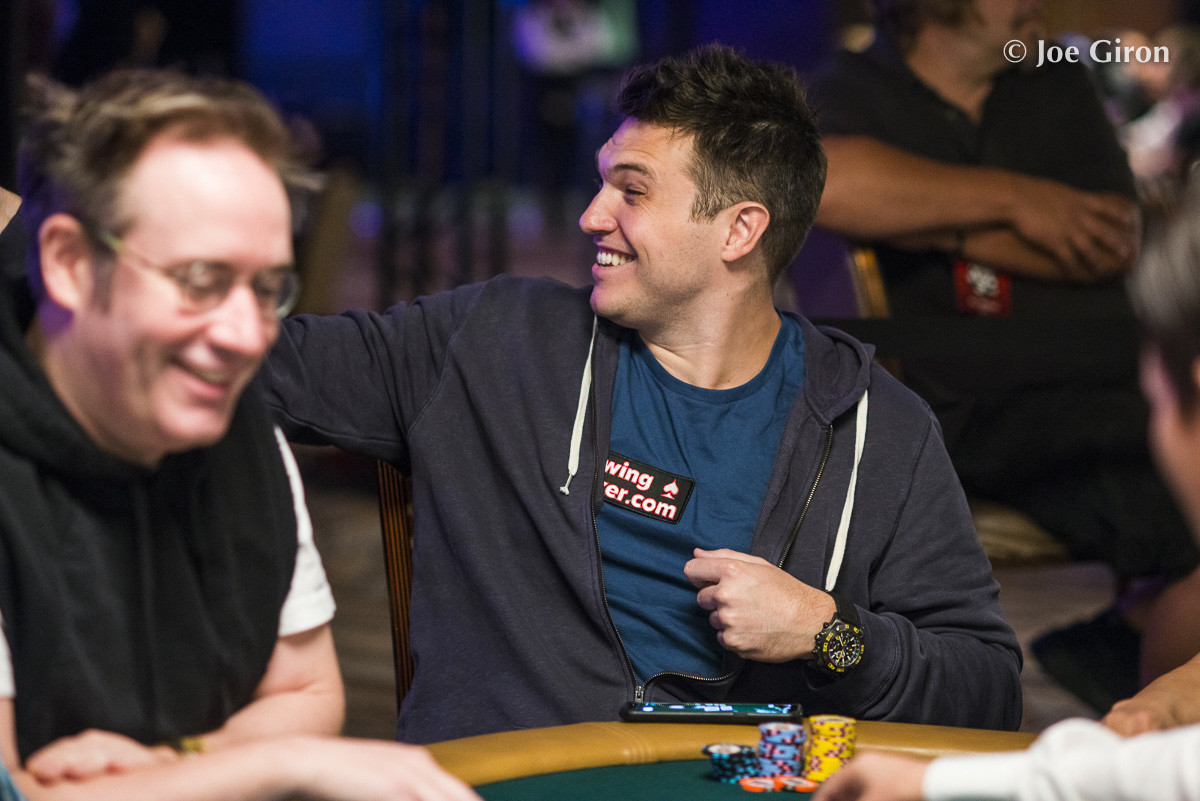 Polk might not swap table seats, but he eyes Grafton's monster chip-leading stack with an amused envy.
"If I get the chip lead, I'll be serious about it because I know it meant a lot to Sam and definitely would not needle him at all. I had an all-in against one of the other players at the table, a classic flip where I ended up holding and they're all being great sports. We're joking around and trolling a bunch. For a lot of them it's a really special event. It's a special for us too, though! People at the table are good sports win or lose, it's a great table."
Grafton's respect for Polk's work is not only limited to his style and success in poker. Off the felt, it's clear that there's a lot of mutual respect.
"I think everyone looks up to Doug for what he's achieved in cash games and obviously tournaments. In my case, I'm more trying to prove myself and achieve in the game. I'm sure everyone here at the WSOP knows who Doug is through the content that he's put out over the last couple of years. You can see people taking selfies with him. Anyone who brings an extra buzz to the game is good for all of us.
Polk nods, and reminds Grafton that it's not all about the two of them.
"I think everyone looks up to Doug for what he's achieved in cash games and obviously tournaments. In my case, I'm more trying to prove myself and achieve in the game."
"Our side of the table is much louder, for sure, but they're dishing it out too. We've both been owned in a couple of hands so far!"
The two poker pals first met this summer face-to-face, although they've clashed avatar-to-avatar online for years.
"We have played a few times online," Grafton told us, "Although Doug's screen-name is more well-known than mine. We actually don't know each other super well, but bumped into each in Azuza Hookah restaurant this summer."
"The thing I like about Sam is that I knew him as the really funny guy on Twitter," laughs Polk. The table has been full of chatter and laughter all day.
Earlier this week on Twitter, Grafton called this summer's huge WSOP Main Event turn-out the 'Kassouf Effect.' But how much truth is there in that tongue-in-cheek statement?
"If the WSOP Main Event coverage is more interesting and makes the tournament look fun and crazy exciting and glamorous and if four million people watch it, you need a tiny proportion of those to think 'This is the year I play it.'" Grafton elaborates. "The footage was so engaging, went viral and it is going to have an effect. I was just joking about it only being Kassouf. Griffin [Benger] probably put off a few people so we've got to weigh that into the balance as well!"
Polk is brutally honest with his own opinion of what lit the fire this year.
"I definitely didn't know who William Kassouf was until last summer, but then got more than my fair share of him having watched all the coverage. As far as this summer [being the third biggest WSOP of all-time] there are so many reasons to consider. I bet you lot of the reason is that Crypto coins went up a ton."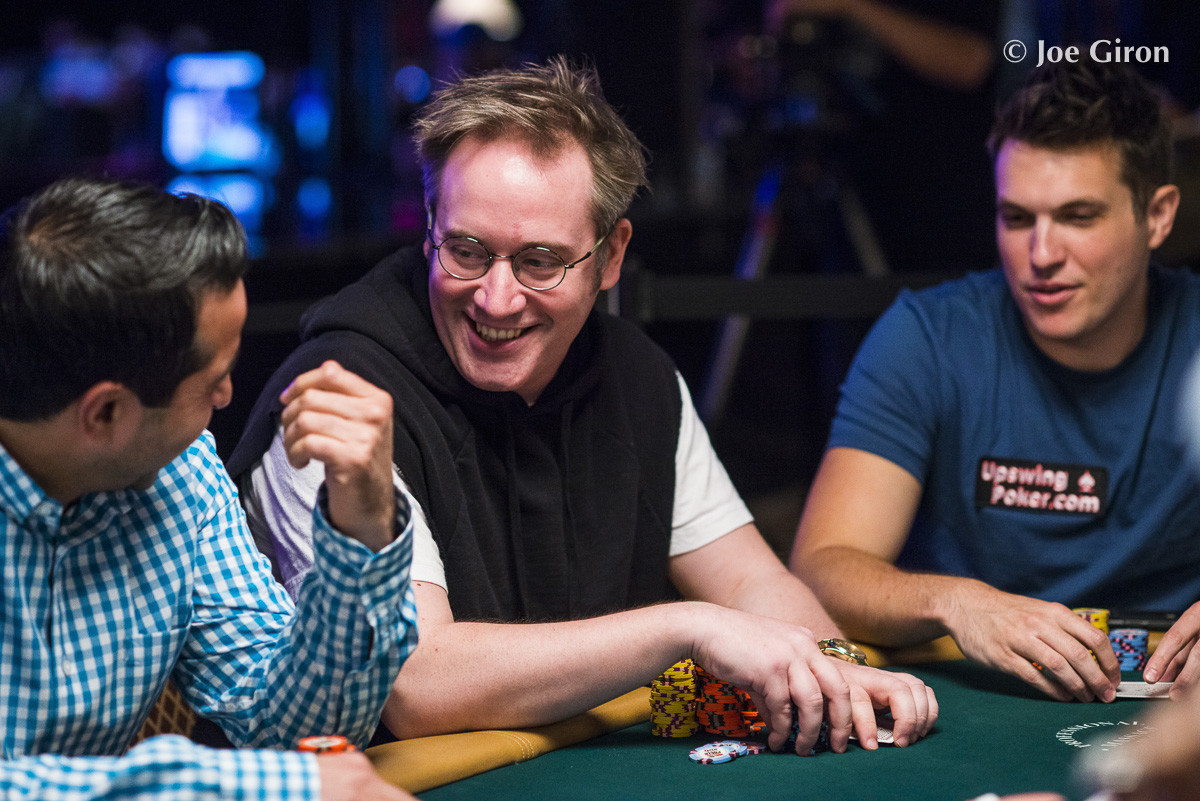 We're not betting a dime against Doug Polk, but thankfully he credits a different area of growth in the poker industry.
"The development of new media, YouTube and Twitch in poker has grown immensely. There were a few channels on YouTube but almost no-one was doing it. Now, everyone and their brother is vlogging."
"He's trying to reclaim it as 'The Polk Effect', do you see how he's doing that?" laughs Grafton.
"Look, we had a couple of bland years, no offense to whoever won the Main those years, I'm just kidding, Joe McKeehan," Polk jibes. "It was a little quieter. A guy in a raccoon hat won the Main last year! That, coupled with the Kassouf Effect see us where we are."
Where Grafton and Polk are is clashing in the biggest tournament of the year. Grafton has all the chips, but Polk has position.
Seconds out … let's get back to the action. You can follow the banter here at PokerNews and on PokerGo/ESPN2.
Finding a trustworthy room to play online poker can be a monumental burden. That's all the more true if you're just looking for a place to play poker for free. We've listed five of the best play-money poker sites to enjoy and help hone your skills.