Jamie Kerstetter: The 'Queen of Poker Twitter'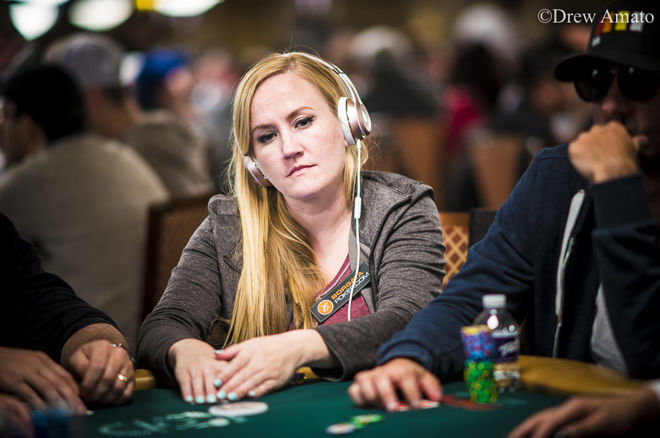 If you ask any recovering Twitter-aholic from the real world about Twitter, all you'll hear is about how it's dying. It's a good thing, then that poker players continually defy the odds and have created their own world where Twitter thrives. Just think how boring the World Series of Poker would be without it.
In general, poker players understand Twitter much better than the rest of the world. There's a little drama (think Doug Polk vs. Alec Torelli), some name-dropping (think Phil Helmuth), plenty of snark (think Barny Boatman), and the occasional tournament update (think of anyone that has made a final table).
Roll all those things into one and you'll probably find yourself on the feed of the one and only Jamie Kerstetter. Kerstetter knows Twitter, and if she were in charge, there is no doubt Twitter wouldn't be dying a slow death. She shows up every summer, not only with her poker skills, but with a Twitter game that helps her stand out from the crowd with her quick-witted replies and a focus on what matters: humor, controversy, compassion, and puppies, of course.
Kevin Mathers (@kevmath), in his second summer as the WSOP Twitter Czar and semi-professional "Twitter expert," had this to say about Kerstetter's clever feed:
"She's witty, timely and very much on point regarding current issues. She's one of my favorite people to follow because she's genuine and keeps it real. It doesn't hurt that she brings Crouton to the Rio every so often to liven things up. She is the Queen of Poker Twitter in my book. "
Crouton got to meet one of his heroes today, said he was a real cool down to Earth type of guy https://t.co/M2Dlrp1iON

— Jamie Kerstetter (@JamieKerstetter)
You might wonder if Kerstetter is as witty in person as she is in 140 characters or less.
"I have always really enjoyed making people laugh," Kerstetter told PokerNews. "Nothing really makes me happier than that. Despite that, I'm still always surprised when people think I'm funny. I think low self-esteem is a prerequisite to a good sense of humor."
Reached the phase of the summer when my sexiest fantasies are of gainful employment

— Jamie Kerstetter (@JamieKerstetter)
Pamela Maldonado (@pamelam35), PokerNews' manager of Social Media, had this to say after perusing Kerstetter's feed: "She keeps things light and humorous without taking it too far. She engages with everyone, haters and followers, and doesn't step out of line."
Kerstetter resists the pressure always to be "on" and rarely considers the political correctness of what she tweets.
"I usually just tweet first and think later," she says. "I play poker the same way, so yeah it's all going very well for me... Once or twice I've tweeted something insensitive and felt a little bad about it. I think it's OK to take chances when it comes to humor as long as you're willing to apologize when you go too far."
Kerstetter has been exceptionally on point this summer, and as a result, her audience wants to know her tricks. Recently someone tweeted to Kerstetter about holding Twitter boot camps.
@chilidog0425 Haha yes, please turn this into a job so I can stop enjoying this as well #

— Jamie Kerstetter (@JamieKerstetter)
We'll take that to mean there won't be a Kerstetter Twitter Boot Camp anytime soon. By the sound of it, Kerstetter seems a little less than enamored with poker these days. Not surprisingly, Kerstetter had a response to that.
"Yes, I think it's natural to lose passion for a job over time. I still enjoy playing poker, but have gotten more fulfillment out of commentating final tables, writing about poker and helping provide content for a poker comedy channel lately than actually studying and playing."
Hopping in the booth last minute to commentate Senior's FT @PokerGO ...on about 12 minutes of sleep from EDC (see… https://t.co/rDolPiZ0du

— Jamie Kerstetter (@JamieKerstetter)
"I enjoy Twitter so much because it's not goal oriented for me at all - it's purely for entertainment, and it's so important to have hobbies that are just for fun."
And we're not the only ones to give Kerstetter props:
"I'm no expert, but I'd say just don't try so hard," Kerstetter says. "Never sit there and think, 'I need to tweet something.' I go dark for days at a time if nothing strikes me as funny enough to tell a bunch of people."
So who does the 'Queen of Twitter' turn to for some comedic relief? Here is a list of some of Kerstetter's favorites.
As you can see, Twitter is not dead in the poker world. In fact, it is very much alive and if you are part of this world then you probably already follow Kerstetter. If don't, you need to change that ... today. Your sanity will thank you.